Dec 19
Guest contributor:
Bill and Dave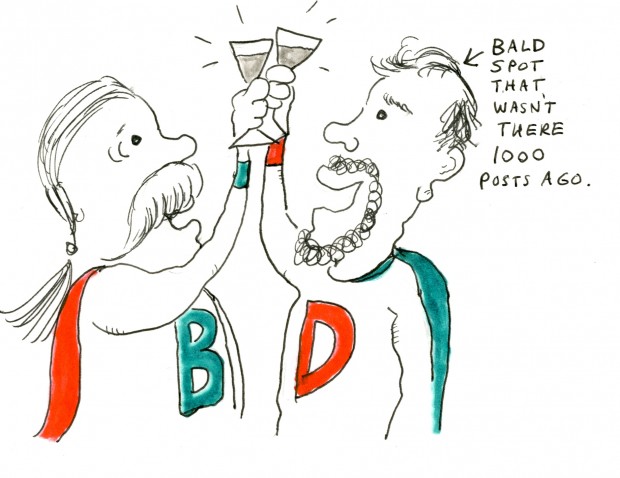 Hard to believe but Bill and Dave turn 1000 today. 1000 posts. For many years now we have carried on the tradition of blogging started by our great-grandfathers, Ebenezer Roorbach and Ernst Gessner the eighth.  May we live to see 10,000!
A recent trip to the Google Analytics store provided me with a list of our ten most popular posts. Here are three from Bill and three from me:
Bill's top posts:
Bad Advice Wednesday: Steady As She Goes! (October 3, 2012)
Review of Wild, by Cheryl Strayed (June 25, 2012)
And the Oscar for Revision Goes to… (February 24, 2011)
Dave's top posts:
Ultimate Glory (January 26, 2012)
Everything you Ever Wanted to Know About Truth in Nonfiction But Were Afraid to Ask (March 28, 2012)
What Kind of Annoying Writer Are You? (March 8, 2013)
(Couldn't find the original of "Annoying" so I re-posted)
And a couple more we like from Dave:
The Top Ten Sexiest Nature Writers in History
And from Bill:
Bill's Sunday Sermon: It's not about Strength (Upon the death of Robin Williams)
We've also had great posts by over 60 guest writers, like Nina DeGramont, Monica Wood, Bill Lundgren, Debora Black, Dinty Moore, Luis Urrea, John Lane, Kristen Keckler, Richard Gilbert, Mark Honerkamp, Jim Lang, Eli Hastings, Colin Hosten, Jonathan Evison, David Abrams, Heidi Gessner, Kerry Headley, Erika Robuck,  Lee Martin, Crash Barry, and on and on, and in fact our top post of all time, Twelve Habits of People Who Don't Give a Shit About Your Inner Peace, was by guest blogger Katherine Fritz, with over 56,000 views.  Also in the top ten was our friend Katherine Heiny's Origami and the Art of Fiction. 
And finally, we are happy to note your participation: 7,250 comments, over a million views.
[Note that Bill is only shorter than Dave in Dave's cartoons.]
(Actually I topped out at 5'11" and a half and though I've shrunk an inch I think I still have an inch on Bill, both in the cartoon and real world. Also I'm as tall as a flood of breaking ice.)
[Okay, Bill topped out at 5′ 10′, shrank an inch, but got it back with my neck surgery. But I weigh more, much of the time.]
The real Bill and Dave celebrating: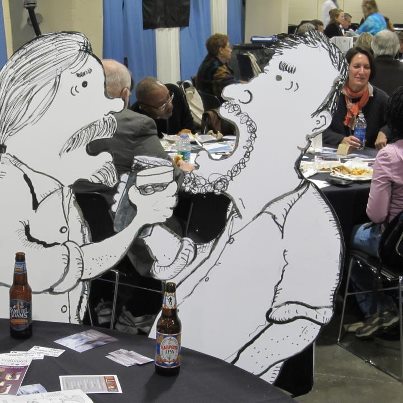 And doing our famous ventriloquism act: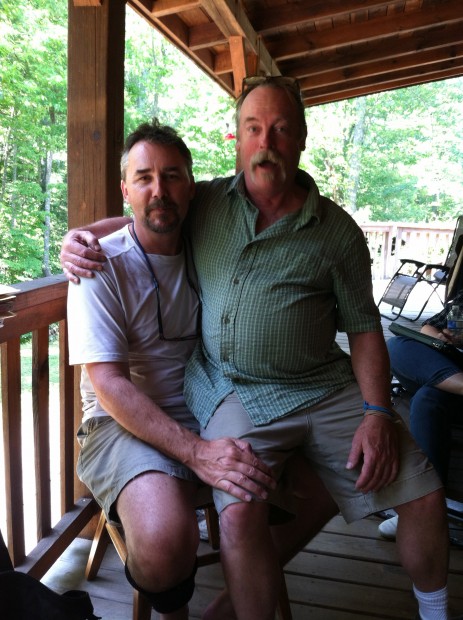 And camping on the beach (god I'm choking up):
Please Like us with the FB button up there in the upper right of our page and hear about every damn post.  Because we need all the friends we can get!  Like this post, too.