You are viewing:
Cocktail Hour
One of the fun things about having
Ultimate Glory
come out has been the unearthing of pictures of events from the book. Yesterday I learned that there was this documentation of the incident from the book (described below):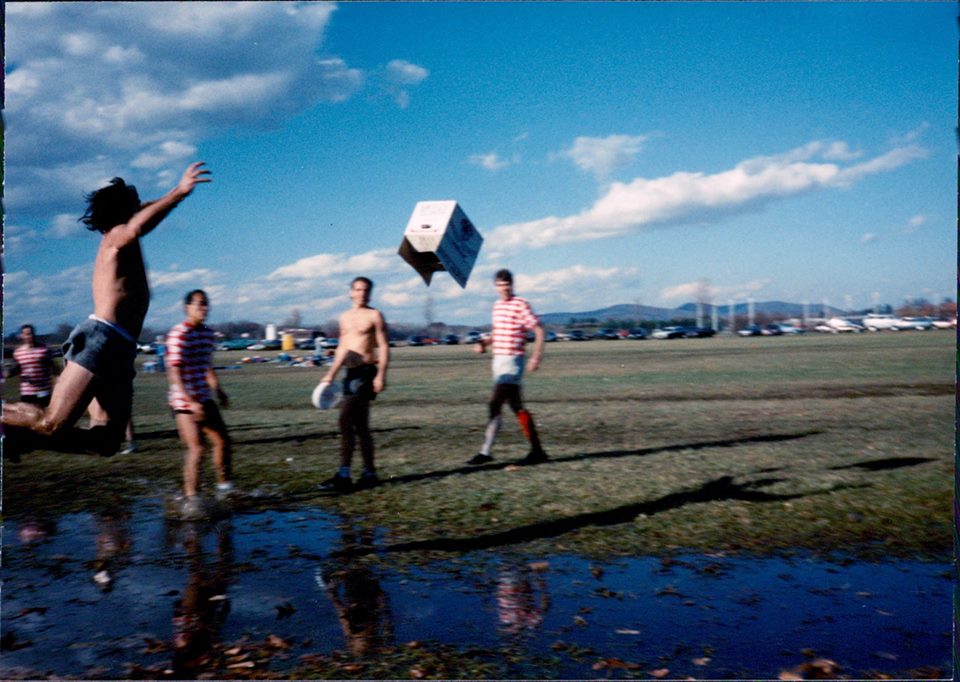 During my last year "off" I played with a team of older players, many of whom had children, on a team called Father Throws Best. Father had several ex-Rude Boys on the team, and at t
he end of one tournament in Amherst they indulged in an old Rude Boy tradition of diving after discs into a big mud puddle. One player would flip a disc into the air and another would come running up and lay out for it, "getting horizontal" as it was known in the sport, then splashing down and sliding in the puddle. I refused to play along; it was a Rude Boy thing after all, and I, in my heart, was still a Hostage. But then a bunch of them grabbed me by the arms and tried to drag me over to the puddle. I told them to let me go, that I'd do it, only I'd do it my way.
I whispered instructions to one of my teammates, an ex-Rude Boy named Toby Lou, and then began my running approach to the puddle. Toby did what I'd asked him to do, tossing not a Frisbee but a half-empty case of beer into the air. I took off and flew toward the case, getting horizontal, ready to make a spectacular catch. But our timing was a little off. Toby's underhanded beer case toss was a little ahead of my dive. The beers were out of reach and they landed and shattered upward just a second before I landed on them. For a second the puddle was a mess of water, blood, mud and flesh. Then in became clear that a good chunk of my left forearm, a scrag of flesh, was hanging down where it wasn't supposed to hang. Fortunately, we were on the whole a more mature team, and we had our very own doctor playing for us. Dr. Gil immediately set to cleaning out my wound and picking glass out of my arm before accompanying me to a nearby emergency room.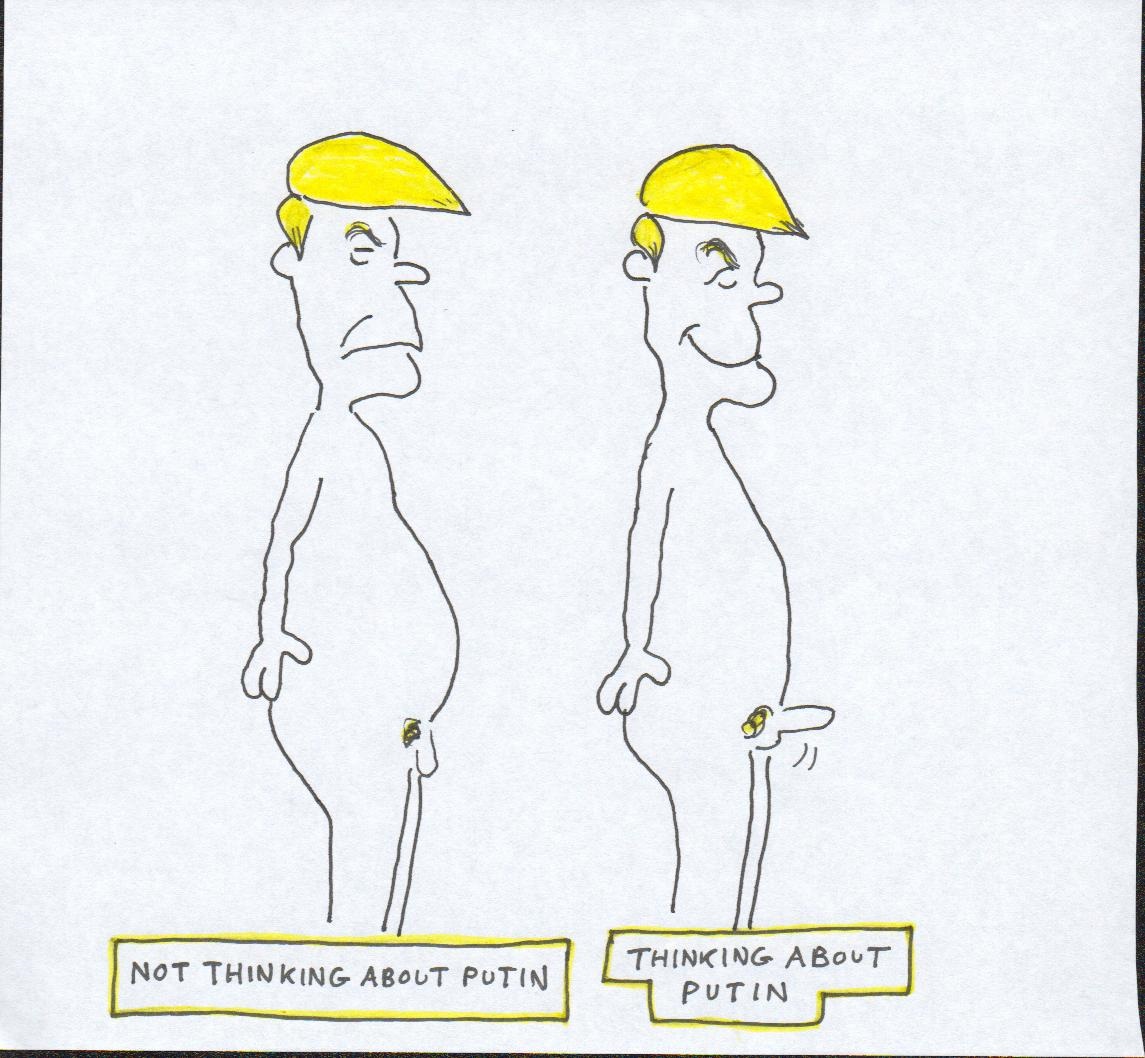 I have moved on to a new book (a novel about Cape Cod) but I wanted  to take a moment to do a wrap up of my summer of ultimate.  Also maybe to remind you what a nice present Ultimate Glory would make as the holidays approach. Give it to any and all of those relatives who never understood what the hell ultimate was. As the Washington Post put it: "An exploration of the questing desires of the young heart, "Ultimate Glory" should be recommended reading for every college student. A 20-something, unsure whether to listen to the yearnings of the soul, might find answers in Gessner's chase of a flying plastic disc."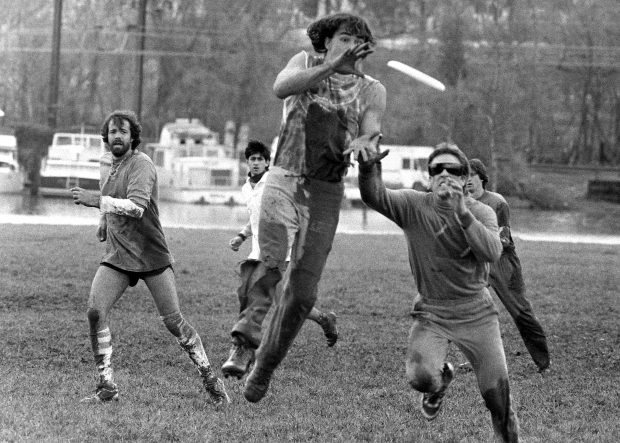 Here's the  full Washington Post Review. It's title is "NEW HARVARD GRAD TELLS DAD: "NOW I'M GOING TO PLAY ULTIMATE FRISBEE."
Here is No Disc-Respect, my article in Outside magazine about Ultimate and Beau Kittredge.
Here is the Slate podcast of Hang Up and Listen where I talk Ultimate.
Here is the great Wall Street Journal Review.
Sin the Fields is a wild, fun podcast from Ultiworld.
This is my Longform interview, where we touched on a lot of non-ultimate topics, including "immortality."
Here's a brief but fine review from Harvard magazine.
Here is the website I created, but honestly never visited much. But it has a very cool connection to Stu Beringer's vintage photos, which you can also go to through UltiPhotos….
Here's our Old and In the Way squad. We got a silver at old-guy Nationals in July and (hopefully) will be reuniting for Worlds.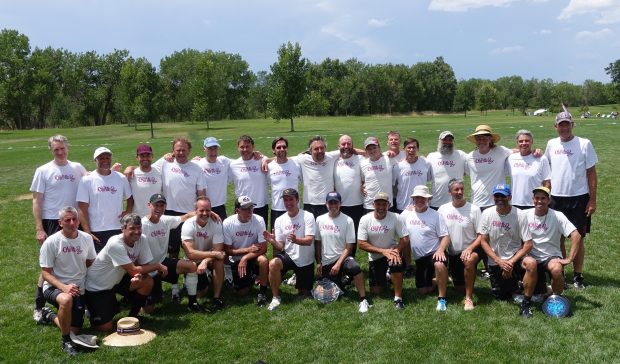 Here is what the Rude Boys did to my book: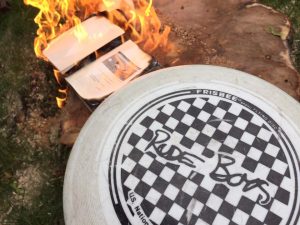 And here, once again, is the book trailer, edited by daughter Hadley.
This website, Big-Hearted Boy, asked me to create a playlist of the music that goes with my book.
And speaking of beautiful music, here are some pics of our post-game singalong (and book signing):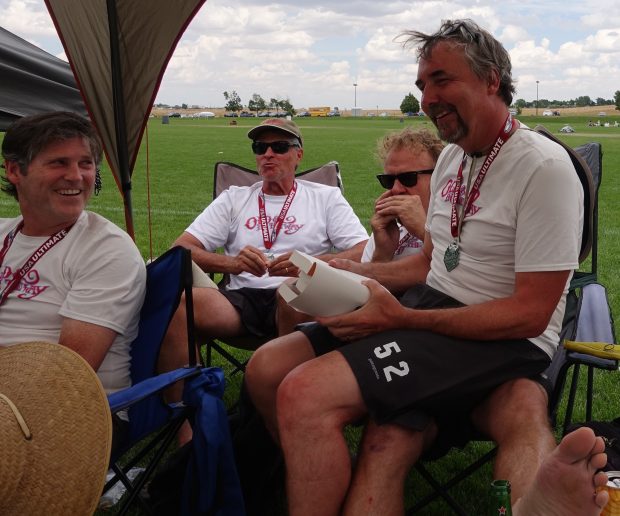 One with Dancin' Dave Smith….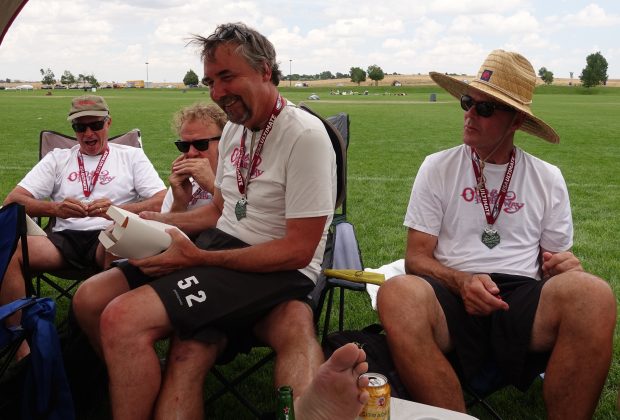 A Bunch of old guys…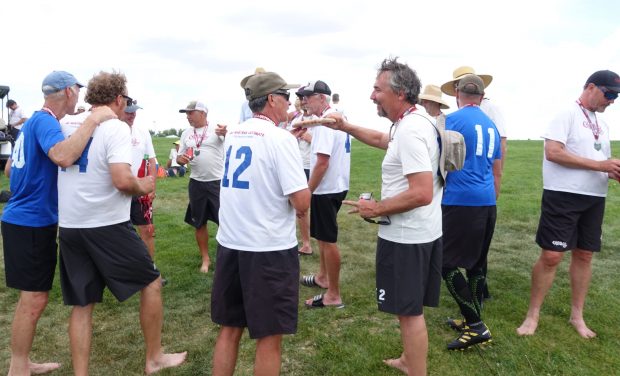 From my reading in Maplewood:
"If Springsteen were an ultimate player he would have played for the 'Boro." Timba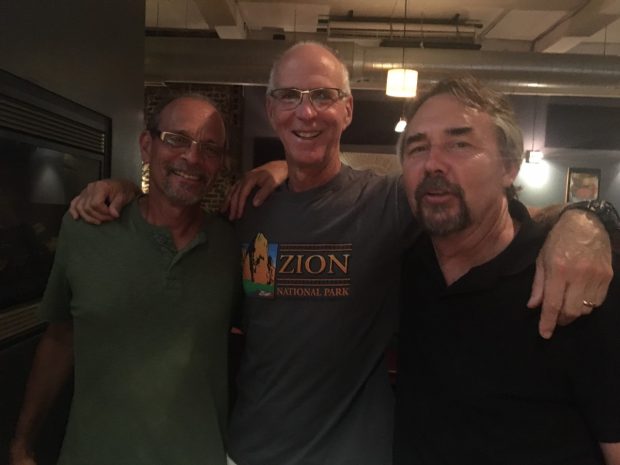 Boulder: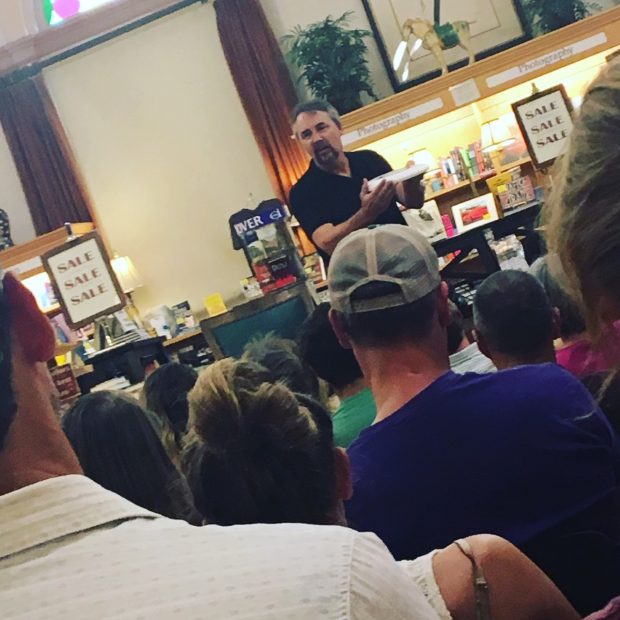 Brookline: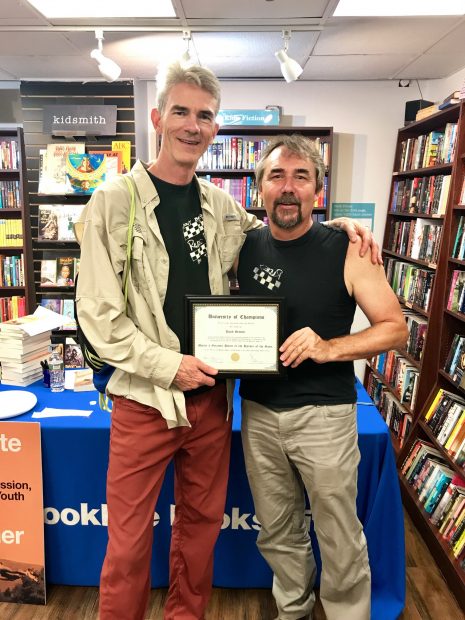 My pardon. I can play in D.C. again!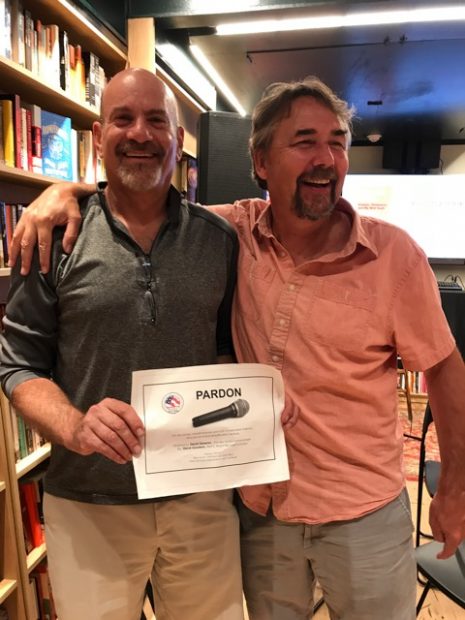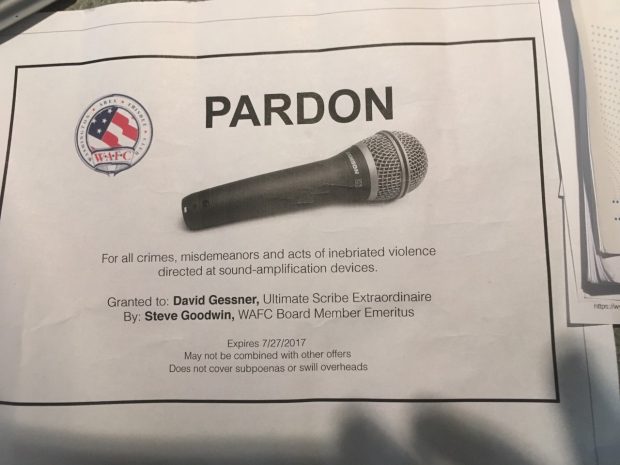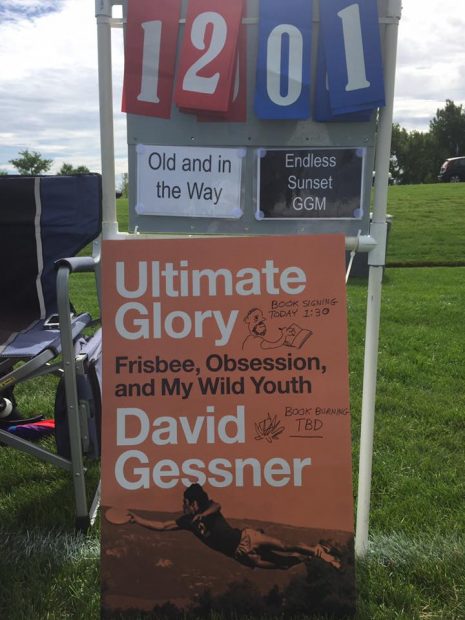 My Dad  (Telluride):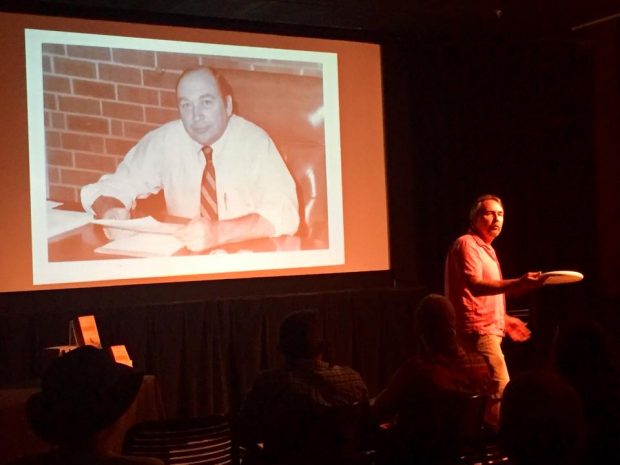 San Francisco: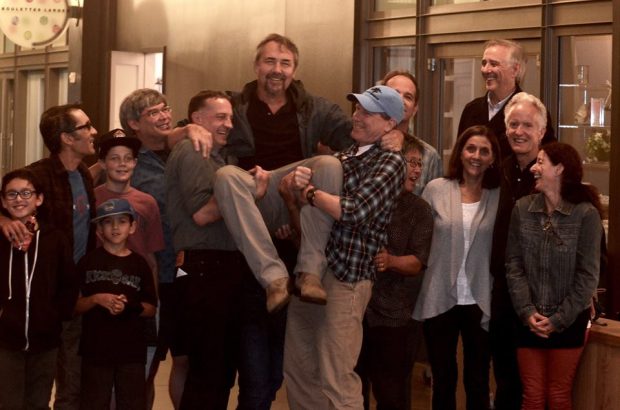 Thanks for everyone for coming out this summer. It was a blast.
Here is/was the tour, more or less:
TUESDAY JUNE 6, 2017
WRIGHTSVILLE BEACH BREWERY 6201 OLEANDER-
EVENTS ROOM
7:00 PM Event HOSTED BY POMEGRANATE BOOKS

WEDNESDAY, JUNE 7 – DURHAM
THE REGULATOR BOOKSHOP
7:00 PM Event 720 Ninth Street, Durham, NC 27705

SUNDAY, JUNE 11 – ALBUQUERQUE
BOOKWORKS ALBUQUERQUE
3:00 PM Event 4022 Rio Grande Blvd NW, Albuquerque, NM 87107

MONDAY, JUNE 12 – TELLURIDE
BETWEEN THE COVERS
6:30 PM Event 224 W Colorado Ave, Telluride, CO 81435

• They would like to organize an outdoor Frisbee mini-match or demo or interactive target throws in the pocket park near them. The reading itself will likely not be in their shop.
• They are thinking that the interactive part would start at 6:30pm and the reading will start at 7:30pm.

THURSDAY, JUNE 15 – EDWARDS
BOOKWORM OF EDWARDS
6:00 PM Event 295 Main St, Edwards, CO 81632

TUESDAY, JUNE 20 – BOULDER
BOULDER BOOKSTORE
7:30 PM Event Pearl Street Mall, 1107 Pearl St, Boulder, CO 80302

WEDNESDAY, JUNE 21 – DENVER
TATTERED COVER BOOKS
7:00 PM Event 2526 E Colfax Ave, Denver, CO 80206

THURSDAY, JUNE 22 – FORT COLLINS
OLD FIREHOUSE BOOKS
6:00 PM Event 232 Walnut St, Fort Collins, CO 80524

MONDAY, JUNE 26 – PORTLAND
POWELL'S BOOKS ON HAWTHORNE
7:30 PM Event 3723 SE Hawthorne Blvd, Portland, OR 97214

TUESDAY, JUNE 27 – SAN FRANCISCO
BOOK PASSAGE at the Ferry Building
6:00 PM Event 1 Ferry Building, San Francisco, CA 94111

THURSDAY, JUNE 29 – SEATTLE
EAGLE HARBOR BOOKS
12:30 PM Event 157 Winslow Way E, Bainbridge Island, WA 98110

THURSDAY, JUNE 29 – SEATTLE
ELLIOTT BAY BOOK COMPANY
7:00 PM Event 1521 10th Ave, Seattle, WA 98122

AND……

OTHER GESSNER BOOKS

MORE GLORIOUS ULTIMATE
FRIDAY, JULY 28 – MAPLEWOOD, NJ, THE BIRTHPLACE OF ULTIMATE!!
[words] BOOKSTORE
7:30 PM Event 179 Maplewood Ave, Maplewood, NJ 07040
http:/​/​wordsbookstore.com/​2017/​01/​ultimate-glory/​
MONDAY, JULY 31 – BOSTON–MY RETURN TO THE STORE WHERE I ATTACKED THE CUSTOMER!
BROOKLINE BOOKSMITH
7:00 PM Event 279 Harvard Street, Brookline, MA
https:/​/​www.brooklinebooksmith.com/​events/​2017-07/​david-gessner—ultimate-glory-frisbee-obsession-and-my-wild-youth/​
TUESDAY, AUGUST 1
HARVARD SUMMER SCHOOL
THOMPSON ROOM BARKER CENTER 12 QUINCY STREET
6:00 PM EVENT
TUESDAY, AUGUST 8 – PORTLAND, ME–WITH BILL ROORBACH
PRINT: A BOOKSTORE
7:00 PM Event 273 Congress St, Portland, ME 04101
http:/​/​www.printbookstore.com/​event/​david-gessner-discusses-his-new-book-ultimate-glory-bill-roorbach-author-girl-lake
Aug. 16: Ultimate Frisbee, Steve Rushin, and Sports Stadiums
Varsity Letters is back at The Gallery at Le Poisson Rouge on Wednesday, August 16 with an eclectic evening of sports authors, including David Gessner.
comments: Comments Off

on Lundgren's Lounge: "My Absolute Darling," by Gabriel Tallent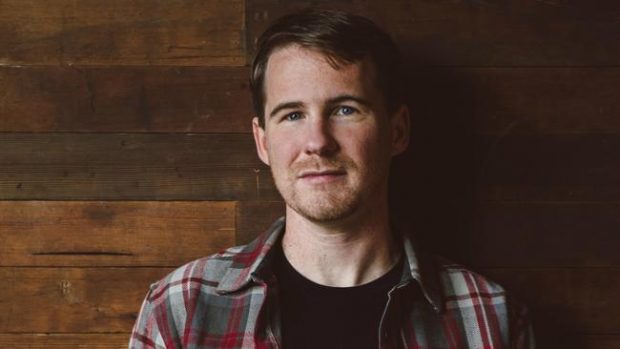 With the arrival of summer comes the inevitable onslaught of summer titles, those books you all MUST read, for your own edification, or for cocktail party chatter or for the simple pleasures of this increasingly arcane act that we call reading. These books arrive on the scene to great trumpet blasts and ubiquitous and rapturous front page reviews… and by the next year they have been largely forgotten, relegated to the remainder shelves or the used book section of the bookstore or most ignominiously, serving duty as a doorstop. Continue reading →
comments: Comments Off

on Soldiers in Boots, Girls in Lakes: Bill Talks with David Abrams
David Abrams and Bill Roorbach first met at PNBA, Pacific Northwest Booksellers Association conference, which took place in Tacoma, Washington back in 2012, when David's book Fobbit was new and Bill's book Life Among Giants had just been released. These friendships on the road with new books bloom quickly, and are reinforced by chance meetings across years to come. On the occasion of the publication of their newest books, Bill and David (Not that Bill and Dave!) thought they better have a virtual conversation, as the road wasn't going to bring them close this time around. Continue reading →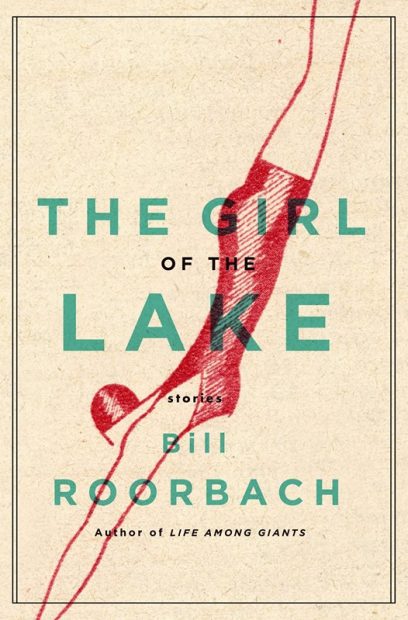 Today is publication day, accompanied by the usual excitement and dread.  Have I got a story for you!
comments: Comments Off

on Audio, Audio!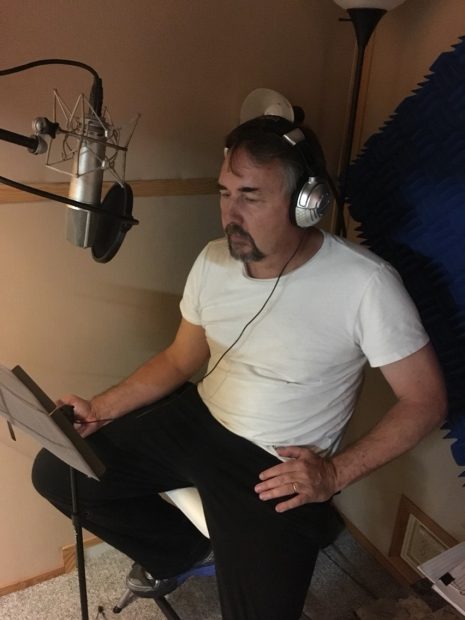 Nina, my wife, didn't read my last book, All the Wild That Remains. She listened to it as an audio book instead. That means she got to hear a strange man say things like this about my then-eight year old daughter: "I got in the car with Hadley and drove seven hours up to Wyoming….."
I liked the narration for the book a lot but the narrator's voice was distinctly unlike mine. It had a hint of Englishness to it, not effete exactly but slightly fancy, and the word "bullshit" did sound right when he said it.
When I told a friend of ours, Bekki Lee, about Nina listening to the not-me narrator, her story-making mind came up with this: what if a wife listened to a husband's book and fell in love with the narrator's voice, then left the husband for him?
That can't happen this time since I will be reading my own book. I'll be very happy to have narrated Ultimate Glory myself, and to have it. But I was surprised by how brutal a process the recording has been. Six days of 6 hour days of reading. Who knew I had so much saliva in my mouth or then, the next minute, so little? Who knew the letter L makes a clicking sound? Who knew I couldn't pronounce half the words I thought I knew in my head?
Barring any unforeseen circumstances, that will be the last time in my life where I read anything out loud for six hours.
For the next book I'll just let my wife's lover do it.
* * *
You can hear all my thoughts on the recording sessions at Penguin-Random House's "This is the Author."
comments: Comments Off

on Lundgren's Lounge: "Augustown," by Kei Miller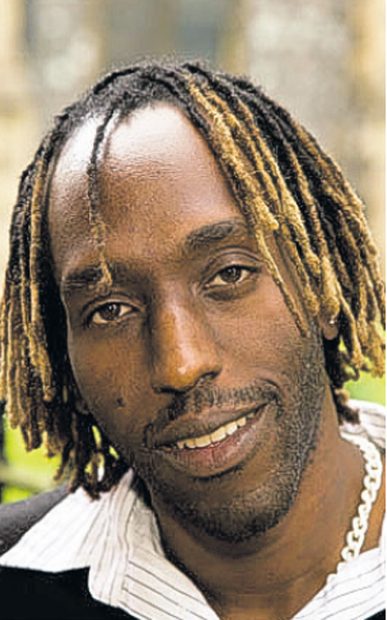 Into every reading life an occasional slump will occur, a period marked by encounters with a surfeit of desultory and uninspiring work.  But then the world rights itself and one encounters a marvelous, luminous and exquisite work of art like
Augustown
by Zei Miller. While it is impossible to read Miller's novel without hearing echoes of Garcia Marquez's Macondo and Toni Morrison's
Song of Solomon
, Miller insists his is not a metaphorical tale given wings by 'magical realism.' He writes, "Listen, this isn't magical realism. This is not another story about superstitious island people and their primitive beliefs. No, you don't get off that easy. This is a story about people as real as you are… You may as well stop to consider a more urgent question; not whether you believe in this story or not, but whether this story is about the kinds of people you have never taken the time to believe in."
Continue reading →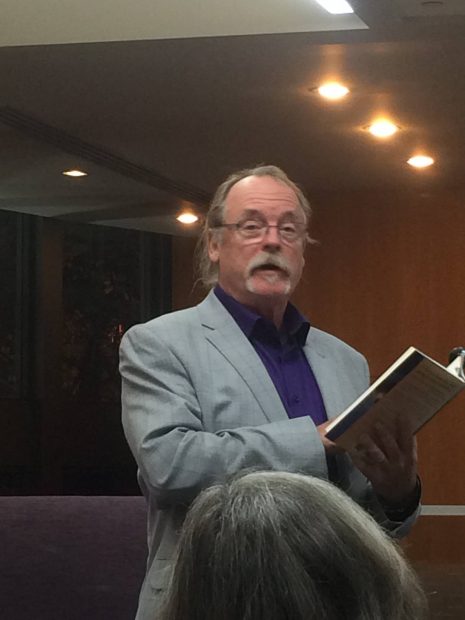 From time to time invaluable advice arrives in my email inbox.  And while I pride myself on my excellent shampooing skills and first-class Banana Republic and Reny's (A Maine Adventure!) closet, I'm not exactly a GQ model.  So this anonymous note that came via my website, really made my day.  I'll take it to heart as I go out on tour with The Girl of the Lake.  Very lightly redacted to protect the sender's privacy:
#
Dear Bill, Can I call you Bill. I was at your reading in B______ and I have some ideas for you. Now if you happen to take this personally, oh well. Continue reading →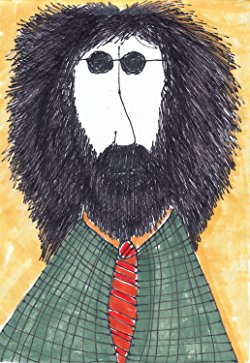 Brian Doyle died yesterday. For the last week I have been e-mailing back and forth with Bill McAvoy, a friend of mine and a close friend of Brian's since the two of them were young. Bill has been giving me updates on Brian's decline as well as doing some eloquent writing of his own about their nearly fifty year-long friendship. At one point Bill wrote to say that while he knew that Brian was well-respected he was a little surprised at all the important awards and honors he was accruing, and at the outpouring of support from the literary community. I told him that I, living inside that world, was not surprised.
I mostly knew Brian from a time before we were writers or at least before we were published writers. In fact he might have been the only person I knew in my community who said, as I did then, "I want to be a writer." I played some basketball with him and drank some beers with him but mostly what I remember from that time, when we were both in our twenties, was cornering him at parties and trying to find out if he knew any secrets about this strange quest we had both decided to take up. I don't know if this is true or not but he may have been the only person I knew in Boston who I talked to in that way. Everyone else seemed to look at you sideways when you started talking about writing and asking, reasonably enough, what you had published. It was a time when we both had, to steal a title from a piece that Brian later wrote about one of his heroes, Robert Louis Stevenson, "heads full of swirling dreams." That time before the dreams begin to be realized is a dangerous one and I was lucky to have Brian to talk to.
It wasn't until we were both a few books into our writing careers, almost two decades later, that we talked to each other again. I loved Brian's work, the electricity and humor and play of it and the way that the natural world and animals always wove their way through it. In 2005, I had just started a new magazine called Ecotone and I wrote to Brian to see if he could send us anything. He did and we accepted a piece called "Fishers" and he wrote back: "I am happy to have Fishers ecotoned." The piece was selected for Best American Science and Nature Writing 2007 and over the next decade Brian would be one of Ecotone's best and most regular contributors.  As we worked on the edits for that first piece, we also corresponded about our careers. At the time neither of us had published novels, which had been our dream when we talked when we were young. Brian wrote:
My secret inky ambition is to try to write one of everything — a book of poems, a novel, a play, a movie, a book of fictions — so I think I am sort of stuck on five essay tomes for the nonce. Race you to a novel, though.
It was a race Brian easily won. If I am counting right, he published five novels. And in those novels he did something that I had always dreamed, and still dream, of doing: making animals and nature vital characters, not mere background figures or setting. In fact, while we had never talked about it way back when, it would turn out that we worked very similar literary turf. (Not long ago when I was interviewed for a piece about humor in nature writing I was not at all surprised to find Brian's name in the same piece.) Outside of our twenties, we only met once in person. That was two years ago, about this time of year, before I did a reading at Powell's in Portland when we had drinks outside a nearby restaurant. I remember we laughed a lot. I remember he had an amused, sometimes skeptical, sometimes delighted look on his face that I remembered from almost thirty years earlier. We probably talked about basketball, and how great we were, more than we talked about writing. But even if we didn't talk about it openly we both knew we were in very different places than we had been in when we last met. The uncertain quests we had begun back then were well underway, though Brian's would end much sooner than planned.
When I first heard the news about Brian's brain tumor last November I was shocked. I wrote him a long e-mail which he, unsurprisingly, didn't have the time or energy to answer. I would like to say I kept him steadily in my mind since then but you know how life works. The busy-ness of it swallows you up, and you stay occupied with your preoccupations, and even the great tragedies of others only break through now and then.
This week I wrote to my friend Bill about my new book and he wrote back to say the news about Brian was not good. Hospice had come to the home, he told me in one note and in another he told me Brian could no longer speak. I thought about that, a writer losing his voice. Bill also sent me something he himself had written while insisting "I'm not a writer." Maybe not but it is a moving piece. It tells the story of the time Bill and Brian, two not-too well off Long Island kids, home from college and working at menial jobs to try and pay off their student loans, snuck into a Springsteen Concert at Madison Square Garden, and then, amazingly snuck backstage where they ended up briefly hanging out with the Boss. Bill also wrote that he and Brian would continue to listen to and talk about Springsteen over the years and that while his favorite albums were the earlier ones, Brian grew to consider The Rising his favorite album. If you know the album and you know Brian's work, this is no surprise at all.
Like a lot of us, I am pretty good at repressing stuff and while I thought a lot about Brian over the last week the reality of what was happening didn't really ever break through. Not until Friday when I decided to clear a cluttered and stressful workday out of my head by going for a run in the woods. I was wearing my little ipod shuffle, blasting it really, anything to help me plod along at my middle-aged pace. And then it happened, about half way through the run. The song The Rising came on and I was bawling like a baby. Big heaving tears. For Brian yes, but for me too, and certainly for our long-ago youthful heads full of swirling dreams, dreams both realized and unrealized.
"I could tell you tales," Brian wrote me once in another e-mail. "Was there ale and time you would weep. And yet we are all shambling highways for error."
Brian and I were not close, not the way Bill and he were. Are. Not were. During my run I listened to The Rising over and over, four times in all, and during that intense burst I really thought about, or more accurately felt what it meant to lose Brian Doyle and his swirling dreams.
After the fifth time listening, I skipped ahead to listen to Mary's Place, and then finished off with the Promised Land.
P.S. Here is a short piece Brian wrote about the creation of Dr. Jekyll and Mr. Hyde. Brian had more than a little Stevenson in him.
P.P. S. Brian also contributed to Bill and Dave's. Usually I draw cartoon heads of our guests but Brian distinguished himself by being our only contributor ever to send us a self-portrait. If you scroll down from this entry you will see that we have re-posted Brian's most recent piece for us below.