You are viewing:
Cocktail Hour
comments: Comments Off

on Just a Thought….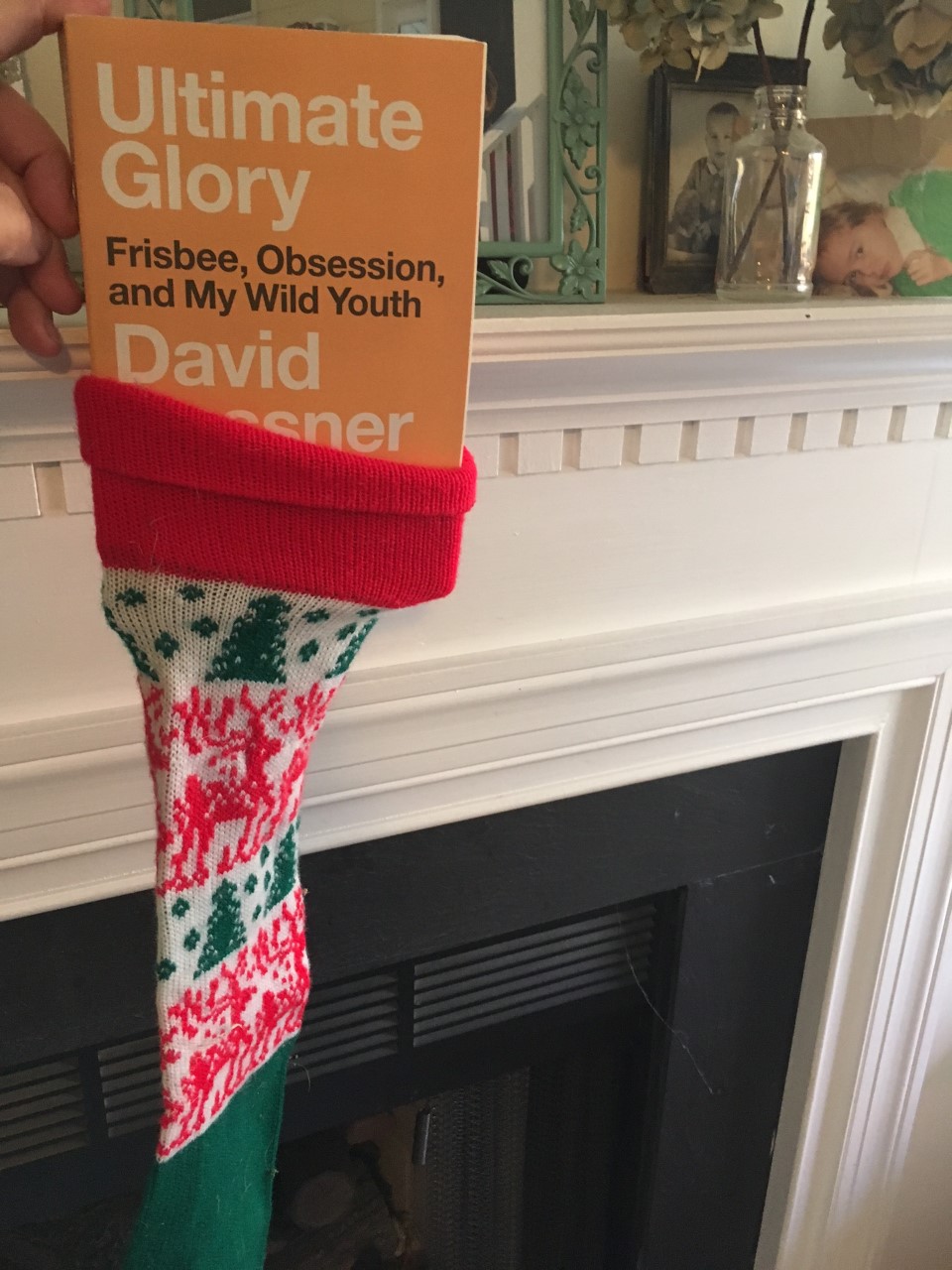 "An exploration of the questing desires of the young heart, 'Ultimate Glory' should be recommended reading for every college student. A 20-something, unsure whether to listen to the yearnings of the soul, might find answers in Gessner's chase of a flying plastic disc."
The Washington Post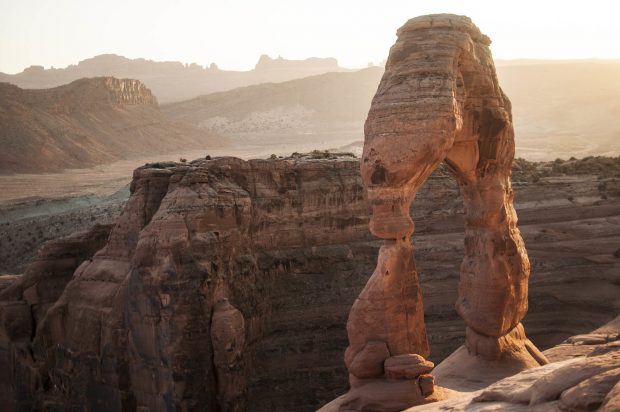 The Harasser-in-Chief is heading to Utah today to announce that he'll shrink Bears Ears and Grand Staircase-Escalante national monuments, possibly by as much as 85%. According to the Southern Utah Wilderness Alliance, this will be "the largest rollback of protected areas in U.S. history" and "an appalling affront to Native American tribes who sought healing and cross-cultural understanding through protection of their sacred sites and ancestral homelands."
A year ago I was part of a group of writers who contributed to a chapbook, edited by Stephen Trimble and put out by Torrey House press, that was distributed to congress and other decision-makers in the build up to President Obama declaring Bears Ears a National Monument. To find out more about the project click here.  And I'll post some more information about the book below.
Here was my offering:
The Freedom of Restraint
I remember the moment exactly and I remember the word that came with the moment. The word that the moment all but summoned:
Freedom.
For me, for many Americans it is a word that has had any true meaning hammered out of it by rhetoric and commercialism. It has been worn down and out by too many truck commercials and blowhard politicians, a fine and shining word now left behind on the ground like an old soda can.
But now it was back–filling my mind.
I have been meditating in the mornings recently. After years of mocking those who claim to want to "be in the present moment"–"Cows, for instance, are good at being in the present," I wrote in one book–and agreeing with Ed Abbey that I liked Gary Snyder's work "except for all the Zen bullshit," I have embraced my inner monk. It's really more of a return than a new beginning, however, since past versions of me have spent a good deal of time with my eyes closed and legs crossed. The first time was after seeing a psychiatrist as a twelve year old when an obsession with the idea that "everything is nothing" ballooned out of control.  The second was after my bout with cancer at thirty when none other than Mr. Mindfulness, Jon Cabot Zinn, led my post-operation meditation sessions in the hospital with a voice that was meant to be soothing but that I found annoyingly adenoidal.  My reaction to his commands to calm myself was an urge to strike him, though how much that had to do with my shock over my sudden turn of medical fate I am not sure. On neither occasion did the practice take. Unlike napping in the afternoon, a staple of mine, it did not fit my day's rhythms. Sitting never quite fit my constitution the way the more active meditations of biking and running did.
Until now. Now, older and grayer, I find I can suddenly put in 40 morning minutes on the yoga mat, and head to my desk feeling as if I've popped half a Xanax. True, I have adapted the practice to fit to my personality by making it more active and athletic, adding in some sessions of Wim Hof breath holding.  And it's also true that there are still challenges. One is the persistence of our two yellow labs, who seem equally amused and attracted by the fact that I, after feeding them and letting them out to pee, choose not to retreat to my writing desk, as I have since they have known me, but instead sit down on the floor and lounge with them, part of the pack. The issue is compounded by the fact that they, being labs, like to stay close. And while I try to focus on my breathing I hear not just my own inhalations and exhalations, but two others sets of the same echoing mine. And so my attempts at oneness start with three-ness. Luckily the sounds they make don't spark the Pavlovian response that Zinn's did. Together, sometimes in rhythm and sometimes not, we pant our way toward Nirvana.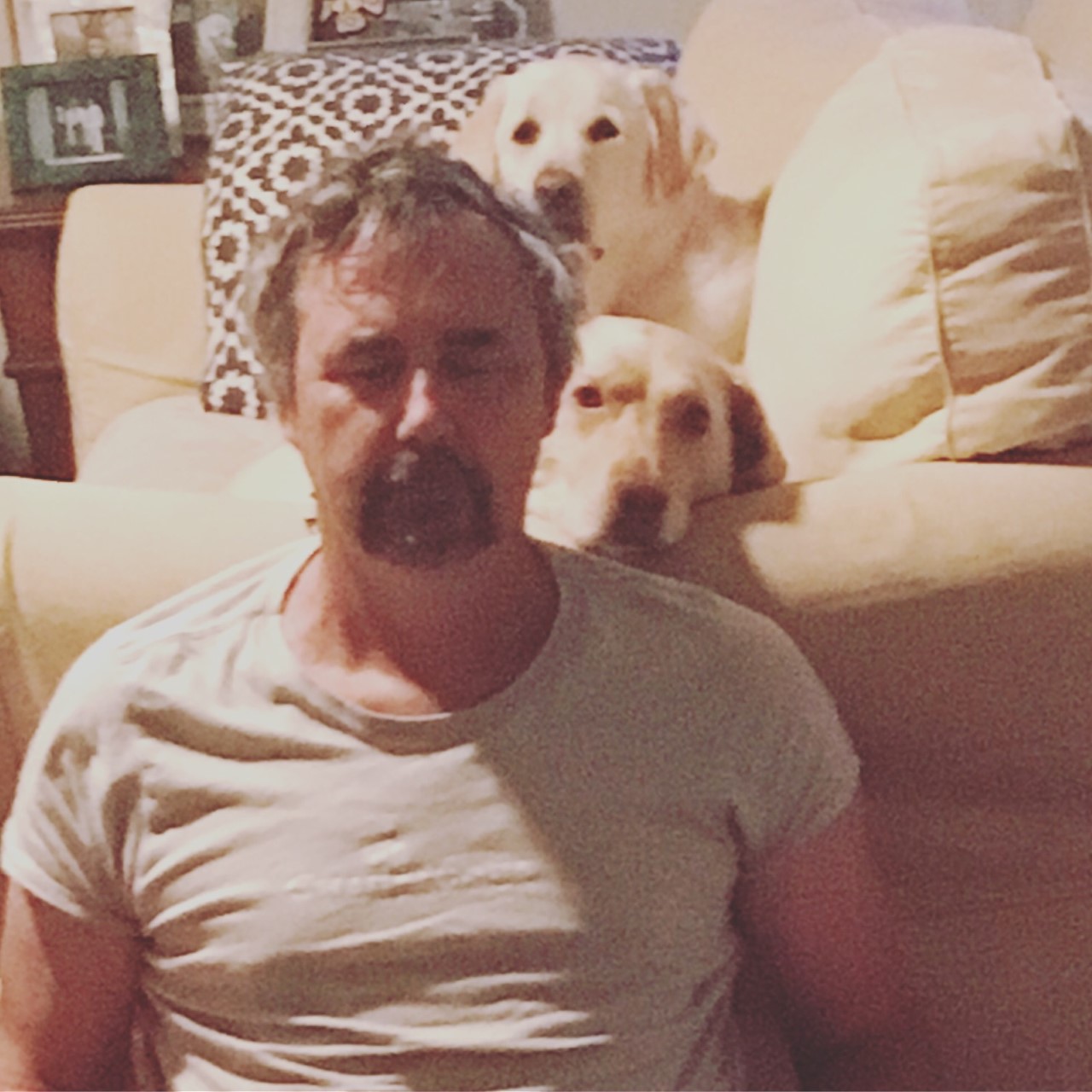 comments: Comments Off

on Father Throws Best
One of the fun things about having
Ultimate Glory
come out has been the unearthing of pictures of events from the book. Yesterday I learned that there was this documentation of the incident from the book (described below):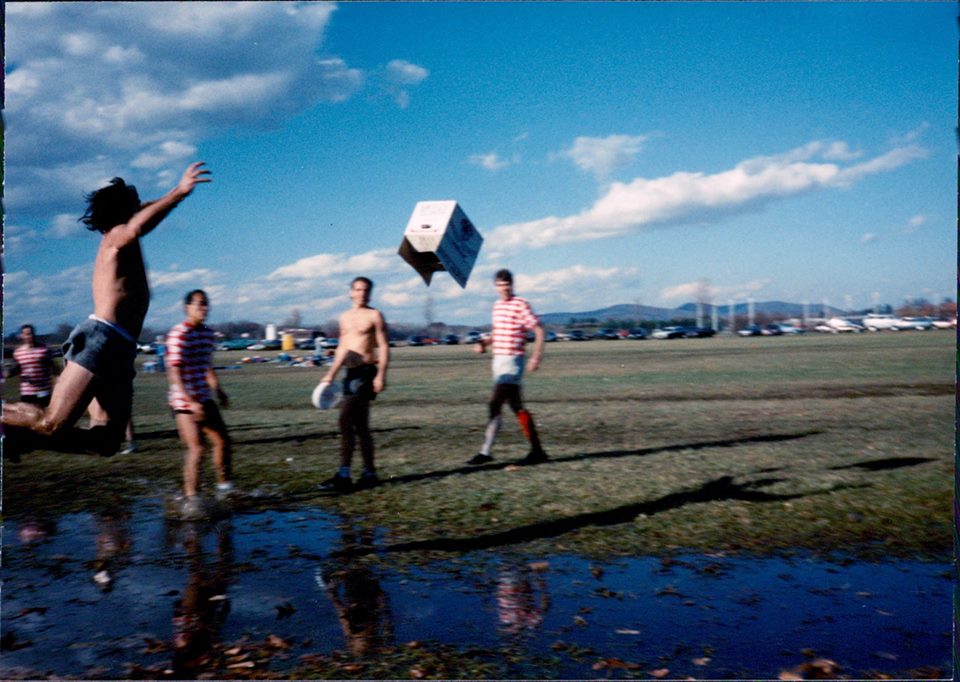 During my last year "off" I played with a team of older players, many of whom had children, on a team called Father Throws Best. Father had several ex-Rude Boys on the team, and at t
he end of one tournament in Amherst they indulged in an old Rude Boy tradition of diving after discs into a big mud puddle. One player would flip a disc into the air and another would come running up and lay out for it, "getting horizontal" as it was known in the sport, then splashing down and sliding in the puddle. I refused to play along; it was a Rude Boy thing after all, and I, in my heart, was still a Hostage. But then a bunch of them grabbed me by the arms and tried to drag me over to the puddle. I told them to let me go, that I'd do it, only I'd do it my way.
I whispered instructions to one of my teammates, an ex-Rude Boy named Toby Lou, and then began my running approach to the puddle. Toby did what I'd asked him to do, tossing not a Frisbee but a half-empty case of beer into the air. I took off and flew toward the case, getting horizontal, ready to make a spectacular catch. But our timing was a little off. Toby's underhanded beer case toss was a little ahead of my dive. The beers were out of reach and they landed and shattered upward just a second before I landed on them. For a second the puddle was a mess of water, blood, mud and flesh. Then in became clear that a good chunk of my left forearm, a scrag of flesh, was hanging down where it wasn't supposed to hang. Fortunately, we were on the whole a more mature team, and we had our very own doctor playing for us. Dr. Gil immediately set to cleaning out my wound and picking glass out of my arm before accompanying me to a nearby emergency room.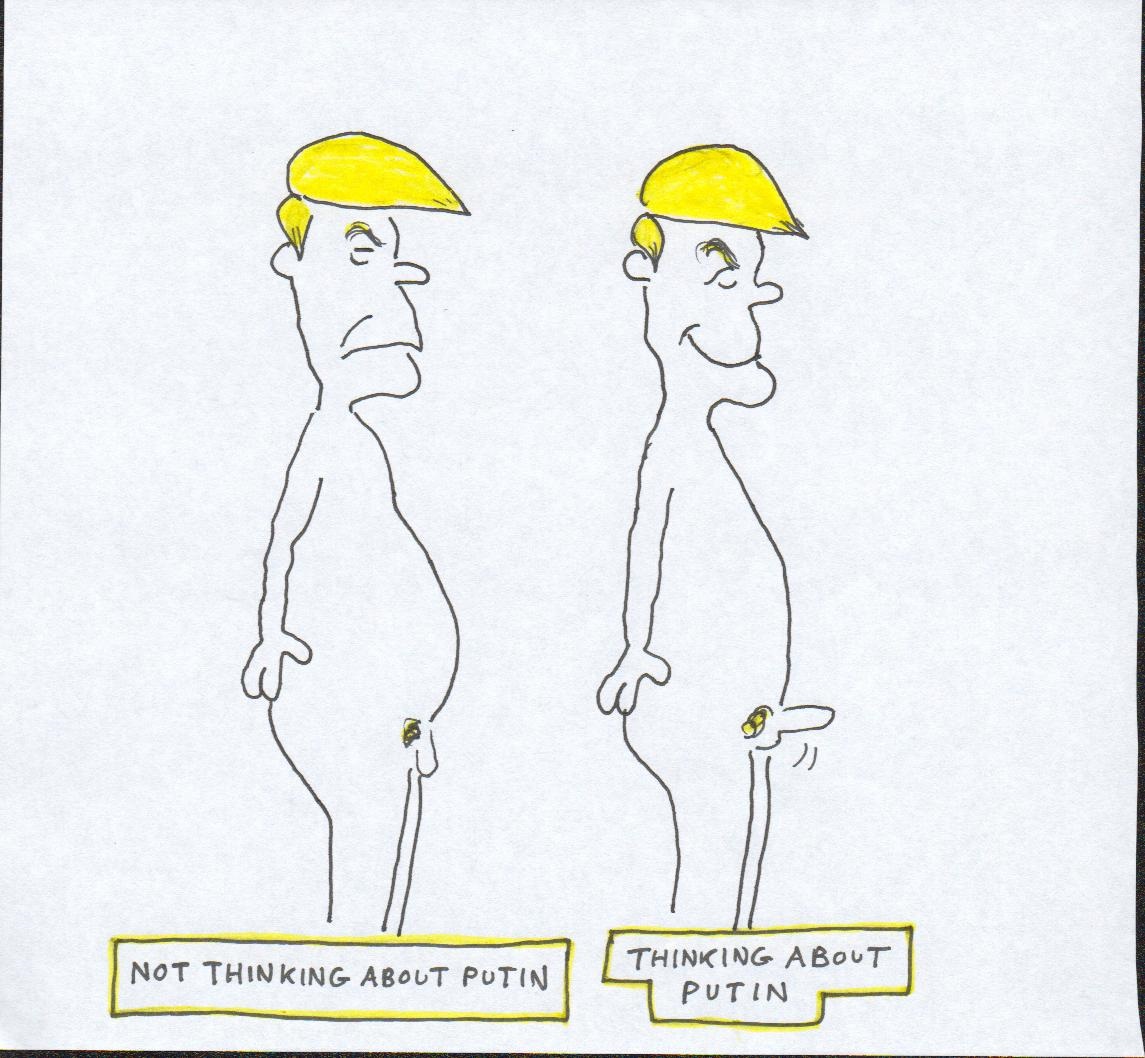 comments: Comments Off

on My Summer of Ultimate–a Wrap-Up
I have moved on to a new book (a novel about Cape Cod) but I wanted  to take a moment to do a wrap up of my summer of ultimate.  Also maybe to remind you what a nice present Ultimate Glory would make as the holidays approach. Give it to any and all of those relatives who never understood what the hell ultimate was. As the Washington Post put it: "An exploration of the questing desires of the young heart, "Ultimate Glory" should be recommended reading for every college student. A 20-something, unsure whether to listen to the yearnings of the soul, might find answers in Gessner's chase of a flying plastic disc."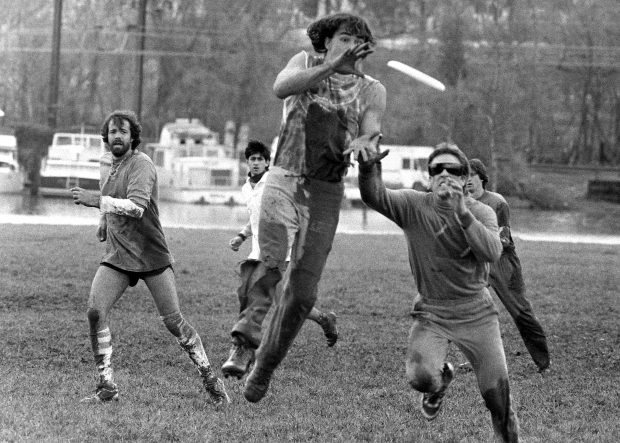 Here's the  full Washington Post Review. It's title is "NEW HARVARD GRAD TELLS DAD: "NOW I'M GOING TO PLAY ULTIMATE FRISBEE."
Here is No Disc-Respect, my article in Outside magazine about Ultimate and Beau Kittredge.
Here is the Slate podcast of Hang Up and Listen where I talk Ultimate.
Here is the great Wall Street Journal Review.
Sin the Fields is a wild, fun podcast from Ultiworld.
This is my Longform interview, where we touched on a lot of non-ultimate topics, including "immortality."
Here's a brief but fine review from Harvard magazine.
Here is the website I created, but honestly never visited much. But it has a very cool connection to Stu Beringer's vintage photos, which you can also go to through UltiPhotos….
Here's our Old and In the Way squad. We got a silver at old-guy Nationals in July and (hopefully) will be reuniting for Worlds.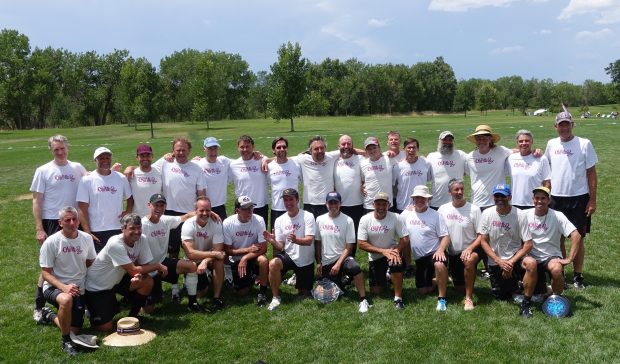 Here is what the Rude Boys did to my book: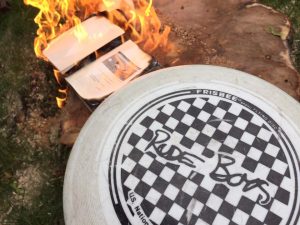 And here, once again, is the book trailer, edited by daughter Hadley.
This website, Big-Hearted Boy, asked me to create a playlist of the music that goes with my book.
And speaking of beautiful music, here are some pics of our post-game singalong (and book signing):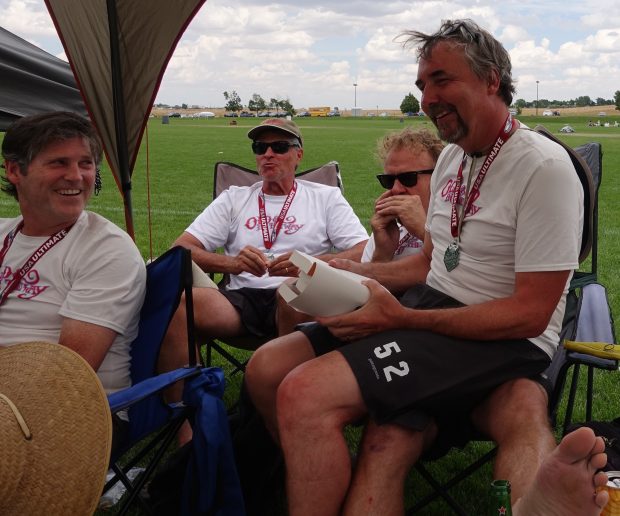 One with Dancin' Dave Smith….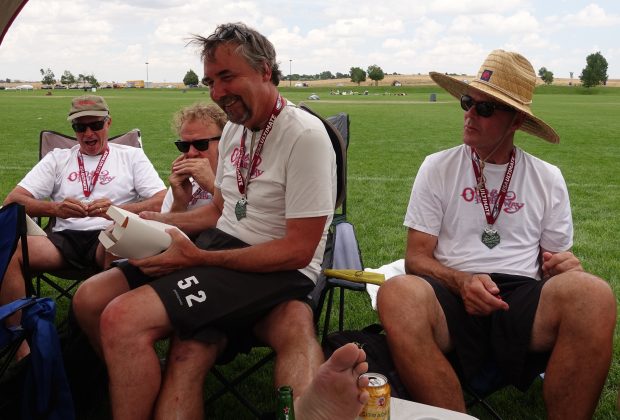 A Bunch of old guys…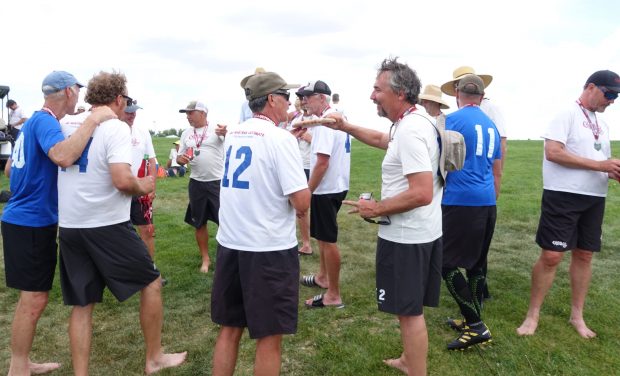 From my reading in Maplewood:
"If Springsteen were an ultimate player he would have played for the 'Boro." Timba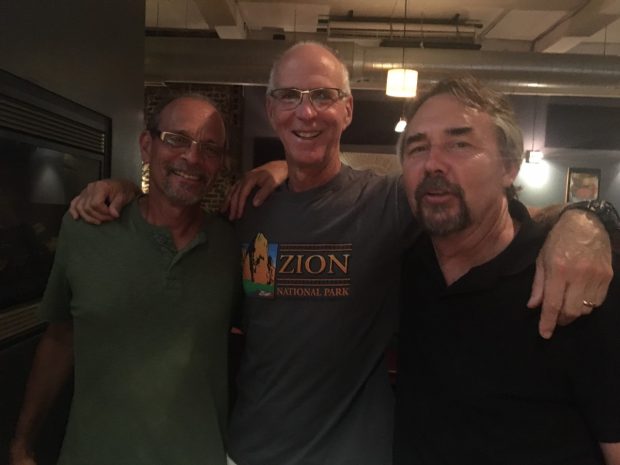 Boulder: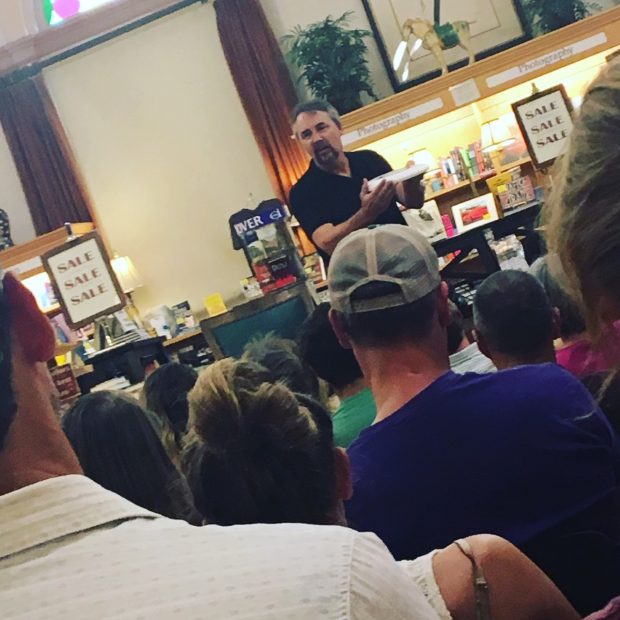 Brookline: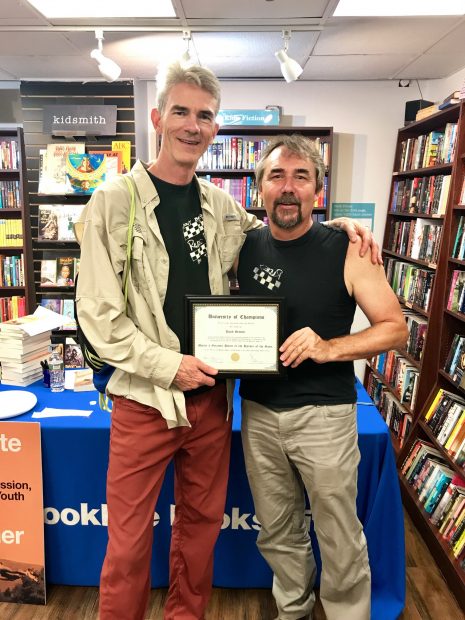 My pardon. I can play in D.C. again!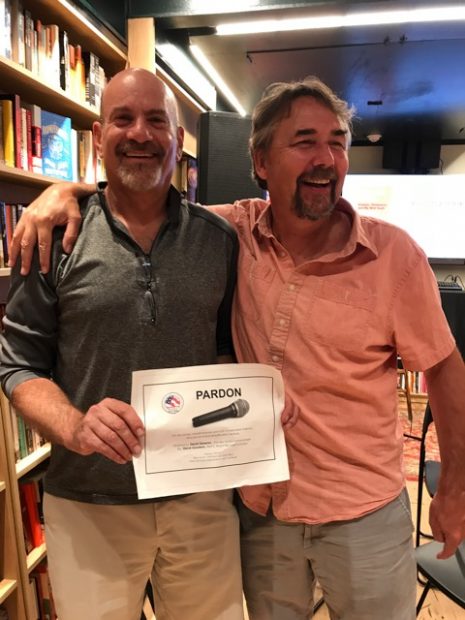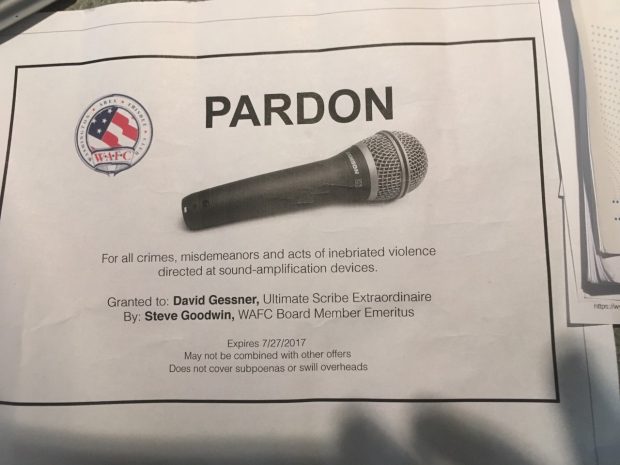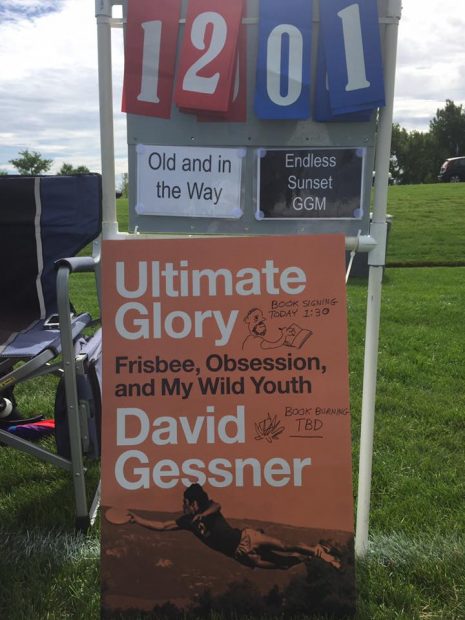 My Dad  (Telluride):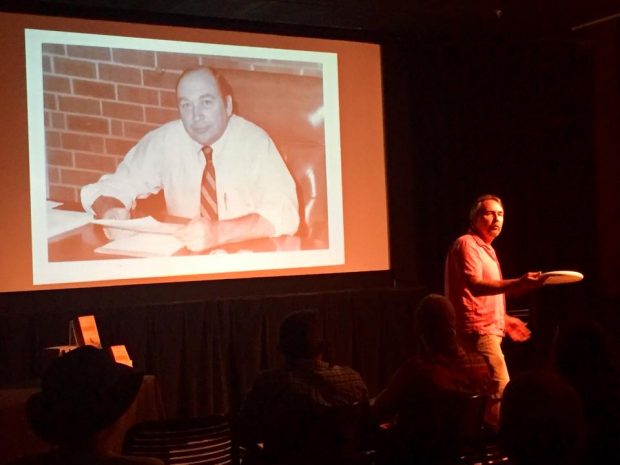 San Francisco: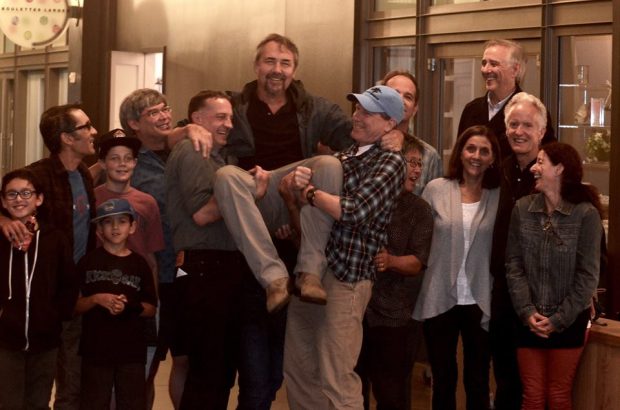 Thanks for everyone for coming out this summer. It was a blast.
Here is/was the tour, more or less:
TUESDAY JUNE 6, 2017
WRIGHTSVILLE BEACH BREWERY 6201 OLEANDER-
EVENTS ROOM
7:00 PM Event HOSTED BY POMEGRANATE BOOKS

WEDNESDAY, JUNE 7 – DURHAM
THE REGULATOR BOOKSHOP
7:00 PM Event 720 Ninth Street, Durham, NC 27705

SUNDAY, JUNE 11 – ALBUQUERQUE
BOOKWORKS ALBUQUERQUE
3:00 PM Event 4022 Rio Grande Blvd NW, Albuquerque, NM 87107

MONDAY, JUNE 12 – TELLURIDE
BETWEEN THE COVERS
6:30 PM Event 224 W Colorado Ave, Telluride, CO 81435

• They would like to organize an outdoor Frisbee mini-match or demo or interactive target throws in the pocket park near them. The reading itself will likely not be in their shop.
• They are thinking that the interactive part would start at 6:30pm and the reading will start at 7:30pm.

THURSDAY, JUNE 15 – EDWARDS
BOOKWORM OF EDWARDS
6:00 PM Event 295 Main St, Edwards, CO 81632

TUESDAY, JUNE 20 – BOULDER
BOULDER BOOKSTORE
7:30 PM Event Pearl Street Mall, 1107 Pearl St, Boulder, CO 80302

WEDNESDAY, JUNE 21 – DENVER
TATTERED COVER BOOKS
7:00 PM Event 2526 E Colfax Ave, Denver, CO 80206

THURSDAY, JUNE 22 – FORT COLLINS
OLD FIREHOUSE BOOKS
6:00 PM Event 232 Walnut St, Fort Collins, CO 80524

MONDAY, JUNE 26 – PORTLAND
POWELL'S BOOKS ON HAWTHORNE
7:30 PM Event 3723 SE Hawthorne Blvd, Portland, OR 97214

TUESDAY, JUNE 27 – SAN FRANCISCO
BOOK PASSAGE at the Ferry Building
6:00 PM Event 1 Ferry Building, San Francisco, CA 94111

THURSDAY, JUNE 29 – SEATTLE
EAGLE HARBOR BOOKS
12:30 PM Event 157 Winslow Way E, Bainbridge Island, WA 98110

THURSDAY, JUNE 29 – SEATTLE
ELLIOTT BAY BOOK COMPANY
7:00 PM Event 1521 10th Ave, Seattle, WA 98122

AND……

OTHER GESSNER BOOKS

MORE GLORIOUS ULTIMATE
FRIDAY, JULY 28 – MAPLEWOOD, NJ, THE BIRTHPLACE OF ULTIMATE!!
[words] BOOKSTORE
7:30 PM Event 179 Maplewood Ave, Maplewood, NJ 07040
http:/​/​wordsbookstore.com/​2017/​01/​ultimate-glory/​
MONDAY, JULY 31 – BOSTON–MY RETURN TO THE STORE WHERE I ATTACKED THE CUSTOMER!
BROOKLINE BOOKSMITH
7:00 PM Event 279 Harvard Street, Brookline, MA
https:/​/​www.brooklinebooksmith.com/​events/​2017-07/​david-gessner—ultimate-glory-frisbee-obsession-and-my-wild-youth/​
TUESDAY, AUGUST 1
HARVARD SUMMER SCHOOL
THOMPSON ROOM BARKER CENTER 12 QUINCY STREET
6:00 PM EVENT
TUESDAY, AUGUST 8 – PORTLAND, ME–WITH BILL ROORBACH
PRINT: A BOOKSTORE
7:00 PM Event 273 Congress St, Portland, ME 04101
http:/​/​www.printbookstore.com/​event/​david-gessner-discusses-his-new-book-ultimate-glory-bill-roorbach-author-girl-lake
Aug. 16: Ultimate Frisbee, Steve Rushin, and Sports Stadiums
Varsity Letters is back at The Gallery at Le Poisson Rouge on Wednesday, August 16 with an eclectic evening of sports authors, including David Gessner.
comments: Comments Off

on Lundgren's Lounge: "My Absolute Darling," by Gabriel Tallent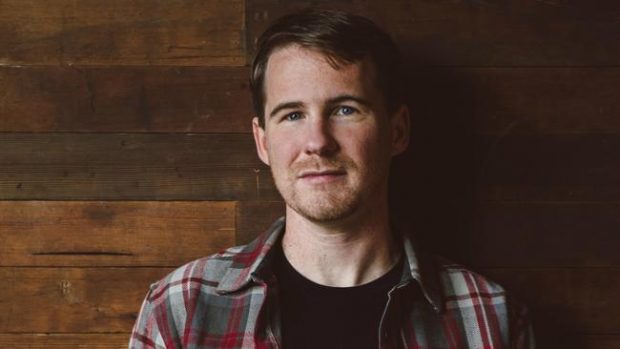 With the arrival of summer comes the inevitable onslaught of summer titles, those books you all MUST read, for your own edification, or for cocktail party chatter or for the simple pleasures of this increasingly arcane act that we call reading. These books arrive on the scene to great trumpet blasts and ubiquitous and rapturous front page reviews… and by the next year they have been largely forgotten, relegated to the remainder shelves or the used book section of the bookstore or most ignominiously, serving duty as a doorstop. Continue reading →
comments: Comments Off

on Soldiers in Boots, Girls in Lakes: Bill Talks with David Abrams
David Abrams and Bill Roorbach first met at PNBA, Pacific Northwest Booksellers Association conference, which took place in Tacoma, Washington back in 2012, when David's book Fobbit was new and Bill's book Life Among Giants had just been released. These friendships on the road with new books bloom quickly, and are reinforced by chance meetings across years to come. On the occasion of the publication of their newest books, Bill and David (Not that Bill and Dave!) thought they better have a virtual conversation, as the road wasn't going to bring them close this time around. Continue reading →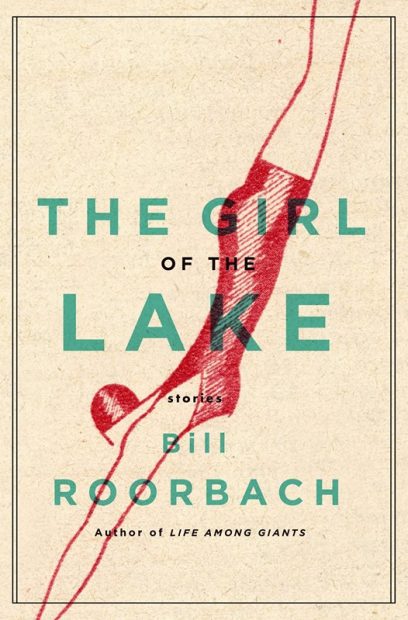 Today is publication day, accompanied by the usual excitement and dread.  Have I got a story for you!
comments: Comments Off

on Audio, Audio!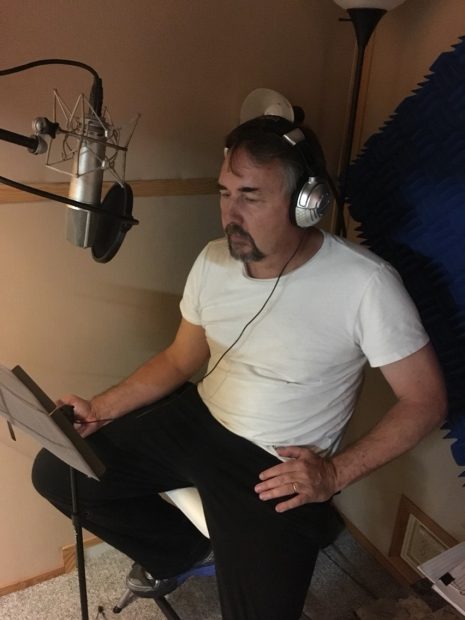 Nina, my wife, didn't read my last book, All the Wild That Remains. She listened to it as an audio book instead. That means she got to hear a strange man say things like this about my then-eight year old daughter: "I got in the car with Hadley and drove seven hours up to Wyoming….."
I liked the narration for the book a lot but the narrator's voice was distinctly unlike mine. It had a hint of Englishness to it, not effete exactly but slightly fancy, and the word "bullshit" did sound right when he said it.
When I told a friend of ours, Bekki Lee, about Nina listening to the not-me narrator, her story-making mind came up with this: what if a wife listened to a husband's book and fell in love with the narrator's voice, then left the husband for him?
That can't happen this time since I will be reading my own book. I'll be very happy to have narrated Ultimate Glory myself, and to have it. But I was surprised by how brutal a process the recording has been. Six days of 6 hour days of reading. Who knew I had so much saliva in my mouth or then, the next minute, so little? Who knew the letter L makes a clicking sound? Who knew I couldn't pronounce half the words I thought I knew in my head?
Barring any unforeseen circumstances, that will be the last time in my life where I read anything out loud for six hours.
For the next book I'll just let my wife's lover do it.
* * *
You can hear all my thoughts on the recording sessions at Penguin-Random House's "This is the Author."