You are viewing:
Cocktail Hour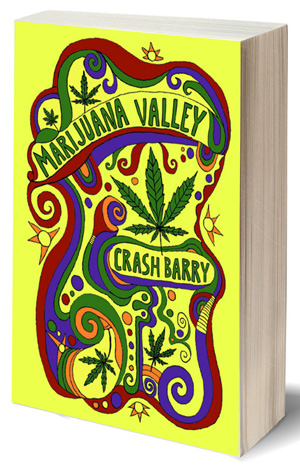 Sometimes obscured by all the hoopla and hysteria surrounding the marijuana legalization movement is the fact that the 'devil's lettuce' (as one of my former high school students once described it), has become a permanent presence in American culture. The major league baseball Colorado Rockies recently announced that they would be selling marijuana brownies at it's games–baseball, mom, apple pie and… marijuana brownies? You can't get any more mainstream than that. Continue reading →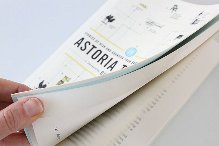 Here's a chance to see great writers reading great work while celebrating the release of Astoria to Zion: Twenty-Six Stories of Risk and Abandon
from Ecotone's First Decade
Next week in Boston:
Ecotone magazine and its sister imprint, Lookout Books, celebrate the
publication of Astoria to Zion: Twenty-Six Stories of Risk and Abandon
from Ecotone's First Decade at Doyle's Café in Jamaica Plain on Tuesday,
April 8 at 8 p.m. Featured storytellers include award-winning Boston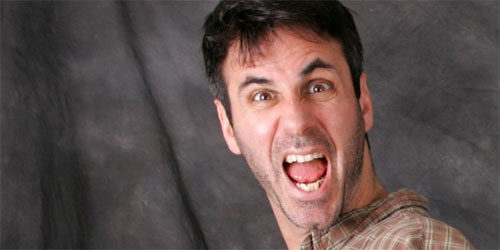 writer Steve Almond, as well as Bill Roorbach (no introductions, or links, neccesary), author of Life Among
Giants, and writing coordinator at the Fine Arts Work Center in Provincetown Matthew Neill Null.
The event, which is free, brings together some of the country's most vibrant fiction writers with Ecotone editors and readers to listen, laugh, discuss, eat, drink, and trade tales that explore the anthology¹s themes of risk and abandon. Ask the best question, and win a free copy. A signing will follow.
Doyle's Café
3484 Washington Street in Jamaica Plain
Tuesday, April 8 at 8 p.m.
Regularly recognized as Boston's best bar and restaurant, Doyle's offers a
mix of good food, good talk, and good people. It is located in the Jamaica
Plain neighborhood, accessible by the Orange line and close to the Sam
Adams Brewery. Nearest transit: Green Street (Orange Line)
For more information, visit
https://www.facebook.com/events/1421851508065875/. Continue reading →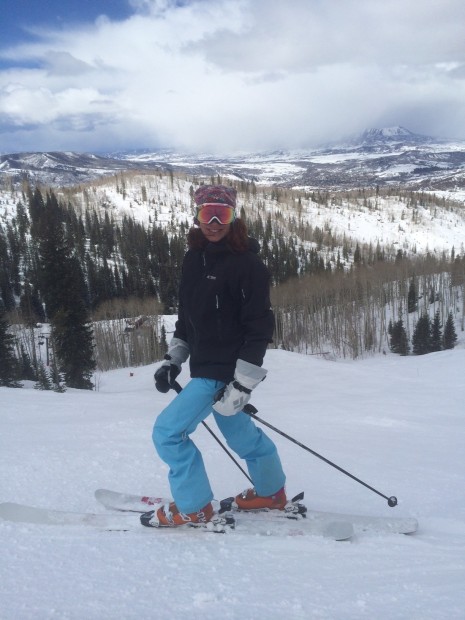 Speaking of Flannery O'Connor, someone I once knew actually met her, and not only that, spoke with her.
It might have been about 1960, for my acquaintance was a college student at the time.  He had gone to a reading or some sort of literary talk and, terrified to meet the writer, he willed himself to remain in the line of people approaching her.  Trembling he was, the closer he came.  After all, it was she, The Flannery, The Queen of the South, known as much for a terse sensibility as a turn of phrase.  He struggled over what he would say to this great one, and was still discarding ideas when he all too soon found himself face to face with her.  She was accurate to the photographs.  Tightly curled hair.  Winged spectacles.  Sharp eyes.  The complete Flannery.  Rattled, he opened his mouth and heard these words come out I want to be a writer.  He was, of course, immediately mortified.  How could he?  Never a published word, in fact he had hardly put pen to paper really.  His eyes went wide at his mistake.  He could have fallen at her feet in his despair.   But it was too late.  The writer's face went to stone.  The sharp in her eyes sharpened.  Her lips barely moved, but she said, very distinctly, Is that so.  Not a question.  Dismissed!  And that was the end of that. Continue reading →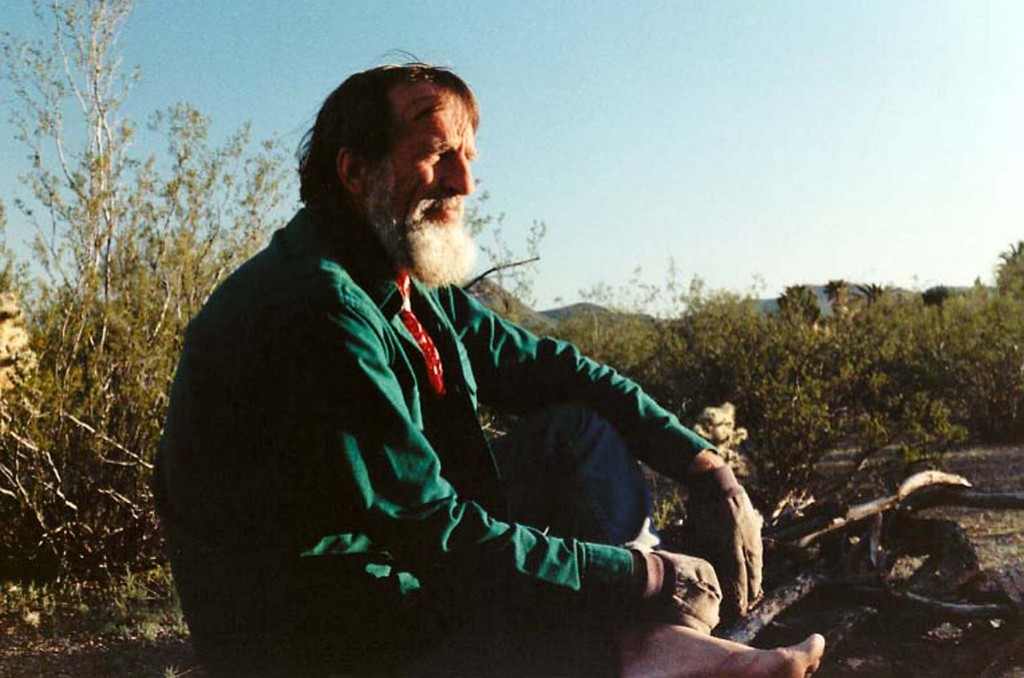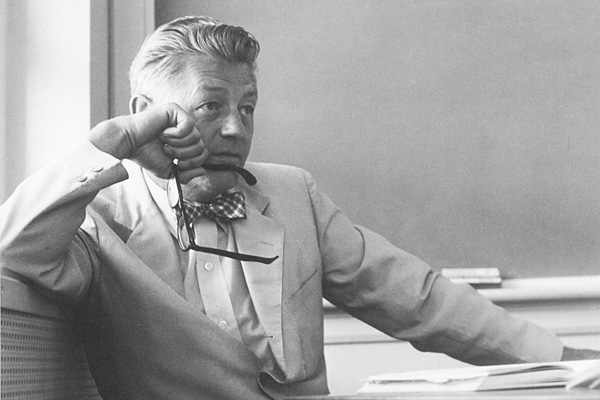 Making books is not a speedy process, or at least has not been in my experience. I am now about a year out from the publication of Properly Wild: Wallace Stegner, Edward Abbey, and the American West.  I thought that over the next year I would chronicle some of the steps along the way to publication. Due today, for instance, is my author questionnaire, which, among a couple dozen questions, includes the two below (complete with my answers):
AUTHOR QUESTIONNAIRE
About Your Book
1. Describe your book in no more than 250 words. We will refer to this description as the basis for your catalog and jacket copy, so please write accordingly.
Wallace Stegner and Edward Abbey are literary giants of the American West, and both men left their large footprints all over the western landscape. After steeping himself in their work and lives, David Gessner spent the summer of 2012 exploring the land that made Abbey and Stegner who they were. As Gessner explores oil boomtowns, camps in the desert, walks the charred ridgelines after historic fires, rides rivers, and talks to people who knew the two men, a braided biography emerges. We learn the story of Stegner's vagabond childhood throughout the West, and of Abbey first seeing the region he would call home after an epic teenage hitchhiking trip. A fascinating portrait develops of two men who, while polar opposites in some ways—Abbey the wildman anarchist, Stegner the mature realist—share much common ground.
But this is not merely a biography. 2012 was a summer of fires and fracking, of oppressive drought, and the West that Gessner found was a West in crisis.Wallace Stegner and Edward Abbey, as well known for their environmental activism as for their writing, had warned of much of what has come to pass and they remain remarkably relevant, providing a lens through which readers can see the past, present and the future of the West. Gessner finds that while the two writers still have much to offer him as a writer, father, teacher and environmentalist, they have even more to offer, on a larger scale, the region, the country, and the world.  
(248 words)
2. Describe your book in 15–20 words or fewer. Continue reading →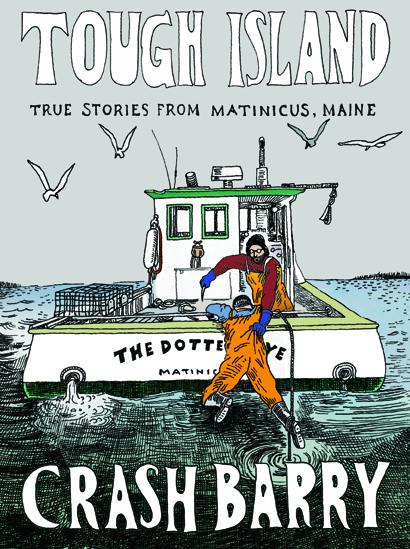 Last summer, Bill and Dave's Cocktail Hour began serializing Crash Barry's gritty memoir Tough Island. Then, in August, Crash took a break from  Bill and Dave's in order to turn his novel Sex, Drugs and Blueberries into a feature film. Now, he's back and ready to finish telling the rest of his true stories from his time living and working on Maine's most remote island. Click here for episodes 1 to 18.
Chapter 19
I returned to Matinicus on March 10th. Captain Edwin met me at his shop and gave me a work list. I was to paint buoys and splice rope. He showed me my room upstairs. Then he headed to the mainland, to continue his vacation. He planned to be back by the end of the month to start setting gear.
This was my easiest time on the island. The work was undemanding and I set my own schedule. I was boozing a lot, because the bootlegger had kindly decided to extend me credit on whiskey and cigs until I started making money with Edwin. My first couple nights back on the island were spent drinking alone, listening to the radio. I needed space, because I was in shock, but I occasionally headed over to my old neighborhood to party with Benny, Paul and Ray. Continue reading →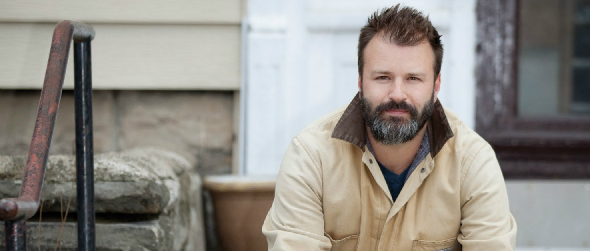 Sometimes it's hard to discern why a piece of literature resonates so deeply. In the case of Shotgun Lovesongs by Nickolas Butler I'm still unsure… is it the way that Butler so perfectly and evocatively depicts the culture of small-town Wisconsin, where I was born and raised and spent the first three decades of my life? Might it be the clear narrative connection with the musician known as Bon Iver, whose music has been haunting me since I first heard it? Or maybe it's simply the breathtaking storytelling talent of first time novelist Butler? Continue reading →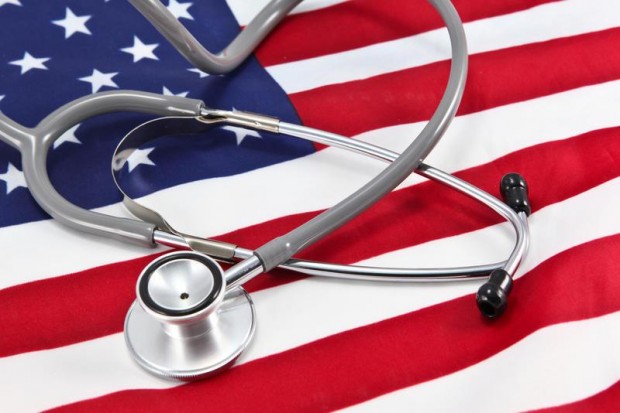 March 31 Deadline to sign up for this year.  If your application is in progress by that date, you will be included!
Self-employed folks, adjunct profs, artists, musicians, under-insured, catastrophic coverage drones, uninsured friends: take notice: I just jettisoned my catastrophic coverage ($15,000 deductible PER PERSON per year at $684 a month, 3 people, criminal), in favor of a far more generous policy ($4000 deductible for all 3!), with out-of-pockets caps, etc.). I was under the impression from quick looks at the Health.gov site earlier and invidious rumors that I'd be paying more, but with the under-heralded automatic tax credit for families making under, like, 94K, the new amount here is $419 a month. I could have gone $10,000 deductible for $129 a month!). Thank you Obamacare. And fuck you Fox News and half our governors and every Republican in Congress for all the disinformation. It's still not single-payer, but it's something! The health insurance marketplace works, it's far cheaper for all of us (lies aside), and it's going to save my ass. No doubt surprises loom, but after five years of paying a great deal for NOTHING (but denials of service), I'm pretty happy, and can't believe I waited even this long. Deadline for this year is March 31, get on it.
Here's the link for the Health Insurance Marketplace.  I'd suggest using the site, which any 12 year old should be able to understand, as brokers just add expense.  You'll find bronze policies, which are cheap and basic, silver, gold, and maybe platinum.  Remember that health insurance is not the same as healthcare, and you get nowhere comparing your healthcare expenses for a year with projected premiums.  What you are getting is production against financial disaster if you fall sick, get in an accident, etc.  But most of all, don't fall for the bullshit.
I put this call to action in a public post on Facebook last week, and what follows is the passionate and sometimes hilarious public dicussion that ensued.  Feel free to join in here or there.  Continue reading →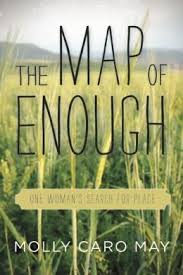 I am thrilled to announce the publication of The Map of Enough: One Woman's Search (Counterpoint Press, March 2014) by Molly Caro May.I was lucky enough to read an early copy and this was my response: "To read The Map of Enough is to go on a joyful adventure of retreat. It doesn't hurt that our guide on that adventure is the exuberant, complex, thoughtful, funny and boisterous Molly Caro May, a placeless woman trying to find her place. It turns out that that place is a yurt in Montana, which, by story's end, seems as archetypal as Thoreau's cabin. In sentences that are beautiful and lyric, but also as resilient and tough as the woman writing them, May makes us think about our own lives and how we choose to pass our days on earth. By book's end most readers will wish their own lives were simpler and more elemental, and, with the author's encouragement, may just set out to make them that way."
Since you can't live in Molly's Yurt, today's bad advice is "find a yurt of your own." (It may be a metaphoric yurt.) Here's an excerpt from the book. (Background info: Chris is Molly's husband, Diane her neighbor, Bru  her Great Dane mix dog.)
Winter was on its way. In mid-October, the grass outside our yurt sparkled blue with frost, but no snow like the first snow last year that slowed our yurt process. I grabbed Chris's hand and we stepped further into a blue-gray world.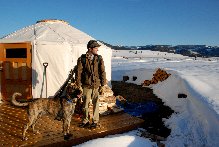 Lie down with me, I said when we reached the sponge grass.
I did not want to charge the moment by turning to love on him, or have him love on me, no. He hadn't rested here for longer than a minute and I thought he should know about it.
This is more comfortable than our futon, he said, arms flung out widely.
We are growing up, I said.
Mmmm.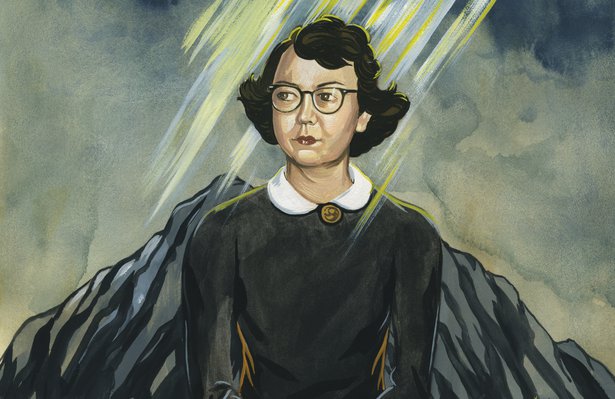 The zenith of my literary fanboy life surely came in those minutes I sat on Flannery O'Connor's toilet.
Blame it on the Chinese food.  For weeks, I'd looked forward to this moment: the day I would first set foot inside Flannery's childhood home.  I'd Googled, I'd Mapquested, I'd made dry runs on the route through southern Georgia, I'd Wise Blood-ed myself to death.  But now something stood in the way of Complete Flannery Fulfillment: the Chinese food.
Two hours before our arrival in downtown Savannah, my wife and I stopped for a quick meal of meat, vegetables and MSG.  The food was good and quickly settled into our stomachs.  In my case, it also traveled farther south at an alarming pace. Continue reading →