You are viewing:
Cocktail Hour
There were binoculars, pointed at the stage like mirrors of a telescope, there were eyes probing the darkly lit hall until they had found the keys of the piano, and the hands, that moved those keys. The music, essential and articulated, resonated its simple brillance in the packed hall. That night, the first Tchaikovsky piano competition had been won by a young man from Texas. The year was 1958, the man was Van Cliburn. Continue reading →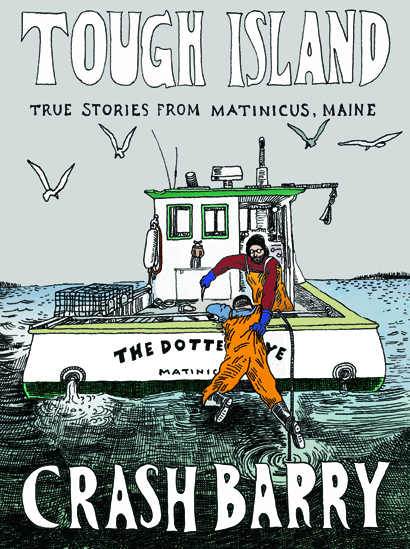 Episode Five
[To read Episode 4, click here][To read Episode 3, please click here][To read Episode 2, please click here][To start at the beginning with Episode One, please click here]
Ever since the first white settler, Ebenezer Hall, a notorious thief and scoundrel, got scalped in 1757 by the local Indians who owned Matinicus, a mist of violence has loomed like low hanging fog, enshrouding the island in a bad reputation. Mostly because of a few loud, bad apples. Stabbings. Arson. Fisticuffs. Sucker punches. Cold-cockings. Ass-kickings. Home invasions and destruction. Murderous threats and name-calling. Guns aimed. Shots fired. People wounded. All part of island history and lore. Continue reading →
Among the wealth of pleasures of working in a bookstore like Longfellow Books, with its family of literate customers and colleagues, is learning about treasures that might, in another lifetime, have passed unnoticed. A recent serendipitous connection led me to Kate Christensen's The Astral and the acquaintance of her protagonist Harry Quirk, one of the more finely drawn and winsome characters to be found in recent fiction.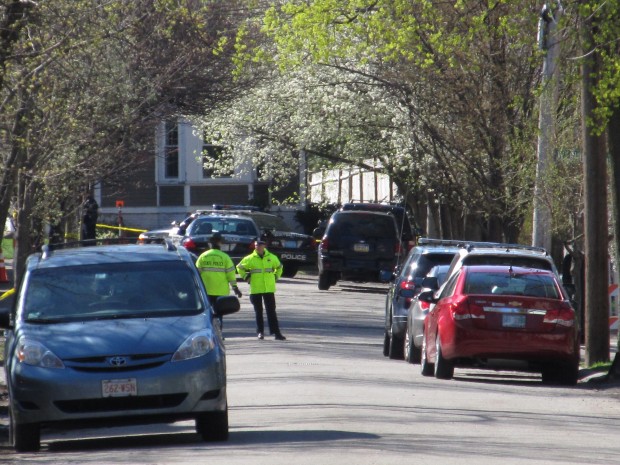 Greetings all Bill and Dave's readers.Dave has been trying to get me to write this since the night the 2nd Marathon bomber was captured,but alas,I'm not a writer and have none of the discipline that true writers possess. I do,however,possess  tremendous discipline to put fishing above almost everything else I do. So that's my excuse.I've been busy fishing.
       21 Blocks
I have lived in Watertown,Massachusetts for 21 years. I love Watertown. Even though it's only 5 miles from downtown Boston it has a decidedly non-urban feel to it. Quiet neighborhoods are home to people of all ethnicities where at no time have I ever felt threatened or concerned for my safety.
On Monday April 15th  I left my apartment at 1 pm and drove 30 miles west to meet a good friend of mine who was up in the area on business and go fishing at Wachusett Reservoir. Not only is Wachusett my favorite place to fish, the reservoir also supplies the city of Boston and my town as well with our drinking water. We fished all afternoon and into the evening oblivious to what had happened at 2:50pm in Boston. Only after getting to the hotel at 9 pm did we find out about the bombings at the Boston Marathon. Shocked and horrified we sat glued to the tv screen while being brought up to date about the events of that tragic afternoon. All we could do was shake our heads in disbelief and feel bad for those who were killed or injured. Not a great night.
The next  2 days, the 16th and 17th,  we also went fishing because that was our original plan and we weren't going to change it. While I was concerned, appalled and angry about the bombings I was at that time far enough away not to feel threatened. All that changed beginning the night of the 18th when I was back home in Watertown.
I remember being half asleep the phone ringing and on the answering machine hearing an automated message from the Watertown Police saying that there was an "active incident" and for all residents to remain in their homes. I thought to myself "great, I'm already in my home" and fell back to sleep. It never dawned on me that they might be talking about the search for the bombing suspects.
On Friday the 19th I woke up at 6:30 AM  fired up to go fishing out at Wachusett. I made coffee and sat down to check out the weather report  on the local news. The first thing I saw on the screen were the words NO ONE ALLOWED IN OR OUT OF WATERTOWN. That was Continue reading →
Jen Sincero is famous for many things, though in our house most of all for being a collge friend of Nina's.
What follows is from her book, You Are a Badass, published by Running Press.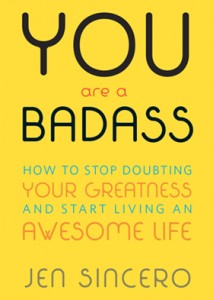 BEAM ME UP, SCOTTY!
Nothing is impossible, the word itself says "I'm possible."—Audrey Hepburn; actress, icon, fabulist
 My grandmother on my mother's side lived to be one hundred years  old. Nana was as WASPy as they make 'em: prissy, reserved, able to avoid confrontation with the skilled precision of an F-16 pilot. For as long as I can remember, she always looked exactly the same. She was  eternally adorned in a cardigan, pinned together at the top by an antique broach, her pink lipstick and sparkly brown eyes shining through a face-full of wrinkles that erupted in a series of "oh dears" every time she laughed.
In her long lifetime, Nana witnessed the birthing of such pivotal human achievements as the phone, the car, the TV, human flight, the computer, the internet and rock and roll.
The two things that blew her mind the most, however, were putting a man on the moon and the soda dispensers at McDonalds. She'd stand there watching, gripped by disbelief, as an employee placed a cup, small, medium or large, beneath a spout, pushed a button and walked away, leaving the machine to fill it up the perfect, proper amount. "How does it know where to stop?" Nana would shake her head, mortified, "How does it know ?!" Continue reading →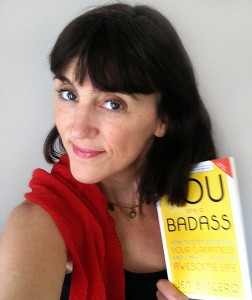 Listen!  I bring glad tidings of good cheer!  Because if you're reading this blog, you've already had the great fortune to be born a human, here on planet earth.  Which means that from the moment you first opened your eyes, however many years ago, you woke up in a world as Technicolor and full of magical possibility as Oz.  And guess what else?  You, nobody else but YOU, are the man behind the curtain!  Which means that however unassuming or even inept you may sometimes feel, you in fact have the power to bestow heart, brains, courage, and a one-way ticket home to the life of your dreams.  And if you're capable of bestowing such wonders, hey!  Why not start with yourself?
 Yes, my dears, I am feeling energized today.  More to the point, I am feeling like a BADASS, because I just finished reading Jen Sincero's fantastic book, You are a Badass: How to Stop Doubting Your Greatness and Start Living an Awesome Life.  It is a self-help book, that's true, but one as cheese-free and inspiration-full as only Sincero  — the lead singer of a band called Crotch and the author of The Straight Girls Guide to Sleeping with Chicks – could write.  Think Tony Robbins meets Tom Robbins meets the coolest, funniest, most on-your-side friend you could ever want.
 Many years ago, when I was a smart but disaffected teenager, I read as much Kurt Vonnegut as I could get my hands on.  Even after devouring all those life-changing novels, the work of his that still pops into my mind regularly is one I never actually read because he never finished writing it: a short story called "Asleep at the Switch," which Vonnegut describes in his preface to the novel Jailbird. Continue reading →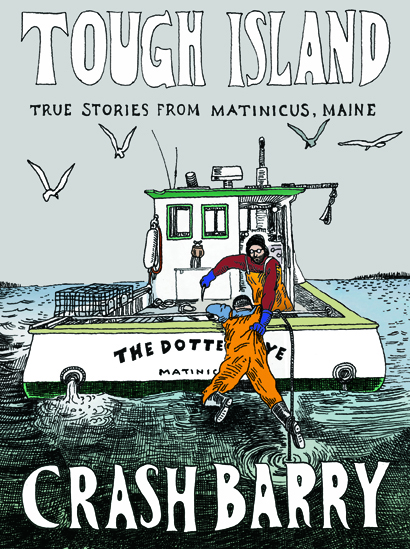 Episode Four
[to read Episode 3, please click here][To read Episode 2, please click here][To start at the beginning with Episode One, please click here]
We took Captain Donald's truck down to the shore so I could move into my new pad. We parked by the post office and I followed Donald on the foot path that wound around the edge of the harbor, through the village of fishhouses. I thought we were headed to the apartment that overlooked Donald's wharf, the one I painted the autumn before, a nice one-bedroom with a sawdust toilet and a full kitchen, sans running water. Continue reading →
For some reason I find it easier to write about "failures" versus accomplishments, just as many tend toward serious life events versus day-to-day experience when they have to think of a topic to write on. If I were to have "succeeded" in the ranking sense, this would've been a completely different piece of work. I would've probably talked about how hard I trained, spoken to the years I had put into my quest and finally thanking those who had been there along the way. In the excitement of succeeding I would've forgotten how nervous I got, the mistakes I made, and the spontaneity of the ticket I had purchased just three weeks before. I would've written about this event a few weeks post competition, after the joy had worn off and the adrenaline had cooled down. I would've basked in the congratulations of friends, and knowing looks from strangers, not having to reflect on what I had accomplished, only being continually reminded of it by others. This is not how my trip turned out. Rather, I am coming home a day earlier, beaten, exhausted and humbled. But as I write this in the terminal of Denver International Airport less than 24 hours since I competed at Adult Sport Climbing Series Nationals in Boulder, Colorado I have never felt more motivated in my life. Continue reading →