You are viewing:
Cocktail Hour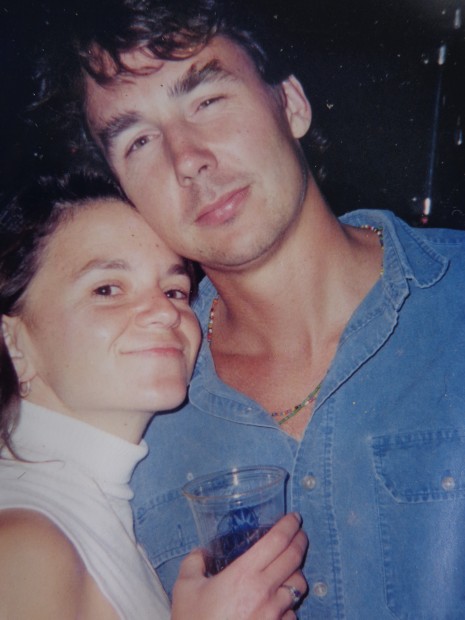 ..Nina de Gramont. Closing in on twenty years of love. In ten minutes I begin my trek back south. See you soon!
.
The good thing about Parkinson's, is nothing can get you upset anymore. It's all drowned in a sea of peaceful panic. You learn to focus on the essential: get to the other side of that room. It develops memory too. Like trying to remember why you were trying to get to the other side. By the time you get there, it's a brand new day. Continue reading →
I took questions from a group of high school students recently, and a kind of inquisition followed.  One kid, who'd seemed kind of sleepy as I spoke, said, Where do you get your inspiration?  From all around, I answered glibly.  All around what?  the kid asked.  All around my day, even from this moment now.  Talking to us? They all thought that was hilarious.  What will you write about us?  Well, that's not the point, I said.  The point is, that inspiration is, true to its etymology, just a kind of breathing, a being breathed.  The old timers thought by God, thus the word.  But to me it's the moment, the right now, that breathes us. Continue reading →
I came upon a crime scene this morning during my walk up to the wintry summer camp. Two regular features of those walks have been coyote prints on the ice and the great blue heron sproaking off when I peek out at the overlook to Upper Mill Pond. Today the two things came together in bloody fashion. A headless heron just off the path with clear evidence of the culprit: bloody footprints leading away and a circle of urine to mark the area of the kill.
To confirm the victim's identity I went over the overlook, and actually walked out onto the ice to a spot where someone had been ice fishing. No sign of the neighborhood heron.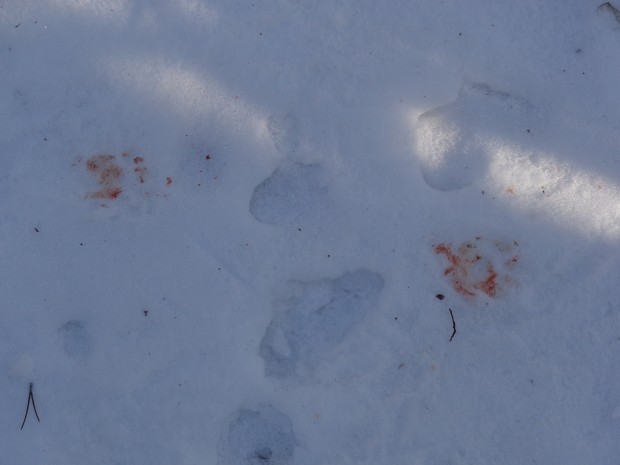 Warning: the pictures below are a tad gruesome….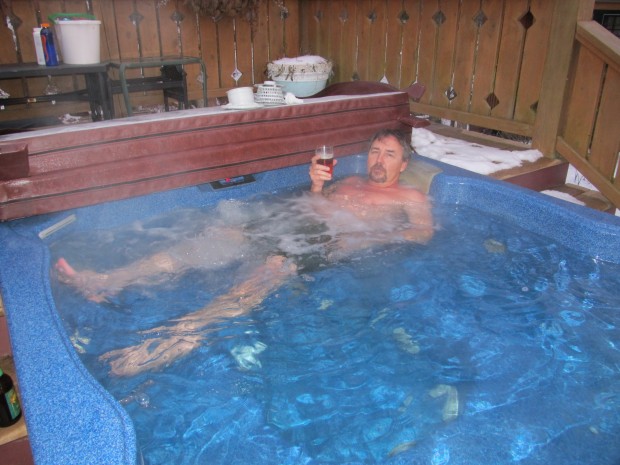 Observing. Doing. Thinking. Making.
The big four.
This is my fairly simple, and perhaps oversimplified, philosophy of creativity.
It's not perfect but discipline yourself to do these and odds are, if you have some talent to start with, you will not suck as an artist.
Observing for me means active watching, often with pen in hand. Looking for longer than you would look if there was nothing at stake.
I decided to do this month's blog for my OnEarth column on, you guessed it, snowy owls……
As you have no doubt heard by now, the Arctic Invasion is here.
Owlmania has swept the east coast, where one of the most beautiful, stunning, and startling of birds—the snowy owl, rarely sighted in the lower 48—has descended on us in numbers at once thrilling and puzzling. In response to this unprecedented influx of owls, an equally unprecedented number of humans have been out looking for, and at, the birds.
For me, personally, the high point came a few weeks ago when I was standing alone on Coastguard Beach on Cape Cod, on almost the exact same spot where the naturalist-writer Henry Beston lived for a year in his outermost cabin, and a young snowy rose off the tundra-like marsh with a black duck in its talons. The duck's lifeless body hung limp, its feet dangling down like damaged landing gear. The snowy flew over the dunes, clearly wanting to be left alone with its prey. I felt something of the irritation it must have felt toward me when I saw a couple climb over from the beach and attempt to follow it. We both—owl and man—were no doubt experiencing some variant of the same thought: What are they doing on my beach, on my territory?
My irritation with the couple faded when I caught up to them. Bundled up like refugees against the cold, the man and woman were considerate, giving the owl plenty of space. They weren't birders, didn't even have binoculars, but they were so delighted by what they had seen that I had a hard time being grumpy. The woman's face was radiant. ("Radiant" was a word I had found myself using a lot over the last few days, though mostly to describe the unworldly white shine of the snowy's feathers.) Continue reading →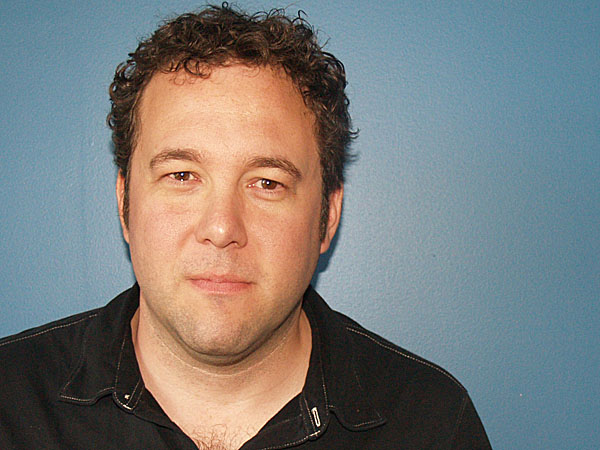 Want Not by Jonathan Miles has been widely reviewed and praised by many critics who primarily have focused their attention on Miles's preoccupation with garbage as the novel's thematic center (indeed, one reviewer, before lavishing the book with compliments, calls it "the best trashy novel of the year.") My reading of this delightfully written triptych of stories is as a searing indictment of the obsessive and mindless consumerism that, in the end, may be the defining characteristic of modern American culture. Continue reading →
In honor of my six days of cross country skiing on snow on Cape Cod, I am posting this from a time when my skis knew only sand.
And, hey, they have an ad on Youtube now. Shouldn't I get $ for that?
Recently writer and professor Shawna Kenney invited me to take part in an online class at the UCLA Extension Writers Program, visiting virtually by way of Blackboard.  Students asked questions, I did my best to answer, and discussion ensued.  I got permission from a number of students to use their questions, and I got permission from myself to use my answers.  First up was T. Locke.  This week, it's virtual classmate Pam. Continue reading →
Tuesday January 21
The hot tub guys came out tonight during the blizzard. Dave Rotman was visiting and he talked them into it and at first they seemed to enjoy the whole adventure. I brought them two Harpoons and hung out for a little while. But it turned out they had to work in the crawl space under the tub and they were soon soaking wet and, not long after, their clothes were frozen.
At least it was for a good cause. "Not wind nor sleet nor snow…" The service they rendered is just as valuable as the post office's. By morning I will be soaking in near boiling water as the snow continues to fall.
Snow has been a theme here since I arrived on Cape Cod on Saturday. Saw the second owl of my life on Monday, the third on Tuesday up in a tree. That bird flew over to sit atop an osprey nest that sat atop one of those blue greenhead/mosquito boxes on the marsh. I was only eight yards away and after the bird flew off I asked Dave to take a picture of the nest so I could have the details needed to write about it later.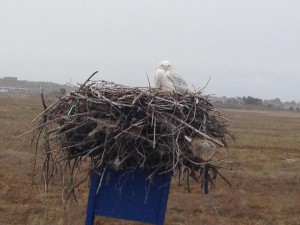 One of the photographers with a ten-foot long lens said, "That's an osprey nest," thinking we thought that the owl had just built the thing for the winter.
Thanks, dude.