You are viewing:
Cocktail Hour
I like to go balls to the walls.  I like to climb slow grinding mountain bike trails that make my heart pound against my ribs.  I like to feel my skin dampen until the wet collects and beads and finally runs in streams down my body.  I like listening to the shrill calls of birds and chipmunks squabbling while I spin my unrelenting rotations and take in the soft rough squish of my tires pushing over rocks and the hard twisting roots of sage and trees.  I like the surprise when a shining doe bounds over my path or freezes into quaking stillness, and we look across the stirring grass into one another's face and wonder what will happen next.  I like to scan the changing terrain and plan how to ride through a sliver of open space where protruding rocks could catch my pedals and knock me to the ground or off the edge of the hillside.  I like to click through my gears with dead-on precision, meeting the changing grade in exactly the right moment to maintain perfect efficiency as I climb a long steep hill, swallow it's mineral dust, and rise out over its crest, legs aching, lungs bursting, and no stopping, but ride on past that place to a farther, higher distance.  I like to come apart in the emerald landscape.  Let my bones break and my organs rip open into a gory mess.  I like the relief as my thoughts empty and the wounds I've been carrying tight in my gut and the set of my jaw and the muscles clenched around my spine and right there behind my twitching left eye pass out of me into nothingness.  And I say, See, it was all nothing.  See that. Continue reading →
It was another day of quiet thunder. A day where the sky took notice of what was happening below and prayers rose to all souls glow. For ninety minutes, the star neurologist whom I met once in my hospital inferno days eight years ago, sat with me and my mother, for a visit. He remembered all about me, and smiled as he listened, speaking softly while his mind mapped a multidimensional world of knowledge and possibilities. I had dyskinesia, I moved too much, and we talked about what could be done and he asked what I did, and took note of photography, painting, singing, writing, piano playing and composing.  He said, "You don't really have inactive periods in your day, do you?" and I said, "you're probably right." Then he mentioned a possible deep brain stimulation and explained which part had anesthesia, and I said "There is no global anesthesia for this part, I like it." He turned to me. "You do?" And I said, 'Yes, I want to be awake, I want to be there." He said, "everybody says they want to sleep, that they don't want to be awake, but you do." There was a pause. "You're not like other people." My mom laughed. Then he reached for a microphone to dictate his letter to my physician, describing in detail what had been said and decided. I was seated, without speaking, not a muscle moving, looking at him and he was dictating the description of my unwanted muscle moves when he realized that all he was describing had vanished. His slowly put the mic down. He said "It's all gone. Your dyskinesia is gone." And I said "Yes. When I don't speak, I have none. I am glad you could see this." And we talked about art and Parkinson's, how he wished I could have helped the hospital with their collaborative work with the museum and I showed him my youtube page where I play piano while having the disease and he wrote down the address of my channel and I said, "What you did with the museum, you cannot do again, it's too much work as you said. But for me, that's what I do, every day." When we parted he gave me the program for the past exhibit and set our next meeting in twelve months. It was a day, of quiet thunder and furiously beautiful love. An unbearable grace. Continue reading →
I was walking home on a cold and foggy Halloween night. I'd been up to the Parsonage, where the schoolteacher and his new bride lived, to help stage a haunted house for the island kids. I'd had a couple of drinks and was looking forward to slumber. I was almost to the Lower Harbor when another islander, driving his truck, spotted me on the road. Continue reading →
I was out of ideas for "Bad Advice" so I Googled it. Then I tried Google Images, and got the pictures below. Take a look. You may even find yourself.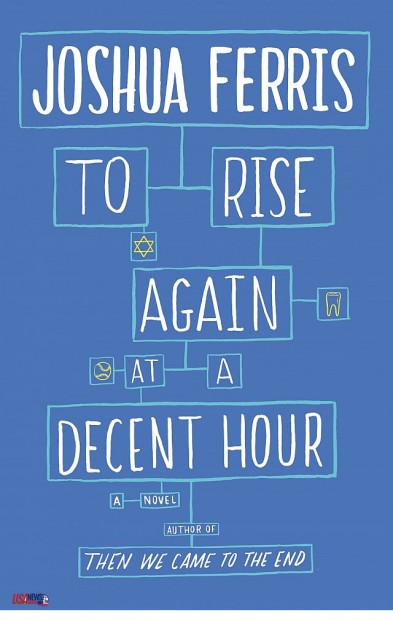 In a quirky, maddening and compellingly captivating body of work, Joshua Ferris portrays the existential angst of modern life. His tone is a sometimes frantic high-wire dance reminiscent of a synergistic mix of the Coen brothers and Dostoyevsky. Yet always, despite the sometimes implausible details of his narratives, Ferris is urging us to consider our plight: what is the meaning of existence in a world that seems bereft of meaning? Continue reading →
[We begin with a flashback To refresh the reader's memory of Crash's sheepish neighbors.]
With my typewriter in the exact center, the table fit nicely in front of the large window on the east wall of the room. The view featured a deserted isle a mere hundred yards from Edwin's wharf. Wheaton's Island, forsaken 50 years before, was ten acres of rock and spruce, with a foursome of weather-beaten structures built so ruggedly that neglect and abandonment couldn't destroy the ancient pylons, pillars and braces that held the buildings perched on ledge and seaweed. All the windows and doors in the mini-fishing village had been stolen by Matinicus thieves decades before. Continue reading →
This week's thought comes from Allen Ginsberg, who was born June 3, 1926, making him yet another vital member of the greatest generation that Tom Brokaw forgot to mention, and a few months older than my father, who regards him as a child of the sixties (like, blame him on my generation, but no).  Okay, Here it is, plenty to think about: "To gain your own voice, forget about having it heard. Become a saint of your own province and your own consciousness." Continue reading →
Working in a bookstore affords me the enviable opportunity to read things hot off the press, sometimes even earlier, with galleys and advanced reader's copies. But occasionally the deluge can become overwhelming and then it's time to go back to the dusty stack in the corner and grab that long-neglected classic, the one you'd always meant to read… Recently I did just that with Michael Paterniti's classic from 2000, Driving Mr. Albert: A Trip Across America With Einstein's Brain. Continue reading →