You are viewing:
Our Best American Essays
[This essay is from my book Into Woods and originally appeared in The Missouri Review.  Later, Harper's picked up an excerpt for their "Readings" section.  It was written in about 1998, and since then I've developed a much fonder feeling for Columbus.]
.
.
Scioto Blues
.
If you move to Columbus, Ohio, from Farmington, Maine, you will not be impressed by the landscape.  It's flat around Columbus and the pre-prairie rivers move sluggish and brown.  In Maine you pick out the height of flood on, say, the Sandy River, by the damage to tree trunks and the spookily exact plane made by ice and roaring current tearing off the lowest branches of riverside trees.  In Columbus you pick out the height of flood on the Olentangy or Scioto rivers Continue reading →
Here is the equal night again, so different from that of autumn, which comes dressed in summer.  In fact, the first day of spring comes to Maine in high winter drag.  Often it comes dressed in snow, thick and wet, mixed with rain.
For me in March most of the pleasure in watching snow accumulate has fled.  I decline to shovel the driveway, thinking, Snow'll be gone soon enough, and pay for that when the slush left over freezes in deep ridges that last weeks in a cold snap.  I consider the skis—but the snow is so wet and heavy, and I've been thinking about my bicycle, my hiking boots.  Soon enough.
But, of course, it's not soon enough.  It's weeks, sometimes, in grinding cycles of melt and freeze, and melt and freeze again.  And again.  Time never moves so slowly as in the transition from winter to spring in Maine.  By March the mind's night has got very long, and I have gotten used to it, gotten cozy alone in there, in my thoughts.  Continue reading →
Summers With Juliet started as an idea for a personal essay, one of my first ever (before that I'd only written formal essays and fiction), nothing more than this: My not-yet wife and I had seen an enormous fish in Menemsha Pond, Martha's Vineyard, a sea sunfish, Mola Mola. One January day I started to write that story, and by late March, I finished it. After a year of revising and Continue reading →
           You will be moving into your new home soon and, as ours is a small community, the neighborly thing for me to do would be to bring by a tin of cookies or fudge.  Instead I send this letter.  Cowardly by nature, I'll probably slip it under your door.  It's not the sort of thing likely to elicit the smile brought on by a note from an old friend, or even the irritated glance aimed at junk mail, and you'll surely toss it aside at some point.  If I had the courage to stick around while you read my words, you'd no doubt turn to me and counter my own flimsy, idealistic arguments with more solid and practical ones.  "What right do you have to tell me what to do with my land?" you'd ask.  "I bought it with my own hard-earned money.  Furthermore, if I hadn't built my house here, the place would be checkered with subdivisions."
            You'd be right of course.  And I should be grateful the land wasn't further developed.  But I'm an ingrate, and ingrates, by nature, complain.  
            "It's a goddamn desecration of place," another of your new neighbors said recently.  That's the word–desecration–that keeps coming up when I think of what you've done to your land.  I don't use the word lightly; in fact, I use it just as it was meant to be used.
Shitdiggers, Mudflats, and the Worm Men of Maine
by Bill Roorbach

.
.
.
"Hard work," says Dicky Butts, and we haven't even started yet.
.            "Get wet today," says Truman Lock.  He pulls his greying beard, squints out over the bay.  The blast of an offshore wind (strong enough to blow the boat and its no-lights trailer halfway into the oncoming lane as we made the drive over) is piling white­caps, spraying their tops, Continue reading →
We moved from Cape Cod to Carolina about eight and a half years ago.  I wrote this soon after our first school year in the South ended, when we returned to the Cape in June.  It turned out we weren't the only ones with a new baby and this is the story of how we interacted with another pair of parents and their off-spring.  It was originally published in the great journal Isotope.  Long may it live! 
FIELD NOTES ON MY DAUGHTER
1. Fox
During these joyous days back on Cape Cod I am taking field notes on both the local foxes and Hadley.   Hadley is now just over a year old, a completely different animal than the one who moved south: a walking, talking, gesturing hominoid.   Last night she rode my shoulders to the beach, and we found that a fox family had built a den in the seawall rocks.  Hadley pointed at them and said "cat," the word she is stamping on everything these days.  Still, if her term for them was not entirely accurate, she was close.  The two kits, their legs covered with black stockings, ambled right up to us, and she could barely contain her excitement.  Meanwhile, I tried to maintain my scientific sobriety, taking notes on their black eyes, their white-tipped tails, their foolish trust.        
            Hadley's physical development, like those of chimps and apes, her closest relations among primates, is relatively slow compared to other animals, these foxes for instance.  In humans, physical growth, height and size, is retarded because time is required for us to learn the complex, symbolic and ever-changing world of our species.   But the mental growth is wild.  You see it in Hadley's eyes and her hands and in her intense interaction with the physical world.  Not long ago I taught her how to snap, and now she moves around the house going at it like a Beat poet.  Her prose poem of course is made up of that one obsessive word, "Cat," though she inflects a hundred emotions from the sound.  The other night she woke up from a dream and said quite clearly: "Cat.  A cat."  The alliterative and vaguely homonymous "Cow" has also leaked out, so you get the feeling that a hundred other words are gathering, readying, almost a cloudburst.    Continue reading →

Those who enjoyed this essay, might like this one too: KID OF THE YEAR.  Which gets at the roots of my somewhat overdeveloped competitive instincts.
As for the essay below, I've been thrilled by the response.  At this point, over 32,000 of you have seen it, with the help of Longform and USA Today, and plenty of Ultimate players, including some who weren't born when these events occurred, have told me that this echoes their own ultimate conversions.
ULTIMATE GLORY
A Frisbee Memoir
What you gave me you gave whole
But as for telling
Me how to best use it
You weren't a genius at that.
Twenties, my soul
Is yours for the asking
You know that, if you ever come back
"To My Twenties" by Kenneth Koch
We labor over our big decision and big dreams, but sometimes it's the small things that change our lives forever.  What could be smaller than this: It is the first week of my freshman year of college and I, looking for a sport to play, am walking down to the boathouse for crew, resigning myself to four years of servitude as a galley slave, when I see a Frisbee flying across the street.  The Frisbee, tossed from one long-haired boy to another, looks like freedom to me.  Then I notice that there are several Frisbees flying back and forth between a band of young men, all wearing shorts, with cleats hanging over their shoulders.  At the time I am quite shy but, uncharacteristically, I cross the street and ask them where they are going.  To Ultimate Frisbee practice, it turns out, and I am going with them.     Continue reading →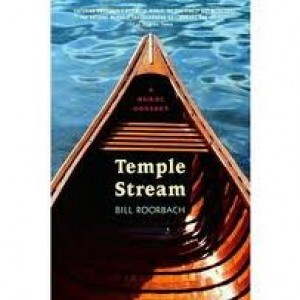 From my book Temple Stream [then as now, though the dogs are gone, and a new one in their place, pretty Baila, Elysia not only born since (her birth part of the narrative) but eleven years old!]:
#
Winter Solstice
#
Starting as early as October, but more likely November in a given year [and not till mid-December in 2011], Temple Stream begins to freeze.  Every day the ice changes, grows, shrinks back, advances.
#
And every morning the dogs and I hiked down there to have a look, and hiked down again each evening, just to see what had changed.  Ice paved the way: the muddy parts of the path were thrown up in frost castles, delicate keeps and crenellations of dirt and ice that collapsed with a satisfying crunch underfoot.  The kingfisher was quietly gone, the mallard Continue reading →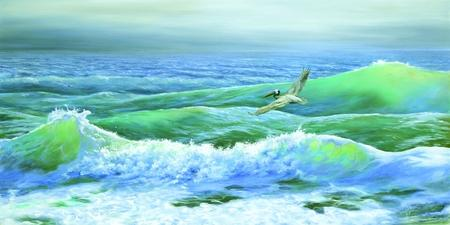 We are in the process of converting and re-stocking are other categories, including "Our Best American Essays," which this is a part of.  To read this essay in its original form as it appeared in Orion magazine (beautiful painting and all), click here.
LEARNING TO SURF
by David Gessner
           Out just beyond the breaking waves, they sit there bobbing, two groups of animals, avian and human, pelicans and surfers.  As they rise and fall on the humps of water, the pelicans look entirely unperturbed, their foot-long bills pulled like blades into scabbards, fitting like species-wide puzzle pieces into the curves of their throats.  The surfers, mostly kids, look equally casual.  In fact one girl takes this to an almost ostentatious extreme: she lies on her back on the surfboard, looking up at the sky, with one leg crossed over the other in an exaggerated attitude of relaxation.  For the most part the birds and surfers ignore each other, rising up and dropping down together as the whole ocean heaves and then sighs.   
          Pelicans are particularly buoyant birds and they bob high on the water as the surfers paddle and shift in anticipation.  There is no mistaking that this is the relatively tense calm of before, rest before exertion.  Soon the waves pick up and the surfers paddle furiously, gaining enough speed to pop up and ride the crests of breaking surf.  They glide in toward the beach where I stand, the better ones carving the water and ducking under and cutting back up through the waves.
We only moved to this island town a month ago, but I have been here long enough to know that those who pursue this sport are guided by a kind of laid-back monomania.  Each morning I bring my four-month old daughter down to the local coffee shop, and each morning the talk is of one thing.  It isn't only the southern lilt that is new to me, but the surfing lingo.  The ocean, I've learned, is always referred to as "it."