Comments Off

on Rough Beauty by Karen Auvinen
Long time, no talk Bill and Davers. I'm coming out of seclusion because a very special book is due out a week from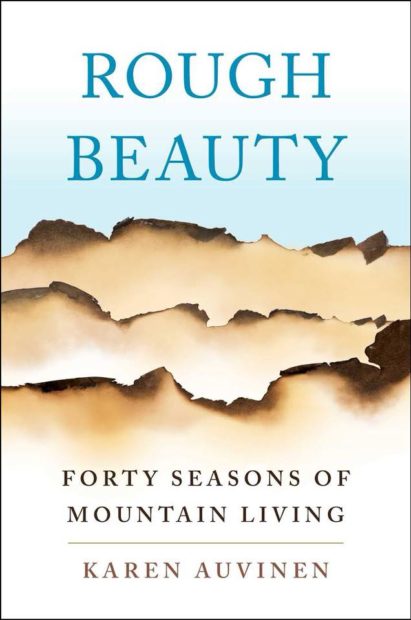 today, June 5. With Scribner's behind it and three starred reviews already (calling it "Breathtaking" and "a beautiful contemplative memoir,") Karen Auvinen's Rough Beauty is poised to be a break-out book. And it deserves to be.
I was lucky enough to read it early to blurb it. Here is what I wrote:
         This beautiful and elemental book is an invitation into a life of nature and ritual. Her existence scoured to simplicity by a home-destroying fire, Karen Auvinen sinks into the seasons, watching the world turn from her isolated mountain home, battling loneliness and her own stubborn self, but through contact with the natural world–including the neighborhood bear– achieving moments of illumination and profound truth. At the center of the rituals that make up this mountain life–including walks in nature, meditation, and gourmet dinners—is a high priest named Elvis, a white husky who is tethered to Karen by devotion (and the occasional leash) and fills her days with love, teaching her that she isn't quite the tough loner she fancies herself to be. 
There are many books about seasons in the wilderness but this is one about a life in it. Henry Beston wrote:"The world to-day is sick to its thin blood for lack of elemental things, for fire before the hands, for water welling from the earth, for air, for the dear earth itself underfoot."  Not Karen Auvinen's world. Rough Beauty has the power to change lives. It stands as an antidote to the brittle and the electronic, the hurried way we rush through our days.
So there it is. Read this book and change your life.