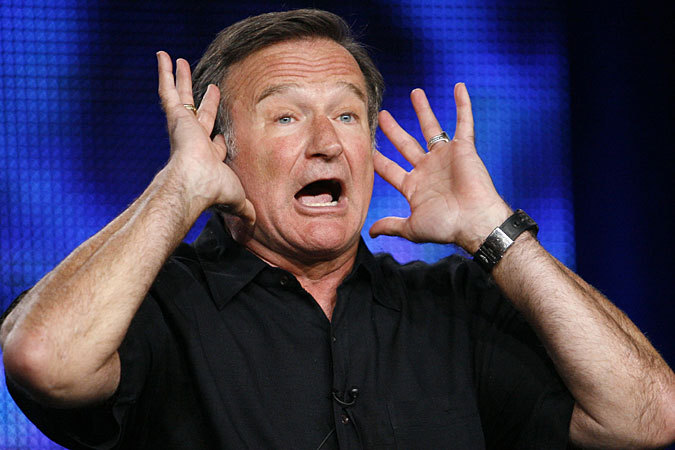 So many posts and articles and op-eds and letters and emails about Robin Williams's sad death, and yet another picture of the media at work, with assumptions run as facts (Williams was back on the sauce? Not true according to his wife, who says he was battling Parkinson's, and had always battled depression).  A lot of moving paeans and memories, too, lovely and sad and instructive.  But also a thread of blame: Suicide is selfish.  And anger: How could he do this to his family? (Subtext being: How could he do this to me?).  And no doubt awakened trauma, as nearly all of us have been through some version of this very public death in our own lives…  How could Mr. Williams, or anyone, make such a dire choice?Here's one FB post, but there were many along the same lines:
"People should be angry when people kill themselves. It's selfish, passive aggressive and violent. If Robin Williams had shot Michael J. Fox we wouldn't be writing about his awesome achievements. Suicide is what assholes do."
But of course, suicide is the result of mental illness.  It's not a choice.  We don't get angry at people with cancer. Or I guess sometimes we do… I knew people who were sure pot caused Bob Marley's brain cancer, for instance…  But compassion makes more sense in either case…
In one discussion, my interlocutor said I insulted those battling cancer by such a comparison, that cancer couldn't be helped, that suicide was a choice.
I would say illness is illness… Mr. Williams put up a great fight against his for many years, and in the end he lost.
On FB, the wonderful comic brain and fiction writer (and Bill and Dave's contributor) Meg Pokrass posted the following very helpful quote from novelist David Foster Wallace, who also hanged himself, and who also battled depression for decades before his death:
"The so-called 'psychotically depressed' person who tries to kill herself doesn't do so out of quote 'hopelessness' or any abstract conviction that life's assets and debits do not square. And surely not because death seems suddenly appealing. The person in whom Its invisible agony reaches a certain unendurable level will kill herself the same way a trapped person will eventually jump from the window of a burning high-rise. Make no mistake about people who leap from burning windows. Their terror of falling from a great height is still just as great as it would be for you or me standing speculatively at the same window just checking out the view; i.e. the fear of falling remains a constant. The variable here is the other terror, the fire's flames: when the flames get close enough, falling to death becomes the slightly less terrible of two terrors. It's not desiring the fall; it's terror of the flames. And yet nobody down on the sidewalk, looking up and yelling 'Don't!' and 'Hang on!', can understand the jump. Not really. You'd have to have personally been trapped and felt flames to really understand a terror way beyond falling."
In Victorian times, mental illness was seen as a character issue. Now we know it's a health issue, as divorced from character as any other health issue. As is addiction. There's no logic involved–there's just terrible, terrible pain and the wish to end it. I agree wholeheartedly that suicide is preventable… But our healthcare system isn't set up to do so reliably. No help until you've hurt yourself or others, and denial in every corner… To blame a suicide for her actions is to blame the victim, I'm sorry, and such blame is a huge part of the problem…
I'm not saying being angry doesn't make sense! It's just where to aim it. My grandmother would always say she was angry at God. He could handle it, in her estimation…
I guess this suicide as criminal or sinner nonsense comes from old Catholic and other religious ideas? That it's a sin? Or insurance companies, who want to make sure it's viewed as a crime?
To those still feeling justified in anger: do you find that your anger helps those left behind or helps anyone?
Anger, of course, is one of the stages of grieving. I give you that!
I see that the Westboro Baptist Church people (of "God Hates Fags" fame) is set to protest Mr. Williams's funeral… And there does seem a connection between seeing sexuality and mental health as character issues, or religious… As if genetics had never been available to the discussion… Anger isn't far from hate, seems to me. And interesting that depression is sometimes characterized as anger turned inward… As if depression or even anger could be helped! I'm sorry for your losses, and all of our losses…
A friend wished aloud that Mr. Williams had had the strength to fight his demons, that he could have gone on to help so many others in his predicament, been a champion in the fight against depression, and therefore mental illness.
But again, it's not about strength. And of course he was a champion, and lived a life in public that takes more strength and more character than we can imagine–or else we'd all do it… He was very, very strong, is what I'm saying, but he had an illness that made that strength beside the point…
Today marks the advent of a new feature: Bill's Sunday Sermon (There may be a Dave's Sunday Sermon from time to time, too!). My chance to rant. I come from a long line of Congregational ministers, but have turned out to be a mystical atheist.