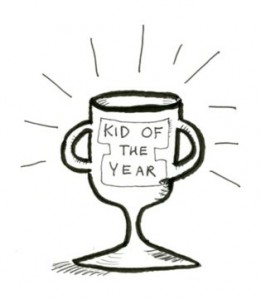 My father is long gone, dead sixteen years now.  But he lives on in me in middle age whenever I bitterly lose a ping-pong game or fret to myself, the next day, over not having tossed a bocce ball better.  His peculiar brand of competitiveness–cocksure, slightly crazed, nearly constant–marked my childhood in a thousand ways.  From the games of "duck-duck goose" where if you dared tag him goose he would tag you right back (without once in recorded family history leaving his own seat), to the games of Hearts where I would run bawling from the room after he had stuck me, once again, with the deadly queen of spades, to the most peculiar sport of all: the lobster races we would stage before boiling the racers alive, each child assigned a crustacean to root for as it flopped backward across the patio, my father acting as a kind of manic Emcee, urging us and the lobsters on.
In some ways we were a typical WASP family, living in Worcester, Massachusetts and lucky enough to "summer" in a house on Cape Cod.   But within that stodgy culture of Yacht Clubs and tennis rackets, we harbored a secret Hun.   My known paternal lineage stretched back almost a thousand years in the eastern German town of Aue where the Gessners had evolved from sheep herders to textile industrialists, with a few artists, composers and lunatics thrown in for good mix.  Later I would travel back to Aue with my father, shortly after the wall fell, and in the family factory on Gessner Platz I visited the archive room and saw photos and paintings of generations of men who had the same glint in their eye that my father had during Duck-Duck-Goose.  My father's grandfather moved to America in the late 1800s, mainly to avoid conscription.  "We Gessners have a long, proud history of running away from war," was how my father put it.   Soon he had established a textile factory, and small fiefdom, of the Gessner clan  in Worcester.
So while my father played WASP country club games, he did so with a wild glint that actual WASPs found unsettling.  Less Thurston Howell than Otto Von Bismark, he hacked at golf balls and sliced at tennis balls with his sinister lefty spin, throwing his racket when he lost and gloating comically when he won.   He would chase down balls thought impossible to get and play with such obvious strain–-no gentlemanly ease for him thank you–that his bald, Churchillian head often resembled a bursting tomato, red from heat and effort, and more than once he had to be dragged off the court and packed in ice for heat prostration.   But if he was merely an inspired hack on the courts, back in the clubhouse he excelled.  At the poker table he would shuffle expertly and narrate the games with what seemed to us his own invented language, dealing a face-up five to another man and announcing "A finsky in the funkhouse."  Less appreciated at the club was when he hustled my uncle Walt, a golf pro, into the member-guest tournament, and bet heavily (and successfully) on his own twosome.
As you can imagine all this had more than a little psychological impact on his first born son.  Many of us hear little whispers of doubt when we shoot a foul shot late in the game or serve on match point, but unlike most I have no problem putting a face with that whisper.  Since I was more athletic than he was, my father worked on my weakness: my then-adolescent mind.  It should come as no surprise that our head-to-head clashes were most dramatic, and most overt, on the tennis court.  There we stood armed with the modern equivalent of swords (me a wooden Bancroft, he a T-2000 roughly the shape of his head), dueling mano a mano, a ritual combat that I, of course, lost for well over a year after I should have beaten him.  Ah, but when I finally did.  It's safe to say that St. George felt no greater sense of satisfaction and relief upon slaying the dragon, and safe to say that it was as mythologically significant for me as George's win had been for Britain.
My father gradually learned that my brother was better left unteased, and he also went a little easier on my two sisters.  Whether this was subtly sexist or just inherent in the father-daughter relationship, I don't know.  For whatever reason I, as the first born male, bore the brunt, which in retrospect I don't really mind.
I do regret, however, that  I never won our family's coveted annual award, KID OF THE YEAR.  My father gave the award at random times (often it seemed to me, more than once a year) and made quite a ceremony out of it for a few years running until my mother finally made him stop.  During the peak years of the award he actually, to my mother's chagrin, had  trophies made up at the Olympic sports in downtown Worcester.   They were just like the trophies you won at junior tennis or swimming competitions, but these little people, instead of serving or diving into the pool, just stood there doing nothing.   KID OF THE YEAR was engraved on one trophy, and on another KID OF THE YEAR– RUNNER UP.  I was never quite sure what the criteria for KID OF THE YEAR was, but as I got older I began to suspect that it was based on varying parts pity, whim, and need.  Whatever the case, the best I ever did was runner-up, and I began to understand that this was because it was assumed that I could take it, which by then I could.  During one of the final years of the tournament, my mother insisted that, if he was going to give out the damn trophies, he better at least give everyone a trophy.  This was much more in the spirit of equality popular in today's schools, grating against my father's child-rearing philosophy, which was equal parts Darwin and Teddy Roosevelt, but he relented and bought four trophies.  At that year's ceremony he made his usual speech before announcing the results and handing out the trophies in reverse order in the manner of beauty contests.   It was a while ago and I don't remember all the specifics, but I'm pretty sure my brother won and that I was handed either the first or second trophy.   What I do know for certain is what it says on my trophy, because it sits here in front of me like a muse as I type.  It reads:
KID OF THE YEAR: PARTICIPANT.