The Finals are set: The Georgia Review vs. The Paris Review.  The voting has been extended to midnight Monday April9th.   Please vote for the finals in the comments section on this page.  You don't have to be as witty as last time.  (We expect a much lower scoring game.)
Our scoring system is simple.  Each vote equals 2 points.  No 3-pointers.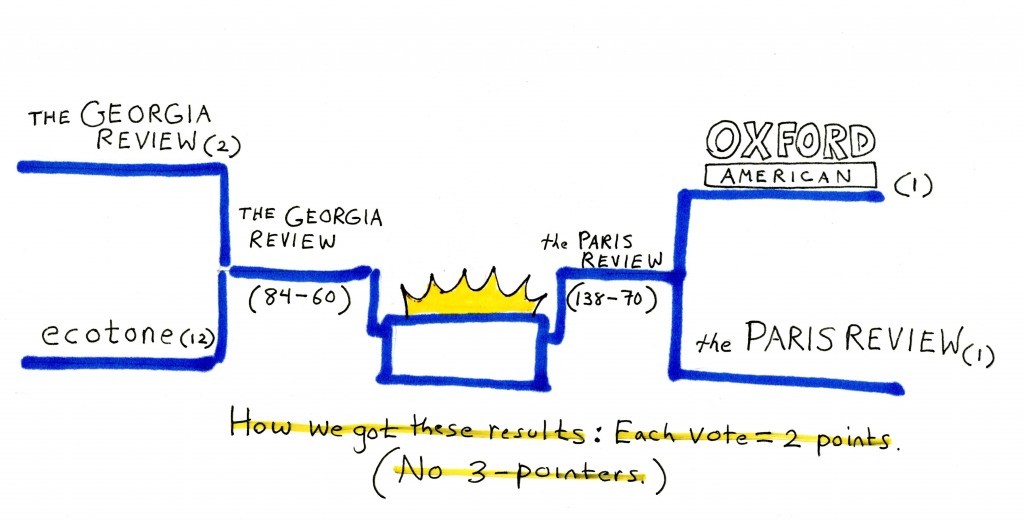 Semis recaps: 
Despite Ecotone's overwhelming homecourt advantage, the Georgia Review proved unstoppable.  After making it a game with a late rally, Ecotone's Cinderella season came to an end, buried under a barrage of Georgia threes.
In the other bracket, The Paris Review steamrolled into the finals.  There is some arrogance in tradition (many voters, for instance, put the word "duh" after their votes for TPR), but in this case the arrogance was well-founded.  A classic performance that hints at a continued dynasty.
For lovers of the Paris Review (and as we have discovered, they are legion), we have a special treat planned for later next week.  It turns out that the staff archivist here at Bill and Dave's has unearthed some rare footage of the time, previously known only through myth and rumor, when Paris Review Founding editor George Plimpton played Ecotone Founding Editor David Gessner in a game of one-on-one.  Say tuned!
Also, please read Bill's Memories of the Sweet Sixteen.…such a close call for Tin House….
* * *
Finally, in fairness to the Oxford American, which is one of my favorite mags, both TGR and TPR rallied their fans on blogs.
In their post, The Paris Review wrote:
Dear readers,
This is a matter of honor. If you love and believe in The Paris Review, now is the time to show what our fans are made of. We are currently in the Final Four of the Bill and Dave's Cocktail Hour Tournament of Literary Magazines.
Meanwhile in the AthensPatch, Rebecca McCarthy wrote:
Listen up, Bulldog Nation:
Turns out the University of Georgia does have a contender in the Final Four after all.
The Final Four of Literary Magazines.
Yep, under the boards, the Georgia Review has ruled, bruising and battering opponents right and left. If you've ever seen editor Stephen Corey crush a treadmill at the Athens YMCA, you've seen raw power.
The Final Four is held by Bill and Dave's Cocktail Hour, an online site about all things literary, large and small. You have to comment on why the Georgia Review rocks in order to have your vote count.
So, you might ask, who is the Review facing?
A puny weakling. A nothing, we hope. Who is it? North Carolina-based Ecotones, unfortunately rumored to have a staff member who can pump in the commas as fast as Jeremy Lin can hit three-pointers.
The other contenders are The Paris Review and another Southern literary magazine, the risen-from-the-grave Oxford American.
Don't worry. The Review can handle them.
Go, Dawgs!