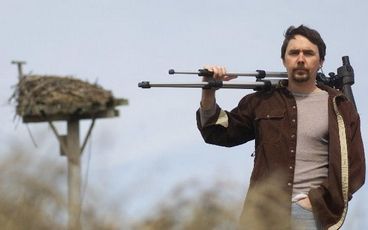 Last week I wrote a column for OnEarth.org about learning patience through watching  a great blue heron. As it turned out, that heron was just a warm up for another bird. A few years after I watched the heron, I set out to write a book about ospreys. As a kid on Cape Cod I had never seen the birds; they had been all but wiped out by DDT. When I moved back to Cape Cod as an adult I found that the birds had moved back too. I spent six months watching four nesting pairs of ospreys, spending several hours each day observing them in the way I'd watched the heron.  I did this because I had come to love the birds—their enormous and sloppy nests, their daring dives, their flashing wings—but also for another more practical reason. I had sold a proposal for a book to a publisher about the birds and their comeback from DDT, and so watching ospreys became my daily work, my job, my sod-breaking.
            But even though I was getting paid to do it, sitting still was not easy.  "You've got to learn to live on osprey time," said Alan Poole, the osprey expert who served as my adventure's Obi Wan Kenobe.  "It's a good life the birds lead," he added. "You've got to watch them do nothing. And they do a whole lot of nothing." Continue reading →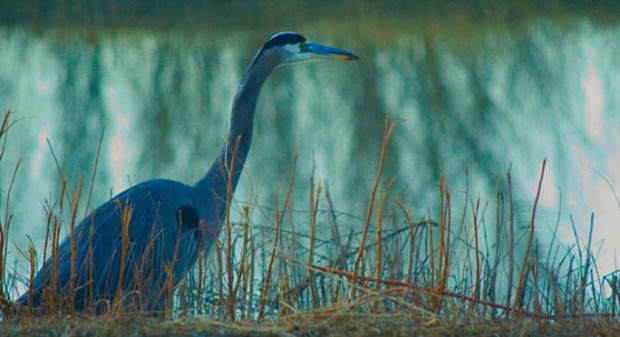 This month OnEarth.org is sponsoring a series of essays called "Answers From the Past," which explores how old values are relevant in today's world. So far there have been great pieces by Elizabeth Kolbert, Elizabeth Royte, and George Black. Here is my entry on the value of patience in today's fast-twitch world. It was inspired by an article called "The Power of Patience," by Jennifer L. Roberts, a Harvard art historian, and by Linda Hogan, my former writing teacher.
Here it is:
"Pick an animal. Any animal."
The words came not from a magician, but from a professor: Linda Hogan, the Native American writer who was my teacher in a University of Colorado creative-writing class back in the early 1990s. I picked a common-enough animal—a great blue heron—and, following Linda's assignment, spent two weeks watching it, sketching it, taking notes on its movements.
And, well, how do I put this? It changed everything. The assignment had seemed dully straightforward. The experience turned out to be anything but. It turned out to be thrilling.
At first, clomping out to the creek every day with my sketchpad in hand, I tended to scare the bird off—and so I saw it mostly in flight. But even that was something. With its wingbeats deep and slow, its long neck pulled back into its chest, the heron was graceful, ghostly, and ungainly all at once: a gray vision—except for its chest, which seemed to absorb the blue of the creek below it.
During those two weeks, my schedule was simple: I sat still. In our contemporary fast-twitch culture, there may not be a less-fashionable virtue than patience. But here's the funny thing about patience: It's practical. It works. It gets things done. Continue reading →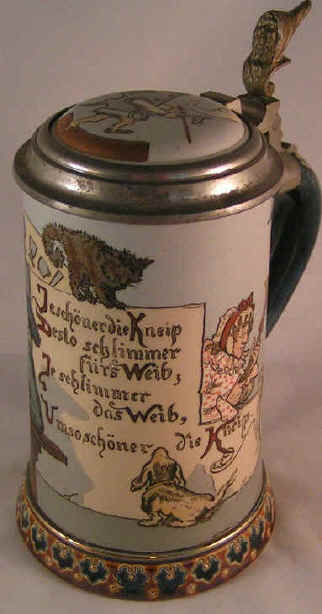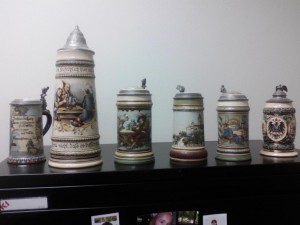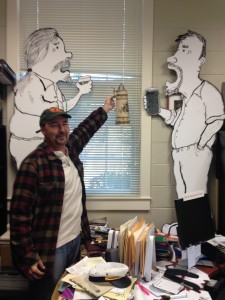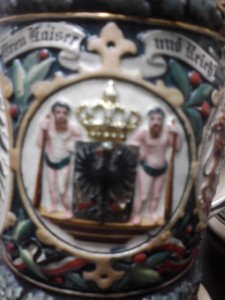 This Thanksgiving my mother gave me my father's beer steins.  Didn't get the full family story but because it makes for a snappy Bill and Dave's title let's say they belonged to my great-great grandmother Gertrude. One of my grad students here, Toni Blackwell Willis, looked up the translations for the German inscriptions, which are pretty funny. Like this one for the top stein above:
Je schöner die Kneip,
desto schlimmer für's Weib.
Je schlimmer das Weib,
um so schöner die Kneip.
The nicer the tavern,
the worse it is for the wife.
The worse the wife,
so much nicer is the tavern.                                        Earliest known cartoon of Bill and Dave

Dec 12
.
In his masterful exegesis on race in America,
The Souls of Black Folk
, W.E.B. Du Bois famously proclaimed, "The problem of the twentieth century is the problem of the color line."  A century and a decade have passed since Du Bois wrote those words and the issue of race continues to vex and roil the American psyche.
Continue reading →
Recently writer and professor Shawna Kenney invited me to take part in an online class at the UCLA Extension Writers Program, visiting virtually by way of Blackboard.  Students asked questions, I did my best to answer, and discussion ensued.  I got permission from a number of students to use their questions, and I got permission from myself to use my answers.   First up is T. Locke.
Q.  Hello Bill,
Thank you for sharing your time and thoughts with our class. It has been such a pleasure to get to know you through your book! It's a treat to have you in here in person, so to speak. Here are my questions. Continue reading →

Dec 09
Guest contributor:
Amy Wilson
.
Leaving Tuscaloosa is set in the Deep South of Tuscaloosa, Alabama, in 1962. This is the year before Bull Connor turned his fire hoses on civil rights protesters in Birmingham and the Klan bombed the 16th Street Baptist Church.  Walter Bennett paints a raw, violent, and realistic landscape of racial tensions that existed prior to the eruption of Connor's fire hoses. Yet what draws the reader into this novel are not its historical implications but the characters' authentic voices and Bennett's skillful weaving of plot and storytelling abilities. Simply put, Bennett is a master storyteller. Continue reading →

Dec 07
Guest contributor:
Madeline Roorbach
You always wonder how you might react: calmly, a stony demeanor; screaming, rivulets of tears streaming down your face; praying, "Hail Mary, full of grace, the Lord is with thee…" There I sat, seat 21D—the aisle seat which is clutch for airplane travel—as smoke poured into the cabin through every vent onboard. I pushed the home button of my iPhone and saw that it was just before 2 p.m. CST. My hands were numb but I pushed the shortcut to my mom's cell phone. No service at 30,000 feet. "Call me ASAP," I wrote, and pushed send: Delivery Failure. Continue reading →

Dec 05
.
Though the earth is mostly covered by water much of human history has been written from a land-based perspective. The genius of Lincoln Paine's majestic new history of the world,
The Sea and Civilization,
is to tell the story of world history by focusing on the explorations via ocean, river, lake and stream that have shaped much of our human story.
Continue reading →