This is part 4 of a series. Here is Part 1 and Part 2 and Part 3.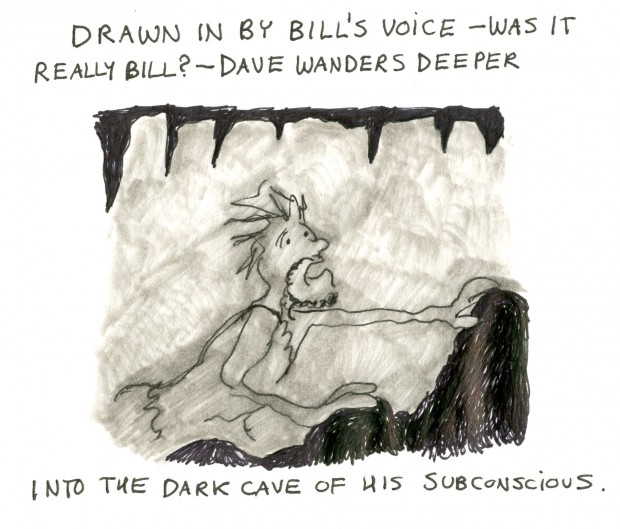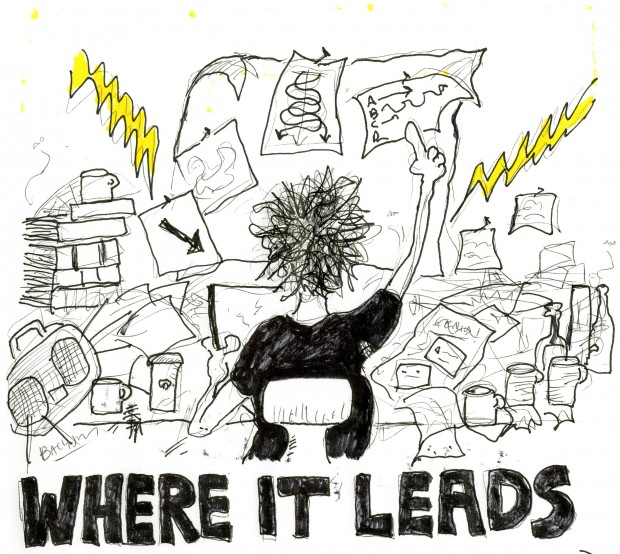 You know how it is. You have returned to something you wrote long ago, a novel let's say. You are eager to revise and make it great. But then something suddenly stops you like a wall. Something you didn't expect.
What is this impediment? This great blocker?
The odd thing is that it turns out to be your own old words. The sentences and scenes you once, in some past writerly life, committed to paper. You have a new vision for the book: you now see, for instance,  just how you are going to revise that scene when the brothers carry their father down to the beach in that rigged-up dining room chair. But shit. Look at this. Someone has already written that scene and it turns out that that someone is you. 
And here's the real problem. You read it and it turns out that the scene you wrote long ago turns out to be pretty good.Which adds to your trouble. You had planned on flipping the brothers' ages, making the older one the younger one and the younger one older. That would change a bunch of subtle things about the scene. But now you read this not-half-bad scene, a scene that by the way has the virtue of being already finished, and you start to ask yourself if maybe it's okay to not mess with the birth order of the boys.

Nov 19
Lost In Thought On A Cold Morning Looking At Trees and Shit
Divinely Beautiful And Incredibly Humble, Too

The Oils That Dry In Our Bones And Our Dishwasher
Emailed Soliloquies of Grandeur

You Look Hot In That Flannel Shirt: A Memoir Of Love Lost Continue reading →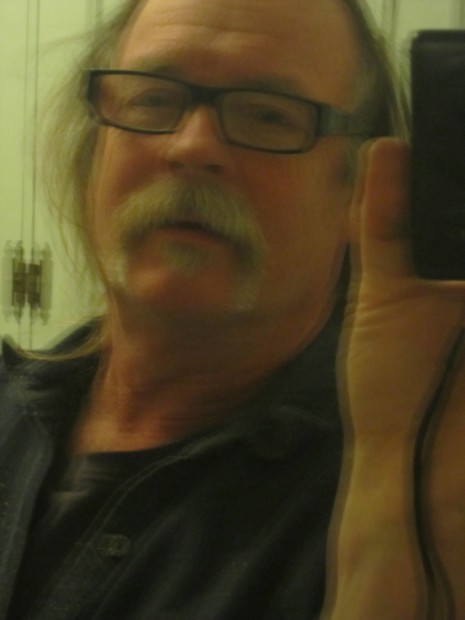 I was given the number 7, so here we go, seven things you don't know about me:
I smoke crack with a blow torch.
I dated Maine governor Paul LePage when he was still mayor of Waterville.  He is actually very funny and cried a lot in the night because of his plans to ruin our state, but he couldn't help it, it's a condition.  62% of our friends hated him.  38% were hiding in bomb shelters of their own design, pretty cool, all kinds of surplus stuff they got at Marden's, like canned figs. Continue reading →
Not too long ago, loose in New York for an evening, I went to see the Bournonville ballet La Sylphide at the Met.  This was a last-minute decision, not too many dollars in my pocket, but a chance to see the ballet that's at the heart of my novel Life Among Giants.  At the Tonight's Performance ticket window I swallowed my pride and asked for the cheapest seat available, found myself in The Family Circle, top tier of the wedding cake.  Nosebleed!  But as the lights went down and the curtains rose, I quickly found that the birds-eye view was perfect for dance.  From so high above the choreography was visible as if drawn by a swift hand on a sheet of paper in a practice room, entrances and paired arrows, arcs and exits and lifts and stops, the overall shape of things clear and rousing.  Nixies and nymphs!  Magical blankets!  Love and temptation and, well, degradation, one of the bleakest endings in theater, all expressed in gesture, impossible leaps, tragic fades.  Anyway: I've found over the years that books provide a similar birds-eye view to dance, and even offer entry to another world, a world as different from ours as that of the sylphs and fairies of Bournonville's ballet, but perhaps as dangerous. Continue reading →

Nov 13
.
"If you stay in newspapers long enough, you'll only see words." —Ernest Hemingway
I encountered Papa's warning in my teens, reading everything by and about him. When I went to work in newspapers after college, his phrase haunted at odd moments. I'd just knocked out my fourth police brief of a morning, say, and realized I had another to go—on an epidemic of car-battery thefts—and it was six minutes before deadline. Usually it was satisfying, working each little story like a jigsaw puzzle, selecting pieces culled from the police blotter. But was this what he meant? Continue reading →
When I first started cartooning again, a few years ago, one of my first projects was to draw a cartoon essay for The Book of Dads, an anthology of pieces about fatherhood put together by Ben George. My idea was that it would be a braided piece, with one braid being about my sometimes difficult relationship with my father and the other being about my relationship with Hadley, my daughter. To confuse things even more, the two threads would veer diagonally back and forth down the page. Here's one page, slightly chopped up: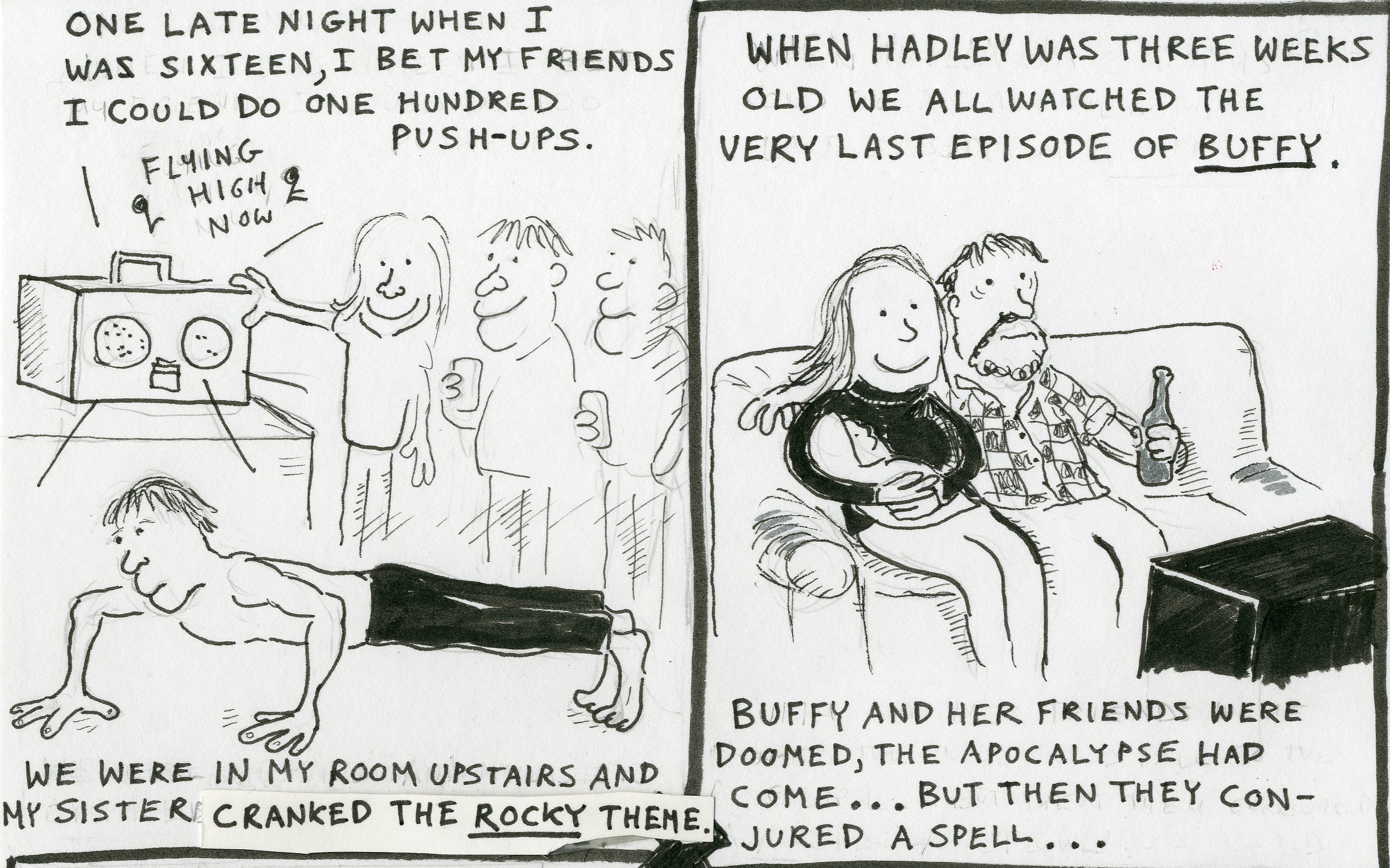 Of all the different kinds of work I have done in my life (truck driver, legislative aide, carpenter, farmer, teacher, writer, educational consultant, bookseller), my favorites have been teaching and running the organic farm in Vermont. Perhaps that's why Forrest Pritchard's memoir about trying to save the family farm, Gaining Ground, resonated so deeply… but I suspect this is a book that will move nearly any reader. It's a tale about growing up and finding one's way in the world  and of the industrial agriculture machine that mostly rules our food choices and the power of family and the ways that a family farm can find a niche within the confines of the present-day capitalist marketplace. Continue reading →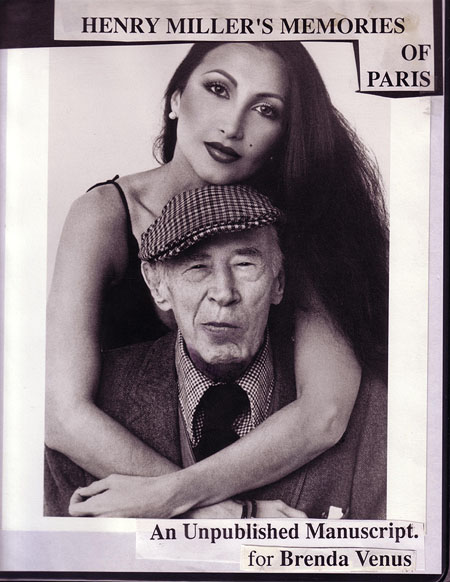 A photo of a page from a yellowed book has been going around Facebook: it's Henry Miller's commandments, just a note he jotted to himself while living and working in Paris, c. 1932.  It's collected in a New Directions paperback called Henry Miller on Writing.  And he was a guy who had a lot to say on the subject.  [here's a great interview with him in The Paris Review]
Continue reading →