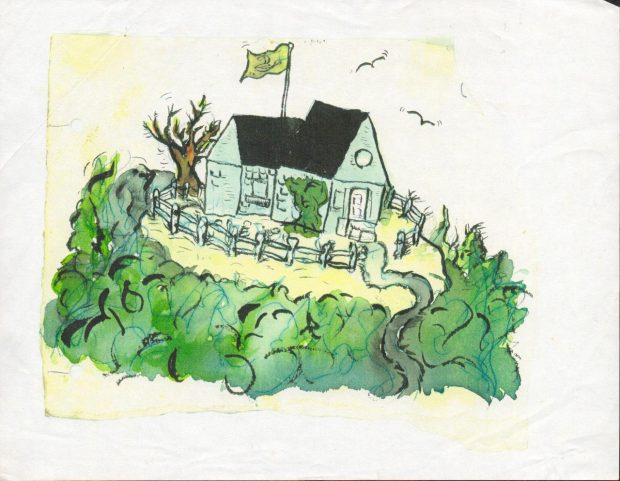 Tomorrow morning I head up for a week of packing up and cleaning out the Cape house to ready it for final sale on May 25. Here is the painting I did of it that was the frontispiece of my first book, A Wild, Rank Place. Strange for this to be happening when the Ultimate book is coming out since so much of my life in those years revolved around the house. Also strange that the narrator of my just-finished novel is in the process of packing up a house on Cape Cod (though I started the book many years ago). So many memories. Just spoke to the plumber who solved the mystery of the unworking bathrooms when he discovered the beer can that had been dropped down and clogged up the roof pipe. I will be working hard this week but will also be sure to toast the house and piss on my favorite trees one last time.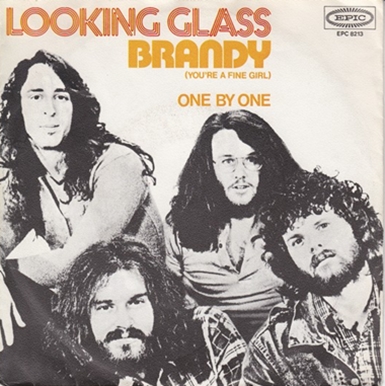 In the end pop culture ruins everything, even one's (kitschy) love of pop culture.
Though Looking Glass wrote "Brandy" I have always felt a little bit of ownership of song. And not just because I sang it on all the major occasions of my life, did a poetry reading of it, and had dozens of people call me from their cars whenever they heard it. It always seem to me the perfect mix of the purely cheesy and things that really mattered to me (harbors, ports, swelling oceans–rise and glory) and a time in my life (I was 11 when it came out in '72.) Even when I heard that Bill Murray also liked to sing it at parties I was okay with it. (After all, without Bill Murray none of us would have been doing the parody lounge singer thing.)
But when my friend Paul Turner texted me earlier today and said, "Go see Guardians of the Galaxy II. Trust me," I knew the gig was up. I texted him back immediately, guessing that the movie featured "a song with ports and harbor towns." When he confirmed this, and I learned that the song, in its entirety, opens the movie, I wrote back "I've been scooped." What I meant by that was that, after over 45 years of talking about and singing the song, I finally got around to writing about it just this year. In fact I shelled out 680$ to include the lyrics in my new book, Ultimate Glory.  It is featured in a key scene that takes place a week after my cancer operation, when I get the whole crowd to sing it at my 30th birthday. I wrote:
"I don't know why 'Brandy' affected, and still affects, me so; I only know that it had become the closest thing I had to a personal theme song. I sang it sarcastically for years but that night it seemed suffused with real emotion.  After we finished singing, I told people it was the song I wanted played at my funeral (and please note, friends who are reading this, I still do)." Continue reading →
Comments Off

on Blurb Begging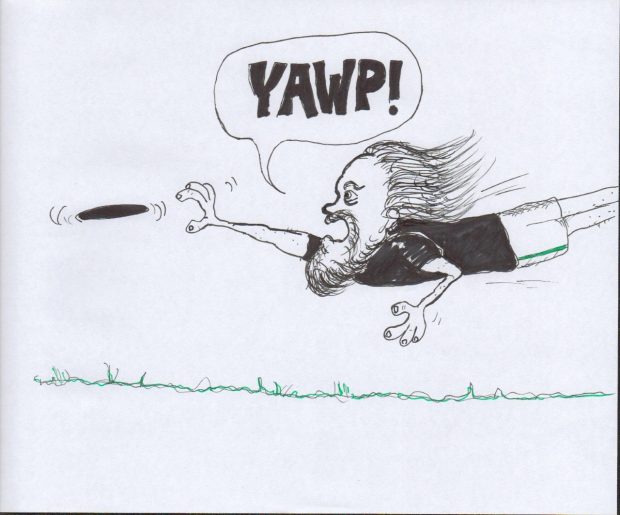 Everyone knows that the most miserable part of writing a book is begging for blurbs. Writing to someone whose work you respect, your hat sweeping the floor, all beggy and obsequious and….yuck…
Last time I was lucky to land a blurb from Larry McMurtry so this time I said what the hell and wrote John McPhee. Mr. McPhee wrote me a kind and considerate note about how he doesn't write blurbs. I respect that but couldn't help but think that in the time he took to write the longhand note he could have read a few paragraphs and said a few words. Oh well.
I ended up getting three of my five blurbs from people I know pretty well, including a writer named Bill from a place called Bill and Dave's Cocktail Hour (Yes, that's pretty inbred but Bill gives great blurb.) I also got one from Patrick Phillips which has the word "Yawp" in it, which I love. And when I was a kid I read the Boston Globe Sports page and the articles of Bob Ryan and Dan Shaugnessy so it was very cool to get a blurb from Shaughnessy.
And here they are:
"In Ultimate Glory, David Gessner lets loose a barbaric yawp, akin to Whitman's in Song of Myself: 'I was the man, I suffered, I was there.' Read it for all the hucks and layouts, for the epic battles between Hostages and Rude Boys, and for its fascinating history of the sport. But even more, read it to hear one of America's most gifted writers sing an unabashed love song to the glory of being alive." —Patrick Phillips, author of Blood at the Root

Apr 19
Guest contributor:
Mike Branch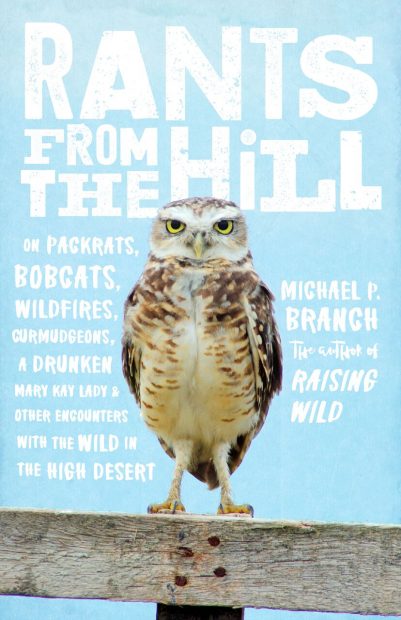 Michael P. Branch is Professor of Literature and Environment at the University of Nevada, Reno. He has published five books and more than 200 essays, articles, and reviews. Also, he is funny.
His new book, Rants from the Hill, is due out on June 6.
A confirmed desert rat, Mike lives with his wife and two daughters at 6,000 feet in the remote western Great Basin Desert, on the eastern slope of the Sierra Nevada Range. Check out more about Mike here.
Balloons on the Moon
Our part of the desert West is so inaccessible that the common detritus of the dominant endemic species, Hillbillicus nevadensis redneckii, is nowhere to be seen. So while the rutted, dusty BLM roads in the sandy, sage-choked wash bottoms are beribboned with spent shell casings, wide-mouthed bottles of Coors light, and empty cans of chew, there is simply no easy way to litter the steep, rocky high country. However, there is one unfortunate exception to this rule, and that is when trash is airlifted into these isolated mountains and canyons in the form of balloons.
I have picked up so many trashed balloons over the years that I find myself wondering what the hell is so jolly about California, which is the nearby, upwind place where all this aerial trash originates. Maybe the prevalence of balloons in the otherwise litter-free high desert should not surprise me, since millions of balloons are released in the U.S. each year. We release balloons at graduation celebrations, birthday parties, wedding ceremonies, football games, even funerals. There is actually a company called Eternal Ascent that will, for fifteen hundred dollars, load your ashes into a balloon and float them away. Balloon launches for a pet's ashes cost only six hundred dollars, though, so if I go this route, I have instructed my family to claim I was a Saint Bernard.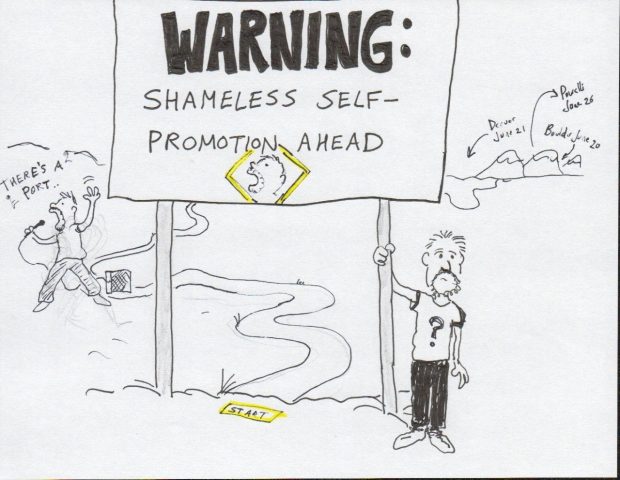 I spend a lot of time alone.  Writing. Walking in the Woods. Brooding. The usual writerly stuff. It's part of my job.
But there's another part of the job. The part that involves waving my arms and yelling "Look at me!" The part that, unless you are Franzen or Diaz, you better do if you hope to sell more than six books. The part that many writers, myself included, find onerous at times.
Of course I understand that I am better suited to this aspect of the work than many of my flock. I have always been part Carnival Barker. That is, I've always liked to talk in public and sing at parties and while I sometimes feel acutely embarrassed the next day, others, including my wife, seem to think I am lacking a crucial embarrassment gene. I have heard the word "shameless" more than once. When I do, I counterbalance it with another word: fun. Why do we writers have to be such profound and dire drips? Why do we have to act like we hate the spotlight we crave? Continue reading →
Happy this week to know that at least for a while, my family's insurance (and of course that of many millions of fellow citizens—or really all citizens, as the ACA's protections extend into everyone's insurance) is safe. It's been disheartening to watch republicans try to make good on their campaign pledges to repeal and replace the Patient Protection and Affordable Care Act, which they made sure to call Obamacare. They didn't fail because democrats wouldn't work with them—they didn't ask democrats to work with them. They failed because their bill worked from a lie, that the ACA is in some kind of death spiral. It isn't. Continue reading →

Mar 01
Comments Off

on Lundgren's Lounge: "One Eyed Man," by Ron Currie
A disclaimer is in order here: Ron Currie is a friend of mine. We watch baseball together while drinking beer and it is my fervent hope that the upcoming Red Sox season will help to ameliorate the execrable political situation we are presently wallowing in. However none of this has anything to do with the review that follows. Continue reading →

Feb 01
Comments Off

on Lundgren's Lounge: "The Peregrine," by J.A. Baker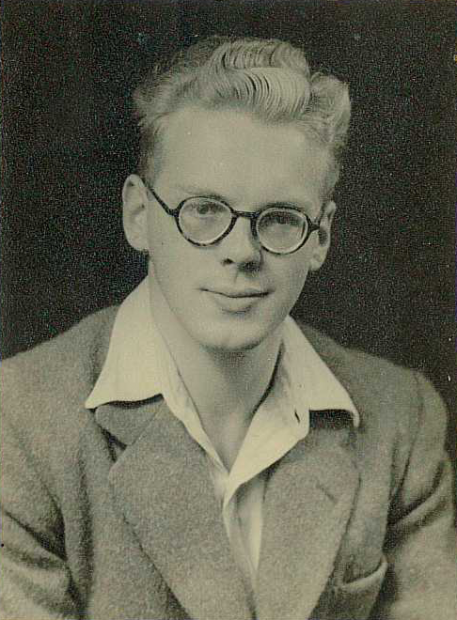 Somehow this once obscure, extraordinarily unique book found its way into my hands, transporting me for a few days to the coastal fenlands of eastern England and the world of the peregrine falcon. The Peregrine by J. A. Baker was originally published in 1967 during a period of steep decline in the population of these magnificent raptors and perhaps that was part of what motivated the author—to attempt to describe the life of a creature at once so ferociously singular and powerful, before it was gone forever. But what Baker accomplishes along the way is much deeper, achieving "… an account of a human obsession with a creature that is peerless."
Our Portland, Maine, Other Inaugural Read-In was yesterday, huge turnout, great sister feeling with millions of marchers worldwide and tens of thousands right here in Maine, huge multicultural turnout for the Ball, thousands of dollars to go to the Immigrant Legal Assistance Project of Maine. All eyes on 2018. Let's take these fuckers down!  Here is my Inaugural Poem, since Trump didn't have one:
Continue reading →
Comments Off

on OFF TO WASHINGTON FOR THE MARCH
Nina and Hadley head up this morning!