You are viewing:
bad advice
comments: Comments Off

on Bad Advice Wednesday: Wally Stegner Chimes In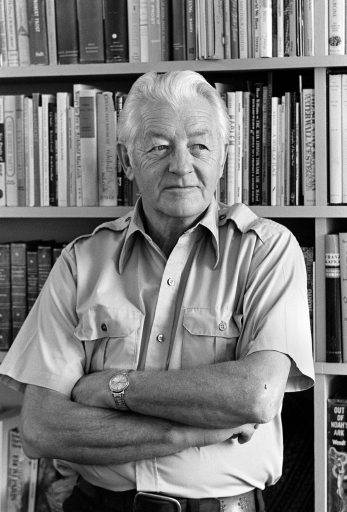 I don't know of any better bad advice for writers, and humans, than what follows, from an interview in the middle of On Teaching and Writing Fiction by WS (edited by Lynn Stegner):
Most artists are flawed; but they probably ought to make the effort not to be. But how do you teach people to enlarge themselves in order to enlarge their writing? It is a little like asking them to "commit experience" for literary purposes.
Largeness is a lifelong matter–sometimes a conscious goal, sometimes not. You enlarge yourself because that is the kind of individual you are. You grow because you are not content not to. You are like a beaver that chews constantly because if it doesn't, its teeth grow long and lock. You grow because you are a grower; you're large because you can't stand to be small.
If you are a grower and writer as well, your writing should get better and larger and wiser. But how you teach that, the Lord knows.
I guess you can suggest the ideal of it, the notion that is is a good thing to be large and magnanimous and wise, that it is a better aim in life than pleasure or money or fame. By comparison, it seems to me, pleasure and money, and probably fame as well, are contemptible goals.
I would go so far as to say that to a class. but not all the class would believe me.
comments: Comments Off

on Lundgren's Lounge meets Bad Advice Wednesday: Do Your Summer Reading this Fall
The return to school and teaching duties in the fall always comes with a bittersweet sense of loss. Gone the unfettered freedom of summer with the absence of deadlines and in their place swimming and gardening and hiking and baseball and most of all, reading… savoring the exquisite pleasures of books and marveling at the universe's talent for selecting just the right book at just the right time. Below are a few of the highlights of the past summer's reads. But don't let Fall keep you from discovering them all: Continue reading →

After how many years in school, and then 25 more as a professor, I'm hopelessly (and happily) hooked into the academic year.  Summer is a time to refill the buckets of the soul–but come September, all those ideas from all those sunny days with all those friends old and new start to take paragraph form, my brain begging to get back to work, my fingers itching for the keyboard.  I don't teach anymore, but I've kept the writing machine oiled and ready to go, dependable old thing!  And I'll be getting back to Bill and Dave's, as well.  Dave's already in–but in the south, you know, they start school early.
Ladies and Gentlemen, start your engines! Continue reading →