Jul 14
Comments Off

on Serial Sunday: Crash Barry's "Tough Island: True Stories from Matinicus Island" (Episode 13)
"My hand is killing me," I told Donald on Halloween. "Something is wrong with my middle finger."
"Well, you better tough it out, 'cuz we can't stop now," he replied. "Not with this weather coming."
We had less than 24 hours' warning before the awful weather that would be immortalized in Sebastian Junger's book, The Perfect Storm. All the islanders were in a twitter because Matinicus still bore scars from the winter storm that wreaked havoc in 1978.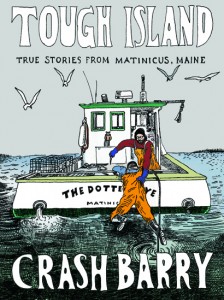 So we worked long and hard, shifting most of our gear to deeper water to keep it from getting stove up on the shore. And when we re-set the gear, Donald was careful to put some real distance between us and other strings of traps, to prevent his gear from becoming part of a giant trap ball – an underwater rolling tumbleweed of lobster traps – created by violent sea surges and wave action.
Our final task was to take up forty traps and put 'em on the wharf, which, for me, meant a whole bunch of coiling of rope and stacking of gear and buoys. All while my finger throbbed and pulsed.
After we put The Dotted Eye back on the mooring and made the bridle extra secure, we headed ashore and joined the rest of the crowd down at the store beach. Friends and mortal enemies alike worked together hauling skiffs and dories far above the high water mark. Camaraderie and joking set the mood. By sunset, everyone headed home for dinner, but most of the islanders were gonna come back, at high tide, when the storm's wrath would be the worst.
Meanwhile, my finger was swelling something wicked. And it throbbed, like I'd whacked it with a sledge hammer. Mary-Margaret was no help and there was no nurse or doctor on the island. With a major storm headed our way, all the boats were on their moorings and gonna stay there. The Coasties couldn't be bothered for a sore finger. So a friend hooked me up with a handful of opiates in pill form to quell the pain.
I sat at my table, in the dark, smoking cigs and listening to the wind and rain howl and scream as the building shook. Through my window, I could see the boats straining at their moorings and waves crashing over the breakwater. The wharf moaned, quivered and groaned as the harbor churned and swirled. Pondering the situation through an opioid haze, I wondered about my safety. Could the old shack handle the storm? Would I end up buried in a collapsed pile of lumber? I wanted to go stand on the wharf, at least for a little bit, to experience the weather. But I couldn't move. Not a chance. Not scared. Immobilized. Stoned out of my gourd. Thankfully, feeling no pain. Eventually, despite the storm raging outside, I fell asleep.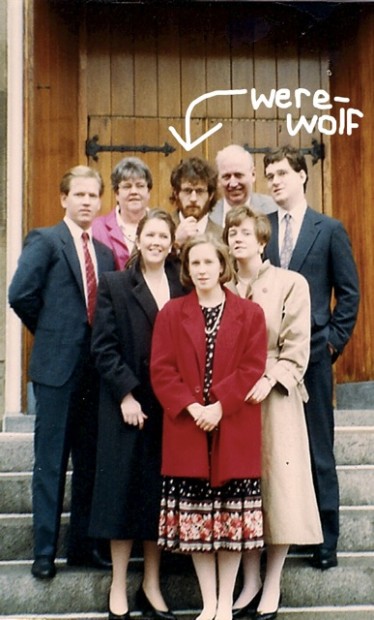 The next morning was bright and cheerful. The air was clean and brisk. There were still some waves, but nothing extraordinary. The island fared well. Other than some leaky roofs and flooded cellar-holes, Matinicus survived the storm unscathed.
All the fingers on my right hand, however, were swollen. And red lines and streaks appeared on my wrist, reaching for my forearm. I arranged for an emergency ride in the mail plane to the mainland, then took a taxi to Pen Bay Medical Center. Blood poisoning, they said, from a sliver of fishbone jammed deep into my middle finger just below the nail. I would have died, they said, if I hadn't come ashore.
I was given a regimen of antibiotics and told not to drink booze for two weeks. Another cab ride brought me to downtown Rockland, where I enjoyed a nice Mexican lunch at El Tico Taco, before cabbing it back to the airport to hitch a flight out to Matinicus. I was gone for eight hours.
So much for remote.
*
Meanwhile, back in the real world, my beloved grandmother was dying. The Tuesday before Thanksgiving, I headed to Massachusetts to visit her. She passed the next day. Coincidently, it was also the week of my fifth year high school reunion and my parents urged me to attend. Long-hair and a beard full of herring bones was my look. Former classmates, most of 'em college graduates, were tidy and neat in the first year of their careers. Uncomfortable and feeling clumsy, I got wicked drunk and high. And sad. Very sad.
Nana's wake and funeral were in Boston. I hadn't seen her much in the last couple of years because of my globe-trotting Coastie lifestyle, followed by Matinicus, but she was the first person I ever truly loved who died. I had no idea grief was so strong, able to suddenly cut so deep. I had trouble keeping my shit together. Being in a noisy city, and among a family that viewed me as a dark, black sheep, made me more heartbroken and tearful. And so-called civilization seemed so foreign. Hard, loud and busy. I longed for the solitude of my little room on the island.
After the funeral, my immediate family gathered for an impromptu portrait since we hadn't all been together in a long time. We stood on the steps of a Boston Catholic church. I wore a brown, double-breasted vintage sports coat I picked up at Goodwill. I stood in the center amongst my three sisters, two brothers and my mom and dad. Inexplicably stroking my chin, sporting a full beard with my curly hair reaching for my shoulders, I looked like a werewolf.
[To read episode 12, click here][To read episode 11, click here][To read episode 10, click here][To read episode 9, click here][To read Episode 8, click here.][To read Episode 7 click here][To read Episode 6, click herel[To read Episode 5, click here][To read Episode 4, click here][To read Episode 3, please click here][To read Episode 2, please click here][To start at the beginning with Episode One, please click here]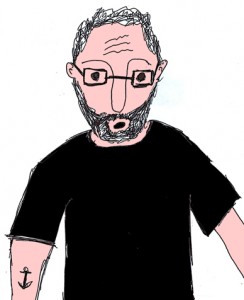 Crash Barry lives near a marijuana grove in the hills of western Maine and no longer looks like a werewolf. His column One Maniac's Meat appears monthly in The Bollard, and details his exploits as a sailor in the U.S. Coast Guard fighting the "War on Drugs" and the "War on Haitian Refugees." His rollicking novel Sex, Drugs and Blueberries and the complete version of Tough Island are available at Maine bookstores and libraries or via crashbarry.com or on Amazon. His latest book Marijuana Valley, Maine: A True Story will be published this fall. Crash occasionally blogs about turning a novel into a film at crashbarry.com.