Jun 23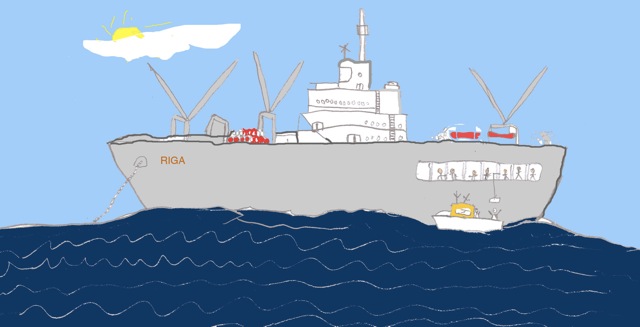 The salvaged table improved the décor of my pad. I paid 60 bucks to a handy fella on the mainland to build a new base for it out of pipe. My typewriter fit well on the table, next to a couple piles of books, papers, and a big ashtray. I made a special spot for a whiskey bottle and my small bong, and there was still enough room for a plate of potatoes or a bowl of pasta or a heap of mussels or a couple short lobsters.
I was a rich man. Making five or six hundred bucks a week, sometimes a hundred or two extra, thanks to Donald's side-job bringing pilots to and from the huge tankers and freighters plying the waters off Rockland and Searsport. Finally able to afford creature comforts here-to-fore unknown to me, I got rid of the cot and bought a futon. And a pretty good stereo, a better pair of work boots, pots, pans, plates and tons of books, thanks to my membership in a couple different paperback-of-the-month clubs, plus Rockland's awesome used bookstore, where I'd stock up during my monthly journey to the mainland.
After one of those trips, on the way back to Matinicus, Donald decided to visit a Russian fish-factory ship, called the Riga, at anchor in the harbor. I didn't know much about the vessels other than they were buying megatons of pogies. Occasionally they would weigh anchor and head out to sea – to waters not far from Matinicus – to pump their holding tanks empty of the shit and piss of a hundred Russian sailors.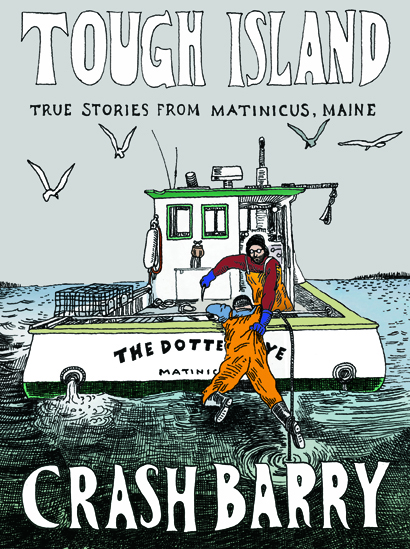 It was a Sunday and because you can't lobster on Sundays during the summer, we had a little time to kill. We pulled alongside the Riga and Donald shut down the engine. Dozens of sailors lolled about the decks smoking, about 15 feet above us. We shouted hellos back and forth.
"Smokes?" one of the fellas asked. "Cigarettes?"
Donald smiled and shook his head no, but I went straight for my backpack. I had two cartons of Camel filters. I could buy more cigs on the island (from the bootlegger who charged twice the price) so I had plenty to trade with these Ruskies. I showed my smokes and the bargaining began via a wire basket they took turns lowering and raising.
Ten minutes later, I was the proud owner of three Russian merchant marine uniforms, a half dozen Russian news magazines and three packs of filter-less Russian smokes called Cowboy. The cig packs were made of yellow rice paper sporting the logo of a cowboy riding a bucking bronco.
In exchange, I gave them most of my Camels, plus the Coast Guard ball cap I wore as a joke to complement my increasingly long hair. They also received several periodicals, including issues of The New Yorker and (the hilariously ironic) Spy magazine.
It was only later, back on the island, after unpacking in my room, that I discovered some very important papers concerning my discharge from the Coast Guard were missing. I'd brought them ashore to make photocopies so I could apply for an able-bodied seaman's license. For safekeeping, I had stashed the originals and the copies in the latest issue of The New Yorker, now in the hands of Russian sailors. Oops.
[To read episode 9, click here][To read Episode 8, click here.][To read Episode 7 click here][To read Episode 6, click herel[To read Episode 5, click here][To read Episode 4, click here][To read Episode 3, please click here][To read Episode 2, please click here][To start at the beginning with Episode One, please click here]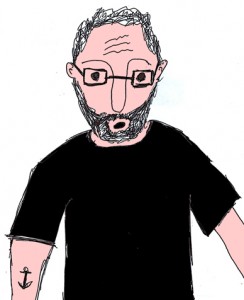 On June 22, at Harry Brown's Farm in Starks, Maine, Crash Barry will discuss the best ways to get high and judge the annual joint-rolling contest as part of Harry's Hoedown, an arts and music festival. More info at harryshill.net. Crash's column One Maniac's Meat appears monthly in The Bollard, and details his exploits as a sailor in the U.S. Coast Guard fighting the "War on Drugs" and the "War on Haitian Refugees." His rollicking novel Sex, Drugs and Blueberries and the complete version of Tough Island are available at Maine bookstores and libraries or via crashbarry.com or on Amazon. His latest book Marijuana Valley, Maine: A True Story will be published this fall. Crash occasionally blogs about turning a novel into a film at crashbarry.com.