Jun 30
*
"Dudes!" Paul shouted. "The skiff!"
It was the end of September and the three of us were standing in the middle of Ten Pound Island. Drinking Lord Calvert, but not drunk. High, but not obliterated. Even though it was less than a mile from our shacks, none of us had been on Ten Pound before. I was enamored with the island because of a particularly memorable foggy day, early in the summer, while hauling traps between Matinicus and Ragged Ass. The salt air and mist smelled sweet and fruity because Ten Pound was overrun with wild strawberries.
So the fellas and I borrowed a skiff without asking and went for a joyride, landed on Ten Pound, then wandered the island, exploring the 20 acres. After we smoked a couple joints, we looked back toward Matinicus.
That's when Paul remembered the skiff and we ran to the spot where we'd landed. We had neglected to haul the boat up very far, thinking we'd only be on Ten Pound for a couple minutes. Back on the shore, we saw our ride home bobbing in the rising tide.

"Fuck, fuck, fuck," Paul yelped and sprinted toward the water's edge and waded right in, not bothering to pull off his sneakers. He kept going, farther and farther until the frigid rising tide was almost to his chest. He pressed on until he had to start swimming. Keeping his head above water, he paddled toward the drifting boat.
If the skiff got away and left us stranded, we'd be in big trouble. Our captains would've been pissed when they couldn't find their sternmen. Plus, the fella whose skiff we stole would've been livid when he discovered it missing from the Steamboat Wharf. After a while, a search would have to be launched and we'd all be wicked embarrassed, cold, starving (with a wicked case of the munchies) and thirsty (because of cotton mouth) when and if we were found.
"Go Paulie! Go Paulie!" Benny chanted, thrusting his fist in the air. "Go Paulie!"
Our hero caught the skiff and easily pulled himself aboard while we cheered. A minute later, he had the outboard going and ran the skiff aground to pick us up. We raced home, because he was freezing. A potential crisis averted. Paulie saved the day.
On the island, my reckless behavior went unpunished. When each day's haul was done and the captains went home to yell at their wives or fall asleep in front of the TV, the harborfront came alive with the sound of rock'n'roll and the shore was owned by the sternmen. Silly bets and dares – usually involving feats of strength or copious consumption of booze or drugs – were commonplace. When and if the occasional single (or not single) woman appeared, we puffed our chests and preened like puffins. Praying, wishing, dreaming for a miracle, hoping we'd get laid.
The island bootlegger preferred to make only one delivery trip a night to the shore. So we usually placed a collective telephone order. A half hour later, she'd show up with our Lord Calvert and beer at triple the price she paid in tax-free New Hampshire. Sure, the booze was expensive, but she delivered promptly, let us run up a tab and was a super-sweet woman (with a gruff, but kind, husband) who was selling booze to help pay the bills. So we never complained because her surcharge was more than fair.
Other drugs came in other ways. My cache of psilocybin mushrooms came stashed in a VCR tape box via the U.S. mail. The smokables came from fishing boats from Vinalhaven and Rockland that would visit weekly for an hour or two. Occasionally, one of the seedier Matinicus boats would meet up with another vessel in the spot of open ocean halfway between the island and the mainland. The ganja was often Maine-grown, but the hashish was sliced from a brick stamped in gold, allegedly from Lebanon, and weighed like you were at the deli.
We didn't party every night and most times, I'd be home by eight p.m. at the latest, 'cuz everyone had to haul the next morning. We'd play spades or pitch, sometimes rummy. We held ping pong tournaments at Benny and Paul's shack. We'd occasionally make huge collective meals, with short lobsters, spaghetti, or hot dogs and hamburgers on the grill.
Life was pretty simple. Working for Donald made me stronger than I'd ever been in my life. And I was a very good sternman, because the job was simple after you set up a system and stuck with it. And best of all, the gig left me with enough time to focus on my art. Most evenings, I smoked pot, drank Lord Calvert and labored on poorly-written narrative poetry about the mess in Haiti, which I blamed on widespread corruption and U.S. support for dictators.
For a six-month stretch, I fancied myself both a poet and a struggling painter. My experiments tended to consist of tiny pieces, fiery splotches of orange, pink and purple on blue, captioned with words and letters cut from magazines and newspaper. I briefly incorporated shaving cream, soap, shampoo and toothpaste into the mottled medium, with less than remarkable results.
For entertainment, I read a lot and listened to public radio and WERU, a community station in Blue Hill. And smoked a bunch of herb, looked out the window and thought about life.
The biggest drawback was Donald. Even on days we didn't go out to haul, he hung around the shop to avoid spending time at home. He came down at the crack of dawn and used the table saw to cut oak runners for new traps we didn't need. Or he'd fire up the compressor to run air tools. Both were located five feet from my futon, through a thin wall. The racket made it impossible to sleep.
So on days off, I'd take a couple peanut butter sandwiches, a thermos of tea, some reefer and my notebook, and escape. I'd walk to Markey's Beach or South Sandy, climb to the top of Mount Ararat, the island's lone hill, or poke around the Ice Pond. Often I'd disappear into the stands of spruce and pine near the airport. I discovered a giant boulder on the west side of the island, warm by noontime, that radiated heat into the night. An amazing spot for a nap.
Just as often, though, I'd hang out in someone's fishhouse and get high.
[Tread episode 10, click here][To read episode 9, click here][To read Episode 8, click here.][To read Episode 7 click here][To read Episode 6, click herel[To read Episode 5, click here][To read Episode 4, click here][To read Episode 3, please click here][To read Episode 2, please click here][To start at the beginning with Episode One, please click here]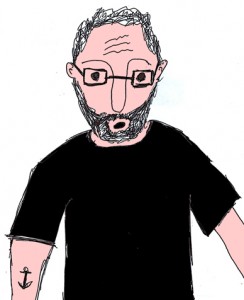 Crash Barry no longer drinks Lord Calvert. These days, he enjoys sipping good bourbon while watching the nearby marijuana grove grow. Crash's column One Maniac's Meat appears monthly in The Bollard, and details his exploits as a sailor in the U.S. Coast Guard fighting the "War on Drugs" and the "War on Haitian Refugees." His rollicking novel Sex, Drugs and Blueberries and the complete version of Tough Island are available at Maine bookstores and libraries or via crashbarry.com or on Amazon. His latest book Marijuana Valley, Maine: A True Story will be published this fall. Crash occasionally blogs about turning a novel into a film at crashbarry.com.