Jul 07
.
"Crash, go move the truck," Donald said, with a hint of a slur in his voice. By October,  Donald barely spoke to me, other than to give a direct order. "Just don't crash it. Hah-hah." He tossed me the keys.
Mary-Margaret was giving us both the evil eye. We were attending a birthday bash in Lincolnville, a little town just north of Rockland, for an old-time sea captain and maritime pilot. We were already on the mainland for our monthly trip, so Donald and Mary-Margaret decided we'd make a surprise appearance at the party for Cap'n Craiger. The gala was being held at a camp in the woods and there were lots of vehicles. Parking was a chaotic mess, though Donald was able to maneuver his giant Chevy truck among the trees and parked cars.
The plan was to be there for a minute or two, enough time for us to pay our respects, then get on down to the boat and back out to the island. But then Cap'n Craiger got ahold of Donald and wouldn't let him go. They were old pals, a half-century at least, and Donald owed a lot to Cap'n Craiger for setting him up in the lucrative business of being a pilot tender.
All the massive tankers and freighters that made port calls at Rockland and Searsport flew foreign flags, so they were required to bring a local captain aboard who was knowledgeable about the tides, currents and submerged obstacles of Penobscot Bay. Since Matinicus was the closest to the buoy marking the outermost reach of Penobscot Bay, the pilot company put Donald on permanent retainer decades before to serve as their offshore taxi driver and innkeeper.
So when Cap'n Craiger offered Donald a nice drink of scotch, there was no way he could turn him down. And once that booze hit his tongue, Donald was a jovial man. The first sip changed his entire demeanor. He glowed. Transformed. A back-slapping joke-teller, almost, Down East style. He laughed. He smiled. His eyes sparkled. But I knew the truth: The glint was merely the sunlight reflecting off the inside of his vacant skull. He was a racist, sexist, homophobic, polluting curmudgeon. Under the glow of alcohol, however, he seemed almost tolerable. With a drink in his hand, telling stories and spinning yarns, Donald was the life of the party.
Another guest needed to leave, but Donald's giant truck was in the way. So he tossed me the keys even though he knew I was a terrible driver. I ignored Mary-Margaret's glare as I climbed into the truck and started it up.
The pick-up was wedged in at a strange angle among several other vehicles. I put her in reverse, turned the wheel and backed out. Or tried to back out. I was riding the clutch and a little nervous trying to maneuver in front of an audience. Finally, I let up enough on the clutch and the truck lunged and lurched backwards and out, but not before nicking the edge of the beat-up station wagon next to us. No damage to the other vehicle, but Donald's quarter panel was dented and scratched.
Of course this truck was his pride and joy. For flashy fishermen like Donald, island vehicles were beaters, but mainland trucks were status symbols. And this was a year-old Chevy behemoth, with an extended cab and bed, sporting a polished truck cap with shiny chrome accents.
"YOU STUPID SON-OF-A-BITCH," Donald yelled as he opened the door and pulled me down and out of the truck. "CAN'T YOU DO ANYTHING FRIGGIN' RIGHT?"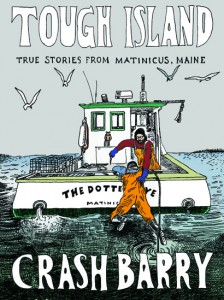 It was official. We hated each other. I stood there, shaking, enraged and embarrassed. Nobody calls me a stupid son-of-a-bitch. It took all my willpower not to slug him. Sure, he was a tough old coot, with giant arms and hands, but I was tougher. Stronger. Younger. Angrier. I could kick his ass. No fucking problem.
But where would that leave me? In jail. Jobless. Homeless. Broke. And what would it prove?
The simple truth was this: Donald thought he hired a crew cut, but got a long-haired hippie instead. A dependable and efficient hippie, but a hippie nonetheless. Problem was, he couldn't afford to get rid of me because the fall fishing was good and he didn't have time to find and train a new sternman. He'd keep me, I was sure, at least until March, when he headed to Florida for a month.
He fumed during the drive back to the boat, the long trip out to the island, and for the next couple of days afterwards.
Then one night the following week, over a soggy chicken dinner with fake mashed potatoes and canned gravy, Mary-Margaret made the big announcement. The truck was fixed.
"I'm going to be deducting $400 from your pay for the repairs," she said, smugly. "It's only fair, since it was your fault. Do you want to split it over the next couple of paychecks? I can do that, if you want?"
She looked at me expectantly. Almost daring me to challenge her.
I didn't say a word. Nothing I could do. They had me by the proverbial balls. I was their slave and they paid me what and when they wanted. And if I bitched, I knew they'd snort and tell me to leave.
"Well?" she asked.
"Yeah," I said, sinking into the realization that I was powerless. "Do that."
"Plus you owe me a hundred dollars for your sweater wool."
"Oh," I said. When she'd offered to knit me a sweater, I didn't know she was gonna charge me for it.
"You can pay for the wool," she said, "after the truck repair is paid off."
I didn't say a word.
[To read episode 11, click here][To read episode 10, click here][To read episode 9, click here][To read Episode 8, click here.][To read Episode 7 click here][To read Episode 6, click herel[To read Episode 5, click here][To read Episode 4, click here][To read Episode 3, please click here][To read Episode 2, please click here][To start at the beginning with Episode One, please click here]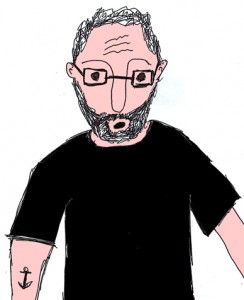 Crash Barry hasn't crashed or dented a vehicle in many years. Crash's column One Maniac's Meat appears monthly in The Bollard, and details his exploits as a sailor in the U.S. Coast Guard fighting the "War on Drugs" and the "War on Haitian Refugees." His rollicking novel Sex, Drugs and Blueberries and the complete version of Tough Island are available at Maine bookstores and libraries or via crashbarry.com or on Amazon. His latest book Marijuana Valley, Maine: A True Story will be published this fall. Crash occasionally blogs about turning a novel into a film at crashbarry.com.