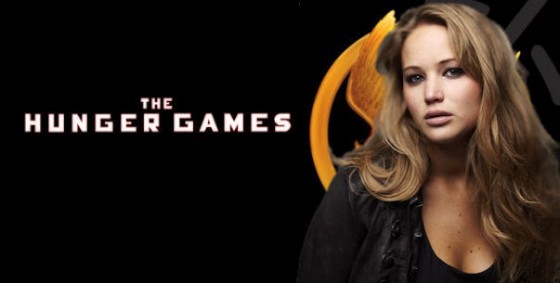 .
It's been a long time since I read a book and saw the movie in the same day.  Last time was "To Have and Have Not," the Hemingway potboiler, not bad page for page, and I read it in an afternoon.  The movie happened to be on TV that night, and I remember watching in my parents' basement (I would have been home from college), really surprised: aside from the title and the names of the characters, it had nothing to do with the book.  Turned out that William Faulkner ("Out of work and broke") had re-written the screenplay under contract with Warner Bros, putting together what amounted to a parody of his rival's work.  Starring Bogart and Bacall.
.
My daughter is eleven and read The Hunger Games before either her mother or I had heard of it.  Of course, the kid loved it, and downplayed the violence we'd begun hearing about.  To me it sounded like an allegory for life in high school, which is in turn an allegory for corporate life, if not life itself: there are winners and losers.  And I'm a proponent of the Bruno Bettelheim "Uses of Enchantment" idea that kids need fairy tales in all their grimness or Grimmness, witches, dead children, and all: the imaginative use of pretend horror to help deal with the real vicissitudes of life.
So Saturday night I sat down to read The Hunger Games, which if you don't know is by Suzanne Collins, formerly a television writer, primarily for Nickelodeon, and aimed at the young adult market.  By bedtime I was halfway through.  It's not a long book and has fewer words per page than books for grownups.  More than that, though, it's a massive page-turner—a plot that comes at you full speed, skating over a very simple, filmic structure.  And the narrator, Katniss Everdeen, is very appealing, a strong voice, compassion, kindness, power, knowledge of the forbidden world outside the fences that surround her district, which is a mining district.  She's a great hero for all of us, but certainly for young women and girls.  It's told so briskly as to be schematic, but you still come to love and admire the heroine.
The basic story is that each district in a post-American, post-disaster country must hold a lottery and send two kids—one of each gender—to the hunger games, the ultimate reality show and release for an oppressed nation.  24 kids are chosen, put in an arena that looks like life—forests, ponds, rivers, etc.—and told that only one can come out alive.  (I've been reading about a Japanese book and subsequent movie that share a similar plotline, Battle Royale, in which high school kids from the same school fight to the death.)
Anyway, I finished the book Sunday afternoon just moments before the sitter arrived, fun for Elysia, who loves to hang with college women.  And I shot into town to meet Juliet.  We'd planned a walk but it was raining and so to the movies, and The Hunger Games, which we'd been meaning to see.  The question being: should Elysia be allowed to see it, as so many of her friends (quite a few of them older, but not a few younger) had already done?
And honestly, it's a terrific movie.  Jennifer Lawrence is perfectly cast as Katniss (though she's 21 and looks it, not 16).  For one thing, she's unbelievably gorgeous, a shifting, unsettling beauty powered by her clear intelligence.   But she can act, too, and the part requires a lot of subtlety.  Woody Harrelsen's in there,too, and does a great job.  Most surprising is Lenny Kravitz, playing a stylist.  He's as beautiful as Jennifer Lawrence.  Stanley Tucci plays the host of the games and he's brilliant—cynical, sadistic, charming, the perfect dandified simulacrum of his character's society and a good reason to cast great actors in small parts.
And the kids go at it.  Most die.  It's no slasher pic, but it's very intense and quite bloody at times.  There's a modicum of sex: chaste kisses.  Let graphic leg wounds serve as representations of genitalia, since violence in our own so-called culture is fine where bonking is not.  And let the mutual application of super-balms serve as sex.  (The child of a friend of mine thought PG-13 stood for Pretty Gross: 13)
Thirteen, okay, maybe.  But this is certainly no movie for an eleven year old.  And though she's campaigned hard for the right to see it as her peers have, she no longer wants to.  Because we told her about the wounds.  She doesn't even like it when Daddy gets a cut.  We told her about how sad, little Rue and the flowers.  And we told how loud and how fast-paced and how really terrifying at times.
There's nothing in the movie that isn't in the book.  But the movie is a step toward the real, whereas a kid's imagination as she reads is a place of learning and safety.  A kid reading can stop and think while she reads.  She can process the imagery–which her own mind has produced from prose cues–for a minute or an hour or a day or a week.  And then she can step back in.
And finally, there's something about the movie that's a little like the games it condemns: people will pay to see children take each other out.   Katniss, though, she shows us that love wins, that cooperation beats competition, and that grrl power rocks.
Maybe Elysia will be old enough to see it when the third and final movie comes out.  Thirteen does sound about right, now that I consider it.  I mean, think what I was doing at that age.
No, don't.