Jun 08
My pal Tommy loved Claire, who worked the lunch wagon, the island's only restaurant. Problem was, Claire was married to Todd, Tommy's captain. A complicated triangle.
Tommy and Claire never consummated their romance, though I witnessed their playful flirtation at the lunch wagon all summer long. She smiled at him and batted her eyelashes. He blushed back. For the island, she was cute. And Tommy, as a bachelor sternman, welcomed almost any sort of female attention. So they'd stare longingly at each other while Claire's three-year-old, a blond hellion with a bowl cut, slurped on the ketchup bottle like it was his mother's teat.
The lunch wagon was disgusting. An ice cream truck in a former life, the vehicle had no engine, brakes or steering wheel. It had been towed and set up in someone's dooryard, just above the row of fishhouses. No captain would eat there, because they had wives at home to feed them. Every surface in the lunch wagon was coated with thick grease and grime. Claire worked the grill, griddle, and small deep-fat fryer from 11 a.m. to 1 p.m. Then she'd re-open around five to serve supper, staying until she fed everyone who was hungry. Burgers were two bucks. Dogs, fries and ice-cold sodas were a buck.
I never ate the meat, but occasionally, after a long day of hauling traps, I'd order fries. The other fellas mowed down multiple sliders before heading to Benny and Paul's fishhouse for an herbal happy hour where we'd blast tunes, play ping pong and smoke tons of weed.
Although we were a band of merry jokesters, nobody teased Tommy about Claire. Maybe because we realized their flirting was something different. Dangerous and sad. So the topic was off limits.
Tommy was a nice dude, a shaggy 20-year-old stoner from Portland. Everyone hated Todd. Even his wife hated him, according to Tommy, who confided his feelings to me after a long night of beer, whiskey and weed. Claire also hated the island, he said. She felt isolated. Twenty miles off shore, away from her family and friends in Rockland. She wasn't even legally married, Tommy said, but Todd made her tell people they were husband and wife. The little boy was Todd's, so she didn't have many options.
Todd was a lousy lobsterman, so they were having money troubles, barely making ends meet. That's why she was working the lunch cart. Thirty bucks cash a day turned into a couple hundred a week. Eight hundred a month. No bad for an island part-time job.
Todd was a know-it-all loudmouth who barely knew his stem from his stern. His boat didn't get off the mooring until eight. Todd was always losing gear or getting tangled in someone else's, or setting traps in too-deep water. Tommy complained about the many hours wasted driving back and forth, looking for strings of traps Todd had misplaced.
As the sternman, Tommy had to pay the price financially. We all earned 15 percent of the catch, before bait and fuel costs were deducted. Paul and I were pulling in six or seven hundred a week. Tommy barely made half as much. And he was wondering if Todd was ripping him off. Claire had warned him that was possible.
One Sunday morning late that summer, Claire came down to shore, looking for Tommy. To say goodbye. Both of her eyes were blackened and swelled. Tommy wanted to kill Todd, but Claire calmed him down. "It's good that he did it," she said, hugging him. "Gives me a reason
to leave. To go home."
Todd left the island the following week and started tending his traps from the mainland. Tommy lucked out, because he found another sternman job for a better captain and stayed on the island for another year.
The lunch cart never opened again.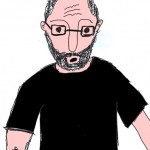 Crash Barry's rant for the trees and against industrial wind power is now available via The Bollard. Click here to read a Bangor Daily News interview with Crash Barry about his writing influences and more. Visit marijuanavalley.com to buy signed copies of Crash's books about the seamy side of Maine life.
To read all the previous episodes of Tough Island, click here.