Feb 23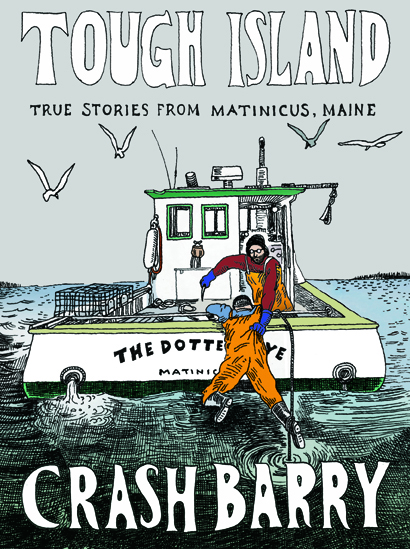 The Complete, Illustrated Tough Island
Chapter One
March 1991
I'd just finished a stint as a sailor in the Coast Guard, fighting the War on Drugs and the War on Haitian Refugees. No money. No job. No leads. A rudderless 23-year-old couch-surfer crossing back and forth over the state line between Portsmouth and Kittery.
Then the message came from a Coastie pal's wife. Her dad, a lobsterman on Matinicus, Maine's most remote inhabited island, needed a helper immediately. A sternman. A hired hand. A modern indentured servant paid with 15 percent of the catch, plus free housing, on an island 20 miles out to sea.
I'd been to Matinicus once before, for a weekend the previous fall, to help my Coastie pal paint an apartment in a waterfront building owned by his father-in-law, Captain Donald. We arrived by lobster boat on a foggy night and worked for two foggy days, ate lobster, drank beer and furtively smoked herb. Then the weather cleared and we flew back to the real world of the Coast Guard.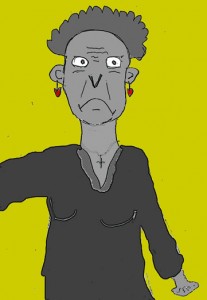 A move to a remote island was appealing, especially following my over-regulated life in the military. During my time as a Coastie, I traveled to exotic locales, where I witnessed the abject poverty, sorrow and injustice that lived beneath the beauty of the landscape. I needed a new place to ponder what I'd seen. And to recover from my time as a hard-drinking, pill-popping, brawling, pot-smoking sailor. Living in my own shack seemed ideal after three years aboard a ship of 80 men. As a young, wanna-be writer, working on a boat was ideal. So was growing long hair and a bushy beard, smoking tons of ganja and ingesting psychedelics while composing sad, epic poetry. Secluded on an island, I'd be able to hear the tide and absorb the wind. Become tougher. Stronger. Purer.
"I'll withhold the money from your first check. I hope this works out," whined Mary-Margaret, Donald's wife, a skinny woman in her mid-sixties. She was 100 percent gray. Her short hair. Her sunken eyes. Her skin. All the color of cigarette ash. Clothes. Aura. Mini-van. All the same dismal hue. "Otherwise, how will you pay me back for all this gear?"
We were at a commercial fishing store in Portsmouth. She bought me three pairs of gloves, a nice suit of Grunden oilclothes and a decent pair of boots. About two hundred bucks with no sales tax, because it was New Hampshire. She bought everything in New Hampshire, she boasted, as we loaded spools of rope and boxes of fasteners into the mini-van.
By the time we crossed the bridge into Maine, I was in hell.  The van's heat wouldn't shut off, the power windows wouldn't roll down, and with a captive audience, she didn't stop talking. Stories exploded out of Mary-Margaret with a frenzy. According to her, the island's 50-person population consisted mostly of thugs, troublemakers, cheats, liars, lonely women and stupid men. Plus a handful of children and a couple of retarded senior citizens. About a dozen men were lobstering thieves, she said. The exception, of course, was her hero, my new boss, Captain Donald, who could do no wrong.
"You're not a drunkard are you?" she asked, turning to look at me, a bead of crusted gray spittle caked on both corners of her mouth. "Been lots of shenanigans lately on the island. We don't need any more drunkards."
"Nope, I'm a social drinker," I answered. A smoker. A stoner. A tripper. An occasional snorter of powder and popper of pills. But not a drunkard. I did drink, but I could take or leave booze. Wasn't one of my real vices. "Never to excess," I added.
"Donald doesn't put up with foolishness, so you behave yourself," she wiggled her forefinger at me, a gray froth sputtering from her colorless lips. "On mornings you go out to haul, you better be ready at five."
For the rest of the two-and-a-half hour trip, she chattered. She wasn't from Matinicus. Donald picked her up in East Boston during his tour in the Navy, four decades before. She prattled on about her life on the island. She jumped from topic to topic: Bad neighbors, her children, the high price of everything, the low price of lobster. Occasionally, she paused to breathe, then start again, usually by insulting an enemy or Donald's brother's wife.
As we crossed the Rockland town line, she looked at me and smiled.  "My daughter says you're Catholic. That's wonderful. So am I! The only one on the island."
"Well, I was raised Catholic, but these days, not so much."
"She didn't mention you were lapsed." She frowned. "Maybe that's why you were sent here. So I can get you back to church. Remember," she said brightly, "Catholics can always come home."
I was suddenly worried. "Does this have anything to do with working for Donald?"
"No," she groaned. "He's not Catholic. Doesn't even wanna hear the word 'church'."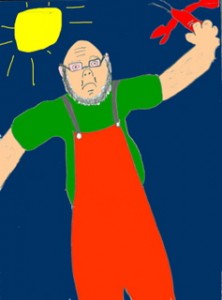 We met up with The Dotted Eye at a dock in the Rockland Coast Guard Station. I didn't bring much because I didn't own much. A half ounce of seedy marijuana and a carton of Camel Filters. A couple tabs of LSD, a cardboard box of books and a green canvas sea bag packed with 40 pounds of clothes. A sleeping bag, a quilt my mother had made, a typewriter, a clock radio and a box of Red Rose tea. Captain Donald shook my hand and grunted as I climbed aboard the boat for the first time. In his mid-sixties, he looked like a caricature of a Maine lobsterman. Salt and pepper beard with no mustache. Arms the size of legs. Legs the size of trees. Hands of a giant.
When we reached the other side of the breakwater, he opened up The Dotted Eye. She was super-fast, for a work boat. "I used to race her," he said over the roar and chortle of the diesel, a big grin on his face and a glint in his eye. "Used to win."
"NOT ANYMORE," Mary-Margaret shouted. "PRICE OF FUEL IS TOO HIGH!"
***
"See the island?" Captain Donald pointed to the distant horizon. We'd been cruising for ten minutes. "Steer towards it. I'm gonna catch a little snooze."
I didn't see the island, but took the wheel anyway, noted the compass course and kept her steady, an easy task for a salty old helmsman like me. (I'd spent countless hours behind the big wheel of my Coast Guard cutter.) Donald layed on the engine box and closed his eyes. Mary-Margaret leaned against the wall in the corner of the cabin, looking even grayer than in the van. Her pallor told me she was seasick. Saw a lot of that in the Coast Guard. Many shipmates fell victim to motion sickness. Luckily the giant rolling swells and troughs of Caribbean hurricanes and the choppy seas of North Atlantic gales didn't bother me, allegedly due to an inner-ear imbalance. On land, I was clumsy and crashed into doorways and tripped over carpet. On the open ocean, however, I danced with waves.
Life was looking up. A paying job. A place to live. A new world to explore. I felt awesome and powerful. No idea where I was going, but driving The Dotted Eye was such a pleasure, I didn't care. We flew through the quintessential Maine seascape of lighthouses, lobster buoys, sea gulls and kelp-covered ledges. We arrived at the Steamboat Wharf about an hour and a quarter after we left Rockland. The tide was almost high, which made it easy to unload. We put the groceries, fishing supplies and all my earthly possessions in the back of Donald's beat-up and rusted Chevy.
"Be sure to get lobsters," Mary-Margaret reminded Donald as she climbed into the passenger side of the truck. "We're having lobsters, potato salad and lemon cookies for dinner."
Donald grunted as The Dotted Eye backed away from the wharf, came about, then headed the 500 feet to his mooring near the breakwater. We jumped into his skiff and zipped over to a good-sized barge, lined with stacks of traps and a couple huge bait boxes.
"Get up on the scow," Donald ordered. "And grab that crate." He pointed to a rope attached to a box floating in the harbor. "Haul it up on deck."
I pulled the heavy box onto the scow and water spilled out through the spaces between the box's wood slats. Donald handed me a plastic bag.
"Pick out your suppah," he said. "And let's be friggin' quick about it."
I knelt on the scow and opened the crate. It was filled to the brim with delicious crustaceans.
"How many?" I asked.
"One for me and one for her," he said. "And as many as you want. C'mon. We don't have all night."
Unlimited lobster! That's a job perk I hadn't considered. I picked out two big ones, for them, then three huge crustaceans for me. Donald didn't bat an eye. I tied the crate shut and pushed it overboard.
Don't Drink The Water
"Showers cost lots of money out here," Mary-Margaret complained. "Running the water pump doesn't come cheap, because our electricity is the most expensive in all of Maine." She poured us each a glass of red beverage. "This is sugar-free Kool Aid. Because of Donald's diabetes. Cherry is his favorite."
I watched him wince as he took a sip of the awful stuff. I had learned from his daughter that Donald used to be a major-league boozehound who smoked two packs of Winstons a day. About a year prior to me getting hired, the doctors said no booze, except for a single monthly ration of scotch to keep him from going absolutely crazy. And no cigarettes. A big deal for a guy who'd been smoking since he dropped out of school at age ten.
"Why is the electricity so expensive?" I asked, happy to have a trio of good-sized lobsters on the plate in front of me. No butter, though. Captain Donald couldn't have butter because of his strict diet. That meant no one had butter. "Where's the power come from?"
"We didn't have power when I was growin' up," Donald snorted. "Didn't need it, neither. Weren't until 1976 we got power lines strung."
"I, for one, am glad we have electricity," Mary-Margaret interrupted. "I just wish it wasn't so darn expensive."
"And the price is only gonna go up," he cackled and shook his head as he cracked a claw. " 'Cuz we're running a big diesel power plant to make electricity non-stop. And the price of fuel ain't never going down."
"Running the water pump doesn't come cheap," she said, repeating her mantra. "That's why you can only take a short shower. Set the timer that's on the toilet. No longer than four minutes." Mary-Margaret grunted. "We don't take long showers around here."
After supper, eager to wash off the grime from the road and boat trip, I took a shower and dutifully set the timer. I didn't need all four minutes. The water smelled and tasted unpleasantly of kerosene. So I quickly washed and rinsed, then dried with a towel that also had a petro-odor. I was clean, but felt oily.
The first night, I stayed in their guest room. (They lived in a non-descript house in the middle of the island, with a dull backyard view of scraggly woods and a front window that overlooked the road to the airport.) After hauling traps in the morning, Donald was gonna bring me to my new home on the shore. The bed sheets and pillow case smelled like kerosene, but it didn't stop me from sleeping soundly.
Four-thirty a.m. came quick. I was awake and ready instantly, thanks to my rigorous Coast Guard regime of pre-dawn drug boardings and search-and-rescues. Donald and I drank a cup of tea and ate toast with margarine, then headed to the shore in his beat-up Chevy. It was still dark as we climbed down a ladder attached to the Steamboat Wharf and into his 14-foot aluminum skiff powered by a 10-horse outboard. He stood in the stern and motored us to the mooring. Other men were also en route to their boats. And a couple were already steaming out of the harbor into the dawn. Donald didn't wave or acknowledge any of them. They ignored him back.
Aboard The Dotted Eye, we pulled on our oil clothes, boots and gloves. Donald started the boat, then showed me the way he wanted the bait bags filled. Six fish per bag, more or less, depending on the size. He showed me how to attach the wash-down hose to the lobster holding tank. And how to use the banding pliers. Then he told me to release the mooring and we were underway.
Standing on the bow, I inhaled deeply and tasted the mix of salt air, rotten bait and diesel. As Donald headed past the breakwater and bell buoy, I absorbed the amazing early pink light and energy reflecting from the sky and sea. I was glowing. Vibrating positively. Joyful. In the zone of happiness, reveling in the scene and the scenery. I felt so lucky and happy. To be alive. To be working on a boat. To be living in Maine.
"WHADDYA DOIN'?" Donald shouted over the din of the engine and gestured for me to join him in the cuddy. "You better fill as many bait bags as ya can," he barked and pointed sternly. No smile. No glint in his eyes. " 'Cuz we'll be at the first string in five minutes."
By noon, we were done hauling and tied up at the bait scow. Donald decided to go easy on the new guy and only haul 100 traps. He usually hauled 250 to 300 a day. From a huge bin on the scow, I shoveled herring and refilled the bait box, then washed and scrubbed the boat while Donald dealt with the lobsters.
I knew I could handle being a sternman. Not a hard gig, especially for a fella who could roll with the rhythm of the sea. Easier than being a deckhand on a Coast Guard cutter, that's for sure. All morning, I filled bait bags, emptied traps of various fish and underwater fauna, while measuring and banding lobsters. My forearms were greasy with fish guts and my hips were black and blue from slinging traps port to starboard, but it was simple work.
"After bait and fuel, I'd guess you made about fifty bucks," he drawled as we slid a couple wooden crates filled with lobsters into the drink. Donald tied them off to a cleat on the scow. "Whaddya think? Can you do the job?"
"Yes sir!" I said. At the moment, flat broke, fifty bucks was a fortune. Even though the first $200 was paying for my new gear, I knew it wouldn't be long before I'd need a bank account. "No problem."
"All right then." Donald looked at his watch. "Time to go home and have a lousy sandwich." He coughed and spit into the harbor. "Then we'll move you to your room." He spit again. "I'll tell ya, I'm getting sick of friggin' turkey bologna."
Up at the house, in the center of the kitchen table, was a pitcher of the red beverage, three glasses and a bowl of potato salad. Mary-Margaret was busy at the counter. I couldn't stomach the Kool Aid again, so I grabbed a cup and headed for the sink.
"Be sure to take it from the filtered spigot," she said, as she placed sandwiches on plates. "The one on the right."
"Something the matter with the water?" I asked.
"Years ago we had a kerosene spill and it tainted the aquifer," she explained. "Been ten years and the well hasn't been the same since."
"Twenty," Donald grumbled, pouring himself a glass of Kool Aid. "Twenty years ago."
"Really?" Mary-Margaret said. "Seems like yesterday. Anyways, 500 gallons of kerosene from the…"
"By Jeezus!" he interrupted. "Mary-Margaret, you're numb as a hake. How could it be 500 gallons? Our tank only holds 250." He grunted and spit into his handkerchief. "It was 250 gallons. Besides, there ain't nothing wrong with the water no more."
"If you say so, dear." She nodded and sighed. "Still, we only drink from the filtered spigot." She smiled feebly. "How's your sandwich?"
"Great," I said, even though the turkey bologna on store-bought bread with light mayo and runny yellow mustard was dreadfully bland. "I was starving."
"You only worked half a day," she snorted, "can't be too hungry."
"I got a surprise for ya." Donald grinned. His mood seemed to improve after lunch. "I like my sternman to have transportation." He led me out to a shed in the backyard and slid the door open to reveal a motorcycle. "As long as you're on the island, working for me, the Hondamatic is yours. One of the perks of the job."
"Wow." I had zero interest in motorcycles. My only experience on a bike resulted in a parking lot crash back when I was a Coastie. Pedal power was more my style. "You know, uhhhh," I stalled. "I really don't have much luck with motorcycles."
"Easiest bike in the world to ride," he assured me. "It's a Hondamatic. No clutch. Two speeds. Bought it new in '78 and it ain't never been off Matinicus since."
"Well," I said. "It's just that I'm kinda…"
"Jeezus, boy, my granddaughter's 12 and she loves this bike," he patted the saddle. "Take her out. Go nice and easy. Look around. Get a feel for the place."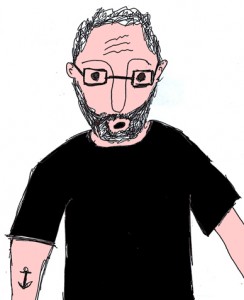 After driving back and forth in front of Donald's house ten times, I was ready to go. I rode down to the harbor and took the road out to Markey's Beach, where I parked and walked the length of it. The tide was halfway to high and the surf broke gently on exposed ledges. I had the entire place to myself, except for a few seagulls frolicking on the wet sand.
After a couple smokes, I drove back to the harbor and parked by the post office, which shared a building with the lone island store. Both were closed. I peered through the windows. Seemed the stock consisted mostly of beer, soda and bags of snack food. The rest of the shelves looked barren.
I wandered over to the end of the Steamboat Wharf to get a good look at the harbor: A rugged little village of brightly painted fishhouses and wharves, mixed with a couple derelict buildings, crumbling, dark and forgotten. A charming postcard.
There was an old-timey telephone booth in front of the post office, so I decided to give my folks back in western Massachusetts a jingle because they had no idea where I was. The answering machine picked up.
"Hi, Mom and Dad, it's Crash calling." I paused, trying to think of an accurate way to describe my new situation. "Everything's great. I got a job on this island in Maine called Matinicus. You can find it on the map. It's 20 miles off of Rockland." I paused again. "I made 50 bucks lobstering today, plus all the lobster I could eat." Both of my parents loved lobster. They'd appreciate the detail. "And I just cruised the island on my new motorcycle. Pretty exciting. I'll call you again, soon. As soon as I get settled."
Back on the bike, I zipped up to the middle of the island and took a left at the crossroads, rode past the modern one-room school house and the cemetery of old stones and collapsed graves. Then I turned onto a grassy trail framed by spruce trees that seemed to follow the shoreline to the south. Glimpses of the shimmering sea beckoned me and a long path of sunshine created a sparkling trail six miles out to Matinicus Rock's infamous lighthouse.
I crept along on my motorcycle, admired the amazing view, breathed deeply the open ocean air and reveled in my good fortune. Perhaps I drove too slow. Or maybe I shouldn't have taken the Hondamatic off the road. No matter. Suddenly the bike slid and toppled over, pinning me on a hillside sloped toward the rocky shore. Stunned and frightened, but uninjured because the bike was surprisingly light, I squirmed out and vowed to never ride a motorcycle again.
Donald shook his head when I told him what happened. "You're being stupid," he said. "You shouldn't have gone on that trail. Stay on the road and you'll be fine. It's a friggin' road bike for christ's sake."
"Well," I said, eager to forget the incident. "I still think I'd prefer to walk."
"Suit yourself." He rolled the bike back into the shed. "Your loss."
We took Captain Donald's truck down to the shore so I could move into my new pad. We parked by the post office and I followed Donald on the foot path that wound around the edge of the harbor, through the village of fishhouses. I thought we were headed to the apartment that overlooked Donald's wharf, the one I painted the autumn before, a nice one-bedroom with a sawdust toilet and a full kitchen, sans running water.
Instead, he brought me to another building, ramshackle and rickety. The first floor was garage-like, filled with ancient coils of used pot warp, tow lines, fishing net, broken buoys, and miscellaneous junk. We climbed a shaky exterior staircase to his shop on the second floor. The room was about 20-foot square. The floors and walls were splattered with orange and white. Freshly painted buoys of the same colors hung from the ceiling, making it mandatory to stoop and duck to walk across the room. We passed the tiny wood stove and came to another doorway.
"Your new home." He grinned. Tough to tell if his smile was genuine or evil. "Hope you like it."
The back room was ten feet wide and twice as long. But not cozy. Or comfortable. Or rustic. Or charming. The walls were fake wood paneling. The floor was particle board. A bare bulb hung from the center of the ceiling. In daylight, it was easy to see the layer of dust on the single wooden chair, small table, nightstand and unmade cot that filled most of the space. An ersatz kitchen – consisting of a dorm fridge, a two-burner gas stove and dishpan – occupied the rest. The east wall had a trio of windows that overlooked the harbor.
Wasn't much of a room, but better than a berth on a ship, a mat in a homeless shelter or a bunk in a prison cell. And it did have a great view. "Doesn't seem to have a door," I said.
"This is the door," he said, tugging on a blue tarp attached to the wall on the shop side. "Just hook the grommets on the nails and you'll be all set," he said. "Though I wouldn't do that if you got the wood stove going." He grunted. "Tarp will keep the heat out."
"Oh," I said. "What about a bathroom?"
"Hah," he said. "See that?" He pointed at what looked like a green plastic ottoman. "Pull the cover off and it's a toilet. But only use it in emergencies, 'cuz it's a sonofabitch to clean. Don't worry, you've got an outhouse too," he said. "Follow me."
At the end of his wharf was an ancient shed. He pulled the door open. "In there," he said. "Just like in the olden days. Hah!"
The shed was packed full of old nets and 55 gallon drums of diesel fuel. In the corner was a toilet seat on a wooden box. A classic one-holer. I lifted the seat cover and peered down. I felt a whisper of wind rising from under the wharf. I saw piles of shit clinging to the wharf's cross braces.
"You share the toilet with my brother's sternman," he pointed to another building on the wharf. "That's where Jimmy lives, but I think he's in Rockland today." He coughed and spit into the harbor. "Let's go have some suppah."
*
"I thought I'd be staying down in that apartment we painted last fall," I told Donald while waiting for Mary-Margaret to serve the meal. He drank his red drink. I had water. The kitchen smelled deliciously of the chopped onions cooking atop the store-bought frozen pizza.  I was starving and the smell was driving me crazy. "Didn't think I'd be living in the shop."
"Whatever gave you that idea?" Mary-Margaret harrumphed. "That's a rental apartment. For tourists. Way too nice for just a sternman."
"Wanting the Taj Mahal, are ya?" Donald asked. "Not gonna get it, 'round here."
They both chortled until their laughs turned into groans.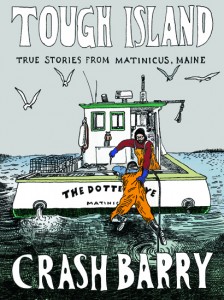 After supper, I walked to my new home carrying my sleeping bag, some borrowed sheets and a roll of toilet paper. The night was star-filled and quiet. No moon. No clouds. No wind. As I neared the shore, I heard the occasional clang of a bell buoy and the gentle hum of the island generator in the background. Didn't see another person. Felt like I was the only human on the island. A good feeling.
My room smelled of old rope, salt and bait, though it could have been my personal odor since I hadn't showered after hauling. I found bits and bones of herring in my hair and beard. Under the bare bulb, I smoked a joint and examined my new place. It was filthy, with signs of mice, but totally functional.
An unexpected bonus was the sound of the tide lapping at the wharf. As the tide rose, the ocean stretched and flowed beneath the building. The thought of sleeping above water calmed me.
I made the bed and set my alarm for 4:30 and hit the soft and springy cot. Tired in a good way and excited to have my own pad, I was content for the first time in a long while.
In the dark, I turned on the radio and scanned the FM dial and was happy to discover many frequencies came in loud and clear. I switched to the AM band and found even more stations, some as far away as Philadelphia and Quebec. I'd been a serious radio listener since I was a little boy. Pleased, I tuned to WOR in New York City, dozed off and slept soundly.
*
For the next two years, I lived on this beautiful island located in the center of the richest lobster grounds in the world. Despite its remoteness, Matinicus was a microcosm of modern American society. Ruled by gossip and slander. Rife with substance abuse and marital discord. Over time, the archetypes revealed themselves: The angel, the hero, the loner, drunk, the cheater, the molester, the abuser, the thief, the suicide and the killer.
Through the eyes of some, Matinicus was an outlaw's paradise where hardened souls could lurk in the shadows of fishhouses and wharves, far from the watchful police state.
For other islanders, Matinicus was a protected homeport and an idyllic place to raise a family. An outpost where independence was necessary and honored, but where working with others – even sworn enemies – was occasionally required to save a life or livelihood. A world of heavy winds and violent storms, where fervent sunrises and fiery sunsets painted forests, meadows, beaches and ledge with vibrant colors. Except when it was foggy. Which was quite often from June to October.
Two years living in a fish shack didn't make me an expert on Matinicus. But it was a long enough immersion to recognize the distinctive nature of the island. To see beyond the myth and hype. To study a unique society with a wanna-be writer's brain, filtered through a thick lens of drugs, youth and hard work.
Island Justice
Ever since the first white settler, Ebenezer Hall, a notorious thief and scoundrel, got scalped in 1757 by the local Indians who owned Matinicus, a mist of violence has loomed like low hanging fog, enshrouding the island in a bad reputation. Mostly because of a few loud, bad apples. Stabbings. Arson. Fisticuffs. Sucker punches. Cold-cockings. Ass-kickings. Home invasions and destruction. Murderous threats and name-calling. Guns aimed. Shots fired. People wounded. All part of island history and lore.
No cops were ever stationed on Matinicus, where the only law officer was the constable – elected anew each year – an island resident without training whose only role was to occasionally deal with the mainland cops who came out to make a drug bust or issue a summons. There was no cop, that is, until Jerold Day offered his services to the Knox County Sheriff's Department.
Jerold Day moved to the island the year before I did. His only link to Matinicus was his brother, a lobsterman, who had married an island girl. Jerold Day had zero experience in law enforcement. A fundamentalist, teetotaling Christian who believed the schoolteacher was in league with the devil, his resume stretched through several states and industries, reeking of a loser who couldn't keep a job.
None of that mattered to the macho sheriff in Rockland who was desperate to tame Matinicus and wanted to prove to the rest of mid-coast Maine that his law was stronger than the island's anarchy. At the beginning of March, the sheriff gave Jerold Day a badge, gun and a blessing. And Jerold Day was transformed from a dubbah to a deputy.
Four drunk sternmen, pissed that a cop was suddenly messing with their paradise, decided to fuck with the deputy. Sternmen, by nature, are rugged and beefy. A team of four are almost all-powerful. Under the cover of darkness, they walked to the deputy's house and easily flipped his truck onto its side.
The sternmen didn't know the deputy was waiting in the shadows. They also weren't aware of the motion-sensitive spotlight he installed on his house. (The first on the island.) When the truck tipped over, the light got triggered and the deputy saw them all: Billy, Bobby, Buddy and Alex.
The deputy drew his gun and fired a shot in the air.
The three Bs scattered and escaped. Alex wasn't so lucky. Startled by the shot, he froze for a split second, which gave the deputy just enough time to pistol-whip him from behind. He brought his gun down hard on Alex's head. Knocked him out and split his skull open. Then the deputy cuffed and dragged the unconscious man across the yard, opened the bulkhead, lugged him down the stairs and handcuffed him to a pole in the center of the cellar.
Meanwhile, the other fellas had regrouped in a harborside fishhouse, wondering what happened to Alex. Probably a good thing they didn't know he was captive in the deputy's basement and that mainland cops were en route to the island aboard a 41-footer from the Coast Guard station, 'cuz that could have started an all-out shooting war and raid of the deputy's house to save their pal. Instead, they got drunk and high on their bottle of rum and good bag of weed, thinking Alex went home to bed.
An hour and a half later, it was nearly low tide and they saw the Coast Guard boat slowly creeping around the breakwater. The sternmen wondered why the Coasties were coming to Matinicus. Was someone sick?
"Jeezum crow," one of the fellas said, "those guys are gonna hit the Indian Ledge if they ain't careful."
The three sternmen jumped into a skiff and raced out to the Coast Guard vessel, leading them around the ledge and up to the Steamboat Wharf. Unbeknownst to the sternmen, the deputy had borrowed his brother's truck and was on his way to the wharf with Alex, bloody and hogtied, in the back. The deputy arrived just as the cops disembarked and climbed the ladder.
Pandemonium erupted as the sternmen realized what was going down. The deputy told the other cops to arrest the three Bs. The island foursome, at gunpoint, were ordered onto the Coast Guard boat, where they were cuffed, read their rights, then brought ashore to spend the night in the Knox County Jail.
"Gonna get that asshole," Alex said on a stormy night two weeks later, his head wound still sporting a bandage. We were playing cards, smoking herb and drinking whiskey in his shack. "Gonna get him good."
"How?" I asked.
"You'll see," he said, picking up the axe leaning against the wall. "You'll see," he repeated, then opened the door and headed into the screeching wind.
The next morning, at dawn, Donald and I were aboard The Dotted Eye, getting ready for a long day of hauling traps, when he spotted the deputy's 20-foot lobster boat aground on a nearby ledge, sitting high and dry with a hole in her hull.
I imagined Alex in a skiff, cutting the mooring, maybe giving the boat a little push towards shore. Whacking at it, once or twice, with the axe, knowing there was no chance he'd get caught. No evidence to be left behind. No witnesses. And since nearly everyone on Matinicus hated the deputy, the list of suspects would be long. This was the start of the concerted effort to get rid of the deputy.
Turns out there was always law on Matinicus, just not the sort that wore a badge.
They Did Not Shoot the Deputy
Deputy Jerold Day got run off the island on a beautiful spring day, about a month after the pistol-whipping. Since attacking Alex, he'd gotten the cold shoulder from every islander. No one waved at him on the road or acknowledged him at the post office or the store. His kids – a pair of goofy, home-schooled teenage boys – were cruelly mocked and taunted. The worst harassment, however, occurred under the cover of darkness. Someone poisoned the deputy's geese and threw a bucket of black oil paint on his white truck. Rumors circulated of shots being fired at his house, but no bullet holes were visible.
Everyone knew the deputy was leaving on the next ferry. The sheriff had decided not to replace him. The short-lived law enforcement experiment was over. The deputy spent his last week on Matinicus packing boxes and nailing big sheets of plywood, painted day-glo orange, over his windows, turning his blue house into a tantalizing target for potential drive-bys. His wife and kids had already left, taking the mail plane to the mainland to find a new place to live.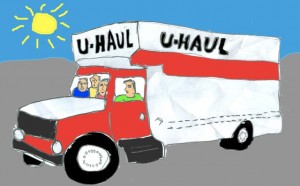 On the morning of the ferry's visit, a bunch of us gathered for a going-away party at Benny and Paul's fishhouse, which had a bird's eye view of the Steamboat Wharf, a couple hundred feet away. The guest of honor, of course, was not invited due to the weed and booze. He was busy, anyway. When the ferry arrived, minutes before high tide, the deputy jumped aboard and climbed into the cab of a large U-haul, first in line for disembarking. When the ramp came down, the truck raced off. His wife and kids, who'd taken the ferry from Rockland, were crammed in the front seat alongside him. The truck bounced and sped to their house in the center of the island.
"Better hurry, you sonofabitch, better hurry," slurred Brenda, Alex's 40-year-old mom, already three-quarters drunk on coffee brandy. "Less than an hour to pack that big friggin' truck." She laughed. "Tides and ferry don't wait for nobody."
"I almost hope the bastard misses the boat," said Pierre, Alex's step dad. "Jeezum Christ, imagine the friggin' late fees if that truck stays on the island for an extra month." The ferry visited Matinicus monthly, except during the three darkest months of winter, when it didn't come at all.
"I just want the motherfucker gone," Brenda said, shaking her head. "Asshole."
The party continued. We all drank and smoked and got higher and higher, watching the ferry, wondering if the Deputy was gonna return in time. He made it with a couple minutes to spare. The whole family climbed out of the truck and lined up against a gunwale for a final look at the island. Standing on Benny and Paul's roof deck, I watched them through binoculars. I could see the relief on their faces.
The party grew louder and louder. There was raucous hooting as Brenda and Pierre unfurled a banner. Pierre, in his role as a selectman, called assessors on the island, had the only personal computer on Matinicus; the banner was made with a dot-matrix printer on an eight-foot-long piece of tractor-fed paper. It read: "Fuck you, Jerold Day!"
"Fuck you, Jerold Day!" the crowd screamed in unison. "Jerold Day, FUCK YOU!" A song, almost.
I took another look at the deputy and his family through the binocs. They seemed puzzled. From their vantage point, the banner was too puny to read. They couldn't see the many middle fingers, or the lone moon from a fat, drunk islander, either. And the rumble of the ferry's diesel engines muted our chant.
The ferry left and the party broke up soon after. Not even noon and everybody was hammered. Now that the deputy was gone, the buzz seemed wasted and anticlimactic. And while Matinicus was cleared of cops, it wasn't like all hell broke loose. Just no one gave a damn about herb or drunk driving or car registrations. The summer came without a bit of drama.
The police stayed away. Word was, they were scared.
Ironically, many years later, Alex purchased the house where the deputy pistol-whipped him.
Not a Cougar, a Lioness
She may have been tall or short. Zaftig or junkie-rail-thin. A blonde, a brunette, a redhead or raven-haired. Doesn't matter. I'm not gonna describe her, other than to tell you her skin was soft. And she was another man's wife.
Uninvited, she climbed the stairs to the second floor of the fishhouse and walked right into my room. She introduced herself with a bottle of whiskey in one hand and a fat joint in the other. Didn't take long for her mission to become clear. She was there to have sex with me.
I'd been living on the island for two months, and my only pals were a half-dozen other sternmen. Married island women, in their role as other men's wives, seemed blurry and distant. Truthfully, I hadn't noticed her before. But she certainly got my attention. Quick.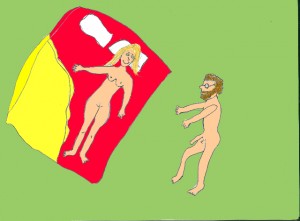 For the next couple weeks, we dallied in weird places at strange times of day. She was hungry and a little freaky. Happy with action, I aimed to please.
Then one day her husband went to the mainland (according to her, to visit his girlfriend) for the night. We had the house to ourselves and she was dressed by Frederick's of Hollywood. After a long bath in scented water, she made love to me on satin sheets, which, in my opinion, were too slippery.
Then she prepared a fine feast. A nice salad. Lobster stew and biscuits. Steaks on the grill. Steamed spinach. Baked potatoes with sour cream. Sex for dessert.
Afterwards, we lounged, naked, on her marital bed with another whiskey and one more joint. She cuddled and sighed. Content. By 9 p.m., my drink was gone. Time to leave. It was the middle of the night, by my Matinicus clock.
"This was great," I said, trying to figure out how to extricate my arm and unwrap from her embrace without disturbing her comfort. "But it's late and I better get going."
"Don't be silly," she murmured and snuggled. "You can sleep here. I told you, he's gone until tomorrow morning."
Couldn't take that chance, of course. And besides, I'd never reach deep slumber there. My restless psyche would awake with every creaking board and whisper of wind. I knew the early return of her husband would mean my certain death at his hands.
It's one thing sleeping with a fella's wife. It's another, spending the night in his bed.
"I can't," I said, perhaps a little too forcefully. "I need to go."
She pulled me closer.
"You have to stay," she said, slowly, stressing each word. "I cooked you dinner. We made love. Twice. You can't leave."
Clearly, she wasn't gonna listen to my rationale. I sat up and swung my legs toward the floor. Her arms were still wrapped around my torso.
"Don't go," she said, releasing me only when I got on my feet. "You better not. I'm warning you."
I pulled on my boxers and jeans.
"If you leave," she said, her voice growing harder, "we're never gonna have sex again."
My silent answer was to button my shirt and sit on the foot of the bed to don shoes and socks. Then I stood again. She pointed at me, her cheeks trembled and her eyes went wide.
"WE'RE THROUGH!" she screamed. "YOU SON-OF-A-BITCH!"
She grabbed my empty whiskey glass from the nightstand and threw it at me. I easily sidestepped. Thud, against the wall. Next came a flying book.
I headed downstairs and she followed, switching tactics. Pleading. Begging. Promising. She'd get up extra early and cook bacon and eggs before I went out to haul.
"Just don't leave," she sobbed. "Please don't leave."
I ignored the tempting breakfast offer and dashed for the door and into the night.
On the path back to my shack on the shore, it felt like someone was watching me. I stopped, turned, listened and looked around. Dozens and dozens of pairs of eyes glared at me from the darkness of the scrub pines. Cats. Feral cats. The island was overrun with 'em.
Spring Cleaning
The tide was halfway to high when I drove The Dotted Eye toward the dock and nearly crashed into a Volkswagen bus. I threw her in reverse and backed down hard. Donald, who'd been astern and was almost thrown to the deck, came running forward.
"WHAT THE HELL?" he hollered. Then he spotted the VW parked 10 feet in front of his wharf, the rising sea lapping at the driver's side-view mirror. "What the frig?"
Turns out Pierre, the upstanding island official, finally decided to clean up his dooryard, which meant getting rid of the VW bus that hadn't run in a decade and had been cannibalized for all usable parts. Pierre wasn't gonna pay a hundred bucks to ship the vehicle on the ferry to be junked on the mainland. He got rid of it the island way.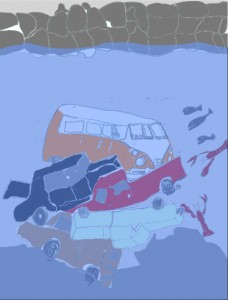 Unbeknownst to us, earlier in the day, at low tide, with help from his pals, Pierre had pushed and pulled and rolled the bus down the beach. He hadn't intended to leave it in front of Donald's wharf, he claimed. The bus got stuck in the mud and mussels, Pierre said. So he'd lashed an old hawser, with a buoy on the end, around the VW, and called it good.
At high tide, Pierre returned in his brother-in-law's boat and grabbed the floating buoy. He took in the slack and hitched the thick rope to the stern. Then he put the boat in gear and towed the submerged bus across the harbor bottom, dragged it around the Indian Ledge and out to the deeper backside of the breakwater.
Without ceremony, Pierre slashed the rope, freeing the VW, which sank and joined the dozens, if not hundreds, of dead cars and trucks buried in the watery junkyard. The vehicles created an artificial reef shunned by the lobstermen, but not because of the batteries and oil left behind. They didn't want their traps to get snagged on mufflers, or stuck in a trunk, or hung up on a smashed windshield. The lobsters loved the junkyard during the warmer months, spending their time darting in and out of vehicles, taking naps on deteriorating bench seats and finding secret hideaways in glove boxes and wheel wells.
Donald wasn't pissed about the way Pierre was getting rid of the VW. He was just outraged that Pierre had the audacity of leaving the van in front of his wharf. Donald didn't give a damn about the environment. The ocean was his trash can. A couple times a week he brought a paper bag of trash out to haul, mostly glass and tin, and threw it overboard. He'd been throwing plastic of all sorts into the sea for years, but stopped after his grandkids harassed him about it. So he burned the plastic, along with paper and cardboard, in his 55-gallon burn barrel in the back yard. The smoke was thick and black and the smell lingered in the neighborhood long after the fire was out.
But it's pretty damn tough to get rid of a large household appliance via boat or burn barrel. Mary-Margaret bought a new washing machine, so Donald and I lugged the old one into the back of his pick-up and drove to the aptly named Steep Banks, the island's tallest cliff. There, we pushed the washer off the back of the truck, to join a rusting white and avocado-green trail of appliances that reached the water's edge and was visible a mile away.
Look Out!
Aside from the tryst with the cougar, there was no romance for me until the end of the summer, when I met Alice, a 32-year-old school teacher from southern Maine. Her grandparents had moved off Matinicus to find work, decades ago, but had kept the family homestead as a camp. A pal introduced us, and we hit it off immediately, enjoying a dinner at the island's version of a restaurant: Someone's illegal, backyard picnic-table café. After dinner, she took me home to her grandparents' sparsely furnished house where we really got to know each other.
The next morning, Donald and I rendezvoused, as usual, 10 minutes before dawn.
"Where were you last night?" he asked. "Couldn't find you nowhere. Coast Guard called about a sinking boat. Ended up having to go rescue them all by myself."
Donald had an unusual relationship with the Coast Guard. Because the island was so far off shore, at the outermost edge of Penobscot Bay, Donald often helped the Coasties with search-and-rescues. No money was ever exchanged, but Donald was welcome to tie up at the Rockland station, where the Coasties would keep a watchful eye on his boat and occasionally fill his fuel tank.
So while Alice and I were rolling around on the kitchen floor, Donald was en route to an emergency. A 37-foot boat under full sail, rented and commanded by a rich landlubber from New Jersey, had crashed into Matinicus Rock. Apparently, the skipper never saw the 90-foot-tall lighthouse because he was below deck having sex with his mistress.
Jagged rocks tore a huge hole in the hull and the boat took on water wicked quick. After screaming MAYDAY into the radio, the couple escaped by climbing into a little boat they'd been towing, a rubber skiff with a three-horse outboard. They waited for rescue, bobbing in a gentle sea, as the sailboat went down. Every 10 seconds, the darkness was interrupted by a blast of light pulsing from the Rock's towering beacon.
Donald reached the lovers minutes after the sailboat went under. He lashed the dingy to his stern and headed toward the mainland with the two grateful passengers aboard his lobster boat. The Coasties met him halfway and took the couple aboard their 41-footer, but wouldn't take the skiff. Their job was saving lives, not personal property. Donald agreed to keep the little boat until arrangements to retrieve it could be made.
Donald was tired and grumpy. He didn't get back to the mooring until half past midnight. And now, five hours later, it was time to work. We got underway and headed to the spot of the previous night's drama, where 250 traps in shallow water needed hauling.
We arrived at the Rock as the sun cleared the horizon. In the early light, we could see the very top of the sunken vessel's sail breaking the surface of the water, like a three-foot-tall toy boat. Waves splashed over the mast. Puffins landed and swam around the sail. I wished for a camera.
"That fella was clueless," Donald said. "When I picked them up, he had no idea where he was. Thought he was almost to Bar Harbor. Friggin' moron!" He sighed and shook his head. "They'll rent a boat to any idiot with a credit card."
We started to haul our traps. A half hour passed and I was stuffing bait bags with rotten herring when, out of the corner of my eye, I saw something leap from the water.
"Donald," I said, pointing at the brightly colored object floating 50 feet off our starboard, "what the hell is that?"
He put the boat in gear, came about and around, and gaffed the thing with his hook: A basket of silk flowers! A few seconds later, whoosh, another object, large and brown, emerged from the depths with such momentum that, for a moment, a table actually broke free of the ocean's grasp and went airborne. Then several upholstered cushions popped to the surface like corks.
"She's breaking up!" Donald squealed gleefully. "Right now! We've got salvage rights!"
We fished the mahogany galley table out of the drink. The table had a storage box inlaid in the center and inside it I discovered treasure: A cup full of quarters, dimes and nickels. About 10 bucks' worth of change!
"That table would be nice in the fishhouse, but the rest ain't worth a damn," Donald said, pointing at the floating debris. "Gonna keep the bouquet for Mary-Margaret. She's always complaining about me never gettin' her nuthin'!" He cackled and snorted. "Well, dear, I got you some flowers!"
Donald also kept the skiff. His grandkids had a blast scooting around the harbor in the little boat. The guy from New Jersey called, and so did somebody from the insurance company. Donald told them both the same thing: The Coasties must've taken it ashore; he didn't know nuthin' about no boat.
Danger Island
The salvaged table improved the décor of my pad. I paid 60 bucks to a handy fella on the mainland to build a new base for it out of pipe. My typewriter fit well on the table, next to a couple piles of books, papers, and a big ashtray. I made a special spot for a whiskey bottle and my small bong, and there was still enough room for a plate of potatoes or a bowl of pasta or a heap of mussels or a couple short lobsters.
I was a rich man. Making five or six hundred bucks a week, sometimes a hundred or two extra, thanks to Donald's side-job bringing pilots to and from the huge tankers and freighters plying the waters off Rockland and Searsport. Finally able to afford creature comforts here-to-fore unknown to me, I got rid of the cot and bought a futon. And a pretty good stereo, a better pair of work boots, pots, pans, plates and tons of books, thanks to my membership in a couple different paperback-of-the-month clubs, plus Rockland's awesome used bookstore, where I'd stock up during my monthly journey to the mainland.
After one of those trips, on the way back to Matinicus, Donald decided to visit a Russian fish-factory ship, called the Riga, at anchor in the harbor. I didn't know much about the vessels other than they were buying megatons of pogies. Occasionally they would weigh anchor and head out to sea – to waters not far from Matinicus – to pump their holding tanks empty of the shit and piss of a hundred Russian sailors.
It was a Sunday and because you can't lobster on Sundays during the summer, we had a little time to kill. We pulled alongside the Riga and Donald shut down the engine. Dozens of sailors lolled about the decks smoking, about 15 feet above us. We shouted hellos back and forth.
"Smokes?" one of the fellas asked. "Cigarettes?"
Donald smiled and shook his head no, but I went straight for my backpack. I had two cartons of Camel filters. I could buy more cigs on the island (from the bootlegger who charged twice the price) so I had plenty to trade with these Ruskies. I showed my smokes and the bargaining began via a wire basket they took turns lowering and raising.
Ten minutes later, I was the proud owner of three Russian merchant marine uniforms, a half dozen Russian news magazines and three packs of filter-less Russian smokes called Cowboy. The cig packs were made of yellow rice paper sporting the logo of a cowboy riding a bucking bronco.
In exchange, I gave them most of my Camels, plus the Coast Guard ball cap I wore as a joke to complement my increasingly long hair. They also received several periodicals, including issues of The New Yorker and (the hilariously ironic) Spy magazine.
It was only later, back on the island, after unpacking in my room, that I discovered some very important papers concerning my discharge from the Coast Guard were missing. I'd brought them ashore to make photocopies so I could apply for an able-bodied seaman's license. For safekeeping, I had stashed the originals and the copies in the latest issue of The New Yorker, now in the hands of Russian sailors. Oops.
"Dudes!" Paul shouted. "The skiff!"
It was the end of September and the three of us were standing in the middle of Ten Pound Island. Drinking Lord Calvert, but not drunk. High, but not obliterated. Even though it was less than a mile from our shacks, none of us had been on Ten Pound before. I was enamored with the island because of a particularly memorable foggy day, early in the summer, while hauling traps between Matinicus and Ragged Ass. The salt air and mist smelled sweet and fruity because Ten Pound was overrun with wild strawberries.
So the fellas and I borrowed a skiff without asking and went for a joyride, landed on Ten Pound, then wandered the island, exploring the 20 acres. After we smoked a couple joints, we looked back toward Matinicus.
That's when Paul remembered the skiff and we ran to the spot where we'd landed. We had neglected to haul the boat up very far, thinking we'd only be on Ten Pound for a couple minutes. Back on the shore, we saw our ride home bobbing in the rising tide.
"Fuck, fuck, fuck," Paul yelped and sprinted toward the water's edge and waded right in, not bothering to pull off his sneakers. He kept going, farther and farther until the frigid rising tide was almost to his chest. He pressed on until he had to start swimming. Keeping his head above water, he paddled toward the drifting boat.
If the skiff got away and left us stranded, we'd be in big trouble. Our captains would've been pissed when they couldn't find their sternmen. Plus, the fella whose skiff we stole would've been livid when he discovered it missing from the Steamboat Wharf. After a while, a search would have to be launched and we'd all be wicked embarrassed, cold, starving (with a wicked case of the munchies) and thirsty (because of cotton mouth) when and if we were found.
"Go Paulie! Go Paulie!" Benny chanted, thrusting his fist in the air. "Go Paulie!"
Our hero caught the skiff and easily pulled himself aboard while we cheered. A minute later, he had the outboard going and ran the skiff aground to pick us up. We raced home, because he was freezing. A potential crisis averted. Paulie saved the day.
On the island, my reckless behavior went unpunished. When each day's haul was done and the captains went home to yell at their wives or fall asleep in front of the TV, the harborfront came alive with the sound of rock'n'roll and the shore was owned by the sternmen. Silly bets and dares – usually involving feats of strength or copious consumption of booze or drugs – were commonplace. When and if the occasional single (or not single) woman appeared, we puffed our chests and preened like puffins. Praying, wishing, dreaming for a miracle, hoping we'd get laid.
The island bootlegger preferred to make only one delivery trip a night to the shore. So we usually placed a collective telephone order. A half hour later, she'd show up with our Lord Calvert and beer at triple the price she paid in tax-free New Hampshire. Sure, the booze was expensive, but she delivered promptly, let us run up a tab and was a super-sweet woman (with a gruff, but kind, husband) who was selling booze to help pay the bills. So we never complained because her surcharge was more than fair.
Other drugs came in other ways. My cache of psilocybin mushrooms came stashed in a VCR tape box via the U.S. mail. The smokables came from fishing boats from Vinalhaven and Rockland that would visit weekly for an hour or two. Occasionally, one of the seedier Matinicus boats would meet up with another vessel in the spot of open ocean halfway between the island and the mainland. The ganja was often Maine-grown, but the hashish was sliced from a brick stamped in gold, allegedly from Lebanon, and weighed like you were at the deli.
We didn't party every night and most times, I'd be home by eight p.m. at the latest, 'cuz everyone had to haul the next morning. We'd play spades or pitch, sometimes rummy. We held ping pong tournaments at Benny and Paul's shack. We'd occasionally make huge collective meals, with short lobsters, spaghetti, or hot dogs and hamburgers on the grill.
Life was pretty simple. Working for Donald made me stronger than I'd ever been in my life. And I was a very good sternman, because the job was simple after you set up a system and stuck with it. And best of all, the gig left me with enough time to focus on my art. Most evenings, I smoked pot, drank Lord Calvert and labored on poorly-written narrative poetry about the mess in Haiti, which I blamed on widespread corruption and U.S. support for dictators.
For a six-month stretch, I fancied myself both a poet and a struggling painter. My experiments tended to consist of tiny pieces, fiery splotches of orange, pink and purple on blue, captioned with words and letters cut from magazines and newspaper. I briefly incorporated shaving cream, soap, shampoo and toothpaste into the mottled medium, with less than remarkable results.
For entertainment, I read a lot and listened to public radio and WERU, a community station in Blue Hill. And smoked a bunch of herb, looked out the window and thought about life.
The biggest drawback was Donald. Even on days we didn't go out to haul, he hung around the shop to avoid spending time at home. He came down at the crack of dawn and used the table saw to cut oak runners for new traps we didn't need. Or he'd fire up the compressor to run air tools. Both were located five feet from my futon, through a thin wall. The racket made it impossible to sleep.
So on days off, I'd take a couple peanut butter sandwiches, a thermos of tea, some reefer and my notebook, and escape. I'd walk to Markey's Beach or South Sandy, climb to the top of Mount Ararat, the island's lone hill, or poke around the Ice Pond. Often I'd disappear into the stands of spruce and pine near the airport. I discovered a giant boulder on the west side of the island, warm by noontime, that radiated heat into the night. An amazing spot for a nap.
Just as often, though, I'd hang out in someone's fishhouse and get high.
"Crash, go move the truck," Donald said, with a hint of a slur in his voice. By October,  Donald barely spoke to me, other than to give a direct order. "Just don't crash it. Hah-hah." He tossed me the keys.
Mary-Margaret was giving us both the evil eye. We were attending a birthday bash in Lincolnville, a little town just north of Rockland, for an old-time sea captain and maritime pilot. We were already on the mainland for our monthly trip, so Donald and Mary-Margaret decided we'd make a surprise appearance at the party for Cap'n Craiger. The gala was being held at a camp in the woods and there were lots of vehicles. Parking was a chaotic mess, though Donald was able to maneuver his giant Chevy truck among the trees and parked cars.
The plan was to be there for a minute or two, enough time for us to pay our respects, then get on down to the boat and back out to the island. But then Cap'n Craiger got ahold of Donald and wouldn't let him go. They were old pals, a half-century at least, and Donald owed a lot to Cap'n Craiger for setting him up in the lucrative business of being a pilot tender.
All the massive tankers and freighters that made port calls at Rockland and Searsport flew foreign flags, so they were required to bring a local captain aboard who was knowledgeable about the tides, currents and submerged obstacles of Penobscot Bay. Since Matinicus was the closest to the buoy marking the outermost reach of Penobscot Bay, the pilot company put Donald on permanent retainer decades before to serve as their offshore taxi driver and innkeeper.
So when Cap'n Craiger offered Donald a nice drink of scotch, there was no way he could turn him down. And once that booze hit his tongue, Donald was a jovial man. The first sip changed his entire demeanor. He glowed. Transformed. A back-slapping joke-teller, almost, Down East style. He laughed. He smiled. His eyes sparkled. But I knew the truth: The glint was merely the sunlight reflecting off the inside of his vacant skull. He was a racist, sexist, homophobic, polluting curmudgeon. Under the glow of alcohol, however, he seemed almost tolerable. With a drink in his hand, telling stories and spinning yarns, Donald was the life of the party.
Another guest needed to leave, but Donald's giant truck was in the way. So he tossed me the keys even though he knew I was a terrible driver. I ignored Mary-Margaret's glare as I climbed into the truck and started it up.
The pick-up was wedged in at a strange angle among several other vehicles. I put her in reverse, turned the wheel and backed out. Or tried to back out. I was riding the clutch and a little nervous trying to maneuver in front of an audience. Finally, I let up enough on the clutch and the truck lunged and lurched backwards and out, but not before nicking the edge of the beat-up station wagon next to us. No damage to the other vehicle, but Donald's quarter panel was dented and scratched.
Of course this truck was his pride and joy. For flashy fishermen like Donald, island vehicles were beaters, but mainland trucks were status symbols. And this was a year-old Chevy behemoth, with an extended cab and bed, sporting a polished truck cap with shiny chrome accents.
"YOU STUPID SON-OF-A-BITCH," Donald yelled as he opened the door and pulled me down and out of the truck. "CAN'T YOU DO ANYTHING FRIGGIN' RIGHT?"
It was official. We hated each other. I stood there, shaking, enraged and embarrassed. Nobody calls me a stupid son-of-a-bitch. It took all my willpower not to slug him. Sure, he was a tough old coot, with giant arms and hands, but I was tougher. Stronger. Younger. Angrier. I could kick his ass. No fucking problem.
But where would that leave me? In jail. Jobless. Homeless. Broke. And what would it prove?
The simple truth was this: Donald thought he hired a crew cut, but got a long-haired hippie instead. A dependable and efficient hippie, but a hippie nonetheless. Problem was, he couldn't afford to get rid of me because the fall fishing was good and he didn't have time to find and train a new sternman. He'd keep me, I was sure, at least until March, when he headed to Florida for a month.
He fumed during the drive back to the boat, the long trip out to the island, and for the next couple of days afterwards.
Then one night the following week, over a soggy chicken dinner with fake mashed potatoes and canned gravy, Mary-Margaret made the big announcement. The truck was fixed.
"I'm going to be deducting $400 from your pay for the repairs," she said, smugly. "It's only fair, since it was your fault. Do you want to split it over the next couple of paychecks? I can do that, if you want?"
She looked at me expectantly. Almost daring me to challenge her.
I didn't say a word. Nothing I could do. They had me by the proverbial balls. I was their slave and they paid me what and when they wanted. And if I bitched, I knew they'd snort and tell me to leave.
"Well?" she asked.
"Yeah," I said, sinking into the realization that I was powerless. "Do that."
"Plus you owe me a hundred dollars for your sweater wool."
"Oh," I said. When she'd offered to knit me a sweater, I didn't know she was gonna charge me for it.
"You can pay for the wool," she said, "after the truck repair is paid off."
I didn't say a word.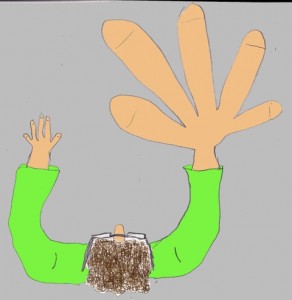 "My hand is killing me," I told Donald on Halloween. "Something is wrong with my middle finger."
"Well, you better tough it out, 'cuz we can't stop now," he replied. "Not with this weather coming."
We had less than 24 hours' warning before the awful weather that would be immortalized in Sebastian Junger's book, The Perfect Storm. All the islanders were in a twitter because Matinicus still bore scars from the winter storm that wreaked havoc in 1978.
So we worked long and hard, shifting most of our gear to deeper water to keep it from getting stove up on the shore. And when we re-set the gear, Donald was careful to put some real distance between us and other strings of traps, to prevent his gear from becoming part of a giant trap ball – an underwater rolling tumbleweed of lobster traps – created by violent sea surges and wave action.
Our final task was to take up forty traps and put 'em on the wharf, which, for me, meant a whole bunch of coiling of rope and stacking of gear and buoys. All while my finger throbbed and pulsed.
After we put The Dotted Eye back on the mooring and made the bridle extra secure, we headed ashore and joined the rest of the crowd down at the store beach. Friends and mortal enemies alike worked together hauling skiffs and dories far above the high water mark. Camaraderie and joking set the mood. By sunset, everyone headed home for dinner, but most of the islanders were gonna come back, at high tide, when the storm's wrath would be the worst.
Meanwhile, my finger was swelling something wicked. And it throbbed, like I'd whacked it with a sledge hammer. Mary-Margaret was no help and there was no nurse or doctor on the island. With a major storm headed our way, all the boats were on their moorings and gonna stay there. The Coasties couldn't be bothered for a sore finger. So a friend hooked me up with a handful of opiates in pill form to quell the pain.
I sat at my table, in the dark, smoking cigs and listening to the wind and rain howl and scream as the building shook. Through my window, I could see the boats straining at their moorings and waves crashing over the breakwater. The wharf moaned, quivered and groaned as the harbor churned and swirled. Pondering the situation through an opioid haze, I wondered about my safety. Could the old shack handle the storm? Would I end up buried in a collapsed pile of lumber? I wanted to go stand on the wharf, at least for a little bit, to experience the weather. But I couldn't move. Not a chance. Not scared. Immobilized. Stoned out of my gourd. Thankfully, feeling no pain. Eventually, despite the storm raging outside, I fell asleep.
The next morning was bright and cheerful. The air was clean and brisk. There were still some waves, but nothing extraordinary. The island fared well. Other than some leaky roofs and flooded cellar-holes, Matinicus survived the storm unscathed.
All the fingers on my right hand, however, were swollen. And red lines and streaks appeared on my wrist, reaching for my forearm. I arranged for an emergency ride in the mail plane to the mainland, then took a taxi to Pen Bay Medical Center. Blood poisoning, they said, from a sliver of fishbone jammed deep into my middle finger just below the nail. I would have died, they said, if I hadn't come ashore.
I was given a regimen of antibiotics and told not to drink booze for two weeks. Another cab ride brought me to downtown Rockland, where I enjoyed a nice Mexican lunch at El Tico Taco, before cabbing it back to the airport to hitch a flight out to Matinicus. I was gone for eight hours.
So much for remote.
Meanwhile, back in the real world, my beloved grandmother was dying. The Tuesday before Thanksgiving, I headed to Massachusetts to visit her. She passed the next day. Coincidently, it was also the week of my fifth year high school reunion and my parents urged me to attend. Long-hair and a beard full of herring bones was my look. Former classmates, most of 'em college graduates, were tidy and neat in the first year of their careers. Uncomfortable and feeling clumsy, I got wicked drunk and high. And sad. Very sad.
Nana's wake and funeral were in Boston. I hadn't seen her much in the last couple of years because of my globe-trotting Coastie lifestyle, followed by Matinicus, but she was the first person I ever truly loved who died. I had no idea grief was so strong, able to suddenly cut so deep. I had trouble keeping my shit together. Being in a noisy city, and among a family that viewed me as a dark, black sheep, made me more heartbroken and tearful. And so-called civilization seemed so foreign. Hard, loud and busy. I longed for the solitude of my little room on the island.
After the funeral, my immediate family gathered for an impromptu portrait since we hadn't all been together in a long time. We stood on the steps of a Boston Catholic church. I wore a brown, double-breasted vintage sports coat I picked up at Goodwill. I stood in the center amongst my three sisters, two brothers and my mom and dad. Inexplicably stroking my chin, sporting a full beard with my curly hair reaching for my shoulders, I looked like a werewolf.
The World's Largest Christmas Tree
The phone rang just after I snorted the third long line of cocaine. It was Captain Donald calling. We were supposed to have the night off, but an unforeseen ship was heading out to sea, and it was our job to pick up Cap'n Craiger, who was piloting the visiting vessel.
My job as "lee captain" was to stand on the bow of The Dotted Eye as we pulled alongside ships. I held the bottom of the ladder steady while we picked up or dropped off the pilot. When the transfer was complete, we'd turn around and head home. For this, I earned 50 bucks. Great pay for less than an hour's work.
We usually had a day's notice, but on this foggy and moonless mid-December night, it was a matter of minutes. Donald had telephoned earlier to let me know a freighter was headed our way, but I missed the call because I was at my buddy's fishhouse buying an eight ball of coke. If I'd known a ship was enroute, I would've skipped the blow and settled for a mellow puff of reefer and a nip or two of cheap Canadian whiskey. Instead, I was soaring. The cocaine was fine and the lines I'd razor-bladed in my shack on my mahogany table were gigantic.
Donald wasn't sober either. He'd already enjoyed his monthly tall glass of Scotch when he was notified of the surprise ship. I could hear the slur in his voice.
Aboard The Dotted Eye, both of us aglow, we headed for the rendezvous. It was windy, but warm for December. A low-lying winter fog engulfed us. Looking straight up through the shadowy mist, I saw a million stars. Engorged with cocaine, my brain absorbed the beauty, then turned paranoid. What if we had an accident? The Coasties would conduct tests and discover Donald was drunk and I was coked to the gills.
The 600-foot-long ship was hidden by the night vapor, invisible but for a large green blip on Donald's radar screen. As we got closer, Donald motioned for me to take my place on the bow. The sea had a slight chop, maybe two or three footers. Nothing I hadn't handled a thousand times before, but enshrouded in fog, and worried by cocaine, the ocean loomed unpredictable and dangerous.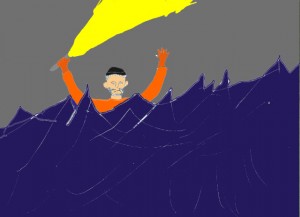 The sky above the fog banks suddenly caught fire. Giant balls of light flared like those old camera flashcubes and blinded me, destroying my night vision. The ship's crew seemed to have energized every lantern, lamp, klieg and searchlight – from the main deck to the bridge, up the mast and into the glowing crow's nest – a triangle of luminosity that transformed the vessel into the world's largest Christmas tree
Instinctively, I raised my right hand to shield my eyes and, in doing so, let go of the safety rope just as the sea surged, pushing the lobster boat hard, rolling her heavily to port. My body pitched toward the churning waters between us and the ship.
Everything went into slow motion. Was this the way I was gonna die? A hundred feet astern of The Dotted Eye, a pair of larger-than-man-sized propellers were turning, spinning, ready to slice, dice or drown me. An instant later, the lobster boat rolled back. I regained my footing. My right hand grabbed the safety line and didn't let go.
Cap'n Craiger, a salty, sprightly 75-year-old elf of a man, clamored down the 50-foot rope ladder hanging from the ship's lowest gunwale. He skipped the last five rungs and jumped, dropping himself onto The Dotted Eye, landing with a thump. Safe and sound. Donald turned us about, headed for home.
Vance Bunker, Hero
In the summer of 2009, Matinicus made national headlines after one lobsterman shot another in the neck during a trap war. The shooter, Vance Bunker, was ultimately found not guilty. Rightly so, because Vance, frustrated by harassment and threats from longtime enemies of his family, merely defended himself against a couple of scumbuckets. And the shooting wasn't the first time he acted like a hero.
From my perspective as a sternman, Vance Bunker was an awesome guy. A gentle, funny giant. An island Renaissance Man. He was old enough to remember hauling spruce traps, but young and intelligent enough to embrace modern improvements. Smart about the ocean, he drove a boat like it was an extension of his body. And he could fly. On several occasions he gave me a lift to the mainland in his tiny plane. He was kind and generous, tough and strong – his hands as big as heads, his arms mighty muscles developed during a lifetime of hard labor, working the waters off Maine's most remote island.
January 16, 1992 was a frigid night. The outer reaches of Penobscot Bay swirled. The sea smoke was thicker than fog. Screeching winds gusted over 30 knots. Four-to-eight footers of North Atlantic chop. That's the weather the tugboat Harkness was trudging through when she started taking on water. Lots of water. The crew believed they were doomed. The sea was so rough, no fishermen would be out. They were too far from shore for the Coasties to help. They gave their position, via Loran numbers, over the radio. MAYDAY! MAYDAY! They were going down.
A voice on the radio urged them to head for Matinicus. The crew had seen the island on the chart and assumed it was uninhabited. Not so, the radio voice said. "Steam for Matinicus, it's your only chance."
On the island, people sprung to action. Vance, along with Captain Rick Kohls and island handyman Paul Murray, climbed aboard Vance's lobster boat, the Jan-Ellen, and headed toward the tug's last known position. The plan: Lead the Harkness safely into the harbor and lean her against the Steamboat Wharf. The rest of us would bring the dewatering pumps on the fire engine.
The fire truck wouldn't start, but it didn't matter. No pumps could beat that winter night's watery wrath. Out at sea, the tug's stern went awash. The three-man crew abandoned ship as she went down, deep into the North Atlantic. Gone forever.
Meanwhile, Vance and his crew battled the freezing spray and waves. The Jan-Ellen was icing up. Couldn't see through the windshield. Nothing on radar anywhere near the last known position. They wouldn't spot the tug, since Davy Jones had already taken her. These three island men, however, were hardy and determined. Engulfed in sea smoke, there was no sky. They stared into the churning gray-and-black froth all around them. Searching. Seeking.
The men in the water? Bobbing. Bone-chilling waves broke and tossed them. Were they praying? Crying? Each man knew his end was near, in minutes or even less. Did panic set in? Or sorrow? Hypothermia follows. Drifting. Drifting toward unconsciousness. Cold. So very cold. They must have known death would soon arrive.
But a miracle happened. One of the tug's crew had grabbed a waterproof flashlight (a Christmas present from his daughter) before abandoning ship. His right hand was seized up and clenched tight around the gift. His frozen claw glowed into the dark night.
The men aboard the Jan-Ellen saw the light. In the middle of the savage sea, they pulled the sailor aboard. And then, wondrously, they spotted and snatched the two other men from the Reaper's grip.
Vance turned toward the island. His crew tore the wet clothing from the survivors and gave them semi-dry gloves, hats, and the coats off their own backs. When the Jan-Ellen arrived at the Steamboat Wharf, the Matinicus men stood in t-shirts and trousers, half-frozen. But not as cold as the crew of the Harkness.
I know, firsthand, how cold the rescued men were. As one of three sternmen standing on the wharf, I was chosen as a warm body and found myself in the back of someone's truck, sharing a sleeping bag with a fella just plucked from the sea. Stripped of his soaked loaner coat and hat, his bare body was ice. I wrapped my arms around him and snuggled the shivering, chattering, nearly naked man. I remember his tighty-whities, wet against my pants. I shared my heat, across the island, until we got him inside Vance and Sari's house, where there was a warm fire and a huge pot of lobster stew. And biscuits.
My memory of the celebration will be foggy forever because I got drunk. Real drunk. It was like a good Christmas party. Lots of joy and love for those around you. Vance making wisecracks. People laughing. The three strangers he saved sat at his table. Blankets around their shoulders. Hair still wet and salty from the sea. In shock. Slowly, hesitantly, they start to eat the best stew in the world. And biscuits. Not believing they're alive. Wondering, for a second, if they're in heaven.
Chapter 16
"C'mon down," Frankie yelled into the phone. He was one of my best pals from the Coast Guard. He always called around two in the morning after a night out in Boston or New York or Baltimore or Halifax or whichever eastern port his tugboat was visiting. "I met this awesome chick." He was always drunk when he called. "She musta weighed two-fifty. She was beautiful."
Frankie loved the big girls, which was funny because he was a little guy. Red-haired, impish and Irish good-looking, he had a huge heart and a great smile. Everything was a joke with him. We spent lots of time in the Caribbean and had many laughs in exotic foreign ports of call, but our big adventure together was a month-long romp around Ireland, on leave from the War on Drugs, exploring our homeland, drinking in the Guinness and the fair-haired lasses.
He hated the Coast Guard, though, and two years into his four-year tour, he decided to quit. Problem was, they don't just let Coasties quit. That's not how the military operated. He had to work to get out.
When our ship got underway, leaving Portsmouth and headed to the Caribbean, Frankie simply didn't show up. He skipped the trip, went AWOL, only to eventually turn himself in and arrive, via helicopter, off the coast of Cuba in handcuffs. That night, we were hanging out on the messdeck while he wrote a statement explaining his unauthorized absence.
"How do you spell 'unidentified'?" he had asked me. "As in 'unidentified flying object.' And what about 'alien'? "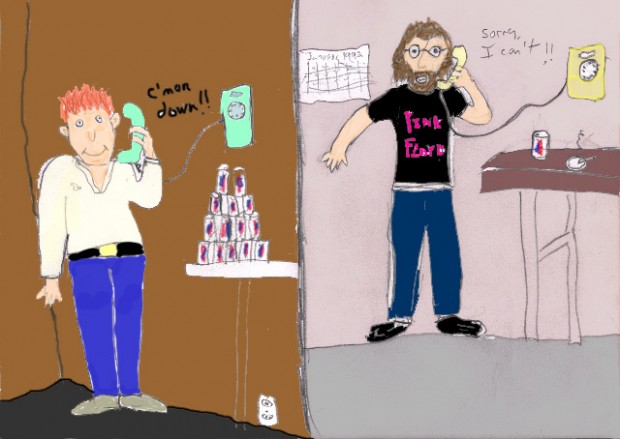 He knew a dishonorable discharge from the Coast Guard wouldn't haunt or hurt his pursuit of a career fixing cars or working on tugs. And while I was living in my cold shack, he was staying, year-round, on his uncle's cabin cruiser in a Boston marina, enjoying the high life and making tons of cash.
He made me the same offer he always did during his drunken phone calls. "Come and live on the boat with me until you get settled," he said. "We'll getcha a job on a tug. Meet a nice girl. Man, it'll be paradise."
Problem was, there was no chance I'd pass the mandatory drug screening. There was enough THC in my system to give the drug-test technician a wicked contact high. If they tested for LSD or mescaline, let alone any other substances I may have randomly ingested during a fishhouse party, I'd fail in a big way and they'd want to send me to the loony bin. And staying sober for a month to clean out my system, while still lobstering or hanging out with Frankie, was out of the question.
Plus, a return to the life of a drunken sailor, while slightly alluring, felt like a major step backwards. The reality: I needed to go to college. Sitting at my table and getting high while pecking away at the typewriter and sending narrative poems to The New Yorker wasn't helping me grow as a writer. Plus, my written material had a major weakness. Thanks to my Catholic education, I was well-versed in theories of heaven, hell, purgatory and limbo. I was intimately aware of the history and habits of the saints. But somehow the nuns failed to notice that my grammar and sentence structure were atrocious. In other words, my writing sucked. Which limited my ability to do more than just string short series of word pictures together and call 'em poems. I had some important Coast Guard tales to share and needed the tools to turn 'em into stories.
Chapter 18
The morning after Donald fired me, I emptied my room and stowed all my gear at Benny and Paul's, then flew off the island and hitchhiked to southern Maine. I knew I'd return to Matinicus because I had no place else. When I arrived at Alice's, I called Captain Edwin Mitchell. Word on the island was he was looking for help. I didn't know Edwin, other than to wave, but he was Paul's uncle and Paul had a phone number for him down south where he was having a vacation. Edwin was well-known as a lone wolf who stayed out of island politics and didn't belong to any of the lobster mafia families.
At the end of a brief phone call, he decided to give me a chance. I was to meet him on the island in mid-March. I had just enough cash to survive until then because Alice was generous enough to feed me and put me up.
#
One day you're a sternman on a remote island, a week later you're an unpaid political operative for an insurgent presidential campaign. At least that's the way it worked for me. After my experience fighting the War on Drugs and the War on Haitian Refugees, I was ready to complete my radicalization. Time to overthrow the government, burn the establishment and start anew. And during the run-up to the 1992 presidential elections, Jerry Brown was the only candidate even remotely standing near a torch.
So while staying at Alice's in suburban southern Maine, I volunteered for the Jerry Brown for President campaign, where having long hair and a beard full of herring bones was almost considered an asset. Initially I was assigned grunt work at the Portland office, then sent out to the streets to leaflet and poster. After a week, I was promoted and given the task of speaking on behalf of Jerry at a handful of Democratic Party caucuses in the tiniest Maine towns. We ultimately won, in Maine, by a hair, which energized the campaign hippies. I agreed to promote and poster for Jerry in western Massachusetts, which gave me the excuse to visit my parents.
#
"Did you hear? Frankie's dead!"
I was hanging in New Hampshire for a couple days before heading to see my folks. Half-drunk in a Portsmouth bar, I ran into a trio of Coast Guard officers who broke the news to me.
"What?"
"Frankie's dead!" the fella said. "He died in a car crash."
I laughed. Frankie wasn't dead because I had talked to him a couple of days before Donald fired me. He called from Boston and said he was gonna be in port for awhile. And that he was going to see U2 – a mutually favorite band – in Worcester. Frankie wasn't dead because Frankie was full of life. Always smiling and ready with a joke. The most alive dude I knew.
I was wrong, of course, because the guy driving Frankie back from the U2 concert fell asleep at the wheel and their car crashed into the stern of a broken-down 18-wheeler on the side of the Massachusetts Turnpike.
Once I realized they weren't joking, I lost it. Crying, sobbing, I staggered outside. Weeping, wailing almost, while my former shipmates, guys who I used to salute and call "sir," hugged me. Tried to soothe me. To no avail.
The next couple days were a drunken blur. A bunch of us – Coasties and Portsmouth friends – met up in Boston and stayed at a pal's house for the wake and funeral. It was a surreal movie, everyone wandering around like crying, drunk zombies. Denial is often part of grieving, but we all felt the death of Frankie was, literally, unbelievable. A vibrant, kind fella like him wasn't supposed to die young on the side of the road in the middle of the night.
We weren't the only ones who loved him either. When we got to the funeral parlor, we were astounded by the number of people waiting to get into the wake. Hundreds and hundreds, stretching for a block away from the funeral home. We took a couple more slugs off the flask before joining the queue of beautiful and handsome faces, tear-stained and racked with grief. Occasionally, there was an outbreak of laughter, but most of us just stood somberly, murmuring and sad.
Inside, Frankie's parents were greeting mourners. I took a deep breath and went to hug his mom. I hadn't seen her in a couple years and, for a second, she didn't recognize me with my long hair and full beard. I said my name. Then she wouldn't let go. Through her tears, she said they'd been trying to find me. To let me know he was gone.
"I loved him so much," I cried, starting to shake and sob. Moaning almost, I couldn't control myself. Couldn't stop crying. She cooed and hugged. His mom was comforting me. Being a mom during her time of utter sorrow.
"I know he loved you too," she said, trying to smile. "He had a great time in Ireland. And he got such a kick out of you." She grinned. "You guys had lots and lots of adventures together, didn't you?"
I nodded, unable to speak.
"I'm glad," she said, hugging me again. "I'm so glad."
#
I stayed at my parents' house in western Massachusetts for a week. Still in shock, I missed the solitude and quiet of the island and felt lost in the paved world of cities and politics. I half-heartedly did some promotion for Jerry Brown. Made a big speech to a progressive group, then visited my alma mater, a Catholic high school, to plead Jerry's case in front of the political science classes. Plus I stapled campaign flyers to a million lamp posts and bulletin boards. The rest of the time, I hung out in my parent's basement, then wandered late-night on the nearby railroad tracks – just like I did as a teenage punk-rocker wannabe – to smoke ganja and get higher and higher, until I was numb.
But it was too late for the winter semester, and the following fall semester seemed so far away. Furthermore, it didn't make financial sense to leave the island. I was making good cash. The boat price of lobster skyrocketed in the winter, when the catch declined. We practically had to drop a trap full of rotten herring on the sleepy lobsters to convince them to crawl out of their burrows.  Luckily, Donald was a real pro and knew many secret muddy bottoms, places 40 or 50 fathoms deep where lobsters loved to live. We'd go out to haul on days when everyone else stayed on the mooring because Donald didn't fear rolling seas or a three-foot chop or a heavy wind. Plus, he was happy to escape Mary-Margaret.
There were lots of empty traps during the winter. But a day's haul usually meant a good day's pay. Working conditions were tough, but tolerable, thanks to my long underwear, good boots and layers of flannel shirts. I was usually comfortable, except for my hands. I couldn't find insulated gloves flexible enough for the intricate tasks of measuring and banding lobsters or filling bait bags and tying traps shut. In between strings, I stood in the cabin and gripped the wrapped engine exhaust pipe, trying to convince the warmth to seep through my rubber gloves and thaw my aching fingers.
The cold didn't bother Donald. He often worked bare-handed, even on sub-freezing days. And while the engine was burning lots of diesel and he wasn't getting the best return on his bait, he didn't care about the dollars and cents. He was just happy to be out of the house and away from Mary-Margaret.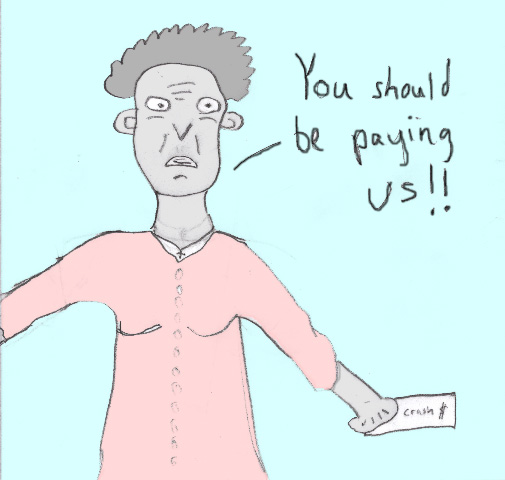 "Here's your check." Mary-Margaret handed me an envelope one night in late January. "Though you should be paying us for the privilege to be making so much money," she said, with a short laugh and sneer. "These days, with the cost of bait and fuel, you're making more than Donald." A lie, of course, since my cut of the cash came after those expenses were paid.
I was sick of Mary-Margaret. For nine months, I'd been putting up with her bullshit, gossip and back-biting. What made her such a bitch? Genetics? Or was it the kerosene-laced water? Or because she was married to an insufferable prick? Didn't matter, I hated the sound of her voice. Her nattering stories were annoying and her blather was trivial and bored me.
To her credit, she did make two sandwiches for me everyday we hauled. But the sandwiches were awful. She rotated a steady cast of bland meats: Turkey bologna, turkey ham, turkey salami and tuna. Plus a couple apples for each of us. And some animal crackers which were allowable under Donald's diet.
Twice a week, I'd go up to their house for supper. First, I'd take a four-minute oily shower, then sit at the kitchen table with Donald and wait for her to feed us. Usually either a plate of boiled chicken and fake potatoes or slices of frozen pizza coated with a thin layer of boring red sauce, sawdust mozzarella and fresh-chopped onions.
On this particular night, pizza was on the menu. I longed for spice and salt. Pepperoni or burger or sausage or garlic. But Donald's diet didn't allow it. So we all went without.
"You'd never guess what Brenda told me Pierre did," she said, taking a seat at the table. "C'mon guess."
"I don't want to guess," Donald said, taking a sip of the Kool Aid and grimacing. "And I don't give a frig. When's the pizza gonna be ready?"
She turned to look at the oven timer. "Six minutes," she said. "Her brother's gonna fire him."
Neither of us said a word. She wanted someone to ask why Pierre was getting fired, but we weren't taking the bait. We both preferred uncomfortable silence to her babble.
"Twice now, they've been setting some new gear and he's set traps without tying 'em off." She clapped her hands together in glee. "Can you imagine?" She cackled. "Grown man pushing brand-new traps overboard, forgetting to tie them off. Once is bad enough. But two. Two!" She shook her head. "Right to the bottom. His folks must be rolling in their grave."
Donald tried to stifle a grin. He hated Pierre. Thought him a fool. But he didn't want to encourage any more of Mary-Margaret's banal chatter. He took another sip of the red stuff and scowled. Then he coughed and spit into his handkerchief.
"Pierre has gotta be one of the most incompetent men I've ever met." She nodded her head knowingly. "I mean, why doesn't he have his own boat? His own gear?" She pointed at me. "I'll tell you why … D – R – U – G – S! DRUGS!"
"Really?" I said. As far as I'd known, Pierre grew weed and brewed beer and was a good connection to the hash from Vinalhaven. But I didn't know he had a drug problem. "What kind of drugs?"
"Oh I don't know, smack-dope or something like that," she muttered. "And those awful children."
"What's the matter with them?" I knew his kids. Sweet and funny second and fourth graders. Good kids. "I like 'em…"
"She'll be a slut and he'll be a thief," she sneered. "Just like their parents."
The timer buzzed. Mary-Margaret jumped up from the table and opened the oven. She gasped, then covered her mouth with her hand. Donald saw the problem. There was no hiding it. The oven was empty. His eyes darted to the counter, where the uncooked pizza sat, then back to his wife.
"YOU GODDAMN STUPID BITCH!" He exploded and his face instantly became the color of his Kool-Aid. "YOU FORGOT TO PUT THE GODDAMN PIZZA IN THE GODDAMN OVEN!" He paused for a second, then unleashed a torrent of disturbingly awful rancor and hurled insults most people wouldn't use on their worst enemy, let alone their spouse. After a half-minute, he ran out of words and sputtered to a stop. He pushed his chair back from the table, got up and stormed into the other room. Grabbed the remote and turned the TV on loud. Real loud.
Mary-Margaret stood there, traces of a sheepish grin frozen on her face. She turned around, her back to me, cleared her throat, and put the pizza in the oven. She set the timer for 20 minutes, then sat back down.
"You'll never guess what else I heard about Brenda." Her gray lips pursed in a fresh smile.
I took a long sip of water and listened. Mary-Margaret was an extremely unlikable person. In fact, it's safe to say I truly hated her. Being in her presence was an extremely unpleasant experience because of her vitriol and poisonous bile. But no one deserved the type of tongue-lashing that Donald gave her. Not in public. Not behind closed doors. This behavior made me wonder what other abuse she suffered over the years.
Three weeks later, I'd literally hold Donald's life in my hands. Maybe I should have killed the miserable son-of-a-bitch.
Chapter 17
Out of the corner of my eye I saw Donald being dragged, fore to aft, headed overboard, to be drowned by the churning, greenish gray-blue February sea. I'd been focused on filling bait bags with greasy herring, so I hadn't seen his right leg get tangled in pot warp, the long piece of rope that connects a lobster trap to a buoy. When I looked sternward, Donald was being stretched into the ocean. His arms, thick as legs, saved him. He'd wrapped them around the steel bar that spanned the width of his boat's transom. I dashed forward, throttled back and threw the engine into neutral.
Accidental death at sea is a sensitive topic among fisherpeople. The saddest discovery for a lobstering community is an empty boat driving a slow and lazy circle. Usually means a captain, going solo, got caught in rope and dragged overboard. The gruesome task of hauling the last pair of traps set by the missing person is usually done by the father, or a son, or the best pal. They're the ones who find the corpse.
That's why a fella has gotta be mindful when setting gear. When a boat is awash in rope, he might step into the bight of a fast-moving line. It becomes a noose, working under the strain of two opposing forces: The boat's forward momentum versus the heavily weighted traps sliding backwards and plummeting down.
That's what happened to Donald. The competing forces tripped and pulled his feet out from under him. An instant later he was on the deck, flailing as the herky-jerky dragging began. Then his body was pulled over the stern. Only his sheer strength and determination kept him from letting go of the boat.
But if he had let go, there would have been a few quick and frantic splashes. Then the plunge. Would he have caught a final glimpse of his boat on the way down? Would he look up and see her dark bottom chugging away? Would Donald have stayed conscious long enough to feel his boots grow heavy with ocean and realize his loyal oilskins – that kept him dry for years – had become a hindrance when getting dragged to the bottom? Would he have time to note the irony of being murdered by his beloved boat and the traps he built by hand?
Donald didn't have to worry, though, because he had a sternman. I was there in a flash, my sharp knife raised over my head, blade poised to slash the line trying to kill him.
Donald's eyes opened wide, in terror.
"DON'T YOU DARE CUT THOSE FRIGGIN' TRAPS!" he screamed. "THAT'S A HUNDRED FRIGGIN' DOLLARS!"
Now that we were in neutral, there was slack in the line. I heaved and hoed to relieve the tension of the sinking traps. Donald snaked his leg free and clamored aboard.
"We're gonna set these last two," he said, gasping and pointing. "Then we're goin' home."
Donald staggered to the helm, put the boat in gear, and collapsed. Sprawled on the engine box, he was barely conscious, wheezing in shock.
I took the wheel and got on the radio, told his brother what happened, and headed back to the island. Then Donald was flown to the mainland. The emergency room doctors said they'd never seen such a dramatic dislocation of leg from hip. They shot Donald up with some serious dope and pushed the bone back into its rightful socket. The docs gave him some pills and sent him home, predicting he wouldn't heal for a month.
#
A week after the accident, while working in the shop painting buoys and splicing rope, I felt the staircase shudder, the sure sign of a visitor. I looked out the side window and saw Donald slowly climbing the stairs. Taking 'em one at a time, struggling. Grimacing with each step and gripping the railing tight. The docs had underestimated his will to work and his urgent need to escape from Mary-Margaret.
"Hello," he said, brightly, a big smile on his face, like he was glad to see me. "You ready to get back out to haul? Later this week. Maybe Friday, if the weather is alright?"
"Jeeze," I said. "I was hoping to leave Friday."
"Leave?" he asked. "Leave? Where are you going?"
"Down to Portland." We'd discussed this several times. "I'm going to see Alice. During school vacation. Don't you remember?"
"But that was before…" he paused for a second. "Before I got hurt."
"Yeah, well…"
"Now we're a week and a half behind. We need to haul the gear!" He shook his head. "You can't take vacation. Not until I go down to Florida, next month."
"I need to go next week…"
"We need to haul our gear and make up for lost time." He pointed at me. "You can't go."
"I gotta go, I promised her that…"
"Tell her to come out here." He grinned. "She can stay at her gram's house…"
"That house isn't winterized," I said. "Besides, I'm going down there…"
"She can stay with you," he said, like it was the most generous offer in the world. "In your room. That way, when we get in from haul, she's got your supper ready and…"
"I don't think so," I said, shaking my head. Alice wouldn't want to spend her vacation on Matinicus, hauling water from the well and staying in my cold and drafty room. Besides, I needed to get off the island. "We agreed that…"
"Things change." He snorted. "Mary-Margaret sent me down here to invite you for supper. And she's got your check."
"Great," I said. "I'll be there."
"Too bad you're not gonna be able to go to Portland," Mary-Margaret said, holding my pay envelope. "But Donald says he's ready to get back to hauling and he needs you so…"
"Listen," I interrupted and snatched the envelope from her fingers. "Maybe I could stay here until Sunday…"
"You ain't goin'," Donald said. "If you wanna keep your job."
"You'd fire me?" Rationally, I knew he could. But up until a split second before, I didn't think he would. He needed me.
"I don't need you," he said. "Easy to find someone around here who wants to make some money. Lemme put it to you this way," he pointed at me. Practically stuck his finger in my face. "Since you wanna go to Portland, instead of doin' your job, I'm done with you." He snorted. "You better have everything out of the shop by tomorrow noon."
"What?"
"You heard me."
"You can't fire me…"
"I can't?" he snapped. "Says who?"
" 'CUZ I QUIT!"
We stood there, he and I, squared off. He was an old man, recovering from a painful injury. I was young and super-strong. And angry. From the look in his eyes, I could tell he wanted to slug me. And I wanted to hit him back. Hard. Mary-Margaret let out a squeal and grabbed him by the arm.
"Good!" he said. "Get your friggin' stuff out of my shop."
"Yeah sure," I said. "No fucking problem. Asshole."
Chapter 19
I returned to Matinicus on March 10th. Captain Edwin met me at his shop and gave me a work list. I was to paint buoys and splice rope. He showed me my room upstairs. Then he headed to the mainland, to continue his vacation. He planned to be back by the end of the month to start setting gear.
This was my easiest time on the island. The work was undemanding and I set my own schedule. I was boozing a lot, because the bootlegger had kindly decided to extend me credit on whiskey and cigs until I started making money with Edwin. My first couple nights back on the island were spent drinking alone, listening to the radio. I needed space, because I was in shock, but I occasionally headed over to my old neighborhood to party with Benny, Paul and Ray.
#
Ray was the bootlegger's husband's sternman. He lived in a shack next door to Donald's building. Because of our status as outsiders, we'd become fast friends the summer before. We were the same age: Young, strong and tough. We played lots of cards and listened to rock 'n' roll. Both of us had escaped strict religious upbringings. Me, the cult of the Irish Roman Catholic. For Ray, it was a born-again sect populated by speakers in tongues and rife with fervent, non-sexual dancing.
We also became buddies pretty quick because of a shared affection for various mind-altering substances. LSD.  Psychedelic mushrooms. A little blow here, maybe a couple pills there. Occasional huffing, perhaps. No heroin, thank goodness. Some sweet hash, fortunately. And lots and lots and lots of weed.
The car wreck took place on the mainland, the second Sunday after I returned to the island. Ray was in a car headed to his old church. For reasons he was never able to explain, he had decided to return to God. The car hit a slick patch on the road and flipped over. And Ray was paralyzed. From the waist down. Instantly. Three nights before, we had been partying with herb and drink on our remote Maine island. Now he was in Maine Medical Center and never gonna walk again.
A week after the accident, I flew ashore and hitchhiked to Portland to visit. His girlfriend was there, too. They'd always been a couple of horndogs. Minutes before my arrival, she'd sat on his face, Ray pleasuring her with his fingers and mouth. They were proud of their achievement and told me so.
We got him out of bed and into a wheelchair. Ray rolled himself outside, where a steady breeze blew trash across Maine Med's front parking lot. Under the noonday sun, we each smoked a huge joint (so it wouldn't look like we were sharing), plus many cigs, and drank rum disguised as Coke. After an hour, we were chilled, so we returned to his room and laughed at the TV for a bit. Then I took off.
#
A couple weeks later, on a gloomy, rainy day, I visited him again. When I got to his room, a hospital employee with a clipboard was sitting beside his bed. I gave him a wave and he nodded.
 "Well, I see you have a visitor," the woman said. "I'll come back later. I don't want to overwhelm you. I know there's lots to think about." She stood and smiled at me, then walked away.
"Hey dude," I said. "What up?"
He grunted.
"You alright? You need anything?"
He closed his eyes, sighed and shook his head no. The expression on his face was stony and hard. He needed to figure out the rest of his life. A life he hadn't planned. A life he didn't understand. Our next 20 minutes were nearly silent. I didn't know what to say or do. I was woefully unprepared to help him deal with the situation.
"Well, I gotta go. Alice is picking me up." I stood to leave. "Let me know when you get settled at your new place." He would be moving to an assisted living facility, to be taught how to function in a world without the use of his lower body.
"I'll come and see you," I lied. "I'll bring lobsters."
I walked away and never visited him again.
#
A half dozen years later, long after I'd moved off the island, I was strolling Freeport with my parents on a beautiful summer day. I spotted Ray on the crowded sidewalk, rolling in our direction. I quickly fabricated an excuse and led my folks across the street to examine some banal storefront's window display. I didn't want to have to introduce, then explain, Ray to my mother and father.
But the real reason I crossed the street was to avoid an uncomfortable reunion with someone I abandoned. Even now, so many years later, I cringe thinking about him. I wince at the memory. Embarrassed. Ashamed. Guilty. Haunted.
I've replayed the scene in my brain so many times, it's an old movie to me. I see him, in the chair. Wearing an orange t-shirt. His muscular upper body is well-toned. Black leather gloves pushing his wheels. A determined, tenacious look on his face.
For years afterwards, I feared he had spotted me. I even believed he'd seen me. But Ray, concentrating on his rolling path, couldn't possibly look at the face of each person potentially blocking his way. Not a chance he saw me.
At least I hope not.
Crash Barry's new book Marijuana Valley comes out April 1, with a Launch Party on April 4 at Longfellow Books in Portland, Maine.
Chapter 21
"WHAT THE HELL?" I cried out. "WHAT THE FRIG?" The scene shocked me. The tide had drained all the way out. Edwin's boat, plus a half dozen others, were laying on their sides at their moorings. A friggin' disaster. And it was dark. Darker than usual. Real dark. The darkest ever. Which meant the light on Matinicus Rock wasn't flashing. I turned around and looked six miles to the south. THE LIGHT WAS OUT! It was something out of the apocalypse or the Rapture.
I tried to maintain control. Panic, I knew, would lead to further disaster. I considered my options. It was the middle of a June night. No phone in Edwin's shack. Should I alert the neighbors and raise the alarm? How could the light be out? And how could the harbor's water be missing? The scene didn't make sense.
Maybe it had something to do with the two hits of LSD I'd ingested earlier in the evening. A couple friends from the mainland had sent me envelopes with enough doses for ten amazing visits to inner space during my time living at Edwin's. These trips were solitary and secret endeavors because I didn't want to share. Because LSD wasn't a party favor.
The experiences allowed me to view the island through a different lens. Multiple journeys to a wonderfully colorful and wildly distorted version of the world around me, where water moved magically and the light danced fantastically. My trips were part of a search for truth, a shift in consciousness and an altered perception that might provide insight about my earthly role. And the trips forced my brain to question reality in a way that's impossible when synapses are firing normally.
When I looked to the mooring again, Edwin's boat – and all the others – were floating and bobbing peacefully once again. Then the familiar flash of the Matinicus Rock lighthouse filled the sky. I breathed relief that the world wasn't ending.
I went inside to chill and ponder my good fortune. A nice shack on a remote island. A job. A decent stash of drugs. A little money in the bank. A girlfriend named Alice. And a dependable beacon on a rock six miles away that flashed every ten seconds. Lucky. Lucky. Lucky.

#
Ker-clink! Clink! Clink! Clink! Ker-clink! What was that noise? It was driving me crazy on a Sunday afternoon. Ker-clink! Ker-clink! Clink! Clink! Clink!
I was sitting at my desk, trying to type a poem about the dude who worked for the island telephone company, whose shop was just down the road. He was one of my closest neighbors, at least during the workday, and I'd recently started obsessing about him. As a way to shake up my writing, I decided to focus on my immediate surroundings rather than distant lands. And the ker-clink was a distraction. I peered out the side window and didn't see anything unusual.
Ker-clink! Ker-clink! Clink! Clink! Clink!
I'd been versifying about how the telephone company fella drove his van around the island so slowly that the needle on his speedometer didn't even move. Out walking, I'd overtake him and he'd return my wave, as if a pedestrian passing on the left was the most normal thing in the world. I knew lots about the telephone guy because Alice's mother loved to gossip about him. Like how he spent a small fortune on canned cat food to feed all the feral cats in the 'hood. Or how he loved birds and obsessively built and collected birdhouses. No one seemed to notice the ironic conflict between his two hobbies.
Alice's mom had known the telephone guy forever and swore he used to be the most handsome man on the outer banks of Penobscot Bay. Even at 70-something, he was still a good-looking fella, with a tanned, wrinkled face and a shock of long gray locks. He always wore his shirt unbuttoned enough to see a gold chain dangling amid his chest hair.
Whenever the battery-operated clock mounted to his dashboard sounded the alarm, he'd get into his van and drive home, slowly, to give his bedridden wife her next meal of pain pills.
Ker-clink! Clink! Clink! Clink! Ker-clink!
Still curious about the noise, I walked outside and down the stairs and onto the wharf. I lit a smoke and looked toward where the sound was coming from. A hundred feet to the north, on the dock of one of the empty shacks, stood the star of my poem, surrounded by a herd of feral felines. The telephone guy repeatedly reached into a big cardboard box propped atop an empty lobster crate and tossed silver objects toward the rising tide.
Ker-Clink! The empty cat food cans – with labels removed – sang and clattered down the ledge to the water's edge. Clink! Clink! Clink!
I stepped behind a pile of traps to hide and get a better view.
Ker-Clink! Each cat followed his every movement attentively. Clink! Clink! Clink!
Over and over and over. One by one by one. Until the box was empty. Was it 50 or 60 or 100 or 1000? I didn't know. Many minutes had passed. The pile of cans on the ledge was sizable. The sea approached, lapped at the tin and tasted metal. How long, I wondered, before the salt rusted the can away, transforming it back into mineral form?
The man turned and walked towards the telephone company shop. His herd of cats followed.
I climbed the stairs to my room and started the poem over, again. Fresh, with new images and metaphors.
Episode 22
.
My replacement as Donald's sternman, Hughie, only spoke to me once, just minutes before he killed himself. It was a Sunday afternoon in August and I was chillin' on my wharf, getting high and enjoying a cup of tea, when Hughie roared down the dirt road on the Hondamatic motorcycle. He braked hard and almost crashed into a five-tall tower of traps piled on the side of the road. In a cloud of dust, he jumped off the bike and ran toward me.
"Where the fuck is she?" he screamed. "Lora! Get your ass out here!"
"Dude," I said. "What the fuck are you talking about?"
"Where's Lora?" he hollered. "Where the fuck is my girlfriend?"
I had no idea. I wasn't screwing his old lady. Barely spoke to her when I saw her at the well or post office. Never more than a "Hello, how do you do?" She was cute, for the island, and young. She lived with Hughie in my drafty old room, overrun with mice.
He glared at me, his eyes crazed with rage, not sure what to do. I was bigger, tougher and meaner than him. And he knew it. He didn't say another word. Climbed back on the Hondamatic and sped away.
Hughie raced over to Jimmy's shack, where a couple other sternmen were hanging and smoking herb. He wanted to borrow a gun so he could kill his girlfriend. But Jimmy refused to lend him a murder weapon. So Hughie stormed off and ran along the shore path. Jimmy and the other fellas watched as he climbed down the ladder on the Steamboat Wharf, took Donald's skiff and headed toward the moorings.
From Jimmy's shack, they observed Hughie's strange behavior. He lugged two 50-pound bags of salt from the bait scow and hauled 'em into the skiff, then motored over to The Dotted Eye. He put the salt on the gunwale and climbed aboard his boss' boat. He took a long piece of rope, then sat on the gunwale and lashed both bags of salt to his body. And pushed himself overboard. And sank to the bottom.
When Jimmy realized what had happened, he sprinted around the shore, jumped into another skiff and rushed out to The Dotted Eye. By the time he got there, it was too late. In 20 feet of water, Hughie was dead. At least, that's what Jimmy said, though he didn't dive in to confirm it.
Instead, Jimmy motored ashore and called Donald. Then Jimmy donned his wetsuit and met Donald at the Steamboat Wharf. They returned to the mooring together. Then Jimmy dove and untied the corpse and brought him to the surface. He and Donald muckled the body into the skiff, went ashore and put Hughie in the bed of Donald's pick-up, then drove up to Donald's house to call the Coast Guard.
The Coasties wouldn't send a boat all the way to Matinicus to pick up a dead man, but they agreed to meet halfway. So Donald and Jimmy returned to the harbor, loaded the body into The Dotted Eye and steamed toward the mainland. Ten miles from the island, they made the transfer, turned around and came home.
Hughie, who had no family or money, was given a pauper's funeral. Knox County seized his only asset, the Hondamatic, to defray the cost of burial. Donald never actually sold the Honda to Hughie. But after the suicide he had no interest in the bike. So Jimmy rode it down to the ferry the next month and the motorcycle was sold at auction in Rockland. And Donald had to find another sternman. His third in a year.
Had Hughie learned the truth? The girl was screwing around on him. With another sternman, not me. She was pregnant. And most of the island knew it.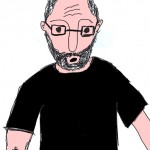 Wanna listen to an in-depth Maine Public Radio broadcast with Crash discussing marijuana? Click here.  Wanna see Crash offer to get a pair of TV interviewers high? Click here.  Wanna buy a signed copy of Marijuana Valley? Visit www.marijuanavalley.com.[To Be Continued!]
Chapter 23
The morning of the schoolteacher's marriage to an island girl was misty, warm and wet. By eight a.m., it was raining hard. Around nine, the wind came up and blew the fog away, but the rain and rough seas lingered. At noon, we were back in the harbor. As I grabbed the mooring, the storm disappeared, the clouds moved off and the sun came shining.
We were only hauling for half the day because Captain Edwin and I had both been invited to the wedding. Edwin, of course, had known the bride since she was born. And the schoolteacher and I were buddies. He was a couple years older, and wiser, and we shared an interest in books, public radio, and whiskey.
The ceremony – short, sweet and traditional – was held in the island's lone church. The only surprise was the appearance of this freshly shorn dude – pink-cheeked and sheepish – who escorted the bride's mum to her pew. The stranger seemed familiar, but I couldn't recall meeting him.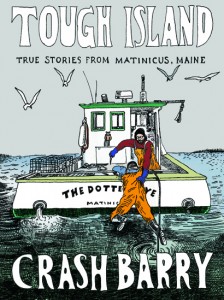 At the reception, the mystery was solved. It was my pal Jonathan, the older brother of the bride, who lived in a ramshackle fishhouse not far from me, among towers of comic books, a herd of feral cats, and Wonder Bread. Jonathan had a well-known aversion to showers, shaves and other social conventions. Gotta admit, he cleaned up nice.
The reception was a fine outdoor feast on the west side of the island held under a cerulean sky. Edwin and I showed up unintentionally wearing identical dark blue suits, light blue shirts and matching, red-patterned neckties, which amused the other lobstermen.
Like at most weddings, there was no mingling at first. The social distance between the bride's and groom's tribes was vast, though everyone knew this marriage would last.
The bride was smart and funny, a recent graduate of UMaine. Her father was one of the kindest lobstermen on the island. Her mother was a gentle, talented painter of sea-and landscapes. A genuine and generous family, one of the rare ones not involved in an island feud.
The schoolteacher was the scion of a literary family. Both parents were respected editors and writers for national publications. His brother was attracting acclaim for his nonfiction environmental and nature books. Several guests were also movers and shakers in the New York and Boston literati scenes.
Matinicus islanders hated big-city writers almost as much as they despised cops. They'd frequently been portrayed poorly in the media, cast as hardy eccentrics rugged enough to survive on a quaint island with no stores or restaurants, or depicted as outlaw cowboys bent on revenge. The reports were invariably rife with mistakes, rumors and hearsay, because you couldn't get to know the island after just a weekend visit.
To my knowledge, the schoolteacher's brother hadn't written about Matinicus. I'd read his books and some of his magazine work, and was impressed. Here I was, a young man on a little island 20 miles off shore, with dreams of being a writer. What a perfect chance to network. Unfortunately, I was too shy to even approach the fella. I watched from the sidelines as he and his posse enjoyed themselves.
As the beautiful afternoon turned into a cloudless night, everyone headed to the schoolhouse and the music began. Two brave couples hit the dance floor and broke the ice. Their enthusiasm spread, and others joined them. Eventually even the wallflowers started to swing and sway. Soon the whole school was moving and groovin'.
It was a sight to behold. There, in the middle of this remote island, city slickers danced with sternmen. Geniuses danced with idiots. Losers danced with winners. Enemies drank together and laughed. Everyone was high, one way or the other. I went outside with some of the visitors to smoke 'em up and show 'em what the sky, untainted by light pollution, really looked like.
The dance lasted late, especially for islanders used to rising before dawn. But the next day was a Sunday, so there'd be no lobstering anyway. Besides, we were all having such a great time. No one wanted the party to end.
Chapter 24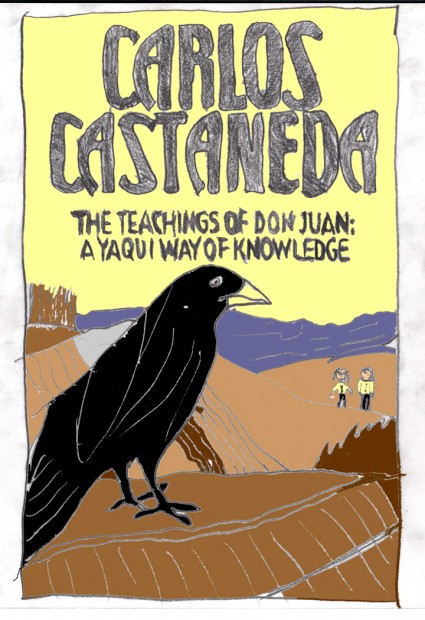 .
My fellow sternmen didn't understand my obsession with the uninhabited islands surrounding Matinicus. Tough to explain my desire to be alone, when they thought I was already leading a quasi-hermitic existence in Lower Harbor. I'd set foot on Ragged Ass, Two Bush, No Man's Land, Ten Pound and Wooden Ball. Because of the distance, the difficulty and the law, it was highly unlikely I'd actually land on Matinicus Rock. But Seal Island, four miles to the east, had easy access and was fair game. Back in the old days, it was a practice target for military bomber pilots. In modern times, it became a bird sanctuary, with a tiny shack in the middle of the island for the occasional, official birdwatcher from the Audubon Society.
Some people might not consider our camping trip on Seal Island to be a romantic getaway, but I did. My pal Rick gave us a lift in his boat and towed my borrowed skiff behind, almost all the way to Seal. When we got close, Alice and I climbed into the skiff and rowed ashore to claim the entire 65 acres for ourselves. After setting up the tent, we stripped naked to enjoy the last vestiges of a Saturday summer afternoon, followed by wine, water, weed and food.
The only thing we were missing was bug dope. Matinicus didn't have an insect problem, especially down on the shore where a steady breeze blew. But Seal Island was home to millions of mosquitoes, no-see ums and various other blood suckers. Nightfall came quick and forced us into the tent, where we managed to stay occupied with sex and slumber.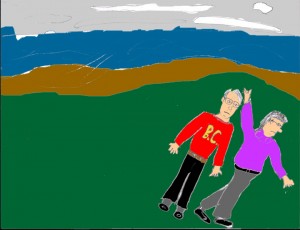 The next morning an amazing sunrise woke us. A gentle breeze kept the dawn air virtually bug-free. After a cup of tea, we explored the island's shoreline of rock, ledge and bird shit. We avoided the interior, with its scrub and brush, nesting places for various winged creatures. Alone, except for Alice and the squawking birds, Seal Island made Matinicus look like Manhattan.
We launched the skiff, intending to circumnavigate the island. But instead, a seal grabbed our attention. We watched and followed as the seal approached a string of lobster buoys. The sea dog stopped and dove at each one, disappearing to follow the pot warp to the bottom, where it would attack the trap, getting both the bait and the lobsters, then surface for a breather before heading for the next buoy.
On many occasions, I'd dealt with traps robbed by seals. They'd destroy the bait bag. Sometimes they even ripped the heads – the knitted pathways lobster use to walk into the trap. A torn head often meant bringing the gear back into the shop for repairs, which was a pain in the ass.
A couple times, back when I was working for Donald, a daring seal followed us as we hauled traps in the shallow waters around Matinicus Rock. When I tossed the shorts overboard, the seal caught each one before it sank below the surface. That seal dined until its stomach was full, then disappeared. Donald threatened to dispose of the seal, but didn't trust me enough to kill the animal in my presence. Since I was a hippie ex-Coastie, he was afraid I'd squeal on him to the authorities for violating federal law. And he was right.
Seals are the real reason most lobstermen carry weapons aboard their vessels. Guns are used to murder marine mammals, not to shoot fellow humans.
No matter how many lobsters the seals stole, I still loved 'em. Impressed and amused by their intelligence and gumption, I understood their motivation. Why bother to hunt when the silly, noisy white man will trap food for you? Besides, the seals called these islands home long before humans.
#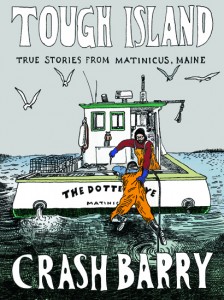 "What's that?" Alice asked, gesturing to a ledge in Frenchman's Cove on Seal Island's backside. "That big round thing. Do you see it?"
I didn't see it, but changed course and headed up into the cove where she was pointing. According to Matinicus lore, Frenchman's Cove was named in honor of the drowned Frenchman found there a century earlier. As we got closer, I saw it. A corpse left behind by the receding tide. I rowed closer. Not a Frenchman, but a dead seal. We landed the skiff close by and went to investigate. The body was bloated. Part of the skull seemed to be missing.
"Let's get out of here," Alice pleaded, grabbing my arm. "I don't want to see this." She started to cry when I pushed at the carcass with my foot. "C'mon, let's go," she begged.
She would've freaked if I tried to examine the body. The seal's head injury, and death, were probably the result of a gunshot wound. Most likely from a lobsterman from Matinicus or Vinalhaven.
We climbed back into the skiff and rowed the way we came. We didn't see any more seals.
#
After lunch, Alice and I ventured to the center of the island to check out the Audubon Society's primitive birdwatcher's shack. The door was open. Inside we found spartan lodging: A table, two chairs, two cots and, on a shelf in the corner, a lone book with a crow on the cover.
I picked it up and read the title aloud: "The Teachings of Don Juan by Carlos Castaneda." I opened to a random page. "Wonder what it's about?"
I flipped through the book and my eyes were drawn to words: Peyote, datura, mescalito, flying, and then, in bold print – non-ordinary reality.  I knew I needed to read this book.
"Look at this," I said, excitedly, to Alice. "It's all about hallucinogens."
"I've heard of him," she answered with a sneer. She wasn't a fan of psychedelics. "There's a whole series by him. He's a fraud."
We returned to camp and I started reading. Immediately sucked into the alleged tale of a sorcerer and his modern-day apprentice, I spent the rest of the afternoon learning about the Yaqui way of knowledge, until dinner, wine and weed. When darkness came, so did the bugs and we rolled into the tent. Alice wasn't happy when I pulled out the book and the flashlight.
#
Alice was my first real girlfriend since high school. I'd been with many women before and during the Coast Guard, but nothing serious. We were working on an odd long-distance relationship. Since I lived 20 miles out to sea, getting together was often difficult, especially considering that hooking up always depended on the unpredictable weather. By this point, we'd been dating a year, but barely knew each other. Except for the time I spent with her after Donald fired me, and a couple weeks in the summer, our meet-ups averaged once a month. Our dozen weekends were devoted to sex.
She was a very nice person and we had fun together. But if she wasn't around, I barely thought of her. Except when loneliness and depression struck. Then I penned sad letters, desperate for love.
#
"Why are you dating her? What are you looking for? What do you want?" my mother asked in rapid-fire succession. "Another mother?"
We were walking along the grassy trail leading to South Sandy Beach. My parents visited Matinicus in the middle of August, at the height of the fog season. They had hoped to fly out from Owls Head, but the fog was thick, so they had to endure a three-hour voyage aboard Captain Dick's slow boat from Rockland. By the time they reached the island, they were both nauseous from the waves and the boat's diesel fumes.
We had decided to go for a stroll while Alice stayed behind to cook in her grandparents' cold, damp house. This was the first time my folks met Alice. My mom found it odd that Alice was nine years older than me.
"Well," my mother said. "What are you looking for?"
"Ummmm," I stammered. Didn't like being interrogated. "I don't know."
Unfortunately, it was still too foggy to see the Rock, the ledges, the islands or the sparkle of open sea, so the scenery couldn't be used as a way to change the topic. As we approached the spot where I wiped out on the Hondamatic, my mother slipped on the slick grass. My father reached for her to stop her fall, but he too lost his balance and she ended up pulling him down to the ground with her. For a couple seconds, they lay silent and motionless. On their backs. On the grass.
I helped them to their feet, knowing there was no salvaging their visit. Wet and cold, they were both grumpy. I didn't blame 'em. The lack of a flush toilet, coupled with the dampness and general disrepair of their rustic accommodations, didn't make for a good time. Luckily, we had lobster for supper, which temporarily boosted their spirits. They were in bed by sundown.
The next morning, the fog lifted. Worried the sun wouldn't last, my parents decided to fly off Matinicus that afternoon, a day earlier than planned. After breakfast, we walked down to my fishhouse. They were disappointed and perhaps even a little disgusted by my living quarters.
Their mood improved again when my father and I rowed out to Edwin's scow and packed a hundred pounds of lobster for them to bring home. Edwin was gonna truck the lobsters and their luggage up to the airport, so my parents and Alice and I could enjoy a leisurely stroll.
Up near the crossroads, one of the island pirates approached, driving a beat-up truck without a windshield. He stopped the truck in front of us.
"Crash," he drawled, "you got any idea who was driving around with a shotgun last night? They shot out all my truck windows. Probably a little after 11…"
"Nope," I said. "No idea. These are my parents. Visiting. We're walking them to the airport."
"Nice to meet 'cha," he said, doffing his ball cap. "You hear anything, you let me know, OK? You guys need a lift?"
"Nope," I said. "Thanks, though."
At the airport, my parents hugged Alice and me goodbye before boarding the plane. I knew they were glad to be leaving.
Episode 26:
[We begin with a flashback To refresh the reader's memory of Crash's sheepish neighbors.]
With my typewriter in the exact center, the table fit nicely in front of the large window on the east wall of the room. The view featured a deserted isle a mere hundred yards from Edwin's wharf. Wheaton's Island, forsaken 50 years before, was ten acres of rock and spruce, with a foursome of weather-beaten structures built so ruggedly that neglect and abandonment couldn't destroy the ancient pylons, pillars and braces that held the buildings perched on ledge and seaweed. All the windows and doors in the mini-fishing village had been stolen by Matinicus thieves decades before.
A flock of six sheep called Wheaton's home and lived among the ruins, grazing on the scrub grass above the tide line. They foraged and browsed among the vegetation that grew in pockets near the small stand of trees able to take root on the boney island. The sheep wandered freely, leaving droppings everywhere.  They stayed out of the largest building, though, a long, two-story, rickety boat shop filled with broken glass, old net and an ancient and beautiful 20-foot vessel sitting in a cradle, left behind and long forgotten.
The sheep were owned by Captain Red. It used to be common to leave sheep on Maine islands to grow 'em into mutton. Even though I couldn't stand Captain Red, a lying, stealing, thieving son-of-a-bitch, I appreciated that he put the sheep on Wheaton's. From my vantage point, they lived a pretty awesome life. They were curious and carefree and a little numb. They were enamored with a long piece of frayed rope, tied to a davit on the old wharf, that fluttered and flapped whenever the breeze blew over 20 knots. So on windy afternoons, I'd sit in front of the typewriter, ignore my writing, and smoke herb, hypnotized by the sheep hypnotized by a wiggling piece of rope.
My window was a picture frame around Wheaton's. A living, moving, breathing portrait of land and sea in constant flux, thanks to the winds and tides and the sheep. Better than any painting, television or movie, that's for sure.
The Gut, the name for the narrow channel separating Matinicus from Wheaton's, was another distraction. During the incoming and outgoing tides, the sea flowed fast through the Gut like a river. The width and velocity of the water changed with the passage of the tide. At the lowest of low tides, the Gut was barely a foot wide, a mere trickle, and the tideland of the Lower Harbor's seascape turned lunar. A temporary land bridge made it wicked easy to walk between the two islands. But when the tide turned, the bridge disappeared.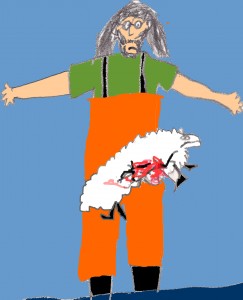 I knelt on one knee, grabbed the sheep's head with both hands and pushed down, intent on drowning her in the rising tide. For a moment or two, nothing happened. Then the fight began. She bucked and flailed and kicked, frantically trying to free herself from my grip. I stood and tried to drag the thrashing beast to deeper water to hasten the execution, to end her suffering. But my boots were heavy with ocean and I staggered and slipped and fell.
The sheep had been attacked by a pack of Matinicus dogs that crossed the Gut at low water to invade Wheaton's Island. After a long day hauling traps, Edwin and I were coming ashore from the mooring and heard a bleating wail of distress from Wheaton's. I dropped Edwin off at the ladder, then rowed across and landed on the island's stony beach. The tide was halfway to high, the wind was whispering from the southeast, and a sheep was screaming.
I followed the cries toward the island's southern tip, where there was a series of rock shelves and crevices. Her hind legs were jammed in a crack between two ledges. Her face mauled. Her wool blackened with blood from a gaping chest wound. Her front legs dangled at an impossible angle.
I bent and wedged my hands behind the bleating sheep's shoulders. I tugged and tugged, but the ledge wouldn't let go. I shifted my grip lower and tugged again. Suddenly, she broke free and the two of us tumbled to the ground. I got up. She continued to squirm and weep.
She needed to be put out of her misery. What could I do?  Row back to Matinicus and find a gun to borrow? Or grab a sharp knife from my shack? Then what? Slash her throat?
I bent again to pick her up and slung her over my shoulder. She was lighter than I expected. I walked to the shore and into the sea, right up to my boot tops. I dropped the animal into the water, on her back. She barely moved, other than her mouth, which was opening and closing below the waterline. Chewing, almost.
Then I tried to drown her. She struggled. I stumbled. The sheep, suddenly free of her attacker, bobbed to the surface, wheezing and gasping for air. I was soaked, chest to toe. I grabbed and dragged her closer to shore. Standing above her, in a couple feet of water, I lifted my right boot and placed it on her skull. She bared her teeth as I shifted all my weight onto her head. Then I placed my left boot on her neck.
I stood still, as the tide climbed to my knees. And the poor sheep, exhausted, barely struggled. Don't know how long it took, but she finally died. I stepped backwards, and her head surfaced.
Couldn't leave the carcass floating in the surf to be picked at by gulls. And now that the dogs knew cornered prey lived on Wheaton's, they'd be back for more. If they found this corpse, they'd eat it. At least her guts, and that was too painful of a thought to handle. So I decided a burial at sea was necessary.
I found a crushed and twisted lobster trap on the beach with 10 fathoms of rope attached. I half-filled the trap with rocks for extra ballast, put it in the stern of the skiff, and lashed the sheep to the trap. I launched the boat and rowed out through the Gut and into Old Cove. Rowing wasn't easy, against the tide and with the extra load of rocks and sheep, but I pulled and pulled until I was several hundred yards off the shore.
I half-stood and, without ceremony, wrestled the corpse over the side, followed by the rock-filled trap. For a couple seconds, the dead sheep floated on the surface, a lone eye staring at me. Then the rocks took over.
I cried as the trap sank, pulling the sheep to the deep.
#
The next day I was on the wharf, watching the remaining five sheep graze. Three men and a young island boy, who suffered from a serious respiratory illness, gathered about 50 feet away from me. The uncle handed the boy a rifle with a scope. He aimed and fired. A sheep dropped to the ground. Her colleagues continued to graze, oblivious to the danger. More bullets flew. One by one, they died.
When the shooting was over, one of the fellas yelled to me: "MUTTON!"
Episode 27
I was walking home on a cold and foggy Halloween night. I'd been up to the Parsonage, where the schoolteacher and his new bride lived, to help stage a haunted house for the island kids. I'd had a couple of drinks and was looking forward to slumber. I was almost to the Lower Harbor when another islander, driving his truck, spotted me on the road.
"You better watch out," he warned. "Shoe and Buzz are on a rampage. Drunk and wanting more whiskey. They've been fighting each other, all night long." He sighed. "Damn near destroyed the fishhouse. Windows smashed. Door torn off the hinges. Shoe's dad is gonna be right pissed." He shook his head. "You be careful, 'cuz they're looking for trouble."
These two fellas were my only neighbors. They lived in Rockland, but during the autumn lobster rush, they'd spend a couple nights a week on Matinicus, staying in a shack a hundred feet away from mine. They worked as sternmen for Shoe's dad, Captain Red, who also lived on the mainland, but fished from the island. I wasn't friends with these dudes, but we weren't enemies either.
Stevie Ray Vaughan blasted from their shack as I rounded the corner onto my wharf. Then Shoe jumped out of the shadows, grabbed my coat, spun me around and jacked me up against a wall.
"I need a ride to my mooring," he snarled. Even in the poor light, I could see Shoe's eye was swollen and blackened. His fist was drawn back, ready to sock me if I disagreed. "You gotta row me there. And we gotta be quiet."
"Sure," I said, my heart racing. "No problem."
We walked to the end of the wharf and lowered Edwin's skiff into the water. He followed me down the ladder.
"Where you going?" I asked as I rowed toward his mooring.
"Rockland," he said. "I'm getting the fuck outta here. Off this fuckin' no-good rock."
It was almost midnight, foggy and drizzling with a chance of hard rain and heavy wind. Shoe was drunk, bloody and ready to drive his 14-foot outboard across 20 miles of Penobscot Bay, a good chunk of wide-open ocean.
"Don't tell Buzz you saw me," he slurred, climbing into his boat. "Thanks for the lift."
He started the outboard, released the mooring and disappeared into the misty dark.
I rowed ashore, positive Buzz hadn't heard Shoe's motor because of the Black Sabbath now blaring from their stereo. I climbed the steps to my room above Captain Edwin's shop. As a precaution, I closed and locked the big wooden storm door to my room from the inside — the first and only time I ever locked my door on Matinicus.
I couldn't sleep. Laying on my futon, I wondered how Shoe's trip across the bay was going. He was either a helluva sailor or an idiot. Or both. Then I heard footsteps on my wharf. The shack shook as Buzz climbed the stairs.
"Crash!" he yelled, pounding on the storm door. "Open up! I know you're in there. I know you got some whiskey to share with your old pal Buzz!"
I didn't answer. He grabbed the door handle and gave it a pull. A yank. It didn't budge. He pounded for another minute, then gave up. The building trembled again as he stormed down the stairs.
My sense of relief lasted less than five minutes.
"Crash!" Buzz boomed from outside my window, standing on the gravel road behind the fishhouse. "I know you're in there. And you got whiskey. I'm giving you one more chance."
I didn't move from my bed, so I didn't know he had a shotgun.
BOOM! His gun fired once. Over the roof of my shack. BOOM! He fired again.
"Whiskeee," he whooped. "Whis-keeeeeee!"
Frozen on the futon, I'd never been more terrified. I knew the downstairs shop door was unlocked. And if he wanted to kill me for my whiskey, he could easily fire his shotgun through the floor vent. That's what I was thinking, laying there in a shack with no telephone or marine radio to call for help. Could I reach the nearest neighbor, a quarter mile away, crawling, wounded, on my hands and knees?
Then I heard the crunch of his boots on the road. Sounded like he was headed home. But I wasn't gonna get up and check.
Soon after, I fell asleep.
Episode 28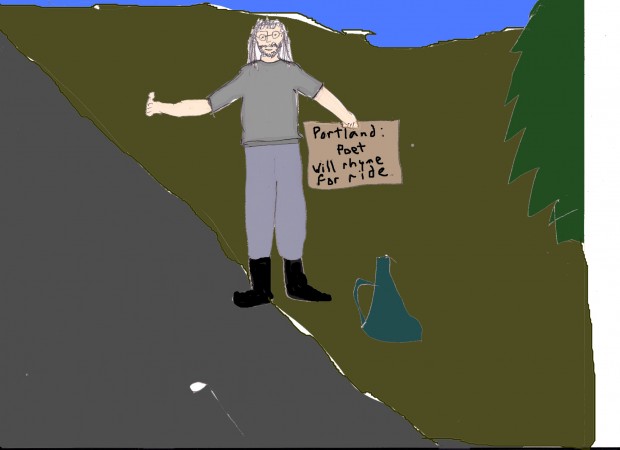 Edwin and Nan dropped me off on Route One. My cardboard hitchhiking sign read: "PORTLAND: Poet, will rhyme for ride!" Tall and strong, with long hair and a beard, I looked like a cross between Charles Manson and Jesus Christ. The first ride gave me a lift as far as Waldoboro.
The second ride was a dream come true. I was standing on the foot of the hill across from the Shop 'n Save when a primer-gray VW GTI stopped for me. A beautiful blonde girl, in her early 20s, sat behind the wheel. No one in the back seat. Seemed like the beginning of a fantasy. Or a pornographic film.
"I'm going to Portland," she said. "Hop in."
Her name was Ginger and she was hot. A great laugh. Sparkling blue eyes. Luscious lips. Plus a small canister filled with potent purple weed. After I admonished her for picking up a fella as crazy-looking as me, we pulled into a rest area and got wicked high. And talked and talked. I recited a poem about rejected refugees and told her about my time in Haiti. Then I told her about Buzz shooting at my shack the night before.
"Oh my," she said, putting her hand over her mouth to stifle a laugh. "That must have been awful!" Then she giggled. "But you're fine now. So it's kinda exciting." She looked over at me and smiled. "Why don't you pack another bowl? Are you in a hurry?"
I felt a stirring from within and the mutual attraction growing.
"Nope," I said. "Just gotta be down to Portland by five."
"Great," she said. "One more bowl, then."
#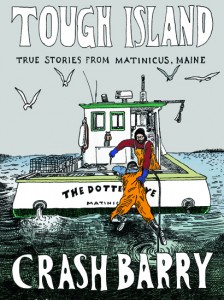 We continued down Route One. The soundtrack was U2 and The Smiths, Billy Idol and The Cure. We laughed. We joked. I felt wicked comfortable with her.  When we arrived in Portland, Ginger seemed disappointed to drop me off. She gave me her number, and I hugged her.
For a second, I realized how easy it would be to change plans and stay with Ginger. No one would know where I was. Alice would be stuck at the Village Café with our parents, wondering when I was gonna appear, but instead I'd spend the rest of the day, the night and my life with Ginger. Smoking purple ganja and listening to new wave with a blonde beauty. We'd fall in love. Fool around a little bit, at first. No rushing.  The sex, I knew, would be awesome. We'd have kids and laugh when we told 'em Mom picked Dad up on the side of the road.
Instead, I said goodbye. She drove away. I never called.
#
Still high from the ride, I couldn't understand why my storytelling during the Italian feast at the Village Café wasn't a hit. Alice was nervous, being around my parents, knowing that later we'd be revealing the big news. Her mom, though, was unusually quiet after she heard the details about the previous night. Turned out Shoe was her second cousin. She was quite embarrassed by my tales of island hooliganism and tried to tell my parents that such behavior was rare. My mom nodded like she understood, but I figured she was remembering their visit and the fella whose truck got shot up.
We skipped dessert and my future in-laws invited us all to their Winnebago parked in the Village Café parking lot. Over coffee, Alice and I revealed our big news. I'd been accepted for the winter semester at the University of Southern Maine. I was leaving the island in January. Alice and I were gonna move in together, then get married the following summer. Both sets of parents acted pleased and issued congratulations. But the tension thickened and the evening ended soon after.
My parents were tired and wanted to get to their motel. Alice's parents were suddenly in a hurry, eager to head Down East to work their part-time job: Emptying the proceeds from all the pay-per-view binoculars mounted near picturesque sites on the coast.
Alice and I drove to her place in suburbia. Made love. She fell asleep in my arms, while I thought of Ginger.
Episode 29
"You know what ruined this island?" Captain Emery asked, slurring his words because the orange juice mixed with moonshine from his basement still was powerfully strong. "Radio! Radio ruined this island!"
We were drinking at his kitchen table. Emery – in his early 80s – remembered the days before radio. "Back then we had dances." He paused to take another long sip. "We'd have church socials. Play games. Play cards. Sing songs." He sighed. "Then radio comes along, with its news and music and stories, and people would just stay home and sit in front of a box." He snorted and shook his head. "Nowadays, nobody does nuthin' together." He pointed at me. "And everyone hates everybody else."
Emery was a funny looking fella, short and stocky with big ears and a long nose. He sort of looked like the little homesick alien in the movie ET. I'd heard from other islanders that his reputation as a sexual swordsman was well known across Penobscot Bay. Even as a rugged elder, he mischievously flirted with females of all ages. Girls swooned under the spell of his twinkling eyes and crooked grin, wanting to hug and squeeze him. He always obliged. Emery's fishhouse was next to Edwin's. He was the oldest man still lobstering on the island. His traps were made from spruce, not wire. His arms were huge from a life of hard labor and his brain was filled with the knowledge of natural history. He understood what the clouds and birds had to say. He could smell storms and tell which way the breeze would blow. He trusted his gut more than technology.
I really liked learning from him. That's why we were drinking the moonshine. We'd spent the whole day working on the shore, jacking up his fishhouse. Before Emery showed me how, I had no idea two humans could lift a building. He appreciated my help and wanted to repay me with cocktails and conversation.
"Radio," he repeated emphatically, "radio ruined this island."
#
One wicked windy morning, I was working in a huge shop, a hundred feet from Emery's and Edwin's fishhouses. It was an illegal building, constructed without permits or permission. Upstairs were unfinished apartments. Downstairs was a big open space, shared by several lobstermen. To make some extra cash, I was bending wire and building traps for another captain, a newly learned skill that I enjoyed. A half-dozen other men were involved in similar trap-related tasks. To me, the labor felt ancient and traditional, despite the thump, chortle and hiss of the compressor that sporadically drowned out the rock 'n'roll coming from the radio, courtesy of WBLM. Philly's truck came speeding down the dirt road and screeched to a stop in front of the shop.
Philly, the 65-year-old ne'er-do-well father to a couple of the meanest outlaws that ever called the island home, climbed out of the pick-up slowly – because Philly didn't do anything fast, except drive his truck. Truth was, his brain was dim. Islanders blamed the fact that his mom and dad were brother and sister. Philly's torpor could have been caused by drugs, too. He was a pill-head. A lover of Valium, he popped 'em like candy. His speech was sluggish and his sense of humor non-existent. Listless, lethargic and droopy-eyed, Philly constantly seemed to be on the verge of falling asleep while standing up. This morning, his mission must have been urgent, because he almost sprinted into the shop.
"Everybody!" he yelled, then paused to wheeze. "Let's go!" Was there a house on fire? An injured child? A shipwreck? A sinking boat? "WRESTLEMANIA!" he hollered. "WRESTLEMANIA IS ON THE SATELLITE TEE-VEE!"
Within a minute, the place was almost empty. The gang filled the back of Philly's truck and raced up to his house in the middle of the island, home to a swimming pool–sized satellite dish. Not me, though. I stayed down on the shore and kept building traps, listening to the radio.
EPISODE 30
I was lucky to have been accepted to the University of Southern Maine, because my writing was getting worse and worse. I had practically stopped using punctuation. I called it "free verse" when it was merely "lazy." My big beard, round glasses, flannel shirt and typewriter didn't help me understand grammar, sentence structure or onomatopoeia. I needed to learn those things, and that wasn't gonna happen while lobstering on a rock 20 miles off shore. With lots of encouragement from Edwin and Nan, I made preparations to head to the big city and the university, to a louder, busier life. Thanks to the GI Bill, I had money. Thanks to Alice, I had a place to stay.
I decided to get rid of my beard before I left the island. Couldn't attend the university looking like a lumberjack. I'd visited the Portland campus the month before and it was filled with hotties and hipsters. And my long beard and flannel shirt wouldn't be in style for a couple more years.
Five nights before I moved off Matinicus, Edwin and Nan invited me up for supper. I trimmed, then shaved off all my whiskers before showering. When I sat down at the dinner table, my skin was red, scraped and bloody, but Nan said I looked five years younger, like I was 18. Like a college freshman.
I should have waited to shave. When Edwin and I went out to haul traps the last couple of times, the sea spray iced up my face and the January wind froze my cheeks. I worried my face would fall off from frostbite.
On my last day on the island, I hurried to pack. A charter plane was scheduled for 1 p.m. to pick up me and my boxes of stuff. Books, mostly, and lots of bad poetry and failed short stories. Plus my sea bag full of fisherman clothes mixed with remnants of Coast Guard and Russian sailor uniforms and Grateful Dead-wear. And my boots, oilskins, stereo, typewriter, tea kettle and toaster oven. Almost all of it fit into the borrowed car I was driving.
Heading up Harbor Point Road, a station wagon surprised me. My pal Tommy pulled out of a path in the woods that motor vehicles never used.
I swerved to avoid collision and drove off the road and over a cliff. It was a small cliff, compared to the others nearby. Five feet to the left or right and I would have plummeted to my death.
Instead, the car landed about 10 feet below road-level, nose down on a dirt-covered ledge protruding from the rocky slope that ran down to the cove. Unscathed, but scared shitless, I climbed out of the car. The rear wheels were still spinning. I clamored up the rocks and crawled to the side of the road.
Tommy was surprised to see me alive. We jumped into his wagon and headed up to Max Ames' house. Max was a bad-ass biker, but a sweet fella at heart. He owned a backhoe and, luckily, he was home. Ten minutes later, we were back at the scene of the accident. We attached chains to the rear and Max plucked the car up with the backhoe and dragged it back onto the road.
Max, having heard I was moving, didn't want a dime. He wished me luck and went home. I drove to the airport and unloaded my boxes, which were undamaged by the crash.
I made one more trip to my shack for odds and ends, then back to the airport with a couple minutes to spare. The single engine Cessna from Owls Head landed on the runway. The pilot had removed the extra seats on the mainland to make room for my boxes. Together, we quickly loaded the plane, then strapped in and took off.
I asked him to circle the island once, to fly over the Lower Harbor and Edwin's fishhouse. That's when I waved goodbye.
AFTERWORD
Occasionally, I wonder how my life would have been different if I had stayed on the island and bought a crumbling fishhouse and wharf that was for sale for a mere five grand. Could've fixed it up and turned it into the coolest pad. Problem was, the shack was right next door to Donald's wharf and he'd be the worst neighbor. He didn't wave at me once after I stopped working for him. If I was walking down the road, he'd drive by and look the other way. Mary-Margaret didn't wave either. And when I bumped into her at the post office, she'd silently glare at me with an icy gray stare.
If I had stayed on the island, my career options would have been quite limited. I couldn't teach without going to college first. And I wouldn't have been satisfied working for another fella for the rest of my life. I'd never be able to be my own captain. Once a sternman, always a sternman. That's the Matinicus rule. If I tried to set gear, the island pirates would have cut off my buoys. If I didn't get the message and set more gear, they would have sunk my boat. Then burned my shack. Maybe even shot me. No telling.
So I left Matinicus and went to the university. Living on the mainland took some adjustment. Rules and laws were enforced. And social norms were expected to be followed. No longer could I stop on the side of any road and take a leak. Smoking pot in public was not acceptable. Drunken loudness was frowned upon. And daily showers were considered essential.
Alice and I married, then divorced soon after. I quit school when I landed a gig as a reporter at a weekly paper in suburban Portland, then went on to a life of journalism mixed with bouts of hard labor. Lived on other islands. Drove other boats. Ate lots more lobster. Did lots of drugs. And always compared everything to Matinicus.
***
I returned to Matinicus twice. The first visit, about four years after leaving, was on assignment for a magazine to report on the annual town meeting. I hitchhiked from Portland to Owls Head, then flew out to the island with my backpack, plastic tarp, sleeping bag, ganja, bottle of whiskey and a notebook. I spent the first evening at Captain Rick's. We got drunk and high. He caught me up on island gossip.
The next day was the big meeting, held at the schoolhouse. I intended to write a story about the Maine state government's ignorance about life on the islands. The ferry service was threatening to cancel the nine annual trips to Matinicus because the Steamboat Wharf wasn't an adequate berth for their modern vessels. And the replacement wharf would cost over $25 million. Over a half million bucks per island resident. Plus it would require a massive construction project that would change the two-century-old layout of the harbor. The islanders hated the idea.
The story seemed easy, but I wasn't a good enough writer – and didn't have enough distance from the topic – to do the tale justice, so the magazine piece was eventually spiked.
After the meeting, I headed down to my old stomping grounds. I made the rounds from shack to shack and barely knew anyone. All my sternmen pals had moved off and on to different careers. The fellas on the shore treated me like an outsider and viewed me even more suspiciously upon hearing I was on the island for a magazine story. No one wanted to talk about anything. On the record or off. Feeling uncomfortably out-of-place, I headed to Rick's for supper, drinks and smoke, then to South Sandy for a night of beach camping, wrapped in my tarp. The next morning, I flew off the island and hitchhiked back to Portland.
A decade after leaving, I returned with my buddies Amy Kretz and Dr. John Flood, a Portland veterinarian who practiced animal medicine aboard his 37-foot Albin trawler. He usually focused on Casco Bay islands, but wanted to take a trip to the outer banks of Penobscot Bay, to scout possibilities for expanding his coverage. Really, though, the trip was an excuse for us to have an adventure. We navigated around the backside of the island, after steaming between Ragged Ass and Matinicus, and my heart swelled with recognition. We couldn't go through the Gut, because the tide was draining, but I caught a glimpse of Wheaton's on the way into the harbor. The settlement was no longer abandoned. An artist had purchased it and renovated the old buildings. The place looked great, restored to its former glory.
The rest of the harbor seemed pretty much unchanged. We tied up at the Steamboat Wharf and heard the hum of the island generator. We walked to the post office and store and checked out the bulletin board. One flyer cheered me with good news. Islanders had stopped dumping their cars and trash into the ocean, thanks to a recycling and clean-up program spearheaded by island baker-journalist-author-EMT Eva Murray.
Burn barrels were no longer considered the appropriate way to dispose of paper and plastic. I also learned that the store well, which kept me hydrated for almost two years, had been filled in. The water, according to the state, was not fit to drink.
Amy decided to take a run around the island. John and I were debating whether to stroll to my old shack or to check out Wheaton's when a skiff, carrying three men, came in from the moorings and slowly rounded the corner of the Steamboat Wharf. Lo and behold, it was Donald. I couldn't believe it. I hurried over to the wharf, amazed to see him again.
"Captain Donald," I called out after he scaled the ladder and climbed onto the dock. He stopped and turned around. He looked exactly the same: Like a caricature of a Maine lobsterman. "Do you remember me?" I asked.
He squinted as I walked toward him, my hand outstretched.
"Nope," he said, after a second. "Can't say that I do."
"I was your sternman," I paused. "For a year."
He looked at me again. Looked real close. He stared, then grinned.
"You the one who was with me when I went overboard?"
"That's right," I said. "I'm Crash."
"Hah-hah," he cackled, then grabbed my hand and shook it.
"What the hell are you doing out here?"
I pointed to our boat tied to the wharf. "That's my friend's," I said, "We're here to…"
"You better get underway something quick," he interrupted. "Tide is draining. If you don't leave soon, you'll be high and dry."
"Okay," I said. "We'll get going…"
"That's my grandson," he pointed to the strapping fella who just climbed onto the wharf. "You knew his mom."
The young man was my Coastie pal's son. I knew him as a toddler. I wanted to ask about his parents and his siblings, but didn't know where to begin. We didn't have time anyway. So I just shook Donald's hand again. He turned and limped toward his truck.
John and I climbed aboard his boat and quickly got underway. We couldn't wait for Amy to finish her run. We would have to launch John's skiff to retrieve her, because I didn't want to end up stranded on Matinicus.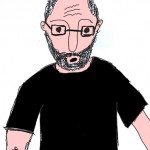 Crash Barry is relieved now that Tough Island the illustrated serial will be preserved for eternity inside the slightly drunk repository known as Bill and Dave's Cocktail Hour. Email Crash or buy signed copies of his books Tough Island, the rollicking novel Sex, Drugs and Blueberries and the true story Marijuana Valley via crashbarry.com.
To read the complete Tough Island, click here.
To read all the previous episodes of Tough Island, click here.