Mar 23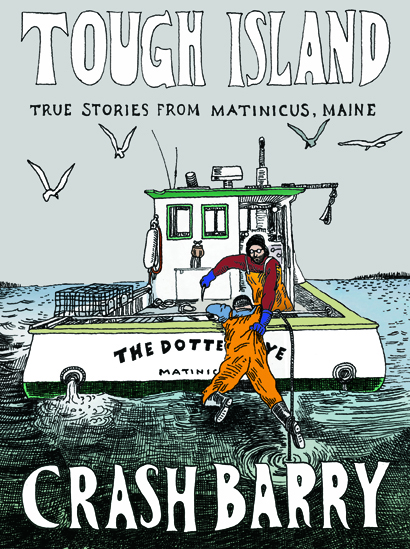 Last summer, Bill and Dave's Cocktail Hour began serializing Crash Barry's gritty memoir Tough Island. Then, in August, Crash took a break from  Bill and Dave's in order to turn his novel Sex, Drugs and Blueberries into a feature film. Now, he's back and ready to finish telling the rest of his true stories from his time living and working on Maine's most remote island. Click here for episodes 1 to 17.
.
The morning after Donald fired me, I emptied my room and stowed all my gear at Benny and Paul's, then flew off the island and hitchhiked to southern Maine. I knew I'd return to Matinicus because I had no place else. When I arrived at Alice's, I called Captain Edwin Mitchell. Word on the island was he was looking for help. I didn't know Edwin, other than to wave, but he was Paul's uncle and Paul had a phone number for him down south where he was having a vacation. Edwin was well-known as a lone wolf who stayed out of island politics and didn't belong to any of the lobster mafia families.
At the end of a brief phone call, he decided to give me a chance. I was to meet him on the island in mid-March. I had just enough cash to survive until then because Alice was generous enough to feed me and put me up.
#
One day you're a sternman on a remote island, a week later you're an unpaid political operative for an insurgent presidential campaign. At least that's the way it worked for me. After my experience fighting the War on Drugs and the War on Haitian Refugees, I was ready to complete my radicalization. Time to overthrow the government, burn the establishment and start anew. And during the run-up to the 1992 presidential elections, Jerry Brown was the only candidate even remotely standing near a torch.
So while staying at Alice's in suburban southern Maine, I volunteered for the Jerry Brown for President campaign, where having long hair and a beard full of herring bones was almost considered an asset. Initially I was assigned grunt work at the Portland office, then sent out to the streets to leaflet and poster. After a week, I was promoted and given the task of speaking on behalf of Jerry at a handful of Democratic Party caucuses in the tiniest Maine towns. We ultimately won, in Maine, by a hair, which energized the campaign hippies. I agreed to promote and poster for Jerry in western Massachusetts, which gave me the excuse to visit my parents.
#
"Did you hear? Frankie's dead!"
I was hanging in New Hampshire for a couple days before heading to see my folks. Half-drunk in a Portsmouth bar, I ran into a trio of Coast Guard officers who broke the news to me.
"What?"
"Frankie's dead!" the fella said. "He died in a car crash."
I laughed. Frankie wasn't dead because I had talked to him a couple of days before Donald fired me. He called from Boston and said he was gonna be in port for awhile. And that he was going to see U2 – a mutually favorite band – in Worcester. Frankie wasn't dead because Frankie was full of life. Always smiling and ready with a joke. The most alive dude I knew.
I was wrong, of course, because the guy driving Frankie back from the U2 concert fell asleep at the wheel and their car crashed into the stern of a broken-down 18-wheeler on the side of the Massachusetts Turnpike.
Once I realized they weren't joking, I lost it. Crying, sobbing, I staggered outside. Weeping, wailing almost, while my former shipmates, guys who I used to salute and call "sir," hugged me. Tried to soothe me. To no avail.
The next couple days were a drunken blur. A bunch of us – Coasties and Portsmouth friends – met up in Boston and stayed at a pal's house for the wake and funeral. It was a surreal movie, everyone wandering around like crying, drunk zombies. Denial is often part of grieving, but we all felt the death of Frankie was, literally, unbelievable. A vibrant, kind fella like him wasn't supposed to die young on the side of the road in the middle of the night.
We weren't the only ones who loved him either. When we got to the funeral parlor, we were astounded by the number of people waiting to get into the wake. Hundreds and hundreds, stretching for a block away from the funeral home. We took a couple more slugs off the flask before joining the queue of beautiful and handsome faces, tear-stained and racked with grief. Occasionally, there was an outbreak of laughter, but most of us just stood somberly, murmuring and sad.
Inside, Frankie's parents were greeting mourners. I took a deep breath and went to hug his mom. I hadn't seen her in a couple years and, for a second, she didn't recognize me with my long hair and full beard. I said my name. Then she wouldn't let go. Through her tears, she said they'd been trying to find me. To let me know he was gone.
"I loved him so much," I cried, starting to shake and sob. Moaning almost, I couldn't control myself. Couldn't stop crying. She cooed and hugged. His mom was comforting me. Being a mom during her time of utter sorrow.
"I know he loved you too," she said, trying to smile. "He had a great time in Ireland. And he got such a kick out of you." She grinned. "You guys had lots and lots of adventures together, didn't you?"
I nodded, unable to speak.
"I'm glad," she said, hugging me again. "I'm so glad."
#
I stayed at my parents' house in western Massachusetts for a week. Still in shock, I missed the solitude and quiet of the island and felt lost in the paved world of cities and politics. I half-heartedly did some promotion for Jerry Brown. Made a big speech to a progressive group, then visited my alma mater, a Catholic high school, to plead Jerry's case in front of the political science classes. Plus I stapled campaign flyers to a million lamp posts and bulletin boards. The rest of the time, I hung out in my parent's basement, then wandered late-night on the nearby railroad tracks – just like I did as a teenage punk-rocker wannabe – to smoke ganja and get higher and higher, until I was numb.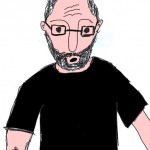 The launch party for Crash Barry's new book Marijuana Valley will be held during the First Friday festivities on April 4 at Longfellow Books in Portland. On April 18, Crash will be in Brunswick for an event at Gulf of Maine Books. On April 19, he'll be speaking at Homegrown Maine, a medical marijuana trade show in Bangor. On April 20, he'll be at Bull Moose Portland with Dave Gutter, celebrating 4-20 and cannabis culture at 4:20 in the afternoon. On May 1, he'll be appearing at The Speakeasy in Rockland. Marijuana Valley will be available at most places where books are sold on April 1. For inscribed copies and/or event details, visit marijuanavalley.com.