Aug 10
Occasionally, I wonder how my life would have been different if I had stayed on the island and bought a crumbling fishhouse and wharf that was for sale for a mere five grand. Could've fixed it up and turned it into the coolest pad. Problem was, the shack was right next door to Donald's wharf and he'd be the worst neighbor. He didn't wave at me once after I stopped working for him. If I was walking down the road, he'd drive by and look the other way. Mary-Margaret didn't wave either. And when I bumped into her at the post office, she'd silently glare at me with an icy gray stare.
If I had stayed on the island, my career options would have been quite limited. I couldn't teach without going to college first. And I wouldn't have been satisfied working for another fella for the rest of my life. I'd never be able to be my own captain. Once a sternman, always a sternman. That's the Matinicus rule. If I tried to set gear, the island pirates would have cut off my buoys. If I didn't get the message and set more gear, they would have sunk my boat. Then burned my shack. Maybe even shot me. No telling.
So I left Matinicus and went to the university. Living on the mainland took some adjustment. Rules and laws were enforced. And social norms were expected to be followed. No longer could I stop on the side of any road and take a leak. Smoking pot in public was not acceptable. Drunken loudness was frowned upon. And daily showers were considered essential.
Alice and I married, then divorced soon after. I quit school when I landed a gig as a reporter at a weekly paper in suburban Portland, then went on to a life of journalism mixed with bouts of hard labor. Lived on other islands. Drove other boats. Ate lots more lobster. Did lots of drugs. And always compared everything to Matinicus.
***
I returned to Matinicus twice. The first visit, about four years after leaving, was on assignment for a magazine to report on the annual town meeting. I hitchhiked from Portland to Owls Head, then flew out to the island with my backpack, plastic tarp, sleeping bag, ganja, bottle of whiskey and a notebook. I spent the first evening at Captain Rick's. We got drunk and high. He caught me up on island gossip.
The next day was the big meeting, held at the schoolhouse. I intended to write a story about the Maine state government's ignorance about life on the islands. The ferry service was threatening to cancel the nine annual trips to Matinicus because the Steamboat Wharf wasn't an adequate berth for their modern vessels. And the replacement wharf would cost over $25 million. Over a half million bucks per island resident. Plus it would require a massive construction project that would change the two-century-old layout of the harbor. The islanders hated the idea.
The story seemed easy, but I wasn't a good enough writer – and didn't have enough distance from the topic – to do the tale justice, so the magazine piece was eventually spiked.
After the meeting, I headed down to my old stomping grounds. I made the rounds from shack to shack and barely knew anyone. All my sternmen pals had moved off and on to different careers. The fellas on the shore treated me like an outsider and viewed me even more suspiciously upon hearing I was on the island for a magazine story. No one wanted to talk about anything. On the record or off. Feeling uncomfortably out-of-place, I headed to Rick's for supper, drinks and smoke, then to South Sandy for a night of beach camping, wrapped in my tarp. The next morning, I flew off the island and hitchhiked back to Portland.
A decade after leaving, I returned with my buddies Amy Kretz and Dr. John Flood, a Portland veterinarian who practiced animal medicine aboard his 37-foot Albin trawler. He usually focused on Casco Bay islands, but wanted to take a trip to the outer banks of Penobscot Bay, to scout possibilities for expanding his coverage. Really, though, the trip was an excuse for us to have an adventure. We navigated around the backside of the island, after steaming between Ragged Ass and Matinicus, and my heart swelled with recognition. We couldn't go through the Gut, because the tide was draining, but I caught a glimpse of Wheaton's on the way into the harbor. The settlement was no longer abandoned. An artist had purchased it and renovated the old buildings. The place looked great, restored to its former glory.
The rest of the harbor seemed pretty much unchanged. We tied up at the Steamboat Wharf and heard the hum of the island generator. We walked to the post office and store and checked out the bulletin board. One flyer cheered me with good news. Islanders had stopped dumping their cars and trash into the ocean, thanks to a recycling and clean-up program spearheaded by island baker-journalist-author-EMT Eva Murray.
Burn barrels were no longer considered the appropriate way to dispose of paper and plastic. I also learned that the store well, which kept me hydrated for almost two years, had been filled in. The water, according to the state, was not fit to drink.
Amy decided to take a run around the island. John and I were debating whether to stroll to my old shack or to check out Wheaton's when a skiff, carrying three men, came in from the moorings and slowly rounded the corner of the Steamboat Wharf. Lo and behold, it was Donald. I couldn't believe it. I hurried over to the wharf, amazed to see him again.
"Captain Donald," I called out after he scaled the ladder and climbed onto the dock. He stopped and turned around. He looked exactly the same: Like a caricature of a Maine lobsterman. "Do you remember me?" I asked.
He squinted as I walked toward him, my hand outstretched.
"Nope," he said, after a second. "Can't say that I do."
"I was your sternman," I paused. "For a year."
He looked at me again. Looked real close. He stared, then grinned.
"You the one who was with me when I went overboard?"
"That's right," I said. "I'm Crash."
"Hah-hah," he cackled, then grabbed my hand and shook it.
"What the hell are you doing out here?"
I pointed to our boat tied to the wharf. "That's my friend's," I said, "We're here to…"
"You better get underway something quick," he interrupted. "Tide is draining. If you don't leave soon, you'll be high and dry."
"Okay," I said. "We'll get going…"
"That's my grandson," he pointed to the strapping fella who just climbed onto the wharf. "You knew his mom."
The young man was my Coastie pal's son. I knew him as a toddler. I wanted to ask about his parents and his siblings, but didn't know where to begin. We didn't have time anyway. So I just shook Donald's hand again. He turned and limped toward his truck.
John and I climbed aboard his boat and quickly got underway. We couldn't wait for Amy to finish her run. We would have to launch John's skiff to retrieve her, because I didn't want to end up stranded on Matinicus.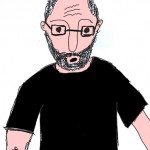 Crash Barry is relieved now that Tough Island the illustrated serial will be preserved for eternity inside the slightly drunk repository known as Bill and Dave's Cocktail Hour. Email Crash or buy signed copies of his books Tough Island, the rollicking novel Sex, Drugs and Blueberries and the true story Marijuana Valley via crashbarry.com.
To read  the complete Tough Island, click here.