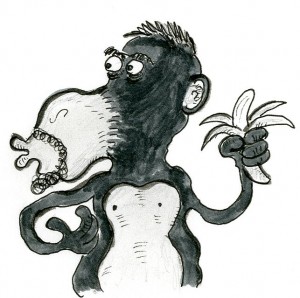 I like this blogging thing, I really do, and think it is a true genre onto itself that, when I'm not buried in a book (as I have been the last couple of months), seems a good and valid way to pass one's creative time. That said, I, like a lot of us, have a sometimes ambivalent relationship with new technology.  Proof of this is in the piles of floppy disks all over my desk in my office at school, piles that students look at in wonder, laugh at, or stare at uncomprehendingly (depending on their age).
Likewise, I have been told by so-called young people, students mostly, that my weakness as a blogger is my "lack of links."  I write little essays, true, and the words are nice enough, but they have suggested that more of those words should be in color, so that the bored reader can, if she or he chooses, zip off to someplace else in the electronic world.  Well, sorry about that.  I don't have an elaborate defense, as Wendell Berry did of his typewriter, and I vow that from here on I, and my writing, will be more linky.
* One of the places I've been while away is the Gulf and I can report that there still be oil. And, as you can see, it is doing its oily thing.  That's  Orange beach in Alabama, which was streaked with slime when I visited in late October.  There had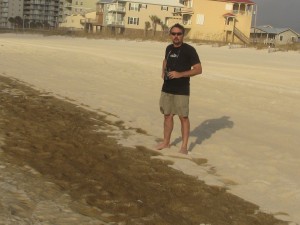 been a storm the night before, the first significant rain since summer with violent lightning jags and thunder claps and high surf that kicked up whatever was in the water.  The next morning there was a brown-orange bath ring down by the shore and a line of caramel sludge farther up the beach.  It was almost beautiful in a disgusting way: as if Jackson Pollack, armed only with a candy apple machine and some cigarette buts, had created a great line of squiggling art.  The line continued for miles, weaving and coiling like a python down the beach.  Some discarded coffee cups were also part of the mix.  A tribute to the human love of crap.   And yet people there on vacation would have none of it.  They stuck to their illusions and walked down to the beach barefoot, their feet coated in the stuff, and lay down on beach chairs, despite the hordes of workers, and the giant sand digging machines (called "Sand Sharks") that hurried out to clean up the new mess.  At my previous stop, back in Florida, a friendly ranger had commented on the current scene and the denial she observed in visitors.
"About five weeks ago, from late September to just last week, we had four straight weeks of algae, something called June grass.  It is way too late in the season for that to be washing up.  People were coming here on vacation and the water was like beef stew.  And the June grass just stayed and stayed.  Completely abnormal.  People said it was because of the oil but you couldn't be sure.  Whatever it was from, people left early and we took another monetary hit."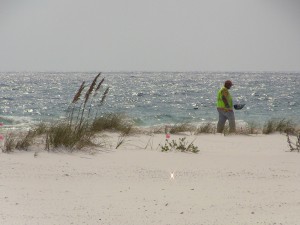 "On the other hand, the people who stay are pissed that workers are still cleaning the beach.  'What are those people doing?' they ask.  'Is that really necessary?  Do people really need to use those machines at night?'  They get indignant. They are ready to move on."
All I know is that on October 26th, the day I visited, Orange Beach was actually orange, and that on that day–six months after the spill began–anyone who said the oil was gone was lying to you.
* Ah, but there I go again, essaying away from today's linky purpose.  What I meant to say, and will say now, is that while I was down in the Gulf, I ran into Barry Yeoman, who has written an arresting series of blogs about the current state of the Gulf.   I would also highly recommend the blogs of Rocky Kistner, who has been down in the Gulf since the beginning, talking to the locals while observing the real human effects of the spill, and who didn't leave when the rest of the media decided the story was over.  Both have been picked up by the Huffington Post, which has done a good job of  creating a central place to keep up with the spill story.   Of course if you are interested in the story, then October's National Geographic is required reading, and a shout out—that is, a link–here to the man who helped put it all together: Joel Bourne
Finally, I have been delinquent in not mentioning Breaking Waves:  An  Anthology for Gulf Defense, with all profits going to the Gulf defense fund.  My contribution to the anthology is the cartoon "the House That we Built", originally published right here in Bill and Dave's.
* I'm rolling now–feeling linky–so how about a couple new books by some friends and associates of B and D's.  Please check out Seth Harwoodand his latest,  Young Junius.   Also take a look at   Scott Malcomson's powerful memoir of 9-11, Generation's End.   And last but far from least, a man to the cocktail hour born, Brad Watson has come out with his latest short story collection,  Aliens in the Prime of Their Lives.   Stories from the collection have appeared in The New Yorker and, more importantly, Ecotone.
Did I forget anybody?  Please speak up….I'm feelin' linky.