Jul 05
Guest contributor:
Bill Lewis
I read Bill's book Temple Stream for the first time a few years ago while camping on Cape Cod. It was tucked into an inviting corner of Brewster Books, and, because it was raining, I sat on the floor and read most of it before finally buying it at the end of the afternoon.  It's been a good friend to me since. I recently took it down from the shelves for another read, but first decided to check out Bill and Dave's to see what I could learn about what you were up to. There I found "I Used to Play in Bands," which I watched straight through. I'm writing because…well…I used to play in bands too.
If memory serves, the photo above was shot around 1976 in my friend Mike's spare bedroom, which also served as our practice space. You can see Mike in the photo, hands raised in his best Gene Simmons' imitation. Given the era, we were of course highly influenced by Kiss, and would often be heard loudly complaining that "cold gin" was the "only thing that [could keep these sixth graders] togethhhherrr" as we rushed off to meet the morning school bus.
For a blue collar kid from a hardscrabble coal town in Pennsylvania, Mike had what we all thought was pretty much the coolest guitar of any of us kids who played in bands at that time…an Ibanez Flying V with Super 70 pickups. Although the guitar was certainly awesome, you can see in the picture that he played it through an odd series of slapped together amps and dangerously modified console stereos from the 1960's. The speaker perched precariously on the top of the old amplifier in the picture is evidence that a modification had probably occurred sometime in the recent past. Although they worked, these set ups could give a player some surprising electrical shocks depending on what metal you were touching when you picked up a guitar, or if you decided to play music barefoot in the basement.
I'm in the front of the picture in what I probably thought were pretty cool rock'n'roll clothes, in this case a salmon jean jacket with sleeves rolled, and no shirt. If you look closely, you might recognize the bottom half of a Guild Starfire III, the guitar that Bill played back in the day. My dad bought it from a young troubled guy in Wilkes-Barre, PA who was getting out of bands, and the $100.00 price tag helped him to overlook the marijuana leaves creatively spray painted onto the black base coat… if he even recognized what they were at all. I accidentally dropped this guitar on a basement floor when I was a sophomore in high school, snapping its neck at the base of the headstock. Although a guitar guy was able to successfully epoxy it, my high school self didn't want damaged goods—marijuana leaves or no—and I traded it for a cheap Les Paul knockoff with bad frets, awful tuners, faulty wiring and a knockout sunburst paintjob.   The first of many bad trades I would make in high school.
My third grade brother, Brent, (canary yellow rock'n'roll jean jacket) is to my left. Even though Mike and I tried to convince him that he was adopted from a Japanese family, he wanted to play drums in that band with an intensity that sometimes scared us. He was understandably heart broken when we kicked him out of the band three years later, recruiting our friend Andy, a fellow 9th grader with a kick-ass Pearl Kit and the whitest teeth we ever saw. Besides the fact that it wasn't cool to have a 6th grader in a ninth grade band, Andy was a better drummer at the time and gave us access to his temple's youth group, to the monthly dance and sleepovers where we became the house band, and to the beautiful Jewish girls who came to hear us play our Kiss and Cheap Trick covers. Sweet nights there at B'nai B'rith. My brother did eventually exact his vengeance, however, becoming 20 times the musicians of all of us put together.  He's still playing in bands today…Shiva's Dance, Dyin' Daze, and the provocatively named Sunshine Beavers being just three of the many.
A few years ago Mike got in touch with me through Facebook, inviting me to a big Memorial Day picnic at his house in his small town outside of Scranton. Completely bald with a goatee and compact beer belly carried by thin legs, Mike looked nothing like I remembered him…until he opened his mouth. Then he became the same quirky, fascinating and rigidly opinionated guy I had to punch in the mouth a few times in 7th grade.  When the conversation turned to the environment and natural gas drilling later in the evening, he was quick to point out that fracking was going to turn his mountain into a "fucking wasteland and human tragedy," yet he fully admitted that he and his wife were investing heavily in the gas companies because "you can't fight progress." Staring dumbly but not wanting to fight with my old friend, I walked away for awhile, returning to smoke a twilight hookah with his adult daughter and son-in-law and ending the evening watching Mike belt out a staggering karaoke version of "Welcome to my Nightmare" by Alice Cooper, his planned pièce de résistance for the evening's festivities.
Although I've been invited, I've never returned to Mike's annual picnic, our schedules, commitments and paths getting in the way. But standing in the dark watching him sing, I grinned like a 6th grader, glorying in his middle age joy, shouting his name into the cooling evening air, and remembering what it was like to play in bands.

.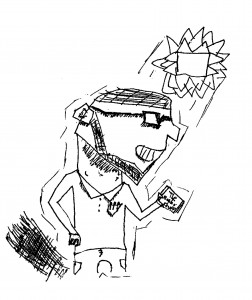 Bill Lewis grew up in Wilkes-Barre, PA and taught high school English for 20 years before becoming a professor of literacy education at the University of Delaware. He lives with his wife, Laurie, and two children, Paige and Gray, in Lancaster, PA. He likes fishing for trout, fixing his old cabin in the woods, and watching real bands play.