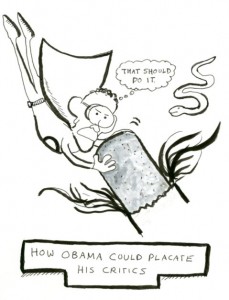 With writers washing up like tarballs on the Gulf coast (thank you for the image, Ken), why do they need yet another one?
I'm not sure, but next week I will climb in my car and drive from my home in North Carolina down to the Gulf of Mexico.  I don't know how I'm going to pay for it yet, but I am determined to join the mass migration of journalists southward.  Yes, I understand the hypocrisy of traveling a thousand miles in a vehicle powered by a refined version of the same substance that is pouring out into the Gulf waters, and yes I, like the rest of us, am a big fat hypocrite.  But I need to see the oil.  My plan is to follow the same path that the great naturalist John Muir did as a young man, a trip that he later described in his classic book, A Thousand Mile Trip to the Gulf.   Like Muir, I will not just look at the water once I get there, but get out on it, trading in my car for a kayak.  And, like Muir, my goal will be to see the ecosystem of the Gulf as a complicated whole, that is, to try to see it, even in its current desperate state, as a naturalist would.
One of the reasons I feel I need to get down there is that so far no one seems to be writing the bigger story, or at least the longer story.  That one oil-covered bird is not the story.  But the way that that one oil-covered bird connects to the web of all life is.  Or as Muir put it:  "When we pick up anything by itself, we find it hitched to everything else in the universe."  That's it exactly.  What the spill teaches us, in dramatic fashion, is a lesson we have been taught many times before but refuse to learn: on this earth nothing is apart from anything else, all of us, human, plant, animal, are intertwined.  To which you may say: Duh. Even before the oil started to gush, you, like most of the rest of us, had likely begun to connect the dots between our need to consume and our intensified storms, between our rising water and our use of fossil fuels, between our love of wild places and our hunger to both extract what those places hold and to live near those places.  We are all vaguely aware that our gluttonous ways are unsustainable, but we've also got our lives to live thank you very much.  But now, more than in any other event, we are seeing the consequences of our choices.  Moreover, we are seeing the impact those consequences have on our lives, and on nature, which we not long ago romantically thought of as "apart from the human."
After Obama's speech I tried to figure out why I was deeply offended, and I suppose it was because he presented a view of life so contrary to the one I just described.  It was filled with military metaphors and illusions of control and "taking charge," as if such a thing were possible.  Yes, I'm sure it was just stuff his advisers told him he had to say, but that doesn't get him off the hook.  I've stuck with Obama the whole way, and I don't expect him to "fix" the oil.  But when he spoke the other night, I felt like I was back in Bush-World, and just like his predecessor after 9-11, he seemed to extract exactly the wrong and least subtle lesson from the disaster.  Obama claims to be an environmentalist, but he is one of the false Shellenberger and Nordhaus "Death of Environmentlism" camp, a techno-enviro.  While he may love his twisty lightbulbs and his wind turbines, I would lay heavy money on the fact he has never spent a night alone camping.  Which is fine—not everyone has to emulate Muir—but it would be nice if he didn't give us all this phony language.  For me this disaster, and the coast in general, sings one song over and over and it is a song of uncertainty.  My favorite quote about the shore remains the one A.R. Ammons wrote about beach grass trying to find purchase in the dunes:  "Firm ground is not available."
What do I plan to do down in the Gulf?  In the proposal I'm writing and trying to pitch to magazines and publishers, I, like Obama, claim to have a plan.  I will do A., B., and C. and A., B., and C. will result.  Which is nonsense of course.  What I will really do it what I always do: play it by ear.  I have a scientist friend or two who tell me that access will not be a problem, but we'll see.  The truth is that my plan is not a particularly radical one.  I will walk, paddle, observe, note, and try to connect, both the dots and with other people.  At the moment we have plenty of journalists, politicians, preachers, alarmists, dogmatists, and blamers commenting on the Gulf.   But I'm convinced we need more amateur naturalists, or at least more people who think like naturalists.  Maybe we all need to embrace our inner nature geeks.  ("We are all naturalists now"?)  After all, a naturalist's practice is to notice how one thing connects to another, how a certain bird lands on a certain sand flat to eat a certain crustacean at a certain time of year to fatten up for a leg of its migratory flight.  The essence of that practice is to make connections both large and small.  And never before have to connect things like we do right now.  Not just the obvious ones between the cars we drive and the oil gushing out, but deeper connections between the way we live and the consequences for the natural world.
Of course there is no place in the world where these connections are more apparent than in the Gulf, with Katrina as its recent past and oil as its present.  Pull any thread and see where it leads.  Consider, for instance, the way that most shorebirds feed on fish which quickly leads to marine life which leads to the fate of the fishermen and shrimpers who have long been a part of the human natural history of the Gulf.  These fishermen have been portrayed as victims, and they certainly are, but it's more complicated than that as their profession is now heavily dependent on fossil fuels.  Then there is the larger fact that the consumption of these fossil fuels has, by scientific consensus, led to the warming of the gulf waters which aids hurricanes and which pose a threat to the rigs, and that hurricane season is now upon us.
But here I am climbing up to the pulpit again.  What is it with us nature writers that leads us, at the drop of a hat, to start sermonizing?  It's true that sermonizing rarely works, but what does.  Art?   My artistic question is not just what are the connections, but how to make these connections vivid enough so that people see them?  But I wonder: Is it really possible to break through the human shell and make us see and care about these deeper connections or are we simply genetically encoded to go about our business?  No doubt many writers are at this moment charging toward the Gulf.   What can I offer that is unique?  I hope I can go deeper.  For the last four years I have focused all my energy on studying and traveling America's coasts, trying to puzzle together a larger picture of the changes that have been occurring and the complex reason for these changes.  In Massachusetts I have talked to one of the country's foremost expert on the intensification of storms, MIT professor of meteorology Kerry Emanuel, and to Jim Gordon, president of Cape Wind and in North Carolina I have walked the Outer Banks with Dr. Orrin Pilkey, and we witnessed tangible evidence of a changing shore line, trophy homes floating out to sea.  At the moment fifty percent of Americans live on the country's edges, a total of over 153 million people, and an increase of 33 million people since 1980.   What are the consequences, in this age of spills and storms, of having over fifty percent of our population living on a narrow fringe that constitutes only 17% of our land mass?
As we are learning now, the answer to that question might not lead to the "hopeful" endings that are the rule in so-called nature writing.  The fact is that this story is not just about connections but about ripping connections apart.  The web of animal life  is so complex as to take into account not just why a bird feeds where but why a bird feeds where when—often at just the moment another animals offers itself as dinner—is a kind of symphony created over millions of years.  It is a web that has now, over just a couple of months in the human year of 2010, been torn apart.  Of course animals, including humans, adapt.  But a larger question is: can something this subtle and intertwined, once torn apart, really be put back together?