NOT HERE….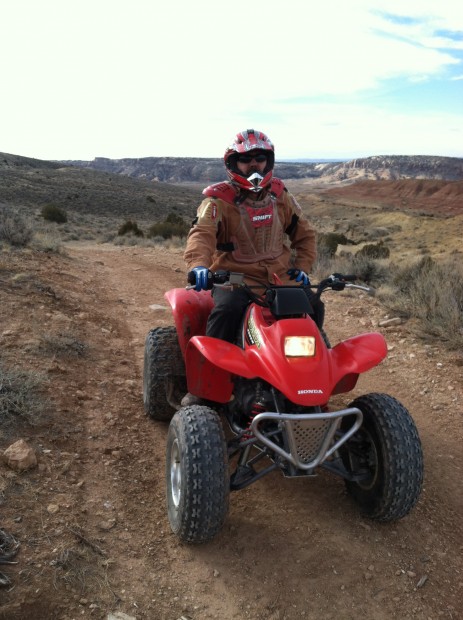 Been getting some flack for this picture but it is related to yesterday's Bad Advice post.  I want to look at the town of Vernal from all sides, and write a portrait of a boom town.  This is part of it….
Or as I said yesterday:
Of course I am not just here to visit, not just a tourist.  I am here to make something out of my visit.  The visit then is raw material, and my job, much like the oil workers I am interviewing, is to extract raw material. My tools are slightly different than theirs: journal, micorcassete recorder, camera, a sometimes unreliable brain. Here in Vernal I am actually double dipping: I am writing a story on fracking for OnEarth magazine (due Decemeber 10th—yikes!) and also gathering notes for a chapter on boomers and stickers for Properly Wild, my Abbey-Stegner book.  So like my fellow workers (I can hear them right now through the walls of my Econolodge room, getting up and heading out to their trucks right now) I sleep less and work harder while I'm on the job. It's tiring but fun, lots of adrenaline pumping.  Last night I returned to the Dinosaur Brew Haus, and, tired from fourteen hours of travel and a little let down that the guy I was supposed to interview couldn't meet that night, I decided to have a quick dinner and crash. But that was before a guy named Rich came in.  Rich is a former ski instructor who now works in the oil fields both driving rigs and instructing workers how to drive ATVS.  We talked for a long time, mostly he talked and I listened while deciding that it would be okay afterr all to order one or two Hop Risings IPAs, and by the time he was done I had learned not just a decent chunk of his life story but the fact that tomorrow–today that is–is his day off.  And so it turns out that Rick and I are going to meet in about three hours so that we can show me how to drive an ATV.  I've been critical of the machines so the least I can do is try to understand the appeal.  In short: more raw material.