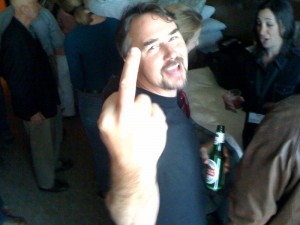 Stop the presses!  Alert the media!  Big news has come down.
And what's all the fuss about?
Haven't you heard?
New York, the all-knowing all-powerful publishing capital, somehow missed out on publishing an important literary book.
How could it happen?  Has it ever happened before?  Could it possibly ever happen again?  What does it all mean?
All right, I will now turn the sarcasm meter down a notch of two.  But dripping irony, or befuddled rage, seem two perfectly legitimate reactions not to the fact that a small press book called Tinkers was picked for the Pulitzer, but that this fact was greeted with great surprise, shock even, by the media.  Perhaps the denseness of all this was captured by an apparently un-ironically titled blog by the New York Times: The One That Got Away.   They were referring not just to the one that got away from the big New York presses, but to the one that got away from them, since they did not review it.  But one?  Please.  Try thousands.  Or maybe try this fact on: I would wager that more important, experimental, bold books that at least aim at literature are published outside of New York than from within it.
Yes, it's true that most of us hear more about books that are published in New York, but that is largely the mechanics of the thing.  The larger presses have the larger bags of cash and the large book reviews largely (almost exclusively) review books by those large presses.  (As I pointed out in a letter to the New York Times this past January, 52 out of the 55 books they considered "notable" were from large New York presses.  A more honest description than "notable" would have been "some books we liked and just happened to review.")
Why does any of this matter?  Maybe because some of us believe that art still matters.  Consider for a moment how most books that are published by New York presses are selected.  First they are vetted by agents, who have always, but especially in these embattled times, looked and thought mostly of dollar signs and who favor the sort of books that have made dollar signs before, not art or wild newness.  This is completely understandable, but unfortunate: already, at this early stage, most books that don't fit some obvious mold have been weeded out.  But let's assume that your book runs that gauntlet and then by some miracle wins a sympathetic editor, one who maybe even admits to loving your book.  In days of yore your story might be tilting toward a happy ending but, alas, these are not days of yore.  Now your poor editor, that sad and lonely champion, must take your book to a meeting of fellow editors, the board, which includes a band of insect-like creatures that crawl up from the sales and marketing offices and down from the corporate penthouse and who bring with them records of sales and sales potential.  It isn't just that whether or not the book will sell is the pressing question, it is, if we are honest, the only question. Safety first is the motto. And why not?  The people doing the selecting have families and jobs, jobs that they might lose if they displease their corporate overlords, overlords who have never been very happy with the paltry profits that publishing brings.  Is it any wonder that New York has adopted, or has tried to adopt, the Hollywood blockbuster model?
The trouble I have with the Tinkers headlines is that they actually play into the accepted New York narrative. As if there weren't a thousand Tinkers left on the boardroom floor.  As if there weren't more good books not just published outside New York but likely left unpublished in a system of this sort.   And as if all great and original books can jump through the necessary hoops, held up by fundamentally (if not politically) conservative and profit-minded businessmen.  As if we are really reading the best of the best.
Since this is unpleasant to think about, we accept the larger narrative.  The books that are reviewed and sold to us must be the best books, right?  That is why the Tinkers narrative, as told by New York, is meant to suggest something reassuring not radical.  The narrative is not "Wow, I just peeked under the rug, and there are a thousand other Tinkers under there."  No, that wouldn't do.  Instead, the story becomes the one that got away.
* * *
But how does the artistic writer, the committed writer, the writer who wants to do great things with words, react in the face of these facts?  You can spend a whole lot of energy raging against this particular machine (as I just have) but you ain't going to change it.  So the big and always question: what is to be done?
It's not an easy answer and includes many parts.  First and foremost, keep doing good and original work.  "A man is best when he is most himself," said Thoreau.  Of course that's easier said than done.  It takes a while to figure out who that self is and what he or she sounds like on the page.  And, since humans are social animals, it is even harder to keep sounding like yourself if others don't care for that self at first.  Even if you spend many years getting up every day and working on that self and that self's voice, it may happen that one day that self is left on the boardroom floor.  Futhermore, if you are the kind of person who does these things, who spends a good deal of your day brooding and imagining, then you will become adept, not just at putting words on the page, but at beating the living shit out of yourself.  As it turns out, the same imagination that can make beautiful things is also good at growing mind weeds and, and when others tell you that what you do is no good, it is all too happy to join the chorus.
This is natural enough for a writer and self-doubt is part of the business.  But what I am going to suggest here is that now, more than ever, these voices need to be, as much as possible, quashed.  Especially if they are a mere echo of what the publishing world is telling you.  That is you need—and I need—to reject the rejecters.  Too much energy is wasted every day trying to please these masters who can't be pleased.  You could write a great book, a shining book, and they might still turn their noses up and talk of sales.
My wife, Nina, had a great line the other day.  She was talking about the need for the artistic writer, the so-called literary writer, to accept limits: limited sales, limited attention, limited money.
"We are all poets now," she said.
That was it!  The days when Hemingway was on par with movie stars is long gone.  Not only that, the chance of gaining traditional rewards—money, fame, the usual—through the creative and original putting of words on the page is so slim as to be ridiculous.  We are all poets now.  I repeated this to my friend, the writer Peter Trachtenberg, who later told me that, after relaying this sentence to some writer friends, they became instantly depressed.
And it is kind of depressing.  But what I have been thinking lately is that is also something else.  It is, once you come out the other side of it, kind of exhilarating.  Lately, rather than be depressed by the thought, I am feeling thrilled by it.  Thrilled and freed.  If it doesn't really matter, if it truly isn't possible to be heard on a large stage, why not just focus all your energy on making the thing itself as great as you possibly can?  You can't please the masters anyway, no matter how hard you try, so why even try to please them?  And since your efforts to win favor by sounding like someone else are bound to fail, why not sound exactly like yourself?
* * *
I will end this on a note of confession.  These little things I'm writing, now called blogs, were once called "occasional essays," and the occasion for this essay is the recent rejection of a book proposal that I spent four years working on.  In the past I have  written a lot about the coasts, about the birds that live there and the ecology of the edge, about the joys and perils of living near water, where, as A.R. Ammons put it, "firm ground is unavailable ground."  Since I love the coast why not follow it, I asked myself a few years ago.  I decided that I would write a book about following the coasts, starting in Maine and heading to Florida, then along the gulf to New Orleans, then to California and up to Alaska.  I was excited—thrilled really—about writing a huge, Whitmanesque book about our wildly changing coastlines.  Hold on, New York said, that is not a book we want.  Not from someone like you at least.  Not from someone who has published with—gasp—University Presses.  Go back into your corner they said.  We are busy people.  We don't have time for the likes of you.
Sounds like a sad story right?  Four years of interviewing coastal scientists and walking the Outer Banks and paddling a kayak down to South Carolina and learning all I could about the edge, where most of us live by the way, and all for naught.  But it wasn't, or isn't sad.  A few days after the rejection, after the initial rage had passed, after I had tried to accept the fact that I wasn't going to be singing any Whitmanesque odes, something started to happen.  I remembered something my rejecters, the masters, had said when they rejected me.  My writing was "too personal" they said.  This because along with chronicling the lives of dolphins, ospreys, mollusks, and whales, I also chronicled the lives of my newborn daughter and my self.  Too personal?  I chewed this over and soon my rage was turning into something else, something better.  I now had a growing suspicion that the masters were, as usual, dead wrong.  But the anger at them was fading because they had actually helped me: I have long known that my writing is best when it is most personal, most close to the bone, and now they had shown me that my original idea for the book was flawed.  How so?  It wasn't personal enough!
The last few weeks have been joyous ones.  The book had always seemed too stiff and stilted for me.  Even the title, Walking the Edge, was kind of dorky.  I'm thinking now that I might call it Learning to Surf,  after an essay I wrote, and that as well as being about this country's attempts to live along an uncertain coast, it will be about my own.   But that isn't the point.  The point is that I'm in it now, joyously swimming inside it, turning what was stiff into the personal and immediate, using all the science I gathered, which I'd briefly thought a waste of time, for my own artistic means, moving things around, synapses crackling and connecting, jumping from place to place.  Which, I've got to tell you, is a blast.  I've never had a champagne party at a book launch in New York so I don't know what it's like, but there's no way it can be more fun than this. The eventual book may or may not sell, but it sure feels good now.  Which gives me hope.  I no longer serve the masters.  They can crush the dreams of publication, they can deny you a chance to be heard.  But they can't crush this.  And this, this is a joy.
So fuck 'em, I say.  We are all poets now.
P.S. Here's a related cartoon.  But it should carry this label: Warning: Not to be viewed by young writers.