I spoke at Penn State on Monday.  My hosts couldn't have been more generous and engaging, but my thoughts weren't always peaceful ones.  First, there was all the fracking going on up north in central PA, which seemed to call for a cartoon.  Here it is…..I call it….
THE FUTURE OF GROUNDWATER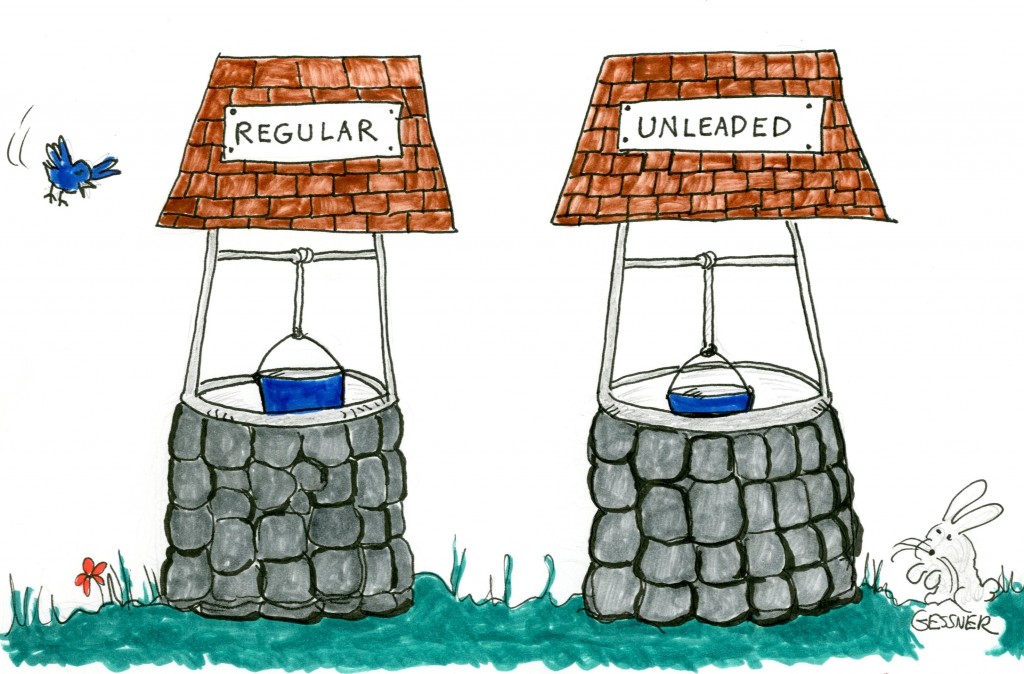 What follows are some random observations (and pictures of me with Paterno's statue….)
As I flew into the Happy Valley this past Sunday, I felt rather uplifted.  After a non-winter winter in North Carolina, I was actually tired of green.  I saw snow on the ridge lines, countless small farms, and enough open woods to put the lie to the more hysterical environmental cries of doom.  But I'm a literary sort and so remembered that in Samuel Johnson's Rasselas the title character never quite could find peace, even in a perfect world called Happy Valley.
Later, looking up at the statue of Joe Paterno, another literary allusion came to mind (one I began to work out on this blog a few weeks back).  I remembered The Brothers Karamozov, and the story of the beloved priest who was hero and mentor to the pious Aloysha Karamozov.  The elder lead a devote life and had even been considered a possible saint, but then in death his body had rotted and stank, which was seen as a physical embodiment of a deeper corruption.  Hadn't something similar happened to Joe Pa, who for most of his life was seen not just as a great football coach but as the moral conscience of the game, and certainly the presiding saint of the town of State College, Pennsylvania?  That Paterno had played his part in the unspeakable tragedy that occurred here did not take away my sense of life of effort, passion, and commitment torn down at its end. And my sense of a town stripped of its illusions.
I spent the next couple of day's with a couple of other vital, if less celebrated pillars of the community.  They were Penn State professors and the picture they painted was grim.  Over the last couple of years the governor had been trying to cut the University budget by 50%.  They did not need to describe for me the damage this would do to education, of course, but what struck me was all the jobs that would be lost. And something else was rotten in central Pennsylvania.  This same governor had refused to tax the energy companies that were busy hollowing out the hills to the north, fracking away and then rumbling off down the state roads in their huge trucks.
I imagined one of my heroes, Wallace Stegner, rolling over in his grave.  In envisioning an ideal town he had always said that a college should be at its center.  This led to what he called "stickers," people who made the town their own.  In contrast, he held up "boomers," people who come to a place, extract what they can and then leave it behind, hollowed out.  When jobs are touted we had better ask ourselves what kind of jobs those are?  "To hell with schools and others fancy pants institutions," seems to be the rallying cry.  But wouldn't education come in handy in the coming economy?  Never mind, they seem to say.  The jobs that matter most are the temporary ones.
Something rotten indeed……