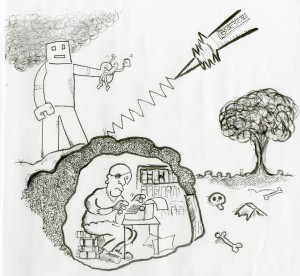 We have reached the end of something.  That is clear enough for anyone to see.  Every month another magazine bites the dust while editors live in fear, waiting for the next purge, and agents read from Kindles, hoping they can sell one more vampire book before it all comes tumbling down.  Everyone left in publishing is 26.  The books that do still sell do so through Wall-Mart and Amazon, for about as much as a bunch of bananas, and why buy books anyway since every word ever written by humankind is at this very moment being downloaded by Google?   Meanwhile thousands of young people, still dreaming the old dream of "becoming a writer," flock to monasteries called graduate programs.  Some of these young monks, especially those in Iowa, actually have a shot at publishing books, since, as a rule, 26 year old editors are fond of 26 year old writers, but many grow discouraged by the scarred landscape and turn their energies toward blogging or, worse, real jobs.  Meanwhile everyone involved holds onto the hope that the web will somehow change everything, though no one is quite sure exactly how it will do that.
Perhaps the clearest sign that the literary apocalypse has arrived is the ascendancy of something called Bookscan. For those who might not have heard of it, Bookscan is a robot that determines what you will read.   No, not a Kindle, which you will soon read on, or a computer, which is likely where everything we read is heading, but a scanning machine that tallies up the exact sales of an author's book and so tells editors whether or not they should publish another.  Long gone are the days when a writer served a working apprenticeship, hammering out a book or three on their way to mastery.  Now the first attempt is judged, not on its merit or promise, but on its sales, and thus the smithy's fate is immediately and forever determined.  Readers, who have their own lives and preoccupations to busy themselves, don't realize that what they are reading has made it past a series of gatekeepers–agents, publishers, accountants, marketers–whose aesthetic, to use the term loosely, is based almost solely on sales.  As for the days of editors following their gut feelings, those went out with loafers.  In their stead has come the rise of the machines.
I have a friend, a so-called "literary writer," who writes fine books that, for a variety of reasons, have not sold very well.  In his more dramatic, perhaps megalomaniacal, moments he likes to compare himself to John Connor, the rebel in the Terminator movies.  Over a drink or two the other day, he suggested that perhaps Bookscan has begun to gain self-awareness.  At first it occurred to me he'd gone off his meds, but I listened as he pointed out the similarities between the name Skynet, the computer arms system that gained consciousness and tried to destroy humanity in the Terminator movies, and the name Bookscan, the computerized system that he believes has tried to destroy him.  I was in no mood to contradict my friend.  Who am I to say he isn't a rebel leader fighting a gritty literary war at the end of time, typing away down in the underground tunnels, his face smeared with mud, clothes torn, holding out against the deadly mechanical forces that roam the planet above?
I just nod when he rants.  After all maybe illusions are required to help us keep up the necessary energy to write books that few will read.  For my part, I prefer the monastery metaphor, since I happen to teach at one of the writing programs.  As one of the head monks, I take my responsibilities seriously.  For instance, it may seem overprotective, but I try to keep dark and dire thoughts about the publishing world out of the classroom, believing as I do that young writers develop better if they don't spend too much time worrying about giant killer robots roaming outside the ivied walls.  But maybe I need to embrace some of my friend's more combative approach, warning my students about the dark times ahead, lighting campfires in the classroom and posting German Shepherds by the blackboards.  Young writers like romance after all.  Together we could fancy ourselves a band of rebels, fighting an inspiring, if futile, war against the machines.  Picture a cold, dark landscape lit only occasionally by torchlight, sanctuaries where acolytes worship archaic things called books.
As I write these words it occurs to me that I, like my friend, have finally snapped.  Or at least turned a corner.  The other day I scrawled down these "Laws of the New World":
1. Marketability is the primary driver of the New York publishing world.  This has always been the case, of course, but never more so than now.  The beancounters rule.  Any attempt to publish literature is incidental, and that literature tends to fit certain long-established molds.
2. Editors exist in a state of fear, and frightened people don't take risks.  The days of editors of books following their guts are long gone.  It goes without saying that decision by committee is no way to find work that is original or bold.  It is now common for authors to get rejections from editors who loved their books but could not "sell" the work to "others" within their companies (Marketers, publicists, etc…).
3. For authors in this system, the first book is the only book.  Everything hinges on it.  With the advent of Bookscan and other methods of calculating sales, authors who do not sell on the first go-round are rarely given a second chance.   Which means that a "new" author trumps a "tainted" one who has likely spent decades mastering their craft.
4.  The rise of the beancounters signals the advent of science in a field that is inherently unscientific.  Of course it is only the illusion of science, the illusion of control.  How a book succeeds or fails remains as mysterious a process as ever.
5. On the other hand, books that are pre-determined to be potential successes do at least have a chance of actually succeeding since they are backed by money that tilts the table in their favor.  Conversely, other books, deemed uncommerical, are left to die on the vine.  When these books don't sell, the original assessment appears justified.
6.  The world of big publishing only publishes a narrow slice of writers and writing, what amounts to a sliver along the whole literary spectrum.  The slice has become narrower and narrower as New York continues to adopt the Hollywood blockbuster model.
7. The few remaining media outlets for books dutifully review–or more often write human interest articles about the authors of–these limited books, rarely venturing into the world of small presses and independent booksellers.
8.  As New York turns its back on literature and experimentation, academia, in the form of Master of Fine Arts programs, attempts to fill the void.  It is easy to ridicule the role of these programs as precious or arty, but that role may grow more vital as the range of traditional publishing continues to narrow.  However, the disconnect is dramatic: the monks scribble away at work that is less and less likely to be published.
9. The web may or may not offer writers a direct conduit to readers.  While it does allow one to publish one's work, it is without the vital aid of the editor, and without the promise that that work will find an audience.
I'm not sure what to do with these laws—maybe nail them to the front of a church or a bookstore?  And I'm not sure what to do with myself, other than hunker down and turn back to my pages and my books, trying to write clear sentences while the darkness swirls outside.  What I would really like to do is end this diatribe hopefully, pointing to the new dawn that will rise up through the ruins.  But, for the moment at least, I don't know how to do that.
I am left only with the monkish advice I give my own students: It is the work itself that matters.
It had better be.   Because, as any John Connor wannabe could tell you, it's going to be a long night.