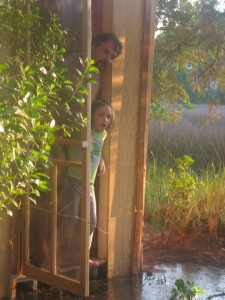 The question on everyone's mind this morning–the one that Jim Cantore has already asked in stentorian tones on the weather channel and that has Mr. Obama making a frowny face up on the Vineyard–is will the shack survive? 
"We don't really care about Gessner's house," said a local official who refused to be named.  "We don't even really care that much about his life.  But that shack is an important local landmark.  We will do everything we can to protect it."
Some locals expressed anger toward the storm for seeming to make a beeline toward the famous writing shack.  "It's like it has a vendetta," said a guy in a hat.  Other locals, bitter folk, expressed resentment that so much media attention was being focused on an 8′ by 8′ plywood shed.  "Human lives are at stake here," one woman whined. 
President Obama was said to be heard wondering if parts of My Green Manifesto were written in the shack.  Secret Servicmen assured him it was not, but, coincidence or not, soon after The President issued a state of emergency for North Carolina.  Meanwhile, despite Governor Bev Perdue's order to evacuate the shack, Gessner has stayed put.
"Fuck Ya,"he said.  I'm riding this one out.  I'm going down with the ship."
Sadly, despite other conscientious preparations, including sending his wife and daughter inland to his sister's house in Chapel Hill, he somehow managed to neglect that most vital of hurricane supplies–beer.  At his news conference this morning he admitted, to gasps from the crowd, that he only had three Ranger IPAs.  
Still, at the moment, Gessner, remains highly caffeinated and relatively happy.  In fact, he has decided to spend the morning writing and watching the wind build as birds shoot across the marsh.
"It's peaceful," Gessner said.  "Except for Cantore yakking away outside my screen door."