Comments Off

on The New Normal: Meditations from the Rubble Pile
by Karen Auvinen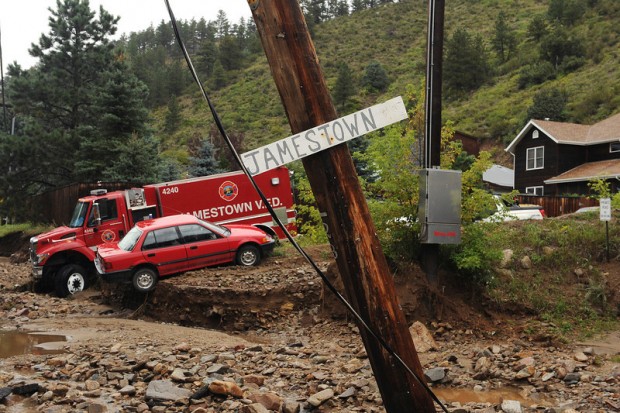 A month after the 100-year flood reduced most of Jamestown, CO, my community, to a rubble pile, I hear the click on the door closing as life in the outside world returns to normal.  Eyes turn toward the government shut down and the Nobel Prize announcements. Fading from public memory is the image of my friend Nancy's blue house tipping into James Creek like a collapsed accordion, or the dramatic helicopter rescues—more than Katrina—up and down the Front Range from Lyons and Estes Park to the north, to James, Left Hand, and Fourmile Canyons outside of Boulder.  Gone are the visits from the governor and state senators.  Fading, too, is the memory of Vice President Joe Biden's phone message to Tara Schoedinger, our extraordinary mayor.
All Photos by Helen H. Richardson/The Denver Post
Jamestown will recover, we say.  Our motto:  Mountain Strong. 
 But recovery is a long slow road and already American attention spans are waning.  In my community alone, at least 25 homes have gone into the creek or are filled with sand and now, mold.  Most of the 300 people who live in Jamestown have moved to the flat lands for winter, cut off from what homes still remain by rubble piles so deep, they are almost impassable even by foot or, as in the case of Anderson Hill, because the road now ends in a cliff.  Jamestown was hit "from all sides" by mudslides that carried a slurry of trees and boulders –"an avalanche of concrete"—that scoured the town, removing roads, waterlines, telephone poles, the town park, and reducing the stream to bedrock.  One FEMA worker, seasoned in disaster, remarked he'd "never seen anything like it."  (For before and after photos, click:  http://jamestownconnect.wordpress.com/2013/10/08/before-after/
 Recovery for us is just beginning.  We still haven't buried Joey, former owner of the Jamestown Mercantile and certified local character, who was killed when one of the mudslides buried his house in 12 feet of debris.  Many folks are still in temporary housing.  Most have a mountain of paperwork and ongoing arguments with insurance companies who either won't pay or are refusing to cover "uninhabited buildings."  Some, like Rainbow who owns the Jamestown Mercantile Café and Leesa and Lyle who operate Jamestown Acupuncture and Chiropractic, have lost both access to home and their Jamestown-based businesses.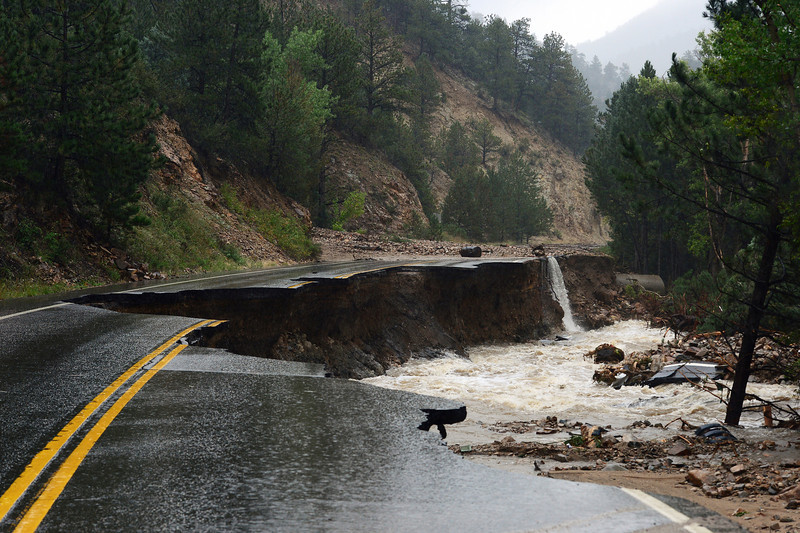 But our story is getting repeated up and down the Front Range. Nearly 19,000 homes have been affected and 1500 destroyed by the flooding.  Almost all the roads that access the mountains from the plains are closed "for the foreseeable future" for repairs.  Estes Park is now cut off from the Front Range except by the Peak to Peak Highway, a long-way-round passage that takes commuters on a detour 42 miles south.  My own access to Boulder and Longmont from four miles above Jamestown will be altered, I am told, for at least a year.  With 50-60% of Left Hand Canyon–my normal route to town–gone, my drive time has doubled as I detour  south to Nederland and then down into Boulder.  I now drive 33 miles instead of 14, an hour instead of a half an hour, just to get to the edge of town.
 The new normal also carries with it connotations of climate change, why a year's worth of precipitation (14 inches) fell in four days, and what we are going to do about cycles of fire and flood in the Rocky Mountains.  A decade ago, Jamestown was hit by a fire that burned 3500 acres and destroyed 15 structures; at the time, it was the largest fire in Boulder County history.  Now it pales in comparisons to recent blazes. In 2010, the Fourmile Canyon Fire, replaced the Overland Fire as the biggest in Boulder County, doubling the number of affected acres and destroying 169 homes. But in the last year, there have been even larger, more devastating fires near Colorado Springs (the Waldo Canyon Fire: 19000 acres and 346 homes, and the Black Forest Fire 94000 acres and 511 homes).  While the data from the flood is still being analyzed, all indications of an event this big and the correlation between fire and flood are that human habits play a significant role.  There is also the probability that such catastrophic events will increase in the future. 
But I can't go there.  I don't want the lesson of what happened to hit me over the head just yet.  Instead, I want to keep telling the stories of my friends.  I want people not to forget.  Ten years ago, I lost the home I was renting to fire caused by a wood stove.  I survived with my dog and the clothes on my back.  The shock of recovering laid in like a long winter; the tasks of putting a life back together could fill one of those boulder fields.  There is so much work to do.  We must not forget.
According to initial estimates, Jamestown, whose annual operating budget is $56K, needs many, many millions to rebuild.  The town, famous for raising funds with musical events and bake sales, will need more than its own considerable spirit to emerge from this disaster.  Naturally somewhat private, we have opened our lives and our stories.  For us, the new normal means not only pulling together to rebuild our town, it means letting the world in on what a special place we have:  http://vimeo.com/76550965.
To help:  http://www.rebuildjamestownco.org/
More of Karen's writing can be found at 1hotkitchen.blogspot.com