Comments Off

on The Last September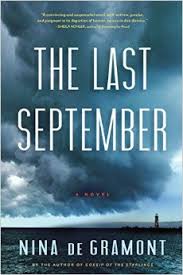 Nina de  Gramont's novel The Last September is due out next week. It has gotten some great early reviews and here's the latest, a starred review from Library Journal:
"In her latest stunning novel, de Gramont (Gossip of the Starlings) wastes no time. Brett Mercier, a brilliant academic specializing in Emily Dickinson, is a young widow with a 15-month-old daughter. Her husband, Charlie Moss, has been murdered on Cape Cod. The likely suspect is Charlie's younger brother, Eli, who was Brett's best friend in college before he was all but lost to the ravages of schizophrenia. From Brett's love-at-first-sight teen crush on girl-magnet Charlie through the heartbreak of his years-long elusiveness to her brief engagement to safe, wealthy Ladd Williams, whose family is tied to that of the Moss brothers on the Cape, to Charlie's murder, the mystery unfolds with unexpected detours. The torture of unanswered questions resulting from violent death is on full powerful display, as are Brett's torn loyalties—to the terribly ill Eli, to the devoted fiancé she spurned, to her irresistible, unfaithful late husband—that threaten her stability. VERDICT With an artist's eye and a poet's heart, de Gramont realizes a world of love, mystery, and the shattering sorrow of mental illness, deceit, hope, and lives cut short. Impossible to put down."
Makes you kind of want to order it, right?