Dec 29
Guest contributor:
Jim Lang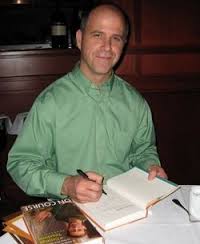 1. Hey, I wonder what that's all about. How come I've never heard of this?
2. This seems more interesting than it first appears. More people should know about this.
3.OH MY GOD I HAVE AN IDEA FOR A BOOK THAT IS GOING TO CHANGE THE WORLD.
4. I will go ahead and accept your publication offer, but you should count yourself lucky that you are getting this book so cheaply. I'll remember this when I'm famous.
5. All right, let's settle in and nail this thing.
6. Humming along so far; at this rate I'll come in ahead of deadline.
7. This project is more complicated than I realized/ doesn't fit my original idea/requires me to do a lot more research than I expected/isn't as original as I thought.
8. I should probably pause and set up the social media accounts for this book, so there will already be a lot of buzz around the book when it finally appears.
9. I think I have an idea for a better book than this one. I'll finish this on up quickly so I can write the next one, which will really change the world.
10. I need a few weeks away to clear my head and get some perspective. Where's the beer?
11. I HATE THIS BOOK WITH THE WHITE-HOT INTENSITY OF A THOUSAND SUNS.* PLEASE LET ME DIE BEFORE I HAVE TO FINISH IT. THIS IS MY LAST BOOK EVER.
12. Oh, book . . . you're not so bad after all. We were probably meant to be together. Let's see if we can make it work.
13. I might just finish the son of a bitch after all.
14. This book is actually quite brilliant. As long as the publisher doesn't bungle the marketing, it will probably win a bunch of awards.
15. Please don't make such stupid suggestions about my work. If you think you know so much about writing, why don't you quit your editing job and write your own damn book?
16. This isn't going to push back the publication date, is it?
17. I liked the other cover design better.
18. Why don't you find people to blurb my book? I wrote the thing—you're supposed to do everything else.
19. WHY HAVEN'T YOU PUBLISHED MY FUCKING BOOK YET?
20. Is there going to be a parade or anything today?
*Thanks to Diane Chambers on Cheers for this eloquent curse.
Jim Lang is the author of Cheating Lessons: Learning From Academic Dishonesty. Follow him on Twitter at @LangOnCourse or visit his website at http://www.jamesmlang.com.