May 07
Guest contributor:
Bill and Dave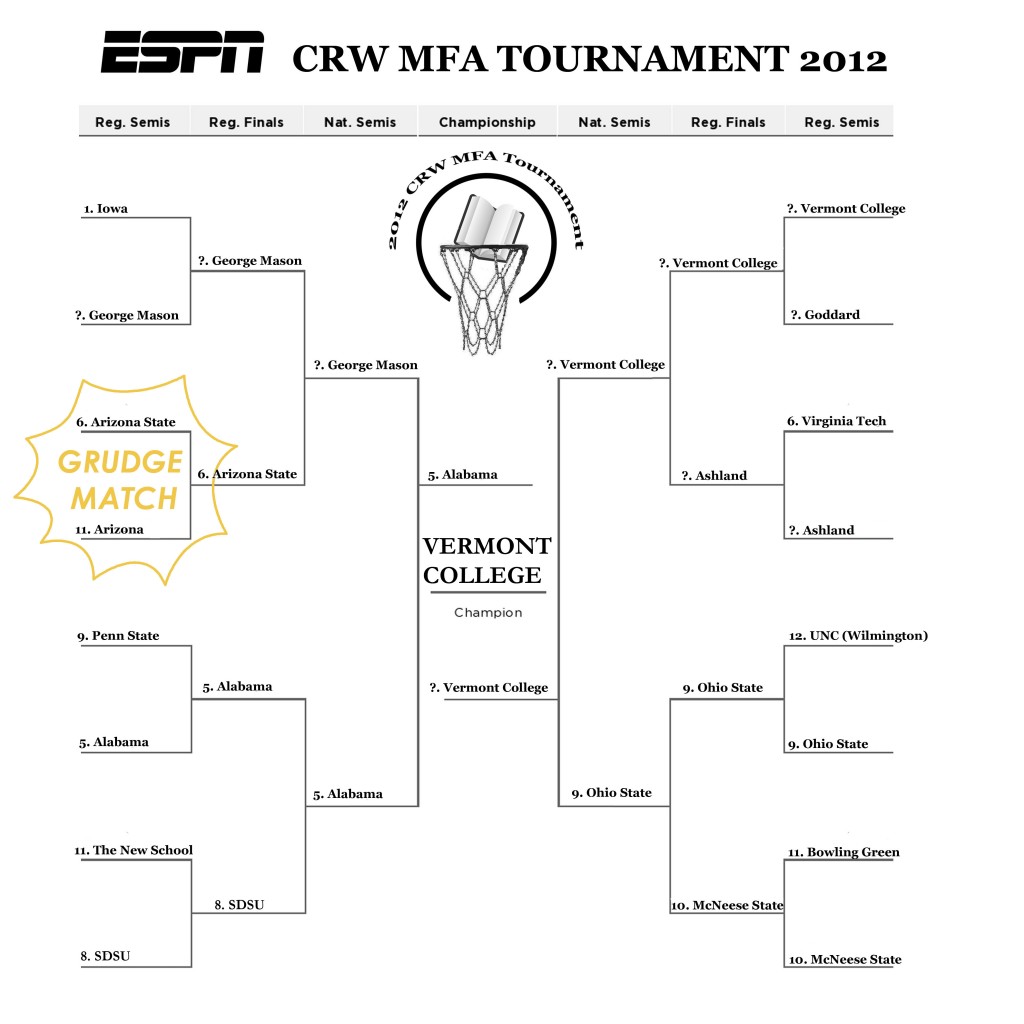 .
No more questions.  No more methodologies.  No more knife fights in the back stacks of the great libraries.  Science has spoken.  The greatest writing program in the country is…  VERMONT COLLEGE!
And what's more, this unseeded, non-traditional, low-res, upstart CRUSHED the competition at every juncture.
The match-ups:
The inevitable Iowa will live to see another day of course, but George Mason advanced from the Sweet Sixteen on an upset, crushing Arizona state only to face the Alabama juggernaut and their vatic chants (dicks, elephants, tides, RTR, RFMT, and so forth, boo-rah!), enthusiasm unbounded, gentlemanly Michael Martone at the helm.  A mix-up in Bill's head led to two San Diego programs taking the floor at the same time against the New School, hardly fair, but it all worked out for the bleached blondies down there at SDSU, that is till the Crimosn Tide came back strong, the moon more full than usual, and swamped their beaches.  The blood feud in Arizona had exhausted its combatants, it seemed, a lackluster match that barely made it to the buzzer, the teams just standing there panting.  What a game between OSU and UNCW, however.  Coach Gessner throwing chairs and his dog Missy onto the court shouting "Simplify, simplify!" and getting ejected, wonderful stuff.  But the cooler heads (and Lee K. Abbott) of OSU prevailed.  Ashland and Virginia tech played a nailbiter, but in the end it was scrappy Ashland who prevailed, and maybe got a little cocky: because here came the Monster from Montpelier!  Who'da thunk Vermont could take on OSU?  But they did so with ease, garnering more votes than their whole half of the bracket combined.
The final matchup, Vermont vs. Alabama, was a shocker, tied at the half, then no contest, 'Bama tripping over their extraordinarily long dicks while meanwhile, triple-triples for the whole Vermont team.
Vermont!
Bill and Dave are speechless, but the system has spoken.  Best MFA program in the land?  Vermont College of Fine Arts, ladies and gentlemen, VERMONT!
This is the last word, of course, at least for 2012.  Bill and Dave's has spoken.  All other rankings are obsolete, refer to them no more.  Let's celebrate in the comments column.  And don't forget to drink responsibly.  Riot police are standing by.
VERMONT!
Our top 16 programs in the country:
1. Vermont: 192
2. Bama: 64
3. OSU: 51
4. McNeese: 44
5. Goddard: 43 (a spate of late votes would have made G number 3, but…..)
6. George Mason: 35
7. UNCW: 23
8. Ashland: 22
9. SDSU: 21
10. Virginia Tech: 15
11. Arizona State: 13
12. BGSU: 9
13. New School: 7
14. Arizona: 7
15. Iowa: 7
16.  Penn State RIP: 5
Unlike in the Abramson system, these voters have tasted the food, baby.
["Like" Bill and Dave's Cocktail Hour on Facebook.  Or "Hate" us, up to you!]