Comments Off

on Thankful Things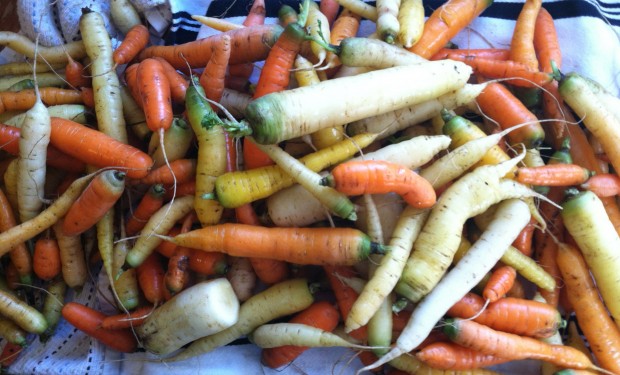 Here's a very short essay I wrote for the Maine Sunday Telegram, and which appeared yesterday with pieces by other Maine writers, like the fabulous Monica Wood.  See the whole feature online here, and here us read.  My bit goes like this:
I am thankful for the challenge of vegetable gardening in western Maine. Over a lot of years I've shifted my focus entirely. Oh, I still battle with getting tomatoes to ripen, and love nothing more than peas. And always carrots, in 10 colors.
The shift has been toward greens that can take a few frosts, even freezes, such that I can make a rocking salad clear into December most years, or roast Brussels sprouts for Thanksgiving dinner. And toward root vegetables that keep. I've got sacks in the basement with 15 kinds of potatoes this year, and six gallons of carrots in the fridge, a bushel of onions in the shed, 100 heads of garlic, my own. Did I mention beets? They keep quite well, and pickle even better.
I've also learned not to can more than I'm going to consume. No more long days making 20 quarts of dill pickles when I only eat, say, six.
At Thanksgiving, I'll thank the earth that brought all this bounty forth, thank my body for more or less holding out, thank my daughter for helping (don't complain about today's 13-year-olds to me!), my wife, Juliet, for all her good cooking, thank my guests for eating, thank the compost pile for taking in the scraps the chickens don't want, and while we're at it, thank the chickens: You can't make a great pumpkin pie without great eggs!