Bill: Greetings, Suzanne, and welcome to Bill and Dave's.   And warm congratulations on the publication of your astonishing true story, Nightingale: A Memoir of Murder, Madness, and the Messenger of Spring.  It's such a complex story.  How would you summarize it?
Suzanne: Nightingale is the story of my grandmother, Elisabeth Mannering Congdon, who was heiress to a mining fortune and victim of one of Minnesota's most notorious homicides. As the eldest granddaughter, I was entrusted with the burdens and joys of memory as I detailed a family legacy of love, loss and perseverance. Elisabeth Congdon emerges not as heiress or victim but as the messenger of spring and the key to my survival as I tried to escape my own mother, a dangerous serial criminal falling deeper into madness. My grandmother's early efforts to nurture a foundation of hope, optimism, and the power of possibility led me to advanced education, a beloved nursing career and the discovery of the ineffable relationship between healing oneself, service to others, and the connection to the spirit and beauty of the earth that made me whole again.
Bill: What was theinspiration for the title?
Suzanne: Nightingale is a deeply interwoven complex of themes, each one a part of the arc of my memoir: love and longing, death and dying, nursing, a redemptive female figure that embodies the cycles of nature and the healing powers of the earth, a mentor who offers hope and companionship in times of desperate pain and solitude, and the messenger of spring and renewal of life.
Bill: In the midst of a tumultuous childhood, what were your dreams?
 Suzanne: I wanted to be a nurse, a costume designer, and a mathematician. I also wanted to travel the world.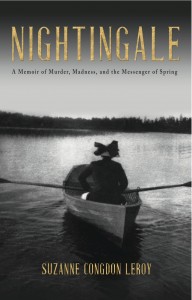 Bill: How did it go? 
Suzanne: I have been a nurse practitioner for 30 years with specialty certifications in Women's Health (OB/GYN), Family Practice, and advanced practice HIV/AIDS. I completed a Bachelors, Masters, and Ph.D. in Nursing at the University of Minnesota, and executive education at Harvard Kennedy School.
Bill: Any hobbies?  I know from the book that you love nature.
Suzanne: Yes, I love the great outdoors, hiking, canoeing, and travel. A love of art, architecture, and ikebana bring beauty into my life. Reading and writing are as integral to me as breathing. I am passionate about health and human rights issues for women and girls.
Bill: When did writing become important to you?
Suzanne:  As a little girl my grandmother told me stories and as I learned the stories we told them together, however I did not write stories as a child or adolescent. I was the math and science girl and I also had an interest in Latin. I'm embarrassed to say that I mostly read Cliff Notes in English class and I barely made it through high school due to an extremely unstable home life. When I became a nurse, I realized that I was documenting the life stories of my patients when I gave report or when I wrote/dictated/typed the medical history and exam findings. Working with critically ill and marginalized and vulnerable populations I realized the privilege and responsibility I had to keep those stories safe and as detailed and accurate as I could. I learned about the importance of psychosocial as well as physical aspects of people's lives, being accurate and accountable, and respecting and honoring the importance of story in diverse cultures. I thoroughly enjoyed doing the research and writing involved with my Masters thesis and subsequently my doctoral dissertation.
Bill: How did you come to write Nightingale?
My grandmother was so much more than the ill-fated tragedy of the last day of her life. I felt compelled to immerse myself in her story and what she would have wanted people to know. I desperately wanted to preserve those details of her existence that had been overlooked and so easily forgotten by others, but so essential to our relationship and to my own survival. Several books greatly influenced my ability to look deeply into my immediate and extended family and subsequently put pen to paper.  Once Upon a Time: A True Story by Gloria Vanderbilt, which is a  memoir about fame, fortune, and scandal that was written by the woman who would ultimately define her own life. Gloria Vanderbilt's courage, passion, and grace helped pave the way as I wrote my own story. Also  Families: A Memoir and a Celebration by Wyatt Cooper.  Gloria Vanderbilt's fourth husband, Wyatt Cooper, eloquently describes the meaning of family relationships with insight into the past, cherishing the present, and the promise of future generations.  And, Women Who Run With The Wolves: Myths and Stories of the Wild Woman Archetype by Dr. Clarissa Pinkola Estes. An extraordinary book that depicts the spirit, soul and instinctual nature of women. Dr. Estes is an internationally known Jungian psychoanalyst and cantadora (keeper of the old stories in the Latina tradition).
Bill: What were the challenges in bringing your book to life?
Suzanne: I often felt miniscule when I thought about the incomprehensible frontier ahead of me. Multiple storylines, massive amounts of information, and a goal of keeping the book under 300 pages constantly tested me. I often was sidetracked with interesting research findings as every new detail added a different dimension. Reliving the loss of my grandmother and the shame of my mother's criminal behavior was very difficult. I would often take breaks and immerse myself in nature in order to find my way back and face the page.
 Bill: How did you know when Nightingale was finished?
 Suzanne: When I held the final manuscript in my hands, it was if I had arrived home and knew myself for the first time. Everything I wanted the reader to know was there.
Bill: What are the messages that you hope to convey?
Suzanne:  My grandmother was an extraordinary woman who was so much more than the last day of her life.  There is always hope no matter how dire the circumstances.  If you see something, you say something, and you do something.  A portion of the proceeds of my book will be used to support health and human rights initiatives that benefit women and girls in the areas of education, reproductive health, and violence prevention.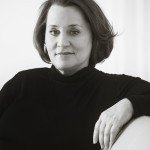 Suzanne Congdon Leroy is a writer living in Minnesota.  For more information on Suzanne and her new book, go to:  www.suzannecongdonleroy.com, Her book is available at  http://suzannecongdonleroy.com/purchase-nightingale/