Aug 18
Guest contributor:
Debora Black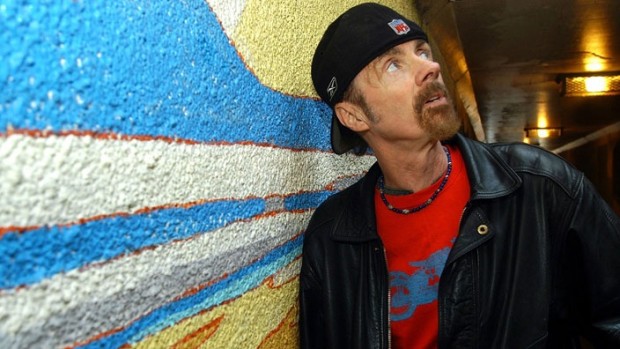 Debora Black: You always seem to be having a really good time writing your characters and their situations—even when the subject matter wouldn't suggest a good time. But you like to toy with things, amp up a situation and play it out. In your latest novel, The Harder They Come, you transform sunny California, its middle-class inhabitants, and their American ideals into a war zone. What compelled you to write this story?
T.C. Boyle: What prompted me to write this novel is the Mad Max warzone of gun violence this country has become. Sadly, I could have chosen any number of real-life incidents to write about, but this one is based on a series of occurrences in Ft. Bragg, California, in 201l. Many of the details of Adam's story derive from the extensive police report of the case.
Debora: The Harder They Come—great title! Does the book have anything to do with Jimmy Cliff?
T.C. Boyle: Very much so. I am referencing song and film both, which celebrate gangster life in Jamaica, and, of course, I am making use of the same expression Jimmy Cliff used: "The harder they come, the harder they fall." That's a proposition. The novel wants to find out if it's true and what it means below the surface.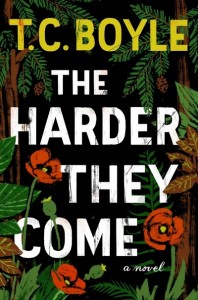 Debora: For me, your characters made for a pins-and-needles experience, start to finish. It's not just your principals, Sten, Adam, and Sara, who are tightly wound and in conflict with their worlds. Christabel, the Mexicans, Carey, Carolee, the police, the entire community of characters have something to protect and are, at varying degrees, ready to roll when threatened. Was it difficult to carry the tension and suspense through the entire book?
T.C. Boyle: Aw, shucks, I'm just doing what comes natural. I see a vision and try to translate it into words. All the complexity and interweaving you find in the book derives from this organic process of writing.
Debora: Adam lives inside a haze of alcohol and drug intoxication that exacerbates his departures into increasingly severe schizophrenic episodes. In the way you deliver him, his thought processes and behaviors seem authentic. And the way everyone reacts to him, misinterpreting his problem and trying to fix symptoms, seems authentic. Is his character invented out of personal experience of any sort, or is he entirely imagined?
T.C. Boyle: I wrote about a schizophrenic (Stanley McCormick) in Riven Rock, so I had that experience to draw from. Plus, as you will know from my article, "The Dark Times," on Buzzfeed, one of my very closest boyhood friends spiraled downward into severe schizophrenia. I am channeling him.
Debora: At the Steamboat Springs reading, you mentioned that you don't collaborate with editors and never have. You said that you begin each writing day by re-writing what you wrote the day before. So the writing is done when you reach the final pages. Your stance seemed to shock a lot of the audience. Will you define the role of the writer and the role of the editor?
T.C. Boyle: Each to his own. Many writers need and want to collaborate with their editors. I have never felt the need. Which is not to say that I don't listen to what my editors have to say once the ms. is delivered, just that what I deliver is in finished form. I work in isolation and have never felt the need to bounce ideas (or chapters) off of anyone.
Debora: You have written so many beloved and awarded books—The Tortilla Curtain, Drop City, World's End are only a few. Aside from talent and commitment, what has enabled your writing success along the way?
T.C. Boyle: I have been very fortunate to have attracted a devoted following of readers both here and abroad, without compromising my artistic vision or ever attempting to calculate what might or might not appeal. I do my thing. Readers have embraced it. Happy story. Period.
Debora: Who are some of your favorite writers, and how have they influenced you?
T.C. Boyle: I love the absurdist playwrights (Beckett, Ionesco, Genet), satirists like Evelyn Waugh and Kingsley Amis, fantasists like Calvino and Garcia-Marquez, wildmen (and women) like Robert Coover, Thomas Pynchon, Flannery O'Connor and William Faulkner. All literary work is an amalgam of influences. Look deep and ye shall find.
Debora: I love following you on Twitter—you're always up to something kind of strange, like relocating rats and messing around with leeches. And there's the fear of toilet flushing, and other water concerns. Do your tweets connect to the book you're working on—The Terranauts? You say, science fiction—but not really. Will you tell us anything more?
T.C. Boyle: Thanks. I recently discovered Tweeting (my publisher set up an account when I went off on the recent tour). I'd never felt the need for social media since my website (and blog), invented by my son Milo when he was a high-schooler, is now in its seventeenth year and flourishing. But now the Twitter feed appears on the blog page, so the two are combined. I see the website as a fan site, as well as an educational site for journalists, students writing papers, etc. The Twitter feed is a place for quips, as I snapshot my way through my daily life. People seem to like seeing something of how I go about my day and what I'm thinking (which is primarily a reflection of my twelve-year-old's brain, always chock full of wonderment). What great fun it is to tweet. Will it last? We shall see.
Debora Black lives in Steamboat Springs, Colorado.