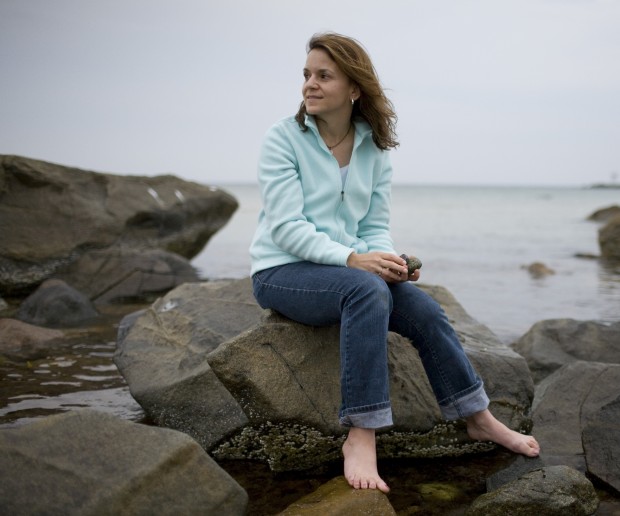 Bill and Dave's doesn't always pay for a private jet to Cape Cod for lobster rolls at the Sesuit Harbor Café, nor for 12 professional parachutists to fly our subject safely down to Earth and our dinner conversation, but Nina de Gramont is one of our favorite writers and people and also married to Dave, so.  It's sunset, it's summer still, this golden clear month of September, and this is familiar territory for Nina, this storied Cape Cod, but also in part the setting for her new novel, The Last September, about a woman whose greatest love is shattered by a murder that takes place in the first pages, even as the story moves back to the days before all that. But our meal has arrived, and the sun is a red ball on the horizon, and today is publication day.
Bill:  Congratulations, Nina, on a great new book.  I enjoyed it immensely, and couldn't put it down, also really enjoyed re-reading passages.  It's beautifully put together, vivid, harrowing, smart, and even in the roughest moments, delicate, musical, compassionate, fine.  Your protagonist, Brett Mercier, is named for the Hemingway character, Jake Barne's great love in The Sun Also Rises, Lady Brett Ashley, and the characters remark on this.  I remember reading that novel in the sun on the steps at the Egbert Student Union at Ithaca College, 1971, reading it very fast and then starting back at the beginning, more than half in love with Brett and so miserably sorry for Jake, who'd had his dick shot off in the war, to put it as Hemingway does not.  I tried to teach that novel when I was at Ohio State, and the kids really hated it, finding everyone racist and anti-Semitic, also obsessed with animal abuse, and self-pitying.  How does The Sun Also Rises fit in here?  Is it more than Brett's name? And how do you read Hemingway these days?
Nina: The first thing I knew about Brett was that she needed to be named for a character in literature. I wanted to establish her lineage, that her fascination with words and stories was inherited. In a couple drafts she was named Tess, and I fiddled with Claudine.  But Hemingway seemed such a nice contrast to her specialty, Emily Dickinson — both deal in unrequited love, but in very different ways.  As for how I read Hemingway,  I insist on loving him despite all the upsetting attitudes and content. For me the most important book is A Moveable Feast, which in ways is an apology for so much that came before in his writing and his life. And of course there was the time he lived in, and all his unbearable pain.  Plus thousands of beautiful sentences.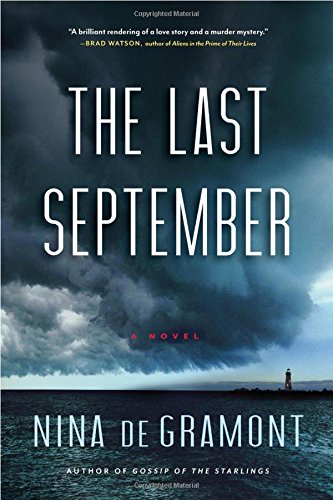 Bill: Every sentence, perfect, it's true.  I always end up talking like him, all those simple declaratives and biblical lists.  There are a lot of other literary references in the book, from Emily Dickinson to W. B. Yeats, the Bible to Oscar Wilde, and beyond, and of course they help establish Brett's character.  She's an English Professor, after all.  Does literature have other roles in this book?  Did it have a role in the process of making it as well?
Nina: The fact that she was studying literature gave me the opportunity to overtly refer to literary techniques. And it let her reach for lines from classic literature to underscore or make sense of what she was feeling.  I think that if Brett weren't so steeped in literature she might be able to make more practical decisions. Instead she's drawn toward the romantic, the tragic. She has the natural expectation that her life should unfold like a novel.
Bill:  And so it does.  Clothes play a role here.  Brett's and others.  They get wrecked, they get bought on sale, they have brand names, they expose, they conceal.  Do you dress your characters with intention, or is it more natural than that?
Nina:  Natural, I guess, though I do make a concerted effort to include as much physical detail as possible. In my mind story tends to unfold like a movie, and I like to work on creating the visuals. One thing I remind my students is that they're creating a world, a picture, in the reader's brain. They are responsible for set design, and costume design as well. Not that you want to describe the clothes down to the last button. Just enough, a word or a color, so that the picture forms. And in this book, so many of these moments where the clothes are worth mentioning underline the contrasts between the characters, not to mention the financial state of the moment.  Ladd and Daniel are Brooks Brothers and J. Press. Brett is Filene's Basement. Charlie, who eventually Brett marries, is his own bohemian brand, impossible to pin down.
Bill: Oh, that dreamy Charlie.  I was drawn forward in the novel by Brett's romantic tangles and indecision, her good angels playing against her devils, desire battling practical considerations.  Why do we have so little control over these things, and how does that reality play in your book?  Brett almost blames desire for Charlie's death—if she hadn't wanted him, gotten him, he'd still be here.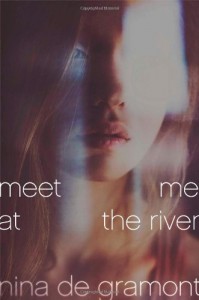 Nina:  I don't know, Bill, why do we do that? The devils are just so much more compelling. Especially when you're young.  Also we imagine that our choice between angels and devils represents control over our lives, when really there is no control. Brett can't control the fact that she's in love with Charlie, and she can't help pursuing a relationship with him even when it's clearly not what's best for her, or him for that matter.  Eli's family can't control his illness, or their reactions to it. There's a great line in E.M. Forster's Aspects of the Novel, which Brett paraphrases: the only tense that's impossible to know is the conditional, what might have been. At the same time it's a tense that's impossible to reach for, especially when you're blaming yourself for where wrong choices led. That's the world where the mess you've created doesn't exist. In many ways that's the tense where grief lives, and it stems from the illusion of control: if only you'd done one thing differently, the current tragedy would not have occurred.
Bill:  Fate, and all of that!  Well, to slip from the sublime to the contemporary, cell phones play a role here, just as for better and for worse they do in our lives.  Has technology changed literature?
Nina: Yes, because cell phones solve so many problems! The very reason they are helpful in life makes them troublesome in stories. I remember listening to a segment on NPR about the television show The Americans, which is set during the Cold War. The writers remarked on how refreshing it was to write about a time before cell phones, because they could create narrative issues that cell phones would have solved. At the same time, in the present day it's more immediately alarming not to be able to reach someone. So that creates a panic unique to this period in history.
Bill: Not fair, but I know you and know that many elements of the book could be read as autobiographical.  How do you negotiate the line between life and fiction?  Is it a simple thing for you, or fraught?
Nina:  Autobiographical isn't quite the word I'd use. I borrow things from real life, things I know and remember, and then I change them wildly. In this novel, it's the places — Boulder and Cape Cod — that are most true to my own life. In general, what I find when I draw from my life is that it's the first draft that most closely resembles what actually happened. Over subsequent drafts the story moves further and further away from my own memory, and closer to what would work best in the novel. As far as fraught-ness, in the moment of writing it's very easy to draw from real life, and real people. It's afterward that worry sets in.
Bill:  Speaking of fraught-ness. What's it like being married to a fellow writer?  And then killing him off in a novel?
Nina: Satisfying on both counts!  No, really just the first count. Anyone who knows David and reads the book will see that he and Charlie have very little in common apart from handsomeness and a love of salt water. David is ambitious, a work horse, and also steadfast and loyal, while Charlie is a will o' the wisp – an expression that would never be used to describe my husband.
Bill: He's more of a Dave o' the beer, it's true.  What's your writing schedule like?
Nina:  Lately it's been pretty lame, to tell the truth. I have been focused on my teaching, and also recovering from a period of very high production. But when I'm at my best the schedule is daily, every morning, with a thousand-word minimum. I am hoping to get back on that track soon!
Bill:  You write in several genres, and sometimes under different names.  Tell us more about some of your other projects.
Nina:  I have a young adult novel coming out in October, under the illustrious last name Gessner, first name Marina (my actual first name).
Bill: No way.
Nina: Way. Marina Gessner's novel, The Distance from Me to You, has received some great prepub reviews and is also a Junior Library League selection.
Bill:  I'm writing as Willy Gessner these days.  Funny world!  Now, you and I have the same editor, the beloved Kathy Pories at Algonquin—what's your process working together?
Nina:  O Kathy! My Kathy! She is just simply the best. So smart and kind. The kindness piece for me is necessary, because I am a thin-skinned artist. She is fantastic at not pulling punches but not letting the punches do damage. Our process is that I write a book that's not good, and she makes me write it over and over until it is good. She is never afraid to delay publication so she can make me write another, and then another draft. Don't you feel, as her author, that you are safe from writing a bad book?
Bill: I am never safe from that, but I adore Kathy, very grateful to have her in my life and behind my pages!
Nina: Her taste and her instincts are so fine. She has her PhD in English Literature. She is an animal lover and a runner. I love her madly.
Bill: As she loves you.  And as we all do, here at Bill and Dave's.  Thanks for talking.  The scuba team is here to whisk you to the Bill and Dave's submarine.  Safe travels back to Wilmington, NC!  And best of luck with the new book!
Nina de Gramont is a novelist and short story writer. Her first book, the short story collection Of Cats and Men, won a Discovery Award from the New England Booksellers Association and was a Booksense selection. Her novel Gossip of the Starlings was also a Booksense pick. Her second novel for adults, The Last September, is finally here.
Nina has also written three novels for teens – The Boy I Love, Meet Me at the River, and Every Little Thing in the World, which was an ALA Best Fiction for Young Adults. Another novel for teens is forthcoming with Penguin in October, under the pseudonym Marina Gessner. The Distance From Me to You is a Junior Library Guild selection.
Essays and short stories by Nina have appeared in a variety of magazines including Seventeen, Redbook, and the Harvard Review. Nina lives in coastal North Carolina with her husband and daughter, and she teaches Creative Writing at UNCW.