Mar 01
Guest contributor:
Debora Black
Debora: I'm so pleased to be among the first to announce your debut novel, What Burns Away. Kudos! How does it feel to know that bookstores all over the country are unboxing your book and making room for you on the Newly Released shelf?
Melissa: Well Debora, I have to say that it is wildly exciting. Publishing a novel has been a dream I have been chasing since my college days, back when I had a big spiral perm and wore stonewashed Daisy Duke cutoffs. Always, in those years, I carried an enormous bag full of books with me everywhere I went, furiously reading Stephen Crane, Annie Proulx, Jane Smiley, John Cheever, Eudora Welty, Raymond Carver, Willa Cather, Andre Dubus, Stuart Dybeck, Mary Karr, Annie Dillard, and so many more. I read literally everything I could get my hands on, studying plotlines, and working hard to develop my own with a ferocious appetite, I still read to inform my craft. But the debut, holding my own work in my hands, it feels like a big deal—a graduation of sorts, a kind of birth, and a sense of legitimacy after chasing the dream and working as hard as I have to understand how to write a novel, for some twenty years now. And, mostly, I am full of gratitude for all the great mentors and literary friendships that gave me doses of the necessary tough love along the way.
Debora:  I thoroughly enjoyed reading this book. It was an intense read, thrilling. Claire makes for such an interesting character—she is well educated, she is a successful career woman—I really identified with her and got caught-up in all the things coming at her. I kept setting down the book to think over her circumstances.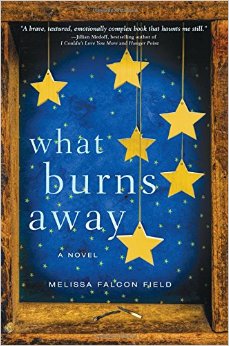 Melissa: I'm so glad you enjoyed it, that alone is very important to me, and I am further happy to hear that the protagonist in What Burns Away, Claire, gave you pause. What I loved most about writing Claire is that she initially seems to have it all, until it is revealed later that despite her education and her career successes, she is haunted by a past that has left her unhinged in ways that are both universal and surprising. It's the past disintegration of Claire's childhood family woven with the current time narrative of her own crumbling marriage and the reappearance of an old flame on social media, seeking to drag her back into his orbit, that unhinges Claire in that moment of new motherhood and marital hardship. The catalyst for her change of course is that past creeping up on her, reeling her back through time. What I knew when sketching Claire was that I had to access all that residual danger still inside of her, the risk-taking she tucked away after becoming a wife and mother, and that is precisely where the case study of the fire made its way into the narrative. I worked hard to rationalize how trouble manifests itself in the life of a woman who has a solid grasp on chemistry, physics and weather patterns, utilizing those kinds of deliberations that would be made by a successful climatologist, to help inform Claire's motivations. I lured her into the fire, using the hauntings of old flames, both literal and figurative, throughout the novel. And, I'll even admit to you, that I played with fire myself, as part of my research to write this book, setting my flames in the back yard, and once, accidentally burning our chicken coop to the ground. No causalities, thank goodness. Just a bunch of stunned hens watching on, perplexed.
Debora:  Have you always known that you were a writer? Have you written any short works or has the novel always been your pursuit? How did your MFA program fit-in to your goals? Exactly how did everything evolve for you?
Melissa: I have been writing ever since my undergraduate studies at the University of Maine at Farmington and throughout graduate school, where I earned my MFA at Texas State University. Since high school, tearing through novels, I always knew I wanted to be a writer, but my journey took a tegmental route. After my graduate work in Texas, I joined Teach For America to become an inner city schoolteacher and work toward national school reforms, but always, during those years, I wrote in the stolen hours between teaching and night school, where I worked on a second Master's Degree in Education. Yet, it wasn't until I went back to teaching college-level classes, after nearly ten years in urban education, that I was able to have enough continuity in my writing life to work on long form narrative, a novel, successfully. In between I published a few short stories, reviews, articles and a lot of curriculum, but the book took flight when I had the luxury of carving out four full days a week to dedicate to reading and writing the novel exclusively. It took about a year and a half to get a first draft. Then, I put it away for just over a year, after the birth of my son and during my husband's and my decision to move to the Midwest. Shortly there after, once all our boxes were unpacked and my little boy began to toddle, I pulled out the manuscript and read every book I could that was written in a similar vein. One writer in particular, Jillian Medoff, was a huge influence at that time. And while I revised, I read anything tagged 'domestic suspense' by booksellers, and looked in the acknowledgements to find agents noted by the authors I loved. I made lists of those agents and agencies, twenty in total, and sent out fifteen simultaneous, unsolicited query letters to literary agencies in New York and Boston. It took about six months for me to hear back from anyone, but then slowly requests for full manuscripts, and also some rejections, came in. I ended up sending out ten full manuscripts of the novel. I got six requests for phone calls. In the end, I had a handful of offers for representation, but chose my beloved agent, Jennifer Gates at Zachary Schuster Harmsworth, because not only did she have the most enthusiasm for What Burns Away, but also she offered prescriptive ideas for revision before we sent it out. Jen's wisdom not only helped me make a more beautiful novel, but also led me to a publisher, Sourcebooks, who shared her same enthusiasm for What Burns Away. Shana Dhres, my editor there, connected to Claire's story right away and the book found its home with her, at the largest woman-owned trade book publisher in the United States. It was all very exciting and I can't begin to explain how grateful I am to these women, Jennifer and Shana, who helped make it all happen.

Debora: While you were writing What Burns Away, your life—perhaps similar to Claire's—was very busy and complicated, or at least complex. Describe what was going on and how that impacted your work. What specifically did you do to keep the writing going—or was it easy to keep that part moving forward?
Melissa: My protagonist, Claire, as you suggest, is in some ways both like and unlike me. At the time I was working through a second draft of What Burns Away, I was a new mother myself, lost to a cross-country move with an ambitious husband, who had his head buried in work. And in that period of time, I will admit, I was no longer certain who I was, or who my husband and I were together. But the writing was my anchor—and I felt, as I always do, that I had to engage it some, touch it, or read it. Some days I wrote just a handful of sentences to move it forward, other days I blasted through pages until I got a solid draft, then, with the help of librarian Katherine Clark at the Sequoya Branch of the Madison Public Library, in Wisconsin where I had moved from Maine, I retrieved and read all of Michael Faradays' Lectures from his lecture series at the Royal Academy of London, The Chemical History of a Candle. The research helped me flush out scenes that were slim. It added layers to Claire's story, and also gave her an authority that she lacked in earlier drafts. During the revising and research, I further separated Claire's story from my own, by learning more about fire, Claire's draw to it, and came to understand that danger brewing inside of her, which allowed the story to grow fully aflame.
Debora: In the Acknowledgements at the end of the book you are giving thanks to friends and colleagues. You arrive at Michael Field, your husband. You say the most intriguing thing, that Michael had told you that one-day you would thank him for all that is unconventional in your lives. Wow! He had us at unconventional! Details, girlfriend. Start with the context of him saying this.
Melissa: Oh man—well I am married to a quirky and dear man. Not a writer, quite the opposite—a doctor and musician, both. And, in the early years of our courtship, we made promises to each other about encouraging our dreams, mine in writing, his in medicinal research and technology, and so when we moved to Madison, Wisconsin for his work, my husband encouraged me to take all that I was feeling, my homesickness and loneliness, and channel it into a book. So that is exactly what I did. Michael has always pushed me to use our private obstacles as strengths in the work, challenging me to explore myself and our troubles, encouraging me to take risks and adventures that other husbands might not be so open to, nudging me to find my way in the world and write my way through points of crisis—ours and those we collectively observe. It is an unconventional practice and one for which I am most grateful.
Debora: What would you say if I said that Miles got off easy?
Melissa: I would say I worked really, really hard to leave readers' feelings about Claire and Miles open to interpretation, hoping that sentiments might be divided among the audience. I always find it a compliment when book groups tell me they have had a lively, or better, a heated conversation about what is coming down the pike for Miles and Claire, questioning both their trouble and their atonement.

Debora:  I love that you give us a fairly uncomplicated plot, but you manage to turn up the heat so that the reader feels the tension in each moment. And it builds steadily. Even the ending is tense, now that I think about it.
Melissa: Thank you for that, Debora. I was really focusing on tension in this work. The way relationships can come quietly undone then heat up, as the trouble bubbles over.
Debora: There are several themes running through What Burns Away. One that I find particularly striking has to do with the way in which Claire interprets the world as if her desires are less consequential than the men around her. Would you say this is true? Or is it something else? What are your thoughts?
Melissa: Well, I think the best way to answer that is to say that what I see in Claire is one woman's search for balance and normalcy—hers rendered through desire. And I am especially interested in that moment in which a woman realizes her youth is more behind her than it is in front of her, giving her pause. For some women, or at least for Claire, marriage and motherhood force her to take a long look at the second half of her life, and to decide what kind of life it is that she wants to live. She thinks a lot about what she can no longer live without, what needs to be tossed aside, and how she wants to be loved. It is this middle age "awakening," particularly in women that I was interested in as subject matter. There is something about remaking yourself as a mother, in terms of desire and sexuality that really fascinates me. What was once sexy, what once felt like desire, is driven by different external factors. It's both freeing and horrifying, and in Claire's case, destructive. But sometimes you must burn down the barn to see the moon. And in Claire's case this burning is not about female versus male consequences, as much as it is about a middle age woman's changing concept of beauty, finding what is left underneath her youthful pretty, learning to love the lines notching time in her face, understanding the value and wisdom brought by living a full, and perhaps more dangerous life. I loved writing a character in this space, acknowledging these things about her and allowing Claire to behave in reaction to the process of reinvention and rekindled desires, which is both brutal and transformative, and why I felt compelled to capture her quest, inside the novel.
Debora: It's that extra complication in deciding to redefine normalcy and herself that makes Claire the kind of female character we like to read. And Miles, too, has his own set of realizations. Looking ahead, what will be your next step?
Melissa: I'm currently working outside the bounds of normalcy altogether on a second novel about a series of accidents that intimately connects four strangers—two women, a teenaged boy and a sexy and extremely unstable helicopter pilot. It is a third person narrative that works as a study of grief caused by the omens of dead birds, who rain from the sky and curse the landscape of the Calendar Islands, located off the coast of Maine. I have about 225 pages. It's a mystery of sorts, and I've already gotten some great feed back so I am very excited to finish the first draft.
Debora: Sounds like another winner, Melissa. I know what you mean about finishing a first draft. You can feel it, that you are there. Melissa you have been touring, as you mentioned in our correspondence, like a lunatic, so I can't thank you enough for spending time with us at Bill and Dave's Cocktail Hour. It has been wonderful to hear your writer view on What Burns Away and all of the life content that brought you through from conception to publication.
Melissa: Thank you Debora for making such a close study of the book and for looking at the themes that ultimately illuminate the complexity of marriage under duress. What I hope is that What Burns Away provides both an anatomy of a marriage and its toxic effluence, revealing the hidden truths in every relationship and breeding that kind of tainted love that recasts the way we define ourselves in our public and private worlds, our past and our present lives, as they collide into one another. Thank you again. It was my pleasure to sit at this table for two!
Debora Black is a writer and athlete living in Steamboat Springs, Colorado. Find her on the web at www.deborablack.com