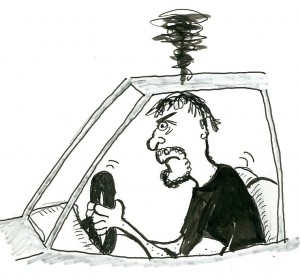 My daughter learned the word "douchebag" recently.  Since she is in first grade this is not a particularly good thing.  Of course she learned it from me.  And, of course, since I rarely use the word in normal conversations, she learned it from hearing me yell it at other cars and drivers while I was behind the wheel.  "Douchebag," if you really think about it, is a strange word to use in reference to other motorists, but it's also one of my favorites.  When I drive I am often surrounded by douchebags, and though it feels good to yell it out loud, I'm always left feeling a little bad afterward.  My hope is that the word doesn't take hold in Hadley's mind, and that she won't start using it when we visit my Mom's for Christmas.
            I was born and weaned–as a driver as well as a human–in Massachusetts, earning my chops in Boston, so that even New York–with its orderly streets and clear, if complex, rules of cab etiquette—seemed easy.  When I moved South, seven years ago, I assumed that the drivers would be NASCAR fans, and would therefore be fast and aggressive.  I assumed wrong.  If you are searching for a Southern cliché, think more of a hot day on the front porch of a mansion, lazily fanning yourself while rocking and sipping lemonade and staring at the bugs.  There is an intense sluggishness to the typical Southern driver.  It turns out that most of them, rather than drive like drunk bootleggers, actually float along in a stoned haze.  For instance they will stare at an about-to-change light, not with anticipation, but with a kind of mild, gauzy curiosity.  And when it does actually turn they will react not with quick foot down on the gas, as is their civic duty, but with a moment or two of lethargic appreciation, admiring the color change as if they were on LSD.  Though you could romanticize this if you like—oh, it must be so relaxed where you live, how sweet—there is at core a selfishness to this non-responsiveness.  I wasn't joking about "civic duty": if you fail to concentrate and don't make that left when the red arrow turns green, the poor sucker three cars back will not make that light
          Still: if you are used to driving in cold northern cities you might insist that this is all sweet and quaint.  Let me say again that it is not.  I suppose what drives me most crazy, at root, is the inherent lack of ambition in this driving style.  What is ambition, after all, but wanting to get to someplace other than the place where you are now?  But these drivers seem content to float through life, drifting down highways that wind along like lazy, sinuous paths through the Land of the Lotus Easters.  It's scary in its slowness, made more so by the fact that this overall vibe is not entirely consistent: just as you are being lulled into the communal drug-like state, barely accelerating at lights yourself, one of the drivers will leap out of their truck (plastered with the requisite confederate flag sticker and a sticker that says something like "How's That Hopey-Changey Thing Working for You?") and charge and threaten to kill you.  It really messes you up—this inconsistency.  It's as if you are daydreaming on a beach in Hawaii, the waves lapping and ukulele strings plucking, while a psycho killer lurks behind the palms.
            Since I hector my students about the need for some growth or change in their characters in stories and essays, even short ones, I will follow my own advice.  The change here is not just a plot device either: I have evolved over the last seven years, becoming a mellower, quieter, and no doubt safer driver.  When the left arrow turns green I accept my fate, knowing I won't be making that turn for at least another cycle or two of light changes.  I try to attribute this to sociological reasons—people in warmer climates are less inclined to move around a lot—or to even put a positive spin on it: it shows a more Zen-like approach to life.  But, deep down, I believe there should be strict punishments for slow reaction time and for un-ambitious driving in general.  At heart I know I am no Zen monk: inside me rages the need to be somewhere else.