Apr 13
"WHAT THE HELL?" I cried out. "WHAT THE FRIG?" The scene shocked me. The tide had drained all the way out. Edwin's boat, plus a half dozen others, were laying on their sides at their moorings. A friggin' disaster. And it was dark. Darker than usual. Real dark. The darkest ever. Which meant the light on Matinicus Rock wasn't flashing. I turned around and looked six miles to the south. THE LIGHT WAS OUT! It was something out of the apocalypse or the Rapture.
I tried to maintain control. Panic, I knew, would lead to further disaster. I considered my options. It was the middle of a June night. No phone in Edwin's shack. Should I alert the neighbors and raise the alarm? How could the light be out? And how could the harbor's water be missing? The scene didn't make sense.
Maybe it had something to do with the two hits of LSD I'd ingested earlier in the evening. A couple friends from the mainland had sent me envelopes with enough doses for ten amazing visits to inner space during my time living at Edwin's. These trips were solitary and secret endeavors because I didn't want to share. Because LSD wasn't a party favor.
The experiences allowed me to view the island through a different lens. Multiple journeys to a wonderfully colorful and wildly distorted version of the world around me, where water moved magically and the light danced fantastically. My trips were part of a search for truth, a shift in consciousness and an altered perception that might provide insight about my earthly role. And the trips forced my brain to question reality in a way that's impossible when synapses are firing normally.
When I looked to the mooring again, Edwin's boat – and all the others – were floating and bobbing peacefully once again. Then the familiar flash of the Matinicus Rock lighthouse filled the sky. I breathed relief that the world wasn't ending.
I went inside to chill and ponder my good fortune. A nice shack on a remote island. A job. A decent stash of drugs. A little money in the bank. A girlfriend named Alice. And a dependable beacon on a rock six miles away that flashed every ten seconds. Lucky. Lucky. Lucky.

#
Ker-clink! Clink! Clink! Clink! Ker-clink! What was that noise? It was driving me crazy on a Sunday afternoon. Ker-clink! Ker-clink! Clink! Clink! Clink!
I was sitting at my desk, trying to type a poem about the dude who worked for the island telephone company, whose shop was just down the road. He was one of my closest neighbors, at least during the workday, and I'd recently started obsessing about him. As a way to shake up my writing, I decided to focus on my immediate surroundings rather than distant lands. And the ker-clink was a distraction. I peered out the side window and didn't see anything unusual.
Ker-clink! Ker-clink! Clink! Clink! Clink!
I'd been versifying about how the telephone company fella drove his van around the island so slowly that the needle on his speedometer didn't even move. Out walking, I'd overtake him and he'd return my wave, as if a pedestrian passing on the left was the most normal thing in the world. I knew lots about the telephone guy because Alice's mother loved to gossip about him. Like how he spent a small fortune on canned cat food to feed all the feral cats in the 'hood. Or how he loved birds and obsessively built and collected birdhouses. No one seemed to notice the ironic conflict between his two hobbies.
Alice's mom had known the telephone guy forever and swore he used to be the most handsome man on the outer banks of Penobscot Bay. Even at 70-something, he was still a good-looking fella, with a tanned, wrinkled face and a shock of long gray locks. He always wore his shirt unbuttoned enough to see a gold chain dangling amid his chest hair.
Whenever the battery-operated clock mounted to his dashboard sounded the alarm, he'd get into his van and drive home, slowly, to give his bedridden wife her next meal of pain pills.
Ker-clink! Clink! Clink! Clink! Ker-clink!
Still curious about the noise, I walked outside and down the stairs and onto the wharf. I lit a smoke and looked toward where the sound was coming from. A hundred feet to the north, on the dock of one of the empty shacks, stood the star of my poem, surrounded by a herd of feral felines. The telephone guy repeatedly reached into a big cardboard box propped atop an empty lobster crate and tossed silver objects toward the rising tide.
Ker-Clink! The empty cat food cans – with labels removed – sang and clattered down the ledge to the water's edge. Clink! Clink! Clink!
I stepped behind a pile of traps to hide and get a better view.
Ker-Clink! Each cat followed his every movement attentively. Clink! Clink! Clink!
Over and over and over. One by one by one. Until the box was empty. Was it 50 or 60 or 100 or 1000? I didn't know. Many minutes had passed. The pile of cans on the ledge was sizable. The sea approached, lapped at the tin and tasted metal. How long, I wondered, before the salt rusted the can away, transforming it back into mineral form?
The man turned and walked towards the telephone company shop. His herd of cats followed.
I climbed the stairs to my room and started the poem over, again. Fresh, with new images and metaphors.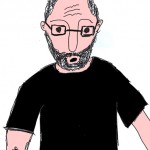 Crash Barry's Marijuana Valley is now available most places books are sold. Signed copies via crashbarry.com. He'll be appearing on MPBN's Maine Calling on April 17th at noon. On April 18, he'll be reading from Marijuana Valley at Gulf of Maine Books in Brunswick. On April 19, he'll be in Bangor, speechifying at Homegrown Maine, a medical marijuana tradeshow. On April 20 (aka 4:20), at 4:20 p.m., he'll be celebrating cannabis culture with Maine rock legend Dave Gutter at Bull Moose in Portland.