Apr 18
[This week we introduce you to Bill Lundgren, who has a thing or two to say about current books, and blogs books at LongfellowBooks.com.  He'll be back!]
Where'd You Go Bernadette, a novel by Maria Semple
While waiting on a mother and daughter at the bookstore recently I asked if they would like to join the customer program. When they responded that they were from Seattle I had to ask whether they'd read Where'd You Go Bernadette by Maria Semple. "Everybody in Seattle has read that book," the mother responded, "and it's all true," the 14 or 15 year old daughter added with the emphatic disdain that only an adolescent can produce.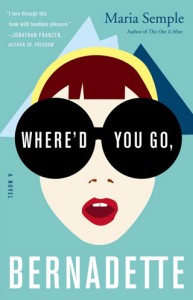 Where'd You Go Bernadette is one of the funniest novels published in recent memory. Allow me to echo Jonathan Franzen who says in a cover blurb: "I tore through this book with heedless pleasure." Ms. Semple, author of a previous novel  and screenwriter for television ("Arrested Development" and "Mad About You"), utilizes e-mails, FBI memos and the narrative voice of Bernadette's precocious and wise tweener daughter Bee, to eviscerate and skewer Seattle's smug political correctness. For example, Semple writes about the annoying ubiquitousness of Craftsman architecture on the Seattle city landscape: "…turn-of-the-century Craftsman, beautifully restored Craftsman, reinterpretation of Craftsman, needs-some-love Craftsman, modern take on Craftsman. It's like a hypnotist put everyone from Seattle in a collective trance. You are getting sleepy, when you wake up you will want to live only in a Craftsman house, the year won't matter to you, all that will matter is that the walls will be thick, the windows tiny, the rooms dark, the ceilings low, and it will be poorly situated on the lot." (Reviewer confession: I live in a Craftsman bungalow in Portland, Maine)
Turns out that Bernadette is running from her past as a recipient of a MacArthur genius award in architecture. Married to a Microsoft software engineer who we're reminded again and again, has given one of the four most-watched TED talks of all time, and mother to the aforementioned captivating Bee, Where'd You Go Bernadette is simply a blast to read. You will recognize your enemies and your friends and your neighbors and your colleagues and most unsettling of all, perhaps yourself.
Bill Lundgren is a writer and blogger, also a bookseller at Longfellow Books in Portland, Maine ("A Fiercely Independent Community Bookstore").  He keeps a bird named Ruby.