Dec 20
Guest contributor:
Mary Crockett
.
I have known Cynthia Atkins for years as a fellow teacher, wonderful poet, and generous friend. What her poetry has taught me, however, is that she's also a powerful mental health advocate. We spoke on the occasion of the publication of Cynthia's latest work, In the Event of Full Disclosure, which takes on issues of family and mental health with a voice that is both wry and wise. 
Mary: "In Plain Sight" begins with contradiction: "I am certain of only one thing– / I am in a team of (n)one." I love how the confidence of the voice is undercut by the impossibility of any certainty in this world view. Where did this poem start for you in its initial draft, with those lines or something else?
Cynthia: For me negotiating the process of writing about 'mental health' began with thinking about my own moments of uncertainty and anxiety. Moments when we are in the most familiar or banal surroundings and we feel a sense of unease, inadequacy, rage, confusion. I've had moments like this—a crying baby, a bad day, the world caving into a world that accepts only our perfections and our 'health' and demands that we behave a certain way. Those kinds of pressures are insurmountable obstacles when one feels unbalanced and unhinged. I wanted to speak in this poem for many women I see out there who are just trying to deal with stress, unspeakable sorrows, depression, etc—but still of course are expected to go on with all routines and act as though 'happy talk' is only means of relating to one another. I wanted to capture the voice of someone caught in a moment of discord—and yet, the world carries on as though nothing out of the ordinary is happening. Outwardly, nothing is. But our interiors tell a different story, and I wanted to give voice to those that may not have the means.
Mary: What kind of considerations go into writing and publishing a poem like "Family Therapy (II)," which nudges the boundaries we generally consider "private"? How have members of your family responded to the poem?
Cynthia: I used to worry a bit about how the people that 'know me' will perceive—because it is such a different thing and something I often think about—how different the poems are to my 'familiar readers' than to the 'unfamiliar readers.' Because to the latter, the poems aren't about 'me' the person or 'my family'—but rather a voice, a persona and the image of family. Put in context of those close to me, it becomes an altogether different matter.
My family has been extremely supportive and I think they have come to understand that I am speaking in an iconic way about the 'nature of family.' I hope the poems offer something recognizable to a reader that may be under-going a similar kind of discord or pain in their own life. I recently wrote a bit more extensively on this topic in an article for LitBridge: The Ties That Bind: Blood and Ink.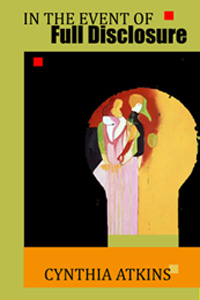 The process of writing about painful things is always difficult, especially when it involves people you know, and with subject matter as elusive as mental health. I am aiming to examine the complicated effects on family. Those are the rudimentary beginnings for me, but I mean for the 'family' to be a metaphor, and hopefully the poems are suggesting something larger like 'family of man.' I am only using my own family as a vehicle for trying to say something about the larger realm. Disclosing private things about any individual is tricky business and has to be handled as such. But finding and unearthing my own pains are another story—that is how I had to find my way in. It really is a kind of composite if identities. It may look different on paper, only because readers seem to want to assume that the speaker is the poet, but in my poems it is really not the case—I think they are more in persona and different voices speaking.
Post publication, I think my family have come to terms with the fact that I am trying to address a larger issue in some of these poems—mental health and family, rather than 'mental health and my family'—I think they get it, and that comfort zone has evolved over time, and I am very proud of my family and how they have dealt with it—treated like literature and not biography.
Mary: What's next for you as a writer? What are you currently working on?
Cythia: I am a handful of poems into a new collection—the poems have titles like "Fog" and "Gravity" and "Cuckoo-Clock"—I'm not exactly sure where the thread is leading me yet, but I have a feeling that there are similar connections in subject matter, but we'll see. I feel a little stuck at the moment, it's always a little rough to start over—haven't quite gotten my balance yet.
Mary: What poets do you think young writers should be reading?
Cynthia: Oh all the usual suspects: Dickinson, Plath, Lowell, Eliot, Stevens, Ferlinghetti, Rich, Stein, Bishop—the important thing, as Flannery O'Connor said, is 'read, read, read, everything and see how they do it.'
Mary: Tell me a bit about the process you went through to write and publish In The Event of Full Disclosure.
Cynthia: My publisher at CW/Wordtech had first viewing rights of the manuscript. They accepted In The Event of Full Disclosure after about 6 weeks and with a contract that promised a year out publication date, which seemed pretty reasonable and they delivered on time. I had a vision for what I wanted the book to look like—I had in mind one of the piece's from Christine Drake's "Mean Reds" series—where figures are wearing bird-like masks, which seemed to speak to some of the issues of the psyche I was trying to allude to in the poems, and the piece I ended up using on the cover becomes a kind of threshold to the subject matter.
Mary: Thanks Cynthia, and thanks for sharing two of your wonderful poems with us here: Family Therapy II and In Plain Sight.
Cynthia Atkins was born and raised in Chicago, Illinois, and received an MFA from Columbia University's School of the Arts. She is the author of Psyche's Weathers and a new collection, In The Event of Full Disclosure (CW, Wordtech, 2013). Her poems have appeared in numerous journals, including, Alaska Quarterly Review, American Letters & Commentary, BOMB, Del Sol Review, Florida Review, Harpur Palate, The Journal, North American Review, Thrush Poetry Journal, and Verse Daily, among many others. Her poems were nominated for 2011 and 2012 Pushcart Prizes, and her awards and honors include, The New Voice Award from the Writer's Voice, and fellowships from Bread Loaf and the Virginia Center for the Creative Arts. Formerly, Atkins worked as assistant director for the Poetry Society of America, and also worked as artistic director for Writers@Jordan House. She is currently assistant professor of English at Virginia Western Community College. She lives on the Maury River of Rockbridge County, VA with her family. For more information, visit Cynthia at her website or her Facebook author page. In the Event of Full Disclosure can be purchased at IndieBound, Amazon or Barnes and Noble.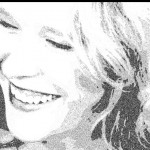 Mary Crockett's debut young adult novel Dream Boy is about the aftermath of dreams, a killer pair of shoes, and the desire to figure out how you fit into the puzzle of your own life. A native of the Shenandoah Valley of Virginia, Mary grew up as the youngest of six children in a family of misfits. She has worked as everything from a history museum director to a toilet seat hand model. In her other life, she's an award-winning poet (A Theory of Everything and If You Return Home with Food), professional eavesdropper, and the person who wipes runny noses. If you tweet at her (@MaryLovesBooks), chances are she will tweet back.