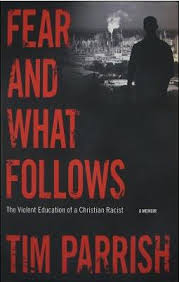 FIVE EMAILS ON RACE (IN ORDER FROM TOP [Sept. 4 and 5, 2014])
EMAIL 1
FROM: David Gessner
TO: Clyde Edgerton
Below find something my friend Tim Parrish posted on Facebook. He wrote a memoir called FEAR AND WHAT FOLLOWS: The Violent Education of a Christian Racist. on growing up poor in a racist family in the south. ("The story of a working class, Southern Baptist upbringing that transformed into a nightmare of bigotry and bullying in Baton Rouge")
From Tim:
Trouble on my mind: FB is a way, I suppose, to simply express stuff, so I'm expressing and sharing a dilemma. My keynote talk yesterday was a great experience overall, but it included a problematic reading from my memoir (all of them are problematic with this book). Those of you who have read it know that I write the N-word extensively, mostly in dialogue, but also at times to express how I thought when I was younger. I preface my readings (except for an unfortunate lapse at Sanibel's conference) with an explanation of why I think I have to use the word and how Audrey Petty helped me unknot some reservations, but I also believe that it's not the right of a white person to use what is probably the most damaging word in American English (I also think it's perfectly within the rights of African Americans to use the word, which I think of as a completely different word, but that's another debate). Frankly, I'm exhausted from saying the word for over a year now (but don't see how I can be true to that time and my experience if I don't say it), and yesterday five African-American colleagues walked out of the room during my reading. Someone brought this up almost immediately during the Q and A, although I was already painfully aware of it. I don't know why they left, and I don't know them to be able to ask; however, I know that hearing that word repeatedly must be like getting repeatedly punched in the gut, or at least I imagine it might be. No question or request for comments here. I just wish there were a solution that could convey the truth and maintain artistic honesty without possibly striking people in the most vulnerable of places.
Edgerton to Gessner
I'm with him in spirit. It's a problem. I'm thinking of ways to solve it. First thought is say / explain to audience the dilemma and then say the word once and then each subsequent time just raise a hand or nod it …. But that could be worse.
To become offended by someone ON YOUR SIDE seems possibly disrespectful in a way that is one type of disrespect out of many. A study of Wittgenstein's "language games " may be in order. CE
___________________________________________________________
EMAIL 3
Edgerton to James Johnson
Your. thoughts ?? Briefly?
___________________________________________________________
EMAIL 4
Johnson TO Gessner (and Tim Parrish)
Hi David,
I am Clyde's friend. He asked me to respond to Tim's Facebook piece.
Please see the attached piece. I felt compelled to respond to your friend's situation. Maybe we can all chat one day.
Please forward this to Tim. Let him know that I would be happy to speak with him further on this issue.
Have a good day.
James
Tim,
I have studied and published extensively on issues related to various forms of interracial dynamics. In 2003, I published the Johnson-Lecci Scale (i.e., a scale to measure Black negative attitudes towards Whites) because there had been minimal empirical attention given to this very important issue. The research demonstrated that a central component of Black negative attitudes towards Whites involves the expectation that most Whites harbor racist thoughts and the propensity to discriminate against Blacks. Further, and consistent with my own experiences, the extent that Blacks endorsed these anti-White beliefs varied greatly. However, those who scored high on my scale (high JLS) both expect and show little tolerance for any hint of White racism. They are predisposed to make racist attributions as a "default response. For example, let's assume that they are in a restaurant and White waitress is a bit late with their order. Although there are a number of factors that could have caused this event, high JLS Blacks would consider only one–she is racist!
There is always a possibility that your audience may include high JLS Blacks. Consequently, despite your efforts to frame the situation as a reflection of your experience, you may encounter negative reactions and "acts of disapproval" (e.g., walking out, glares, eyes rolling). Specifically, high JLS Blacks will not be influenced by any form of framing for racist statements or racist behaviors. Their responses will only be driven by your statements and /or your actions (including those that occurred years ago). This is not to disparage those Blacks who, for whatever reason, cannot handle language and/or reminders of the historical and contemporary (e.g., Michael Brown) suffering and struggles of our people. I am only attempting to provide some understanding and perspective.
Tim you have clearly sought growth through "introspection and brutal self-reflection."  I think that those Blacks who walked out on your talk should consider engaging in a similar exercise. I would suggest that it would benefit them greatly if they endeavored to gain insight into why they would attend a talk focused on an author's racist past and walk out when he uses racist terms and speaks of his racist actions. Their actions should neither discourage nor dissuade you from telling your story.
Please know that there will be a significant number of Blacks who will both understand and appreciate your courage for telling your story. Please count me in that number.
Clyde Edgerton and I have had a number of frank discussions about our common and divergent experiences as "Sons of the South."  His story includes bias against Blacks. My story includes minimal racist experiences but significant hurt and pain inflicted upon me by other Blacks because I was dark, motivated, and intellectual. We have bonded because each of us recognizes that we need greater clarity regarding how both our horrible emotional suffering and important triumphs can be traced back to our southern experience. This will only work if we are honest. Importantly, we have both grown to understand how the conflation of a number of contextual factors shaped us and those around us.
While reading about your personal conflict with this issue, I thought about my mentor and uncle whose was central in my personal and professional life. Dr. Billy Ray Dixon was  born  poverty-stricken in rural North Carolina during the forties. However, he eventually earned a doctorate in English from University of Massachusetts (with the highest GPA of all the graduates in his class). He would come home for summers and spend time with me because he knew that I needed support. The one thing that he taught me was that, no matter the consequences, I should always be intellectually honest. He abhorred weakness, ambiguity, or fear in discourse and in life. Tim, he would tell you to "tell your fucking story"! I agree wholeheartedly.
God bless you and the best of luck!
Respectfully,
James Johnson
EMAIL 5
Parrish to Johnson
James, thanks so much for the generous, thoughtful response and for sharing your research. Your findings sound a lot like the kind of animosity I carried toward rich people and many African Americans growing up. We all come in with our wounds and angers and when a situation is charged we often read people's reactions through the lens of our own projector. I have no idea if the people who walked out were having any reaction to what I was reading. It was the second half of a too-long "keynote" talk, and I didn't know any of the people to be able to ask them. My FB post was mainly to get some support for the exhaustion at reading the book in public for over a year (and now fielding the nearly desperate questions from faculty on how to teach such a charged book since it's my school's First Year Common Read), and I have to say that people, including you, have stepped up amazingly. I also have to say that the BIG flip side to reactions to the book has been overwhelmingly positive, and even loving. The response from people black and white (except for the skewering on a radio from a guy who thinks all whites are racists) has been beyond anything I ever expected and way beyond what I thought a book of mine could elicit. Most intense have been the hugs I've gotten from African Americans I didn't know and their gratitude at a white person admitting his racist past and talking about how he still struggles with those programmed thoughts. One woman, who had never crossed the threshold of a white-owned house until she was 24, came up to me and said, "You know what black people are going to say about you. They're going to say 'You crossed over,'" which really resonated because of its River Jordan reference and my struggle with being raised in racist churches. Any discomfort I feel is, of course, truly nothing compared to the sting the N-word must cause many people of color, no matter what the content of my preface.
I wish I could've met Dr. Billy Ray Dixon, and I'm glad he was there to encourage you. I'm definitely doing what he prescribed, and it sounds like he would be massively proud of you. I'm also glad that Clyde is teaching his course and you'll have a chance to participate. I'm as interested in the response you two get as I am in the responses I'm already getting from freshmen studying my book and the teachers who are courageously taking it on.
Again, thanks for your support and for sharing your "fucking story," at least the thumbnail of it. I don't typically foist my book on people because I know we all have too much to read, but if you're interested in mine, I'd love to send you a copy. Just let me know. And please stay in touch and let me know how the course goes.
All best,
Tim
–end–
_________________________________________________________________
_________________________________________________________________