We have been in Boulder now for over two weeks but other than scribbled journal notes detailing my daily rides and bird sightings I haven't written much about it. Been too busy revising the Ultimate Frisbee book and enjoying being back here.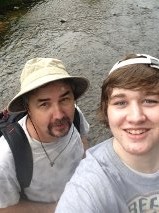 But I feel obliged to say a few words about how I got here. While Nina and Hadley flew out, I drove with my nephew Noah. Noah is 19 and about to be a junior at the University of North Carolina Asheville, and before this summer he had never been west of Birmingham, Alabama. We drove his car west three weeks ago, heading to Silver City, New Mexico, where I had a talk to give. There we explored the Gila Wilderness and the great cave dwellings, before winding our way north toward the Grand Canyon and Canyonlands. We also spent a night camping in the La Sal mountains in a beautiful aspen grove.
It rained almost every day we were in New Mexico and Arizona, prompting Noah's disbelief in the region's famous claims to aridity.  We stopped at Ken Sleight's place after the La Sal night and then worked our way back east on 70 to Boulder. Noah spent 10 days with us there, hiking, chauffeuring Hadley, and beating me at ping-pong.