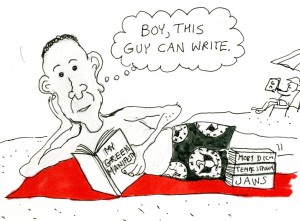 I hope it's a nice day up on Martha's Vineyard.  Nice, but not too nice.  Actually a little rain would be good—good reading weather.  Enough time for the president to find a little corner of the house, away from the girls and Michelle, and, with some rain pattering on the roof, finally get a chance to through the books he bought the other day at Bunch of Grapes.
I imagine him picking them up, looking them over, skimming here and there, and then doing what we all do despite the famous admonition—judging them by their covers. He likes the novel he bought, and is looking forward to starting it, but it seems more of a nighttime book.  He dips into the one that's gotten all the praise but the first sentences seem lifeless and dull.  He puts it down and stares out the window. One thing he has been noticing since landing on the Vineyard is how green everything is, the world full and bursting, but at the same time the salt winds nudging it toward fall. He likes those moments of noticing–moments when he remembers that a world exists outside of Debt Ceilings and Tea Parties and John Boehner—and they have become more precious since his Washington captivity began. Even better to remember that a world exists outside of human beings, a fact that, for all the crowds, this island sometimes helps you remember.
Maybe that's what he leads him to pick up the next book, or maybe it's not quite so romantic—maybe it's as simple as the fact that it is the shortest book in the bunch and therefore can be whipped through. Of course he can't bee seen in public reading a book with the word "manifesto" in it—imagine the field day on Fox News.  But there are no cameras around for the moment, so what the hell?  He reads about two men, men almost exactly his age, who paddle down a river not far from the island he is on.  They seem to be having a lot of fun as they paddle and maybe he starts having a little vicarious fun, too. He reads about Teddy Roosevelt, a man he has always admired despite their temperamental differences and the fact that some people like to use Teddy as a big stick to beat him with for not fighting hard enough for his beliefs.  Then he reads about a guy named Dan Driscoll, a fellow politician, who focuses in on his goals like a badger and doesn't let go, bare the consequences.  Yes, he thinks, if only it were that simple in my job.
And because the guy is human–and deserves a break despite what Hannity says– let's hope he laughs a little too.  For instance let's hope he is amused by this passage on the book's third page:
As Dan Driscoll paddles he describes what he calls his "radical idea" that being environmental isn't about education or politics. It's about what Thoreau called "contact." About falling in love with something—a place, an animal– and then fighting for it.
"When I grew up in Newton we always had our butts dragged out to Lincoln to learn about 'nature.' Now a kid in Newton can just walk out his backdoor and down to the river. The way I look at it if I build these paths and one kid walks down here and has contact with nature, then maybe that will do something. Maybe he'll be inspired to fight for the place. Maybe he'll be the next John Muir."
He pauses to correct himself, seeming to realize he has slightly overstated.
"Or at least maybe he'll just be less of a dick."
Let's imagine the President laughs at the last word.  Let's imagine he says to himself: "Dick.  Now that's a funny word.  Why don't I ever get to say a word like that?"
As he keeps reading two ideas bubble up in his head, one personal and one political.  The personal one is hard to describe but goes something like this: after the immediate vicarious pleasure of paddling along with these guys on the river he starts to feel dissatisfied.  Now that's a vacation, he thinks.  Not sitting in some big house with guards all around on some rich folks' island.  Could he rent a kayak tomorrow?  Or could he look silly and unpresidential, like John Kerry on that windsurfer thing?
The second idea is this.  This guy is right! I mean anyone with half a brain knows that the earth, our first and only home, is worth fighting for. It may be that in this imbecilic political climate we have to pretend that there is some debate about global warming, and that we have to humor the loony crew trying to eliminate the EPA. But anyone with even the slightest historical imagination can see that we are in the midst of a massive environmental crisis, the president thinks, and when I get back to Washington I will address this, despite the political fall-out. And then he thinks:
But first I've got to call this Gessner cat.
He skims ahead, trying to glean any personal information about the author.   Perhaps he is looking for the author's cell phone number (910-512-7046) or his e-mail (Gessner52@hotmail.com), but why would these be in a book?  What he finds instead is that this Gessner guy has a daughter, about Sasha's age, and he wonders if the author and his girl might be up for a presidential playdate.  (What he doesn't find is the fact that the author's daughter is a dog fanatic who knows everything there is to know about about Portuguese Water Dogs).
But, given what he is reading about Gessner, he wonders if a playdate is really the right theme. Maybe a beer instead, like the one he had with Joe The Plumber?  Either way, people are always criticizing him for being stiff, and he gets the feeling that maybe this Gessner can help him relax….could maybe play the Kirk to his Spock. Sure, why not?  I like the lilt of his jig, the president thinks. And from what he's read he gathers that the man currently has money problems, and could use a high-paying job.  Why not bring him to the White House and make him Special Adviser in Charge of Loosening Me Up?
To which I can only add: Why not indeed, Mr. President?   Why not indeed?
My video address to the Prez
From Yesterday's Boston Globe:
Obama keeps low profile on the Vineyard
EDGARTOWN — If his comings and goings yesterday are any indication,
President Barack Obama
will be keeping a very low profile during his Martha's Vineyard vacati
On Day 1 of the first family's nine-day stay on the island, Obama remained mostly out of sight, not emerging from Blue Heron Farm until 12:15 p.m., when his motorcade headed into Vineyard Haven and a visit to Bunch of Grapes Book Store. (Daughters Sasha and Malia walked out with a bag containing, among other books, David Gessner's "My Green Manifesto: Down the Charles River in Pursuit of a New Environmentalism," which we recommended Obama read in our column this week.)