Comments Off

on My Summer of Ultimate–a Wrap-Up
I have moved on to a new book (a novel about Cape Cod) but I wanted  to take a moment to do a wrap up of my summer of ultimate.  Also maybe to remind you what a nice present Ultimate Glory would make as the holidays approach. Give it to any and all of those relatives who never understood what the hell ultimate was. As the Washington Post put it: "An exploration of the questing desires of the young heart, "Ultimate Glory" should be recommended reading for every college student. A 20-something, unsure whether to listen to the yearnings of the soul, might find answers in Gessner's chase of a flying plastic disc."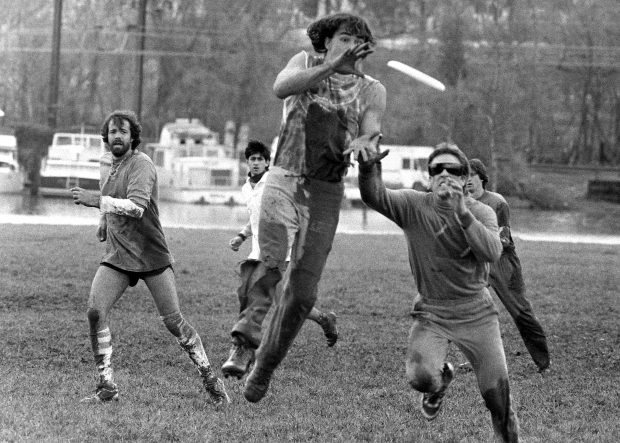 Here's the  full Washington Post Review. It's title is "NEW HARVARD GRAD TELLS DAD: "NOW I'M GOING TO PLAY ULTIMATE FRISBEE."
Here is No Disc-Respect, my article in Outside magazine about Ultimate and Beau Kittredge.
Here is the Slate podcast of Hang Up and Listen where I talk Ultimate.
Here is the great Wall Street Journal Review.
Sin the Fields is a wild, fun podcast from Ultiworld.
This is my Longform interview, where we touched on a lot of non-ultimate topics, including "immortality."
Here's a brief but fine review from Harvard magazine.
Here is the website I created, but honestly never visited much. But it has a very cool connection to Stu Beringer's vintage photos, which you can also go to through UltiPhotos….
Here's our Old and In the Way squad. We got a silver at old-guy Nationals in July and (hopefully) will be reuniting for Worlds.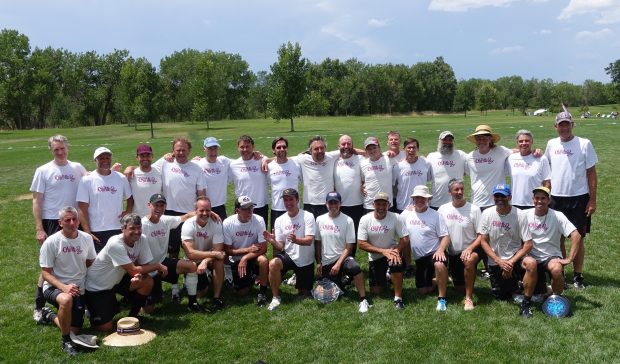 Here is what the Rude Boys did to my book: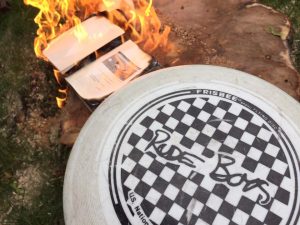 And here, once again, is the book trailer, edited by daughter Hadley.
This website, Big-Hearted Boy, asked me to create a playlist of the music that goes with my book.
And speaking of beautiful music, here are some pics of our post-game singalong (and book signing):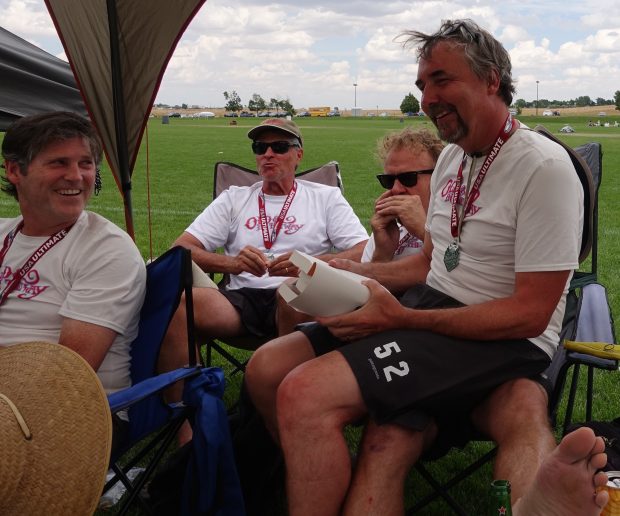 One with Dancin' Dave Smith….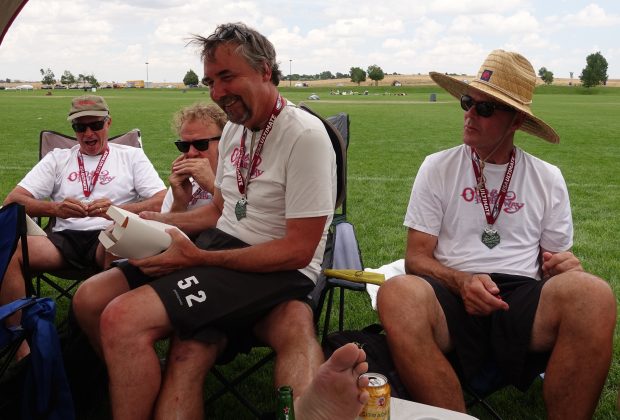 A Bunch of old guys…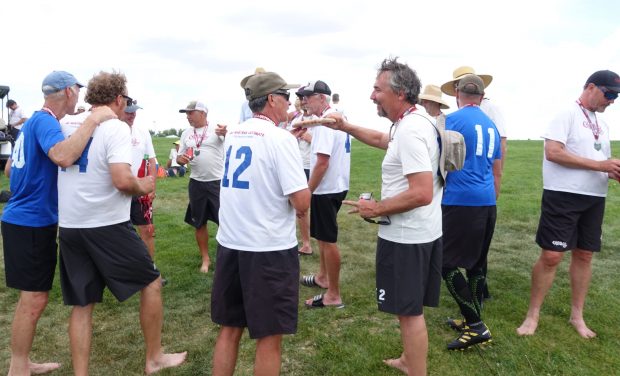 From my reading in Maplewood:
"If Springsteen were an ultimate player he would have played for the 'Boro." Timba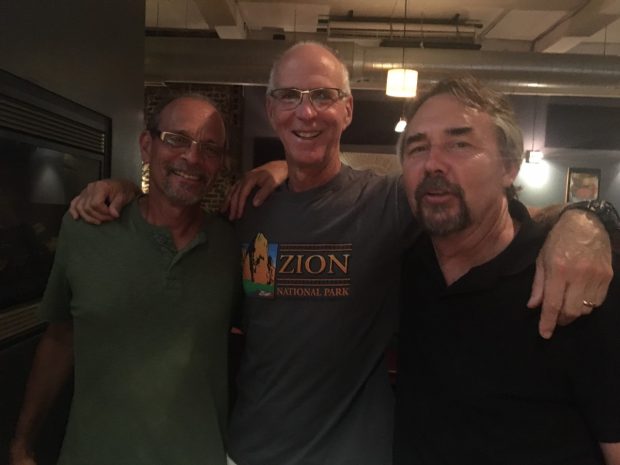 Boulder: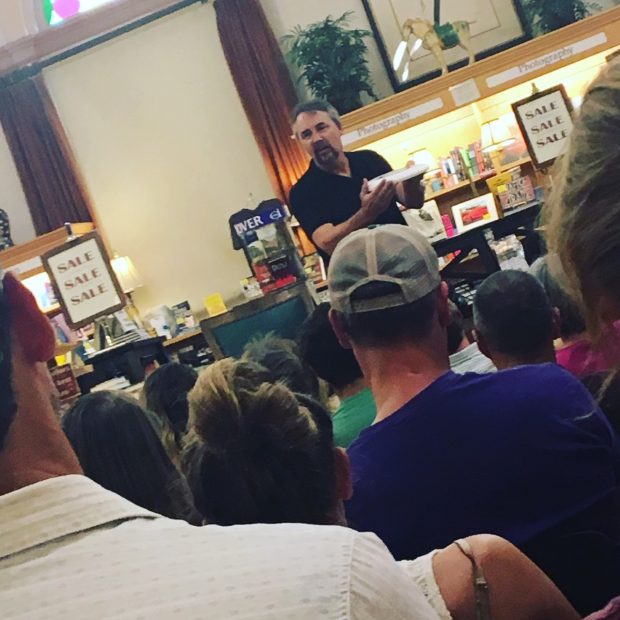 Brookline: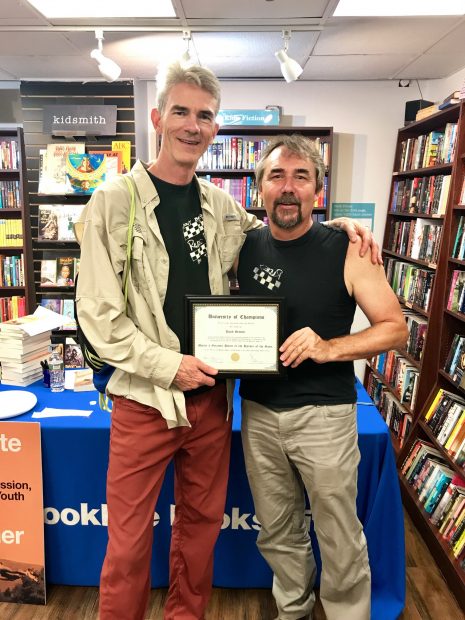 My pardon. I can play in D.C. again!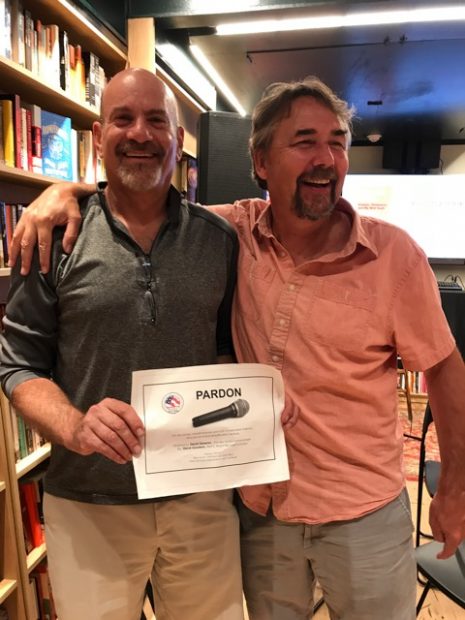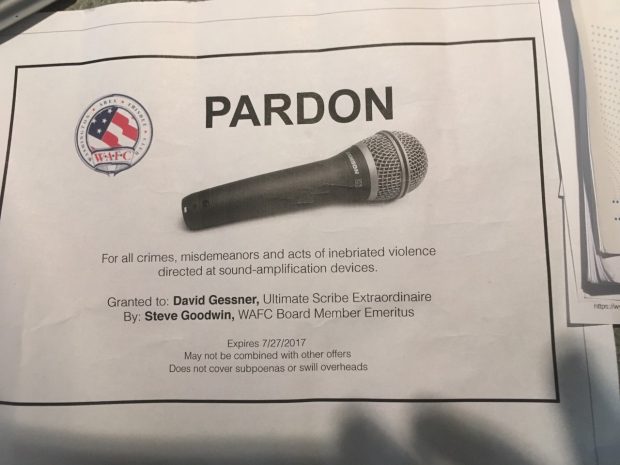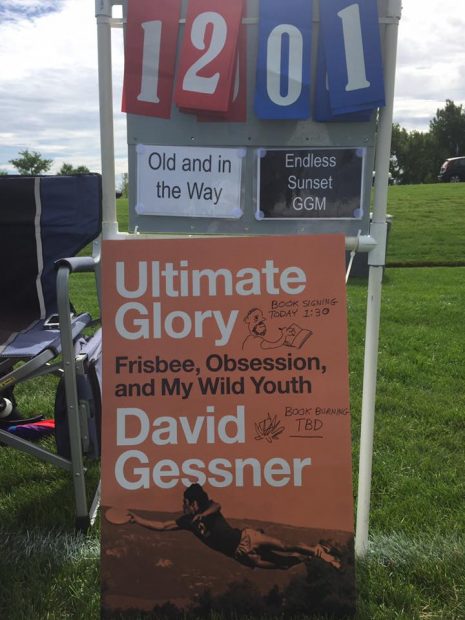 My Dad  (Telluride):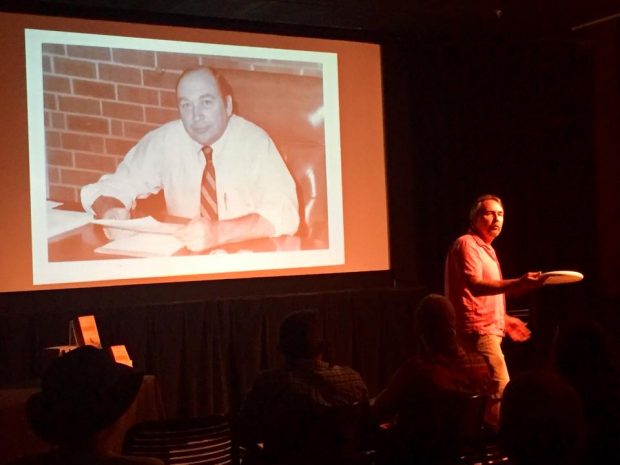 San Francisco: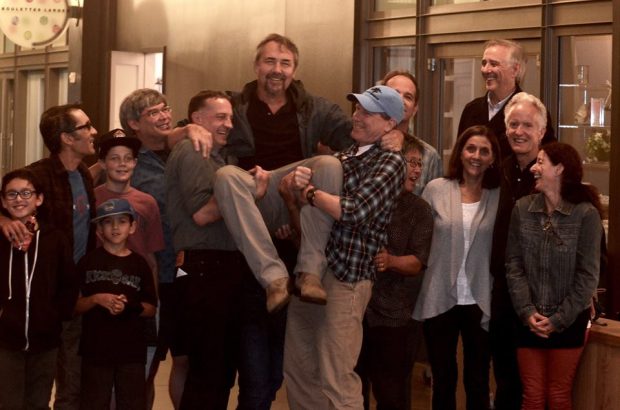 Thanks for everyone for coming out this summer. It was a blast.
Here is/was the tour, more or less:
TUESDAY JUNE 6, 2017
WRIGHTSVILLE BEACH BREWERY 6201 OLEANDER-
EVENTS ROOM
7:00 PM Event HOSTED BY POMEGRANATE BOOKS

WEDNESDAY, JUNE 7 – DURHAM
THE REGULATOR BOOKSHOP
7:00 PM Event 720 Ninth Street, Durham, NC 27705

SUNDAY, JUNE 11 – ALBUQUERQUE
BOOKWORKS ALBUQUERQUE
3:00 PM Event 4022 Rio Grande Blvd NW, Albuquerque, NM 87107

MONDAY, JUNE 12 – TELLURIDE
BETWEEN THE COVERS
6:30 PM Event 224 W Colorado Ave, Telluride, CO 81435

• They would like to organize an outdoor Frisbee mini-match or demo or interactive target throws in the pocket park near them. The reading itself will likely not be in their shop.
• They are thinking that the interactive part would start at 6:30pm and the reading will start at 7:30pm.

THURSDAY, JUNE 15 – EDWARDS
BOOKWORM OF EDWARDS
6:00 PM Event 295 Main St, Edwards, CO 81632

TUESDAY, JUNE 20 – BOULDER
BOULDER BOOKSTORE
7:30 PM Event Pearl Street Mall, 1107 Pearl St, Boulder, CO 80302

WEDNESDAY, JUNE 21 – DENVER
TATTERED COVER BOOKS
7:00 PM Event 2526 E Colfax Ave, Denver, CO 80206

THURSDAY, JUNE 22 – FORT COLLINS
OLD FIREHOUSE BOOKS
6:00 PM Event 232 Walnut St, Fort Collins, CO 80524

MONDAY, JUNE 26 – PORTLAND
POWELL'S BOOKS ON HAWTHORNE
7:30 PM Event 3723 SE Hawthorne Blvd, Portland, OR 97214

TUESDAY, JUNE 27 – SAN FRANCISCO
BOOK PASSAGE at the Ferry Building
6:00 PM Event 1 Ferry Building, San Francisco, CA 94111

THURSDAY, JUNE 29 – SEATTLE
EAGLE HARBOR BOOKS
12:30 PM Event 157 Winslow Way E, Bainbridge Island, WA 98110

THURSDAY, JUNE 29 – SEATTLE
ELLIOTT BAY BOOK COMPANY
7:00 PM Event 1521 10th Ave, Seattle, WA 98122

AND……

OTHER GESSNER BOOKS

MORE GLORIOUS ULTIMATE
FRIDAY, JULY 28 – MAPLEWOOD, NJ, THE BIRTHPLACE OF ULTIMATE!!
[words] BOOKSTORE
7:30 PM Event 179 Maplewood Ave, Maplewood, NJ 07040
http:/​/​wordsbookstore.com/​2017/​01/​ultimate-glory/​
MONDAY, JULY 31 – BOSTON–MY RETURN TO THE STORE WHERE I ATTACKED THE CUSTOMER!
BROOKLINE BOOKSMITH
7:00 PM Event 279 Harvard Street, Brookline, MA
https:/​/​www.brooklinebooksmith.com/​events/​2017-07/​david-gessner—ultimate-glory-frisbee-obsession-and-my-wild-youth/​
TUESDAY, AUGUST 1
HARVARD SUMMER SCHOOL
THOMPSON ROOM BARKER CENTER 12 QUINCY STREET
6:00 PM EVENT
TUESDAY, AUGUST 8 – PORTLAND, ME–WITH BILL ROORBACH
PRINT: A BOOKSTORE
7:00 PM Event 273 Congress St, Portland, ME 04101
http:/​/​www.printbookstore.com/​event/​david-gessner-discusses-his-new-book-ultimate-glory-bill-roorbach-author-girl-lake
Aug. 16: Ultimate Frisbee, Steve Rushin, and Sports Stadiums
Varsity Letters is back at The Gallery at Le Poisson Rouge on Wednesday, August 16 with an eclectic evening of sports authors, including David Gessner.