Comments Off

on My Retreat Journal
Tuesday January 21
The hot tub guys came out tonight during the blizzard. Dave Rotman was visiting and he talked them into it and at first they seemed to enjoy the whole adventure. I brought them two Harpoons and hung out for a little while. But it turned out they had to work in the crawl space under the tub and they were soon soaking wet and, not long after, their clothes were frozen.
At least it was for a good cause. "Not wind nor sleet nor snow…" The service they rendered is just as valuable as the post office's. By morning I will be soaking in near boiling water as the snow continues to fall.
Snow has been a theme here since I arrived on Cape Cod on Saturday. Saw the second owl of my life on Monday, the third on Tuesday up in a tree. That bird flew over to sit atop an osprey nest that sat atop one of those blue greenhead/mosquito boxes on the marsh. I was only eight yards away and after the bird flew off I asked Dave to take a picture of the nest so I could have the details needed to write about it later.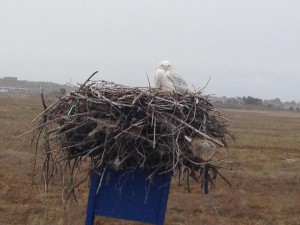 One of the photographers with a ten-foot long lens said, "That's an osprey nest," thinking we thought that the owl had just built the thing for the winter.
Thanks, dude.
 Wednesday Jan 22
Got up and started writing at 5. Already excited about the book but have a slight fearful Flowers for Algernon buzz going too. That is I know that I need to finish it before these three weeks are up or I never will. After all, I have been working on this thing for thirty years.
Walked Buddy down to the after camp this morning. Then did something I have not done since visiting Brad Watson in Wyoming in 2008 (?). I skied on snow. Great snow too. Even though my skis are the waxed type, and I didn't have wax, they glided along perfectly since the snow was so good.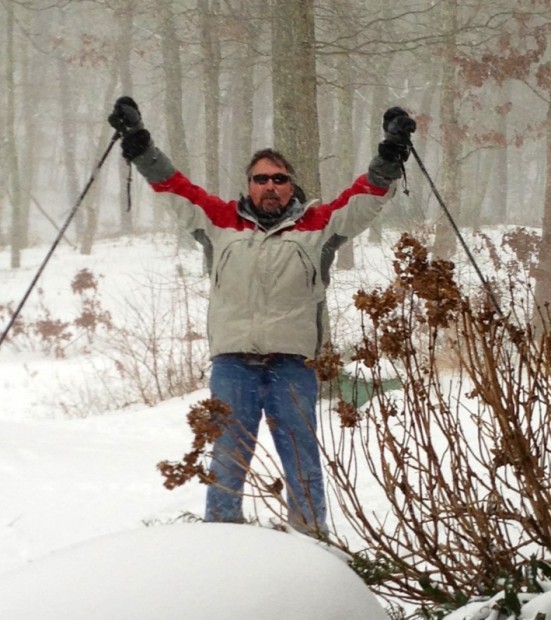 Then I topped it off with a glorious soak while the snow fell. I tipped my mid-day beer to the brave men who made it possible.
Friday Jan 24
I have gotten into a great routine. Up super early, feed buddy and self, make coffee, write until 11 or so. Then a buddy walk followed by a ski. The snow is still great and I have found that I can use the exertion of the ski to extend my morning writing. I ski for about an hour through the abandoned summer camp. (Unfortunately some douchebag walkers prefer to walk in my tracks, despite the fact I try to stay off to the side.) Then once I'm sweating–despite a high in the low teens today—I ski down toward the little one-room cabin by the lake (Upper Herring Pond maybe?). I take my skis off and go out on the back deck of the cabin (it's just a gameroom I think—it has aFoosball table and a few other things but no beds). I take the nearly-frozen beer out of my pocket and start pacing and writing, or talking really, into my micro-cassette recorder.
I have lots of editing notes from others on the project I am working on, including some great one from Bill (of Bill and Dave's fame). But the one overriding imperative of those notes, the one thing driving this revision, is simple:  MORE SCENES.
And that's what I do on my little deck. I pace back and forth and put characters in action. No profound ideas about the meaning of life. Just people talking and interacting and doing things. My friend Clyde would be proud of me.  Not ideas about the thing but…..well, you get the point.
Today I spent over an hour on my little writing deck, going for a while after my sweat froze. Do I need to say that when I got home I plunged right into the hot tub?
Sunday Jan 26
Dave left last Wednesday and I haven't seen anyone since. Getting that good crazy obsessive writing mojo going, though it does make you feel unsuited for anything else. Got up at 3:15 today which is just too early, even for me. But got a whole lot of typing done. Unfortunately, we had a brief warming and some rain yesterday afternoon. Though it was followed by another sprinkling of snow and renewed cold, it has left the snow crusty and unskiable. Still five days in a row of skiing is pretty good, especially for someone who has had a total of five days (not including sand) over the last decade or so.
There was enough melting for Buddy and me to finally get my car out of the driveway. Buddy has been a great companion and he
sleeps curled into my legs. During this morning's woods walks I looked into his brown eyes and couldn't believe how smart and aware (I will not say "how human") they looked. I was not all that surprised during our drive when he reached over and lowered the electric window on the passenger seat side, then stuck his head out.  I put the window up again and he just looked at me, reached over, pushed the button and lowered it again.  This went on a few more times until I finally had to put the children's lock on.
Buddy and I made the rounds. First to the Sesuit beach and bluff, which was nicely frozen over (though not as crazily arctic as I have seen it at other times when you can walk a hundred yards out over glacial blocks of snow/ice and geysers of seawater shoot up through ice holes).
Still it was the right weather for heading over to West Dennis and seeing, for the first time, the snowy owl in the snow. Not bad.
On the way home we stopped at Stop N' Shop for provisions. I have not cooked yet once, and mostly eat turkey sandwiches, hermit bars, bananas (and–need I say it?–beer). When we got home it was time for a soak and a nap before the evening writing session.
Two more weeks of this. Then back to reality.
More pics:
Or maybe……