Jul 21
Comments Off

on Lungren's Lounge: "The Last Magazine," by Michael Hastings
Michael Hastings was the personification of a modern day journalistic Zelig. Beginning his career as an unpaid intern at Newsweek magazine, he began covering the invasion of Iraq when his fiancee, working for an NGO, was killed in an ambush that received international attention and resulted in his first book, I Lost My Love in Baghdad. He later wrote a piece for Rolling Stone magazine that described the barely-concealed disdain that high-ranking military officials felt towards the politicians in charge of the war effort. The resultant political and media shitstorm ended with the resignation of Gen. Stanley McChrystal, commander of U.S. forces in Afghanistan and Hastings' award winning book, The Operators. He next turned his attention to the Occupy Wall Street movement and the secretive surveillance of the movement by Homeland Security, and then penned  a profile of Bowe Bergdahl, long before Bergdahl became the subject of international fascination after his release from Taliban captors in a prisoner exchange.
And shortly before he died in a fiery car crash in 2013 Hastings was covering what he described as the "war" on journalism being waged by the Obama administration. His final piece, published by the blog BuizzFeed, was "Why Democrats Love to Spy on Americans." Shortly before his death, Hastings was reportedly working on an investigative piece about the CIA. Although his death was ruled an accident, conspiracy theories proliferated, including the observation by former NSA  advisor Richard Clarke that evidence from the crash was consistent with a car cyber attack. Clarke pointed out that the world's major intelligence agencies are presently quite capable of seizing remote control of a car.
Though we may never know for certain what happened to Hastings, what we do have is a posthumous novel detailing his days at Newsweek in the period leading up to the first U.S. invasion of Iraq. The Last Magazine is a scathing, profane, hilarious, depressing account of the state of journalism in a contemporary world, where the fourth estate has abrogated all responsibility to report and become instead a whorish shill for corporate interests.
In The Last Magazine, Hastings depicts the shortcomings of traditional print journalism as that medium is gasping its final pathetic wheezing breaths. Though the account is uneven, as any posthumous, 'unfinished' manuscript will be, it is a valuable addition to the story of how we have arrived at the sorry state of affairs today, where trust in any form of media is undermined by the special interests that Hastings is warning us about. Beyond being an engrossing page-turner of a novel, this book is evidence of the mania and brilliance of Michael Hastings and a living testament to his ferocious journalistic ethic to tell the story, warts and all.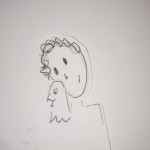 [Bill Lundgren is a writer and blogger, also a bookseller at Longfellow Books in Portland, Maine ("A Fiercely Independent Community Bookstore").  He keeps a bird named Ruby, and teaches at Southern Maine Community College.]