Nov 11
Comments Off

on Lundgren's Lounge: This is Your Life, Harriet Chance, by Jonathan Evison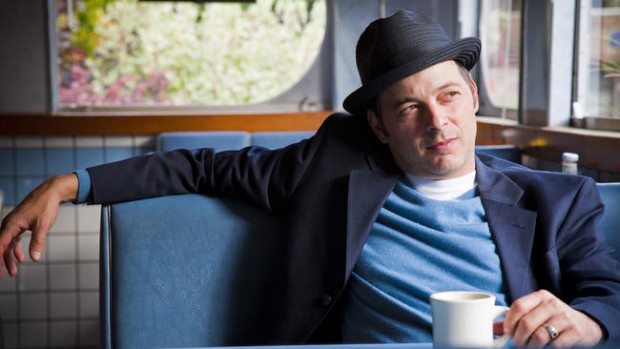 Harriet Chance is a true mensch. Mensch as in, "someone to admire and emulate, someone of noble character." And though some might question the characterization of Harriet as being worthy of emulation, there can be no dispute that she is of noble character.
Harriet is at the center of Jonathan Evison's delightful romp of a novel, This Is Your Life, Harriet Chance. Harriet's story is gradually told through a series of episodes  that pinwheel through time and are recounted by  a third person narrator; these straightforward vignettes are interspersed with the narrative intrusions of a game-show host modeled after Ralph Edwards and his show from a half century past, "This Is Your Life." A precursor to today's reality TV shows, "This Is Your Life," involved the host surprising his subjects on air and then recounting their lives in a quasi-documentary format, replete with reunions with significant persons from the subject's past.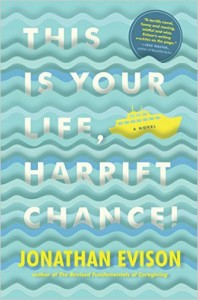 Harriet is recently widowed and living comfortably in the house she shared with Bernard, the deceased husband who spiraled down the black hole of dementia in his final years. To describe Harriet as 'long-suffering' merely scratches the surface of her domestic servitude. As the game-show stand-in intones, "Yes Harriet, for the next 50 years you'll eat what Bernard eats, vote how Bernard votes, love how Bernard loves and ultimately learn to want out of life what Bernard wants out of life."
Harriet is surprised to learn that before Bernard died he bought an Alaskan cruise for two… oh, and did I forget to mention that Bernard is still very much a part of Harriet's life as a ghost seeking an opportunity to explain himself? Harriet decides to go on the cruise and is undeterred even when her best friend Mildred backs out. Once on board, Harriet finds out that she may not have been Bernard's intended companion and the revealed infidelity threatens to finally overwhelm her. But Harriet endures, because as Evison makes clear, that is what the 'long suffering' women of this generation did. In the interest of keeping the family intact and safe, they endured whatever life threw at them with the ferocity and single-mindedness of a lioness defending her cubs.
The surprises continue, as one of Harriet's cubs, her estranged daughter Caroline, appears on board. Amidst the endless buffets and lounge acts, the two begin to tenuously try to rebuild a frayed relationship. Though sometimes the stop and start flashbacks threaten to overwhelm the narrative, Evison is a crafty writer who knows exactly what he is doing. He writes with great affection for his characters and a devastating sense of humor. In the end, he is creating a tribute to Harriet, a woman who symbolizes the entire generation of American women that quietly shouldered the slings and arrows of life's fortunes and misfortunes so that those around them might blithely sail through life, safely protected and largely unaware.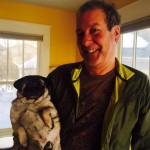 [Bill Lundgren is a writer and blogger, also a friend of  Longfellow Books in Portland, Maine ("A Fiercely Independent Community Bookstore"), where you can buy this book and about a million others, from booksellers who care.  Bill keeps a bird named Ruby, a blind pug named Pearl, and a couple of fine bird dogs, and teaches at Southern Maine Community College. ]