Mar 01
Comments Off

on Lundgren's Lounge: "One Eyed Man," by Ron Currie
A disclaimer is in order here: Ron Currie is a friend of mine. We watch baseball together while drinking beer and it is my fervent hope that the upcoming Red Sox season will help to ameliorate the execrable political situation we are presently wallowing in. However none of this has anything to do with the review that follows.
Last year I re-read a novel, a rare occurrence for me. What with teaching and the constant onslaught of new arrivals on the book scene, the idea of revisiting something is a luxury I don't often indulge. But the book was Everything Matters, Currie's first novel and I realized as I read that it is a work I will return to again and again over the coming years, because it captures the tone and tenor of a specific time so exquisitely. Now we have a new work from Currie, The One Eyed Man, an unsettling, satirical glance at contemporary culture that again perfectly captures the zeitgeist of this very strange time in the evolution of the American experiment.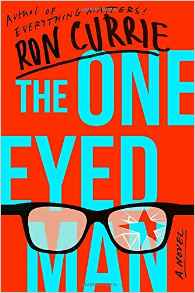 The protagonist in One Eyed Man is identified only as K and the allusion to Kafka is no accident. The existential angst that permeates Kafka's most famous works, The Castle and The Trial is on full display here. Early on the K of One Eyed Man characterizes his existential bewilderment when he receives a text message from his friend Tony telling him that Tony's wife, "…Alice didn't want me at their house anymore. I felt a twinge of regret like the mild fleeting sadness I'd experienced the previous night when hearing a story about Christians slaughtered like beef cattle at a Kenyan mall." There is so much going on in that seemingly simple sentence that any careful reader should be immediately on alert: this is a writer who demands our attention.
The problem is that K is paralyzed by grief over the death of his wife Sarah and in the aftermath of her death and his attempt to understand 'the persistence of grief', he has lost the ability to approach reality from any perspective other than the literal. This leads to constant conflict with nearly everyone he encounters, because contemporary culture prefers metaphor—metaphorical language is so much more marketable and since it can be so broadly interpreted, perhaps it might be less likely to offend?
What happens to K is, of course, stranger than fiction. He foils a robbery at his local coffee shop thereby capturing his Warholian 15 minutes of fame and becoming a media celebrity and the star of his own reality show. That 15 minutes morphs into national celebrity as Currie peels away the layers of America's obsession with reality TV as well as anyone since John Jeremiah Sullivan in his essay "Leaving Reality." The episodes in K's travels become far less important than the questions that Currie is encouraging us to ask ourselves, prominent among them being , what exactly is it that we think we are doing?
Given that the author probably began conceiving/writing this novel 3 or 4 (or more) years ago, his prescience is breathtaking. Or maybe it is just happy coincidence? Unlikely. The One Eyed Man  is a meditation on the nature of grief, a common theme in Currie's work, but more than that it predicts the world we find ourselves enmeshed in, a time when the very notions of facts and truth become fluid, dependent upon their transmitter. As Sean Spicer pronounced a few days ago, 'you will know the truth when the president tells you.' How Currie has "happened" upon this nexus of literature, pop culture, and political polarization is remarkable and uncanny. As Pulitzer Prize winning author Rick Russo notes, "Nobody writing today walks the knife edge of cynicism and sentiment more bravely, intelligently and confidently…"
Currie will be reading from and discussing his newest novel at 'Print: A Bookstore', 273 Congress St. in Portland (across from the Portland Food Coop) on Thurs, 3/9/2016 at 7 p.m. It promises to be a highlight of the late winter/early spring literary season.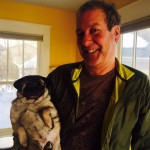 Bill Lundgren is a voracious reader who writes book reviews in hopes of sharing his enthusiasms with fellow readers. He lives in Portland, Maine with a wild menagerie of dogs and cats and birds and his wife Carol, the veterinarian. He teaches writing and literature at Southern Maine Community College.