Jun 09
Comments Off

on Lundgren's Lounge: "H is for Hawk," by Helen Macdonald
Living with a bird is an education. I recently heard an ornithologist point out that, regardless of how long a bird has been a member of your household, that bird will always remain a wild animal. I was reminded of this one Sunday last winter when our  morning coffee was interrupted by a wild cacophony of screams and shrieks from Ruby's cage in the kitchen (Ruby is an umbrella cockatoo that we adopted years ago); rushing out we were astonished to come face to face with a hawk, perched on the railing of our deck peering in at Ruby. The hawk was magnificent–breathtakingly majestic and with both talons firmly planted in a world of unfettered wildness far beyond our limited and merely human comprehension.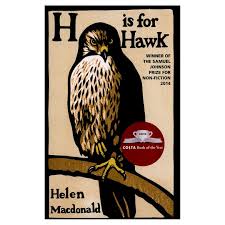 All this is by way of introducing H is for Hawk by Helen Macdonald. The book is a memoir, sort of.. a memoir of bereavement, natural history, the personal travails of the author, but mostly it is a paean of wonderment and praise to the pure and unsullied wildness of a goshawk that author Macdonald decides to 'train.' Partly her gesture is an attempt to deal with the sudden and crippling loss of her beloved father, partly it is the continuation of her lifelong fascination with raptors. Along the way MacDonald, an academic by trade, enlarges her story by sharing the parallel tale of T. H. White's calamitous attempts to similarly 'train' a hawk as recounted in his early work, The Goshawk.
Goshawks are notoriously difficult to train, the most unrelentingly wild of the raptors. H is for Hawk slowly develops into a narrative of the relationship between the ferocious wildness of Mabel, Macdonald's goshawk, and the author's own stop and start attempts to tame the wildness of the grief over her father's death that threatens to consume her. The dance that ensues is both literarily unique and spellbinding. The matter of whom is truly controlling the 'training' remains very much in doubt and the author's descriptive ability allows the reader to brush up against the wildness that is both at the heart of the natural world and an undeniable element of those dark corners of the human psyche where we most often choose not to go. Here's a sample, Macdonald describing a hawk: "She was smokier and darker and much, much bigger, and instead of twittering, she wailed; great, awful gouts of sound… the sound was unbearable… and it was all I could do to breathe."
Reviewers have been rapturous in their praise: "Breathtaking… an indelible impression of a raptor's fierce essence…" "a soaring wonder of a book…" and "One part memoir, one part gorgeous evocation of the natural world, and one part literary evocation." You will never look up into the sky with the same perspective after meeting Mabel and if you are like me, you will be consumed with the notion of 'training' a hawk of one's own.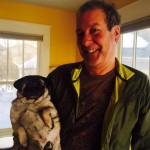 [Bill Lundgren is a writer and blogger, also a bookseller at Longfellow Books in Portland, Maine ("A Fiercely Independent Community Bookstore"), where you can buy this book and about a million others, from booksellers who care.  Bill keeps a bird named Ruby, a blind pug named Pearl, and a couple of fine bird dogs, and teaches at Southern Maine Community College. ]